If I'm being completely honest with you guys, winter isn't my favorite season. Between the icy cold weather and the dry, itchy skin, I'm usually begging for warm weather come February. So to make the winter months a little more bearable, at least as far as my skin is concerned, I have recently started making my own moisturizing body products. It all started with this rich honey hand balm and these relaxing herbal mini soaps, but with temperatures continuing to plummet, I have been left looking for more soothing options.
This green tea body wash fits the bill perfectly. It's thick and creamy enough to lock in moisture while the green tea heals chapped skin and packs an antioxidant punch to calm inflammation and give you some relief until spring arrives.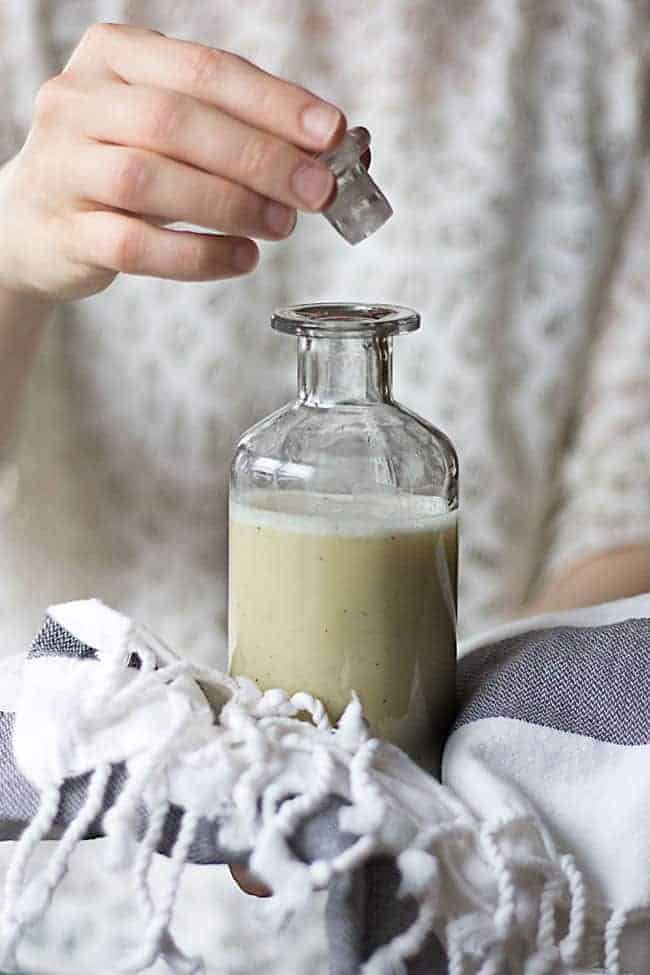 Super Moisturizing Green Tea Body Wash
Since green tea is chock full of healing antioxidants, flavonoids and catechins, it can help skin look smoother and counteract the effects of free radical damage from sun exposure and environmental toxins. Studies even show that green tea may help soothe inflammation and protect skin from cancer caused by sunlight.
When combined with extra moisturizing ingredients like shea butter, coconut oil and honey, this body wash sinks into parched skin and creates a protective barrier against the elements. And because it uses castile soap as its base, it lathers like a dream without stripping skin of its natural oils–thus leaving your skin even softer than before.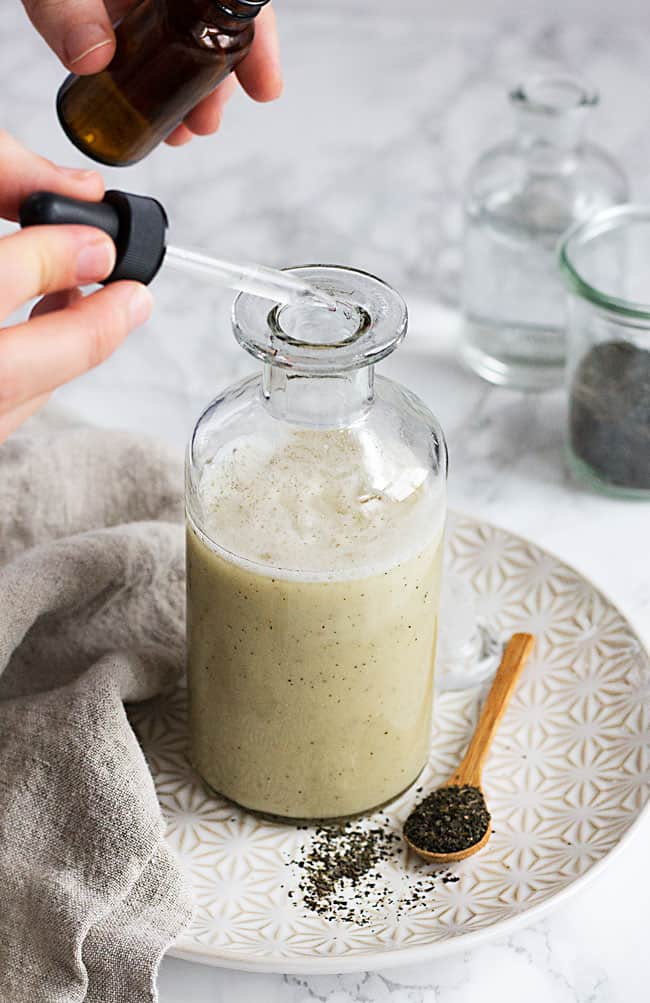 For even more healing power, try adding some essential oils. I used a mixture of lemongrass and eucalyptus oils because they smell fantastic and they're nourishing for dry skin, but feel free to use whatever oils you like.
Just a word of warning–citrus oils like orange and grapefruit have a phototoxic effect, meaning they can make skin more sensitive to the sun. So while they smell fantastic, you might want to avoid putting them in your body wash if you plan on spending any time outdoors.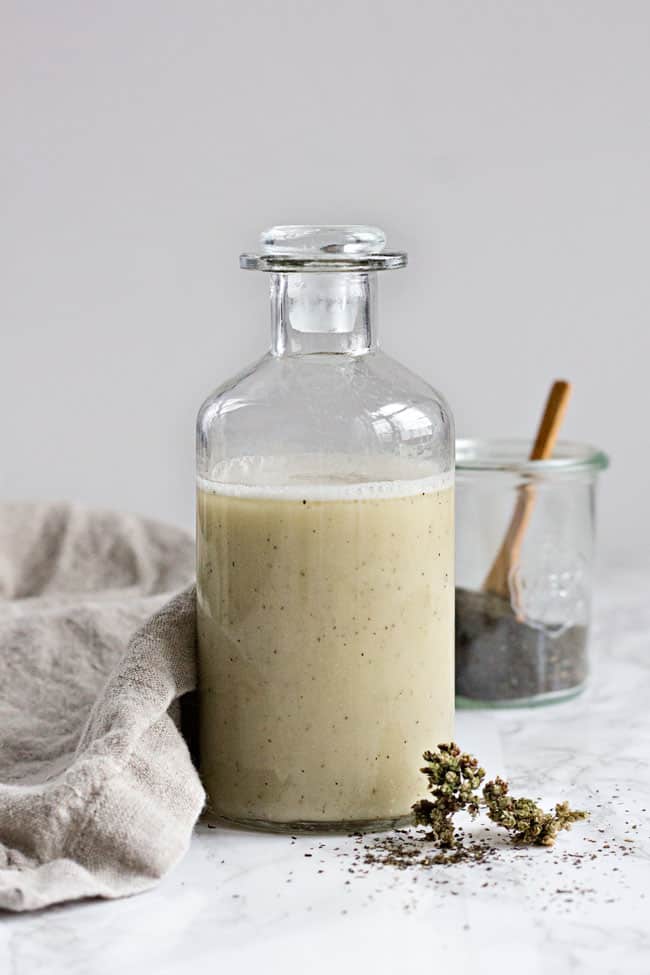 Even though castile soap is oil-based, you might notice your body wash starting to separate after sitting for a few hours. Simply give it a good shake to mix everything together and get a good soap-to-oil ratio before using. And rest assured that even if you don't shake it every time, you can still use it, you may just see less suds than you're used to.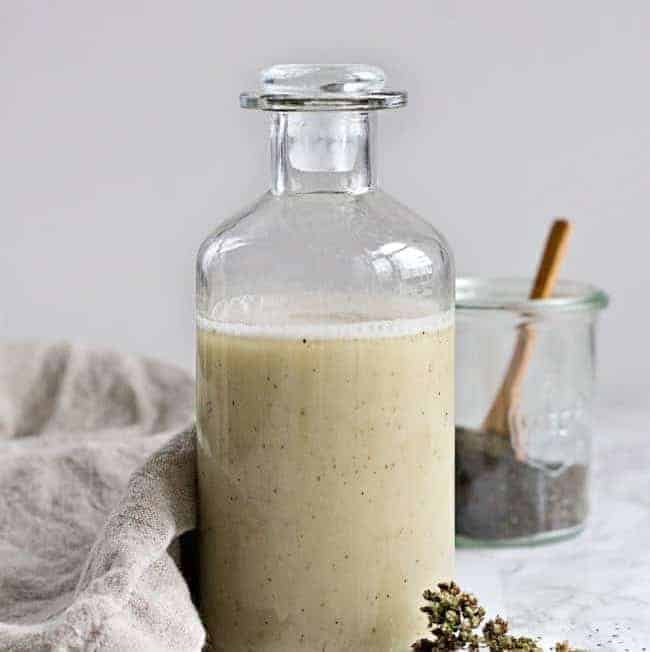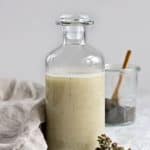 Print
Super Moisturizing Green Tea Body Wash
Heal that dry, itchy winter skin with this moisturizing green tea body wash. Coconut oil and shea butter soothe your skin, while green tea helps repair it.
Instructions
In a small saucepan, melt the coconut oil and stir in the tea leaves. Let simmer on low for 30 minutes, stirring frequently.

Add the shea butter and stir until just melted. Turn off the heat and let sit for 5 minutes.

When the mixture has cooled slightly, add in the remaining ingredients and whisk everything together.

Pour into a soap dispenser or lidded jar. Shake before each use.
240