As someone who usually rolls her eyes at beauty fads, I can honestly, finally, say that I've found one that lives up to the hype—and I won't be tossing it in the trash anytime soon. It's also been around for hundreds of years as a form of traditional Chinese medicine, so there's that too.
Gua sha, dubbed nature's botox, refers to the process of using a jade stone to promote circulation, reduce inflammation, and encourage lymph flow to clear congestion in the face. Gua means "to scratch," and sha refers to what the skin looks like after the scratching occurs. Basically, it causes a subtle local skin irritation leading to a mild immune response.
Meet the experts

Amber Rose Johnson, expert esthetician and founder of Facial Lounge

Natalie Aguilar, dermatological nurse and celebrity esthetician

Taylor Campbell, owner and nurse practioner of Restorative Injectables

Medically reviewed by Dr. Gina Jansheski, a licensed, board-certified physician

Benefits of using gua sha
Here's a look at some of the ways you can stand to benefit by using gua sha.
Cuts down on puffiness: By using the edge of the gua sha tool, you can also essentially coax lymph and other puffiness-causing fluid toward the lymph nodes and out of the face. This simple technique has been shown in studies to increase the immune system of the skin and enhance blood flow to the area [source].
Relieves tension: Many of us hold tension in our faces, especially around our jaw line. Luckily, gua sha can significantly help reduce this tension when used regularly. Incorporating this practice can also help ease headaches and relieve stress, notes Amber Rose Johnson, expert esthetician and founder of Facial Lounge.
Reduces pain: It has also been shown to work for low back pain [source] and even better than a heating pad to help with chronic neck pain [source].
Increases circulation: After a few glides along your face, you can see that skin becomes rosy—and this is no coincidence. "By increasing circulation, you bring nutrients and oxygen to that area, which can assist with lymphatic drainage," explains Natalie Aguilar, dermatological nurse and celebrity esthetician.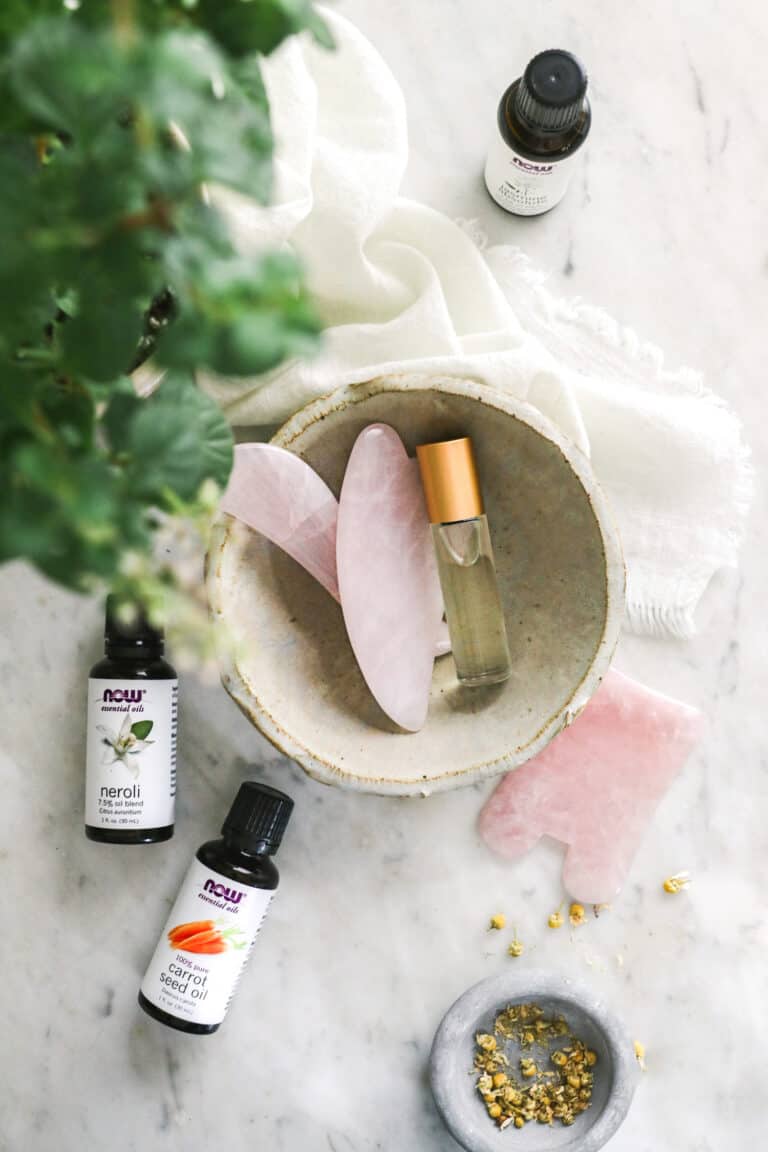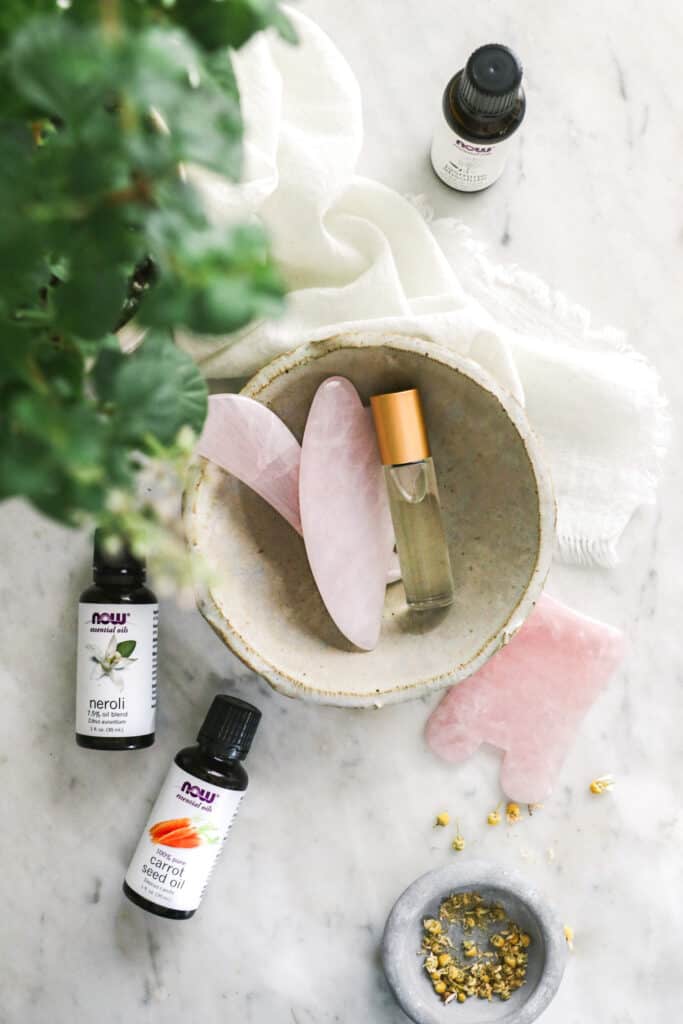 How to incorporate gua sha into your skincare routine
Aguilar recommends using gua sha on a freshly cleansed face. "Scraping, without cleansing, can spread bacteria, and impurities, and can irritate the skin," he says. She also recommends using a facial oil to help the stone glide nicely and to protect your skin.
Watch this video to learn how to gua sha or read on for step-by-step instructions.
Gua sha instructions
1. Hold the gua sha tool with the curved side toward your skin. You want it to be almost lying flat against the skin, not perpendicular or at a 45-degree angle (I'll admit, I'm not the best at remembering to do this and still works! Just be as gentle as possible when you use it).
2. Start with two to three upward sweeps of the neck. More than anything, this is said to clear the energy meridian that runs to the face. Even if you're not feelin' it when it comes to energy meridians, you might like the way it helps release some of the tension carried in the neck and jaw.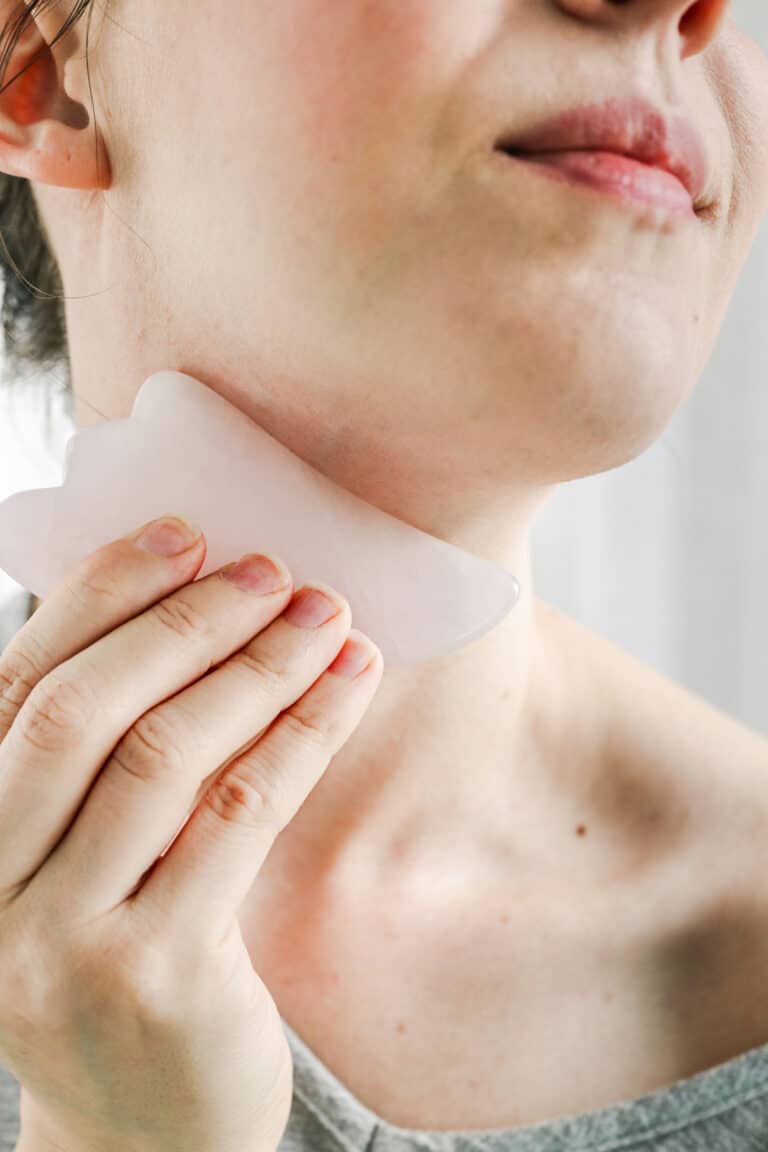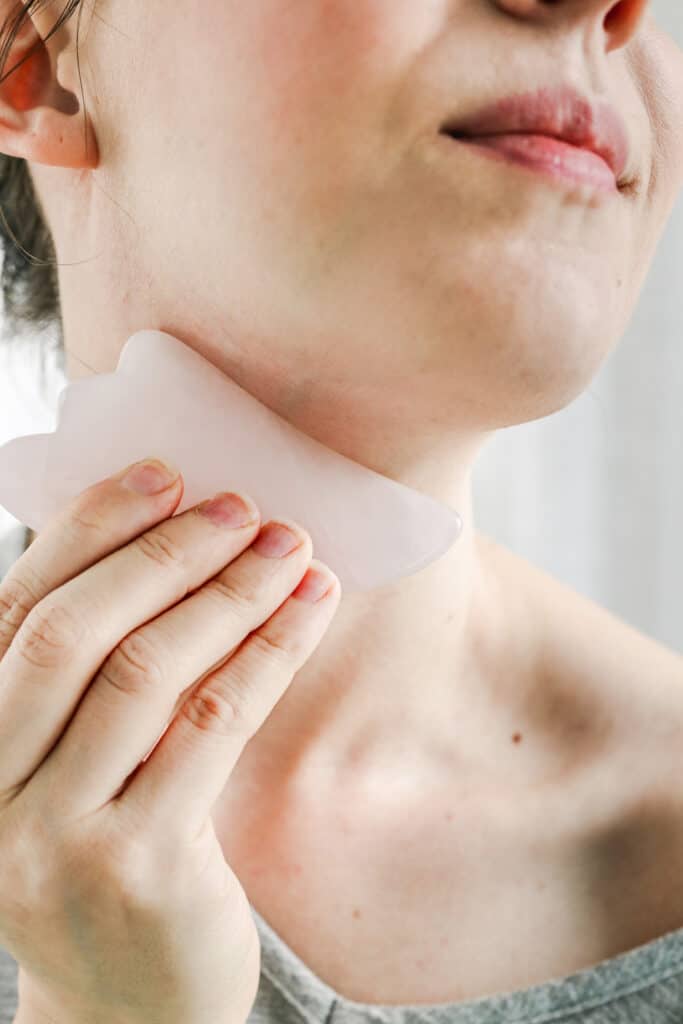 3. Next, gently glide the gua sha tool up and out toward the hairline or ears, starting with the jawline and moving on to the chin, cheeks, cheekbones, and under both eyes. Since there are lymph nodes by the ears where the lymphatic fluid flows, always push in the direction of the ears to coax fluid out of the face entirely. Do between three and five strokes per area.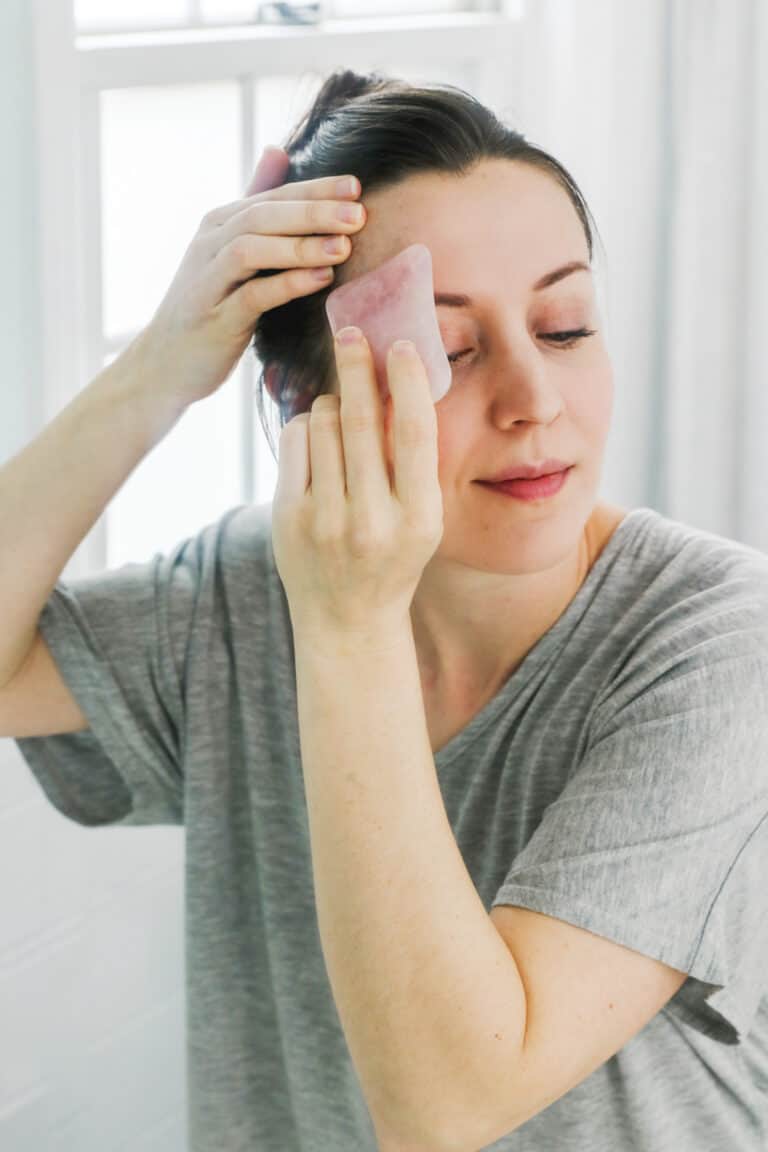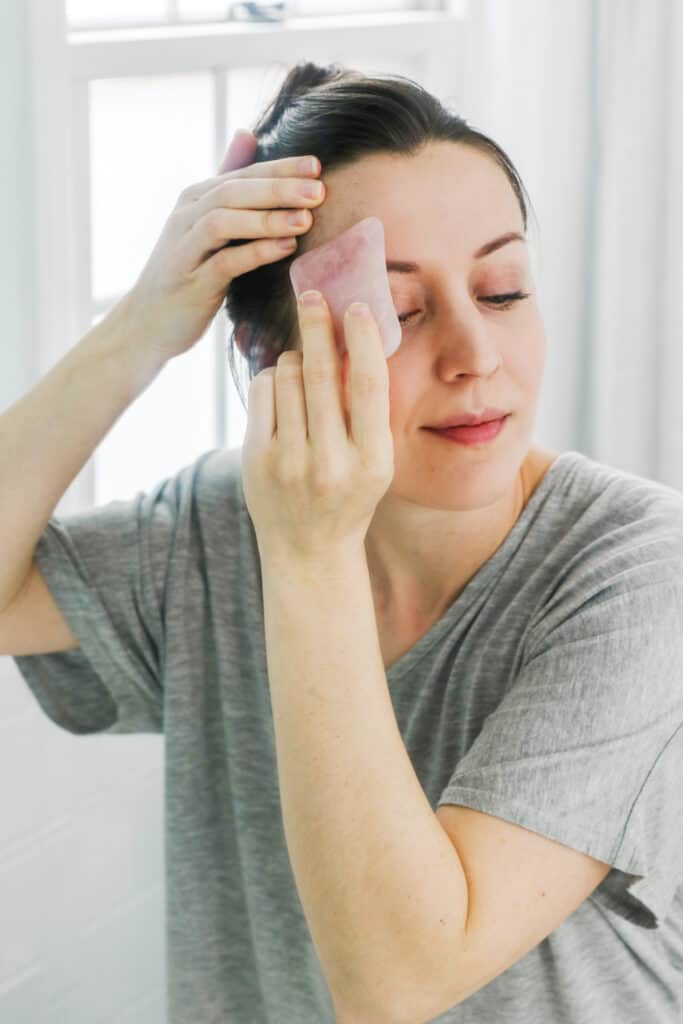 4. Move on to the brows, brow bone, and forehead. An upward stroke helps to lift skin, so use soft upward strokes when working on the forehead area, and if you feel you have extra fluid in the face, sweep it down toward the ears at the end.
5. Lastly, spend some time on the areas of the face that may be tense at times, like the forehead, around the mouth, or near the jawline. And then lastly, focus on the happy spots like the laugh lines and crow's feet.
When using gua sha to help with temporomandibular joint dysfunction, also known as TMJ, Johnson recommends placing the cold gua sha right in between where your jaw opens. "That muscle is the strongest muscle in your whole body and never gets massaging love, so massaging that area helps relieve TMJ," says Johnson. "It is best to do this for one minute each side every day, as any more than this could leave you sore."

Why add essential oils?
Things like carrot seed and neroli soften skin and boost firmness, while chamomile is calming, and sandalwood soothes irritation. Simply whip up one or two of the blends mentioned below and apply it to the skin using a roller bottle. As you massage your skin with the gua sha stone, it helps the oils sink in and boosts blood flow to the area, so skin looks healthier and more radiant.
You can mix and match within these recipes, using whatever combination of essential oils you think will work best according to their specific properties. The individual oils you might choose can be different, but the basic supplies are the same:
Gua sha facial oil
Essential oils (see below for specific blends)
Carrier oil
Gua sha stone
Combine oils directly in the base of your roller bottles. Put the roller back into place, and screw on the lid before gently shaking to combine the oils. Apply to target areas such as under eyes, forehead, and over fine lines. Or use more liberally to moisturize general areas as needed.
From the recipes below, choose the oil blend that best suits your particular skin type.
1. Aging Essential Oil Blend
This highly moisturizing combination of oils helps to mitigate the tendency toward dryness environmentally induce stress that becomes more evident with advancing age. Known as an excellent source of vitamin A, carrot seed oil has calming and cleansing properties [source].
And studies have shown that neroli oil has beneficial effects on areas of irritation [source]. Grapeseed oil is packed with fatty acids and antioxidant compounds that can protect against skin pollution and other environmental factors [source]—and so does sandalwood oil [source].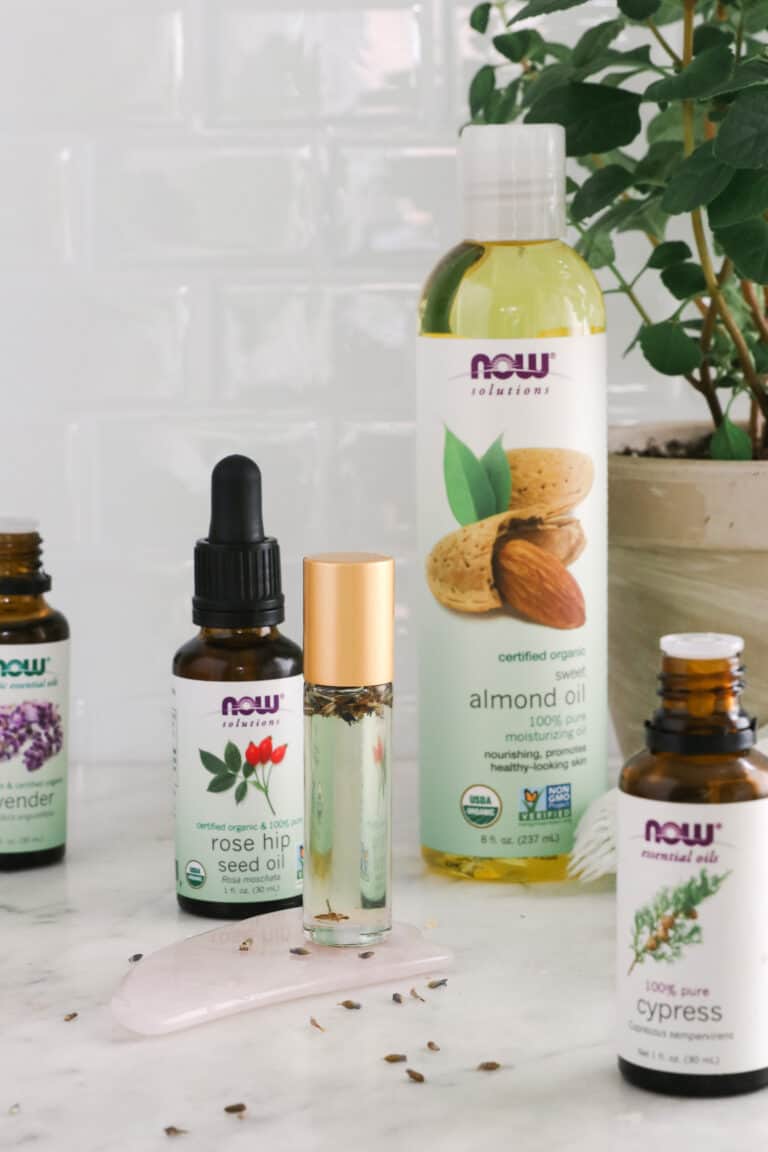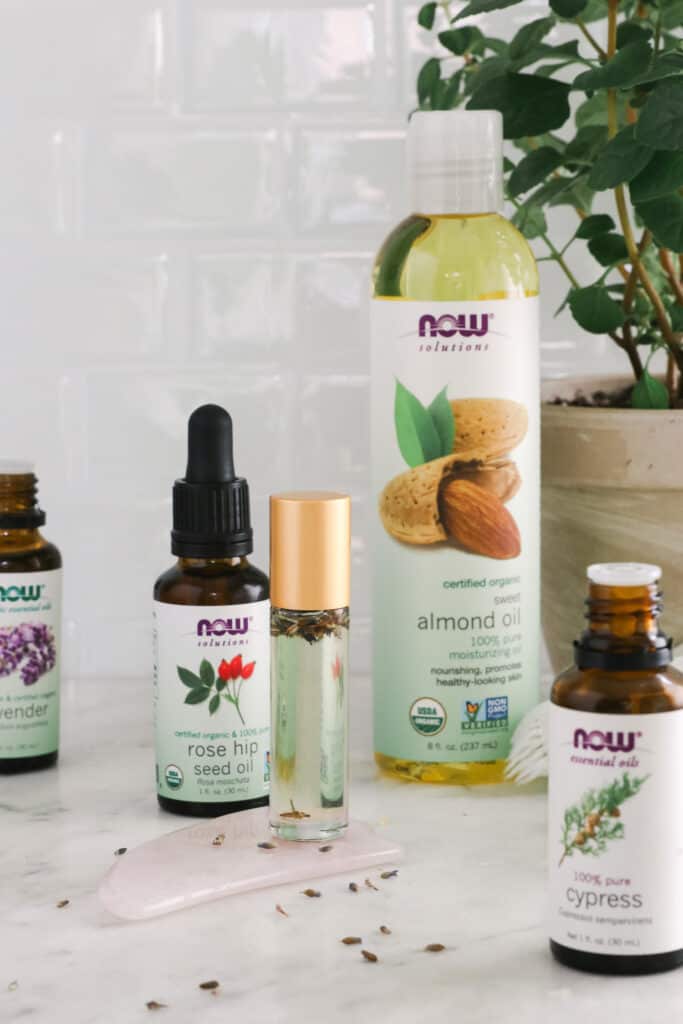 2. Moisturizing Essential Oil Blend
Almond oil has long been known for its emollient properties. [source]. Rose hip is a big player in the world of skin calming oils, and it's full of fatty acids that provide protection against oxidative stress [source].
Jasmine oil is also an antioxidant [source], but I recommend using it here because, well, it just smells wonderful!
3. Oil Balancing Essential Oil Blend
One of the best ways to balance the oils your skin produces is to address anything that causes irritation. Both chamomile and geranium essential oils are known to do just that [source].
Cypress oil is another one that has proven itself as a good cleanser in quite a few studies [source]. Jojoba is a good carrier oil; it has a balancing effect on the skin in various skin conditions [source].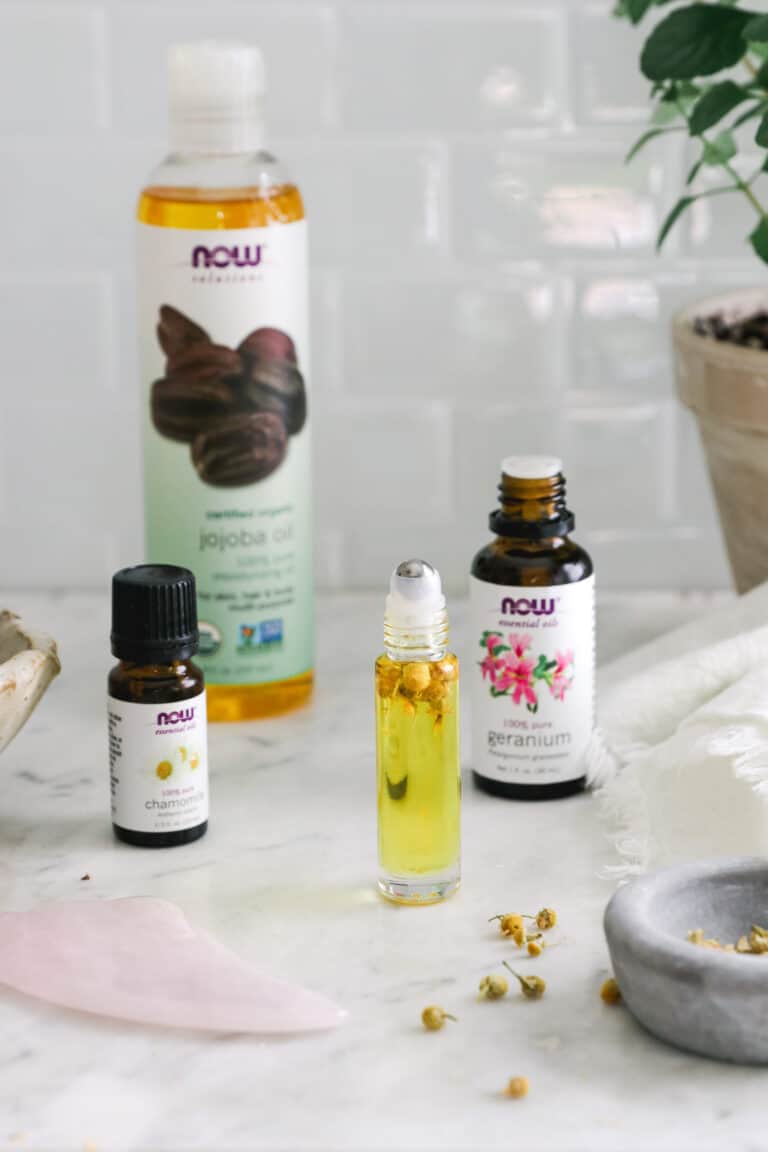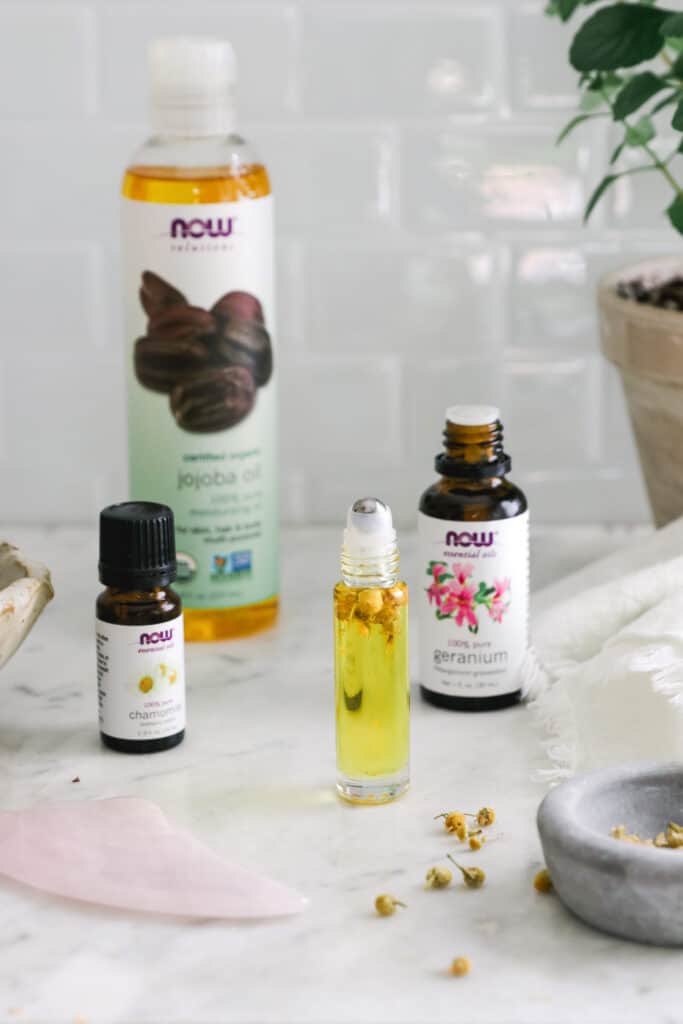 4. Soothing Essential Oil Blend for Problem Skin

Chamomile oil has an interesting action on skin in that it has skin calming properties [source]. Lavender oil, along with its cleansing properties [source], was shown to have skin soothing qualities when studied in volunteers undergoing needle insertion into the skin [source].
Akin to other plants that have an orange color, apricots possess the beneficial action of beta carotenes (as well as vitamin C), which are antioxidants that help to protect the skin from environmental stressors [source].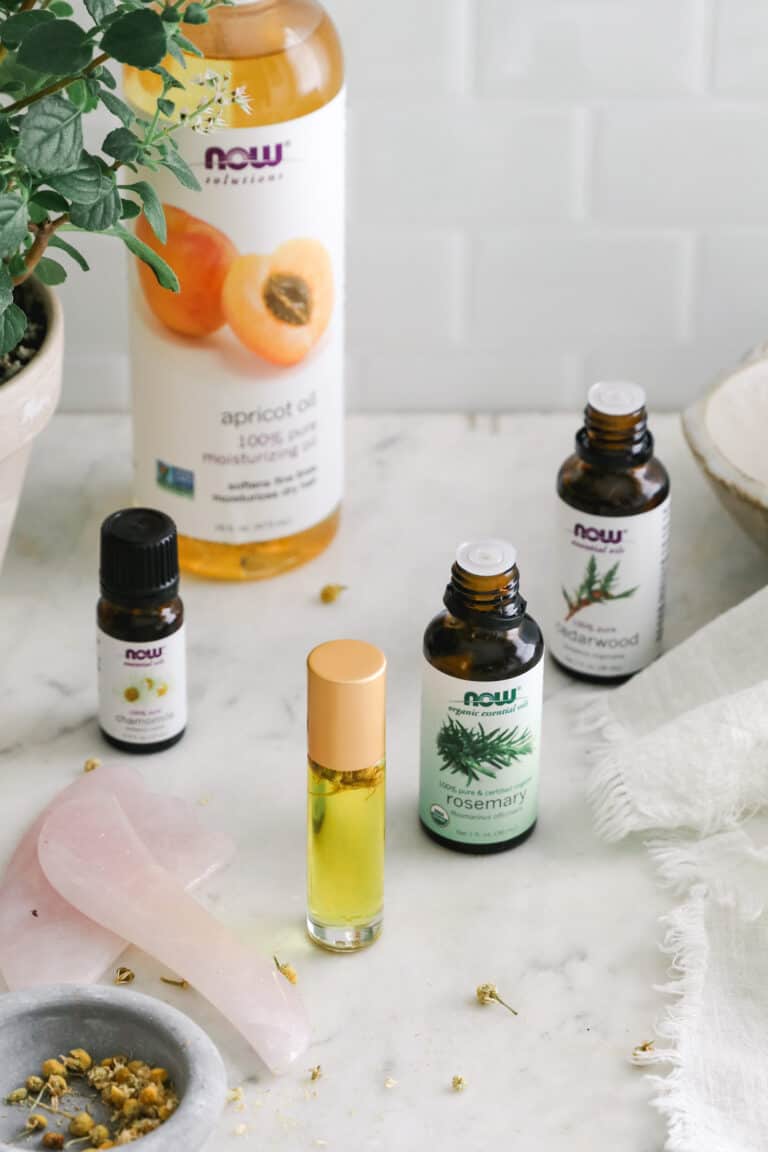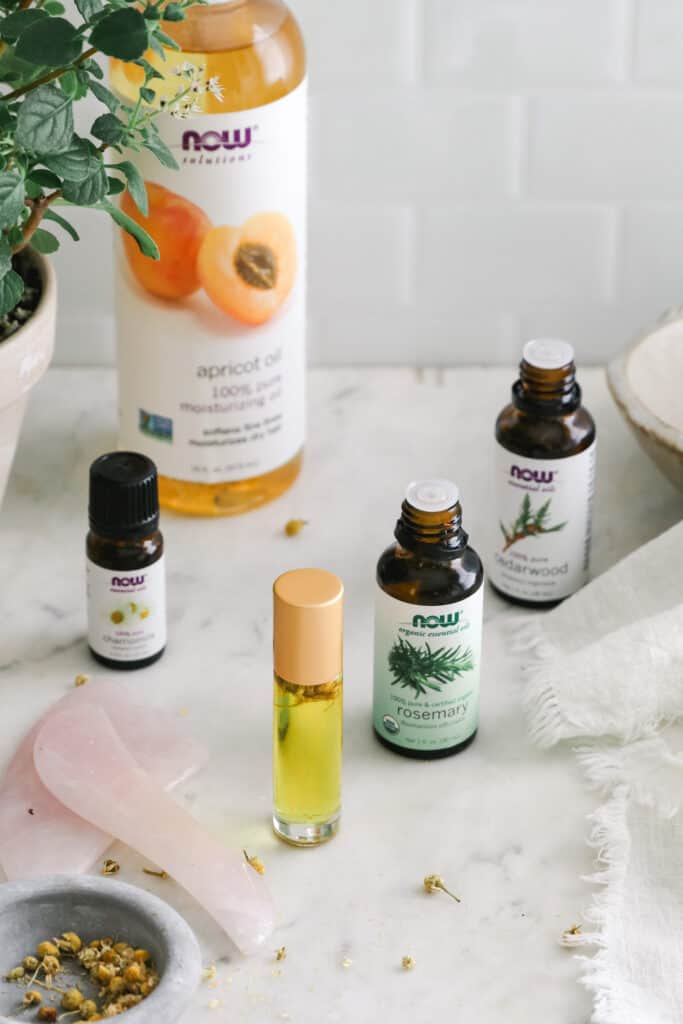 How often to use the gua sha
To get the most out of the gua sha experience, Taylor Campbell, owner and nurse practioner of Restorative Injectables, recommends performing it 2-3 times per week. "I love it in the evening after I have washed my face to help relax before bed," she says. "It's also great to use if you suffer from migraines or headaches."
Where to find the right gua sha tool
Shopping for the right gua sha can seem overwhelming since they come in a myriad of different sizes, shapes, colors and materials. "Smaller ones are typically for face while larger ones are for the body," says Aguilar. "The material and color vary with the stone used." Ultimately, she recommends finding one that feels comfortable and fits nicely in your hand.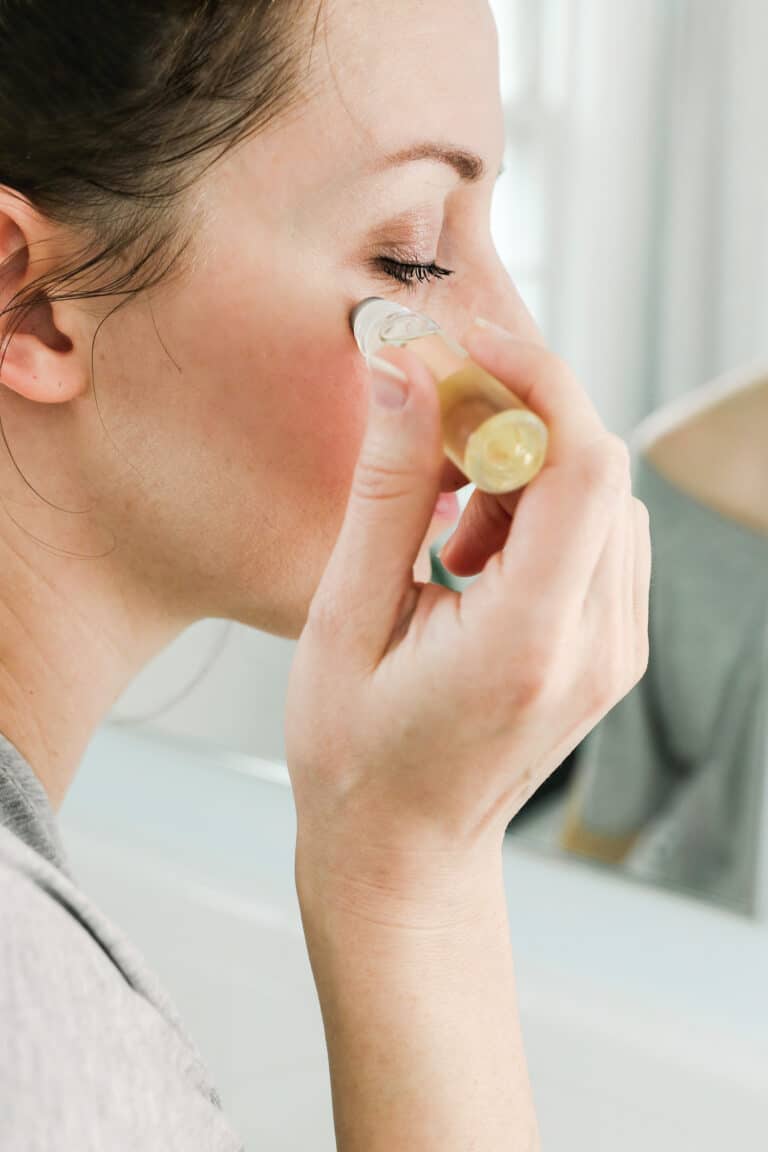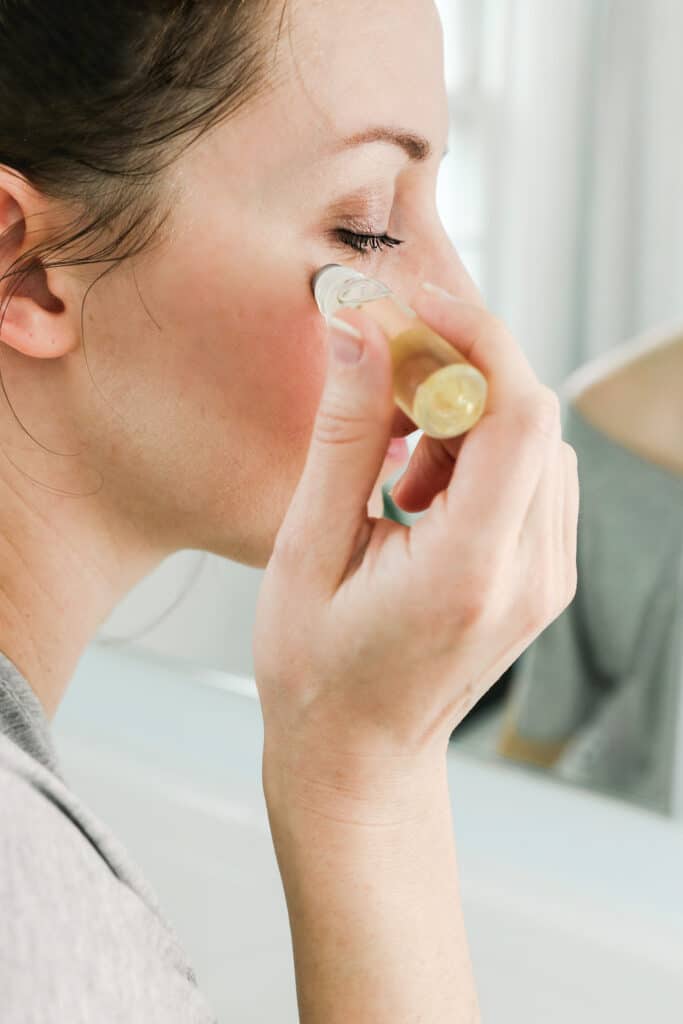 A note about safety
Campbell warns that too applying much pressure can cause some potential side effects including bruising caused by the bursting of tiny blood vessels (capillaries) near the surface of the skin. For this reason, she recommends applying only gentle pressure.
This article was medically reviewed by Dr. Gina Jansheski, a licensed, board-certified physician with more than 20 years of experience. Learn more about Hello Glow's medical reviewers here. As always, this is not personal medical advice and we recommend that you talk with your doctor.
77