Looking for a way to improve your skincare routine? A face roller could be the answer. Jade and rose quartz rollers have been used in beauty rituals for centuries, and for good reason. We asked dermatologists and aestheticians to explain the benefits of facial rolling, and we'll show you exactly how to use a face roller, so you can start incorporating this ancient practice into your daily routine. Let's get rolling!
Meet the experts

What is face rolling?
I splurged on a beauty box subscription last year. The best part was opening the box and discovering new, cool products. I'd haul them into my bathroom, determined to use them. A few ended up making the cut and became a regular part of my skincare routine. My favorite addition? A face roller.
When I got it out of the box, I had no idea what it was (FYI—this is the roller I use). Eventually, I learned that jade rollers were commonly used in the beauty rituals of Chinese royalty going back centuries.
The most common stones in popular rollers today are jade and rose — both suggesting different benefits.
Jade face rollers
The beautiful green stone has long been a symbol of peace, harmony, and beauty. Jade jewelry is often worn to bring the energy from nature and the Earth to revitalize and recharge your aura. When used on the face, jade is said to draw out blocked negative energy and help balance your chi, or energy.
According to Erum Ilyas, M.D., a dermatologist at Montgomery Dermatology in King of Prussia, Pennsylvania, jade is known for being durable and firm while maintaining its cool temperature. In fact, one way to tell if a roller is really made of jade is to put it in the palm of your hands. If it warms up, its not jade.
Rose quartz facial rollers
Originating in ancient Chinese medicine, quartz rollers used to be the practice of the elite rich, and Egyptians believed in their power, too, according to Philadelphia-based aesthetician, Chelsea DePilla. You can consider a quartz roller the oldest form of anti-aging methods — and a practice that DePilla is still worth the time today.
While DePilla says jade is a softer stone that heats on your skin faster, aesthetician at In-Glo Med Spa, Inna Knyasevch says rose quartz brings beneficial crystal healing energies.
7 Benefits of Facial Rolling
I started rolling my face because it felt good. It's like a quick facial massage. Little did I know just how much it would benefit me. Here are some impressive skin benefits of using a facial roller: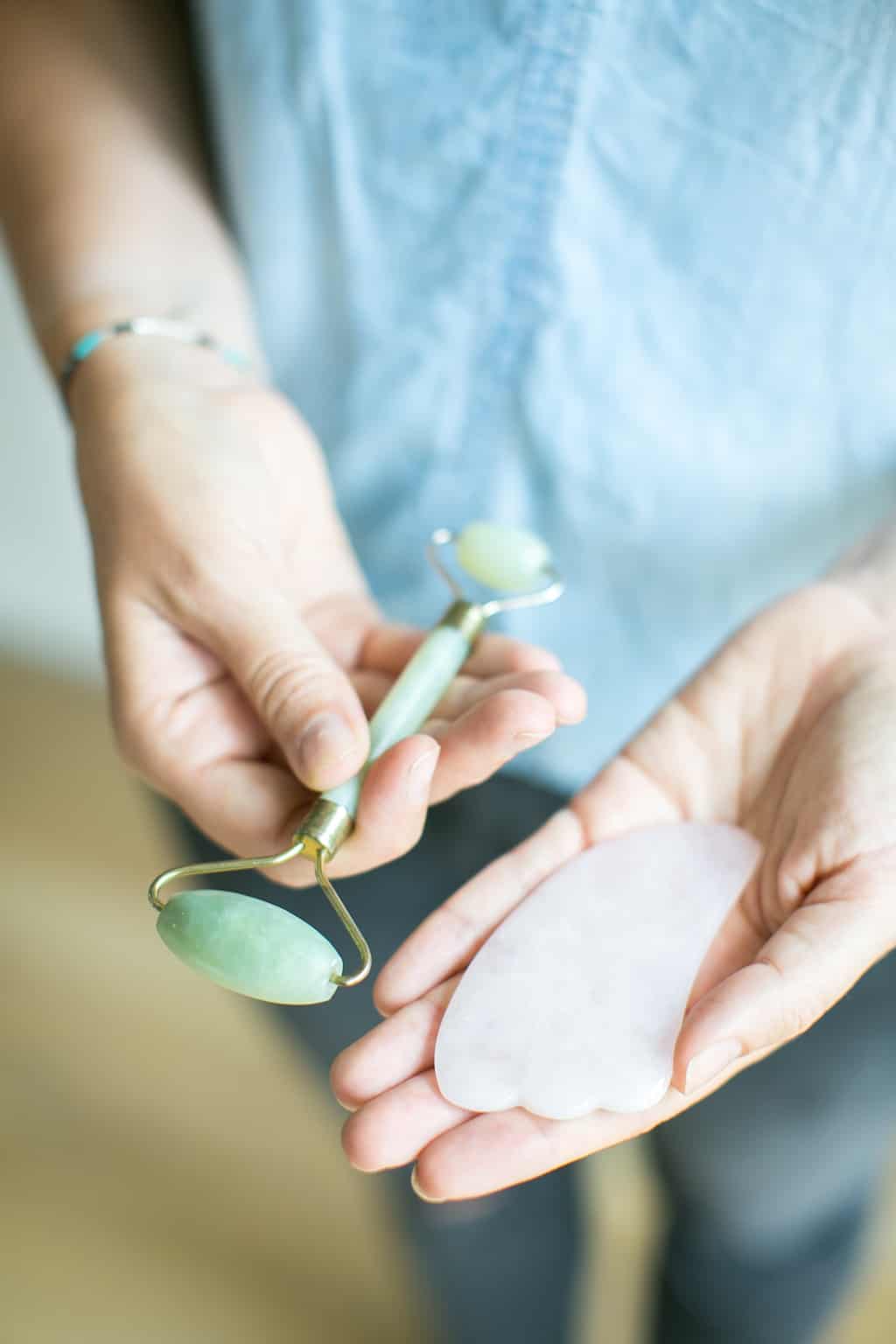 1. Lymphatic drainage
By utilizing the healing properties of various stones from Mother Nature herself, DePilla says quartz and jade rollers can help to assist lymphatic drainage on our face. Improving lymphatic drainage in the face helps to remove waste and toxins from the body and can help improve the overall health and appearance of the skin.
2. Improving skin circulation
Rolling stimulates blood flow to the skin, which can help to deliver oxygen and nutrients to the skin cells, and increase the production of collagen and elastin. This can help to improve the tone and texture of the skin, and reduce the appearance of fine lines and wrinkles.
"Keeping healthy blood flow to the face will help smooth out those fine lines and delay the aging process," DePilla adds.
3. Reducing facial puffiness
Sometimes fluid can get trapped in the superficial layers of our skin, often as a result of rosacea and hormonal changes, per Dr. Ilyas. This can unfortunately make our skin look ruddy, more porous and enhance the appearance of fine lines and wrinkles. A facial roller can help release this excess fluid back into the lymphatic system.
4. Helping with under eye circles

When you're going through a period of little sleep thanks to deadlines, children or a bad breakup, cool rollers can be used as a way to get rid of dark, puffy under eye circles. Luckily, the smaller end of a jade roller can help massage out this fluid around the soft tissue of the eyes.
"The soft tissue around the eyes is like a sponge and allergies, eye makeup irritation, rubbing our eyes and not sleeping enough can cause this fluid to build up," explains Dr. Ilyas. "Once that fluid is caught up in the soft tissues around the eyes, it can linger for a long long time."
5. Relieving tension in facial muscles
"The same way a good massage can help your muscles release tension for the body and scalp, so can massaging the skin on the face," says Dr. Ilyas. "The soothing effect of massaging the skin, especially around the eyes and the forehead where the muscles attach directly to the skin, can help relieve tension."
6. Natural facelift
With regular use, facial rolling can help to tone and lift the muscles of the face, which can help to create a more youthful and defined appearance. This can be particularly effective in areas such as the jawline, cheeks, and forehead.
7. Reducing facial inflammation
When you place the roller in the freezer, the cool temperature can also fight against swelling, inflammation, and puffiness, too. As you roll across your t-zone and cheeks, you will notice puffiness and inflammation give way to brighter, calmer pores. As a bonus, the jade stone also feels cool on the face, which makes it perfect for stimulating your skin and waking you up in the morning.
8. Soothing sinuses
When you're sick, suffering from allergies or stuffed up, Knyasevch says a roller is not only good for your skin, but your sinuses.
9. Deeper cleansing
If you want to ensure all of your makeup is completely off of your face — and thus, not clogging up sensitive pores — a face roller can dig through every layer, according to Knyasevch.
10. Improved product absorption
When used in combination with skincare products, facial rolling can help to improve their absorption into the skin. This can help to enhance the effectiveness of your skincare routine, and can help to maximize the benefits of your favorite products.
11. Relaxation
Facial rolling can be a relaxing and stress-reducing practice. The gentle pressure and motion of the roller works like a facial massage to improve overall mood and well-being.
How To Use Face Rollers
Facial Rolling Instructions
A jade roller is most effective when used with your favorite skin serum, oil, or mist because it helps the moisturizer fully absorb into the skin. It's a simple process. Here's a quick rundown of the technique.
1. Start by applying your skin oil or serum (you can add more while rolling if needed.)
2. Then, pick one side of your face to start with. Put the roller in the middle of your forehead and roll outward toward your ear. The roller is moving lymphatic fluid to the lymphatic drainage points near the ears or collarbone.
3. Continue rolling on the same side of the face, starting each time at the center and moving toward the ear. Use the small stone to roll outward around your eyes and down your nose (this helps move out congestion if you have sinus issues). Continue to roll outward from your nose, lips, and chin.
4. When you get down to your jawline and neck, start by the center of the chin and roll along the jawline toward the ear. Then roll along one side of the neck from the jar to the collarbone. Apply very light pressure and avoid the thyroid area as best you can.
5. Repeat on the other side of your face, starting again in the middle of the forehead.
A few things to note
:
—You don't need to apply pressure, and you shouldn't roll back and forth—or you'll pull lymphatic drainage in both directions!
—Pick up the roller and place it back in the center of the face or neck before rolling again. Continue rolling for a couple of minutes to let your oil or serum fully absorb. Five minutes is recommended, but I'm too impatient for that.
—Rolling twice a day helps to improve drainage and keep skin looking radiant, but you can roll as often as you feel it's needed.
—For best results though, make sure your roller is cold by keeping it in your fridge or freezer until you're ready to use it. Though dermatologist Dr. Hadley King says you can reap the same benefits with a cold spoon or other material, stones are naturally cold, making them an easier go-to.
You can also try these tips from Dr. King to get the most out of your roller practice:
Use it with a serum.
After you apply your serum of choice or essential oil blend before bedtime, you can gently roll over your pores with your stone of choice, helping to massage the serum into your skin more effectively.
Use it with a sheet mask.
Sure, sheet masks are popular — but how often do you actually let all of the goodness saturate into your skin? Though the Instagrammable part of the masking ritual is when it's on your face, the benefits are often found after you remove it. After those five to 15 minutes of application, use a roller to ensure all of the ingredients infiltrate your pores.
Use a small stone for lips and eyes.
Most rollers are designed for the larger portions of your face, including your forehead and your cheeks. But to reach the small sections that still need TLC — like your lips and eyes — consider investing in a small gua sha stone. These allow you to reach every nook-and-and-cranny, ensuring all of your face benefits from your ritual.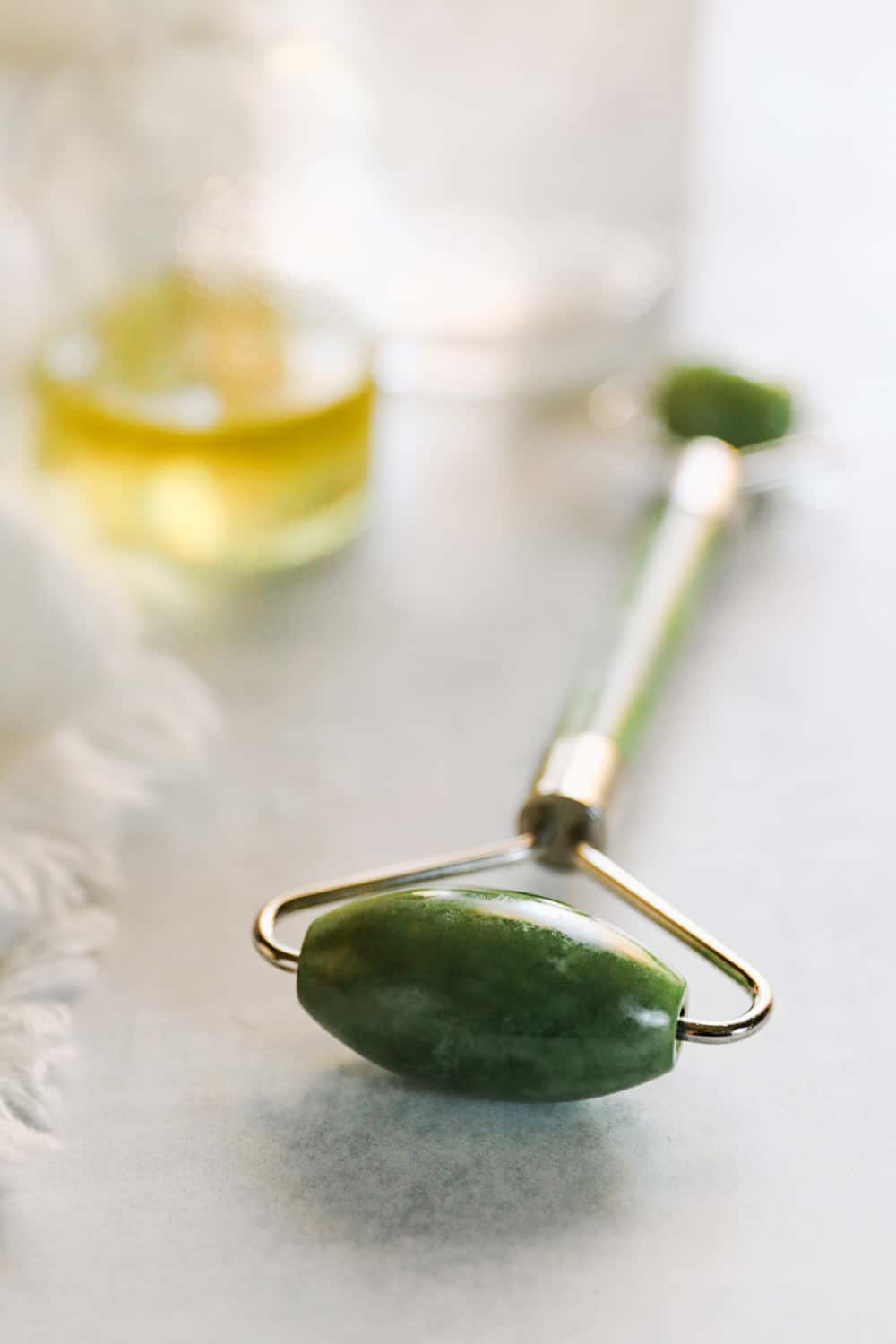 How to clean a face roller
To clean your face roller, wipe it down with a wet cloth and let it dry. If you notice any product buildup, wash the stones with warm soapy water, being careful not to submerge the roller completely in water.
Dry your jade roller with a soft, microfiber cloth. Store it in a clean pouch or the box it came in.
Once a week, sanitize your roller by spritzing the roller with a tiny bit of rubbing alcohol or vodka and wiping clean.
Facial Roller FAQs
Can I store my roller in the freezer
?
Yes, feel free to keep your jade roller in the freezer for an extra cooling effect, which can be an effective treatment for puffiness.
How long does it take a face roller to work
?
It's a little different for everyone, but you can expect to see noticeably less puffiness in 4–5 minutes.
Do you use a facial roller after moisturizing
?
There are no hard and fast rules when it comes to jade rolling, but I recommend cleansing your face and applying serum, toner, and moisturizer (everything in your daily beauty routine) before using your jade roller.
By applying it first, you allow the jade roller to essentially press the serum and moisturizer into skin rather than allowing it to sit on top. If your skin feels dry after rolling, go ahead and apply more moisturizer.
Can you roll too much
?
Rolling twice a day is recommended. Doing it slightly more often shouldn't hurt, but don't get carried away.
If you prefer to roll more often, keep an eye out for irritation or soreness, and be gentle with your skin (applying too much pressure and/or pulling are huge no-no's.) Cut back to 1–2 times a day if you notice any issues.
What are the best oils for face rolling
?
Look for noncomedogenic oils with regenerative properties, such as rose hip seed, carrot seed, and argan oil.
Is a face roller good for acne
?
Can a jade roller cause breakouts
?
While a jade roller may not decrease breakouts, massaging skin and increasing circulation may help to improve the appearance of acne scars and discoloration. "If acne is active, with an inflammatory pustular component, the use of a jade roller could 'pop' some of these inflamed pustules," says Dr. Ilyas. "Managing the skin appropriately afterwards and taking the time to clean the jade roller is important to avoid aggravating the skin."

On the other hand, using a dirty jade roller can introduce new bacteria to skin, which in turn may cause breakouts. So be sure to clean your jade roller regularly.
This post was medically reviewed by Dr. Jennifer Haley, a board-certified dermatologist with extensive experience in medical, cosmetic, and surgical dermatology. Learn more about Hello Glow's medical reviewers here. As always, this is not personal medical advice, and we recommend that you talk with your doctor.
216