I splurged on a beauty box subscription last year. The best part was opening the box and discovering new, cool products. I'd haul them into my bathroom, determined to use them. But it turns out that I'm not so good at experimenting because having unused products sitting on my counter somehow stressed me out.
A few ended up making the cut and became a regular part of my skincare routine. My favorite addition? A jade roller.
What is a jade roller?
When I got it out of the box, I had no idea what it was (FYI, this is the roller I use). Eventually, I learned that jade rollers were commonly used in the beauty rituals of Chinese royalty going back centuries. The beauty benefits include boosting circulation, tightening pores, and fighting fine lines.
To be honest, I started rolling my face because it felt good. It's like a quick facial massage.
But like home microneedling, that massage has a few added benefits, as well. It helps to:
And as a bonus, the jade stone also feels cool on the face, which makes it perfect for stimulating your skin and waking you up in the morning.
Why jade?
The beautiful green stone has long been a symbol of peace, harmony, and beauty. Jade jewelry is often worn to bring the energy from nature and the Earth to revitalize and recharge your aura. (Rose quartz rollers are popular, too, but they're said to have different energetic properties.)
When used on the face, jade is said to draw out blocked negative energy and help balance your chi, or energy. According to Energy Muse, "the jade roller for the face stimulates the meridian points of the face, which are energy lines that connect to our internal systems.
When you touch the jade gemstones to these points, it energizes them. It also connects these points on the face to earth energy, something we aren't often able to do."
Right. Doesn't that sound healing? Even if you're not totally sure what it means!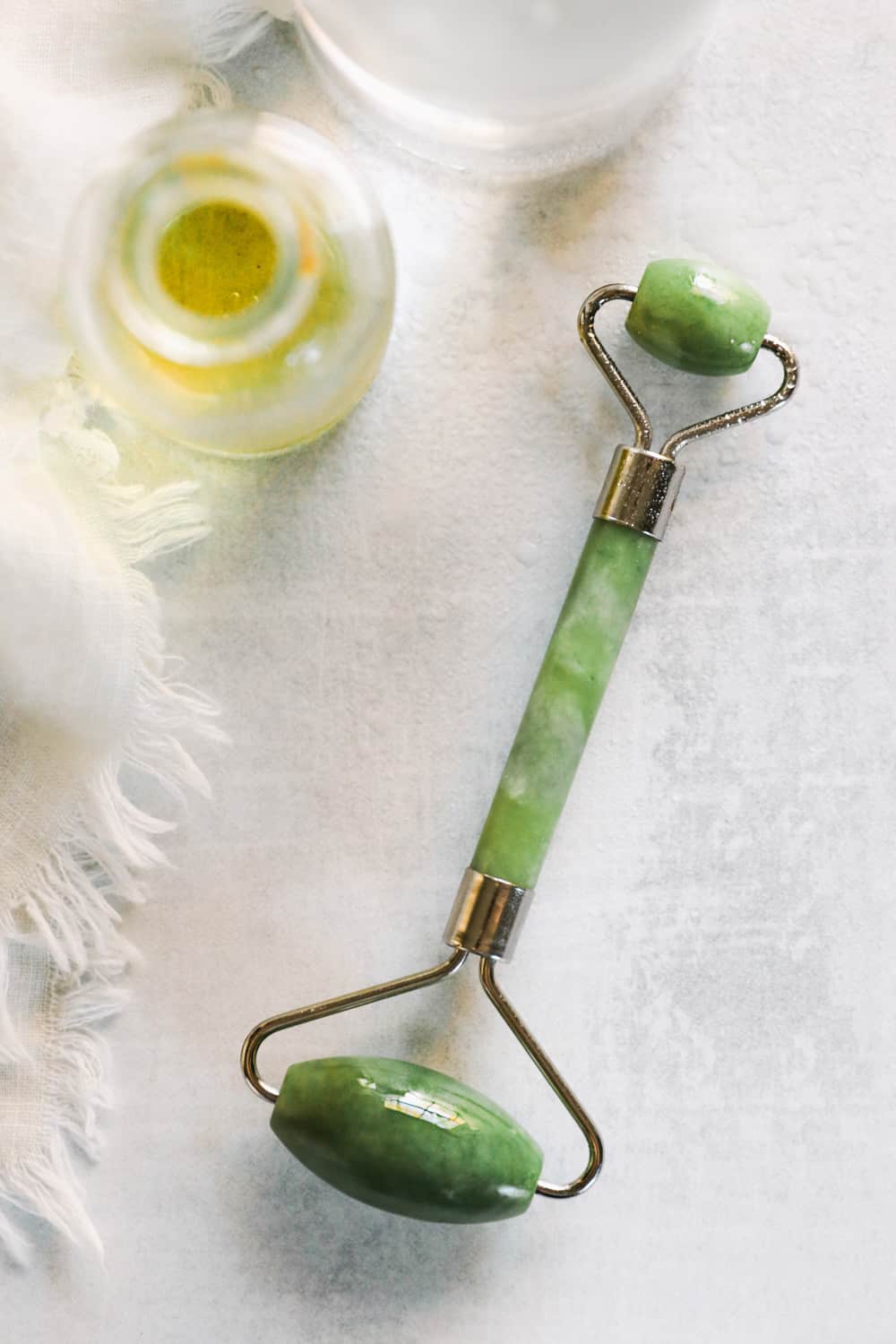 How do you use a jade roller?
A jade roller is most effective when used with your favorite skin serum, oil, or mist because it helps the moisturizer fully absorb into the skin. It's a simple process. Here's a quick rundown of the technique.
1. Start by applying your skin oil or serum (you can add more while rolling if needed.)
2. Then pick one side of your face to start with. Put the roller in the middle of your forehead and roll outward, toward your ear. The roller is moving lymphatic fluid to the lymphatic drainage points near the ears or collarbone.
3. Continue rolling on the same side of the face, starting each time at the center and moving toward the ear. Use the small stone to roll outward around your eyes and down your nose (this helps move out congestion if you have sinus issues). Continue to roll outward from your nose, lips, and chin.
4. When you get down to your jawline and neck, push outward and then down toward the collarbone.
5. Repeat on the other side of your face, starting again in the middle of the forehead.
A few things to note: You don't need to apply pressure, and you shouldn't roll back and forth—or you'll pull lymphatic drainage in both directions!
Pick up the roller and place it back in the center of the face or neck before rolling again. Continue rolling for a couple of minutes to let your oil or serum fully absorb. Five minutes is recommended, but I'm too impatient for that.
Rolling twice a day helps to improve drainage and keep skin looking radiant, but you can roll as often as you feel it's needed.
How to clean a jade roller
To clean your jade roller, wipe it down with a wet cloth and let it dry. If you notice any product buildup, wash the stones with warm soapy water, being careful not to submerge the roller completely in water.
Dry your jade roller with a soft, microfiber cloth. Store it in a clean pouch or the box it came in.
Jade Roller FAQ
Can I store my jade roller in the freezer?
Yes, feel free to keep your jade roller in the freezer for an extra cooling effect, which can be an effective treatment for puffiness.

How long does it take a jade roller to work?
It's a little different for everyone, but you can expect to see noticeably less puffiness in 4–5 minutes.
Do you use a jade roller after moisturizer?
There are no hard and fast rules when it comes to jade rolling, but I recommend cleansing your face and applying serum, toner, and moisturizer (everything in your daily beauty routine) before using your jade roller.
By applying it first, you allow the jade roller to essentially press the serum and moisturizer into skin, rather than allowing it to sit on top. If your skin feels dry after rolling, go ahead and apply more moisturizer.
Can you jade roll too much?
Rolling twice a day is recommended. Doing it slightly more often shouldn't hurt, but don't get carried away. If you prefer to roll more often, keep an eye out for irritation or soreness, and be gentle with your skin (pulling is a huge no-no.) Cut back to 1–2 times a day if you notice any issues.
What are the best oils for jade rolling?
Look for noncomedogenic oils with regenerative properties, such as rose hip seed, carrot seed, and argan oil.
Is a jade roller good for acne? Can a jade roller cause breakouts?
While a jade roller may not decrease breakouts, massaging skin and increasing circulation may help to improve the appearance of acne scars and discoloration.
On the other hand, using a dirty jade roller can introduce new bacteria to skin, which in turn may cause breakouts. So be sure to clean your jade roller regularly.
This post was medically reviewed by Dr. Jennifer Haley, a board-certified dermatologist with extensive experience in medical, cosmetic, and surgical dermatology. Learn more about Hello Glow's medical reviewers here. As always, this is not personal medical advice, and we recommend that you talk with your doctor.
172