It seems like as we get older, there's an ever-growing amount of skincare products we have to use. In our teens, we cleansed, in our twenties, we added a good moisturizer to the mix, and then in your thirties—oh boy! Now you've got to start thinking about fine lines, but your T-zone is still oily, and all that sun exposure from the past three decades is starting to catch up with you. We've got a great guide to the five essential components of any skincare routine to help you figure out exactly what you need for your skin type, but might I suggest a sixth step? A serum.
Facial serums are typically an oil- or water-based treatment that delivers concentrated, targeted nutrients to address one or more skin problems. You can use one alone, use two together, or use different ones on different parts of your face. Serums should be used after cleansing, but before moisturizing—although if you have oily skin, you can get away with using a serum as a moisturizer too.
Good serums can be pricey, but since you only use 1-2 drops at a time, they'll last you quite a while. I apply serums twice a day, after cleansing and toning; put a few drops in the palms of your hands and gently pat the serum onto your face (don't rub! it stretches the skin, causing wrinkles and loss of elasticity!) until it's absorbed. Follow with your favorite moisturizer to keep all the good stuff locked in so it can work its magic.
Every skin type can benefit from the addition of a serum, but because they're so concentrated, it's essential to make sure you're using one that's made for your skin type so you don't exacerbate any skin issues you might have. Here are some of our favorite facial serums for every skin type:
Serums for oily skin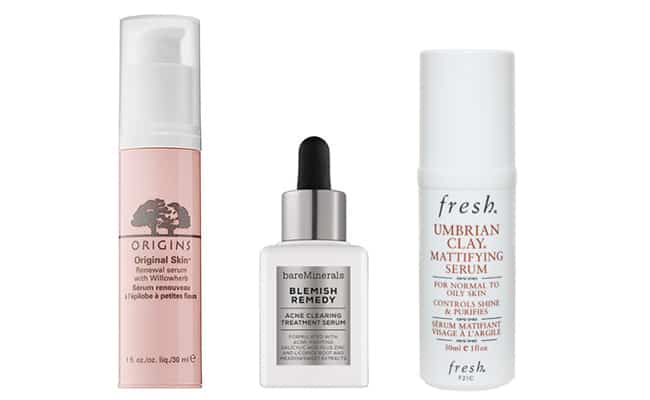 Origins Original Skin Renewal Serum // Combat dullness, rough patches, and large pores with this restorative serum.
BareMinerals Blemish Remedy Acne Clearing Treatment Serum // Salicylic acid helps exfoliate and unclog pores for clearer skin.
Fresh Umbrian Clay Mattifying Serum // If you're battling shine and large pores, this clay-based serum is for you.
Serums for normal or combination skin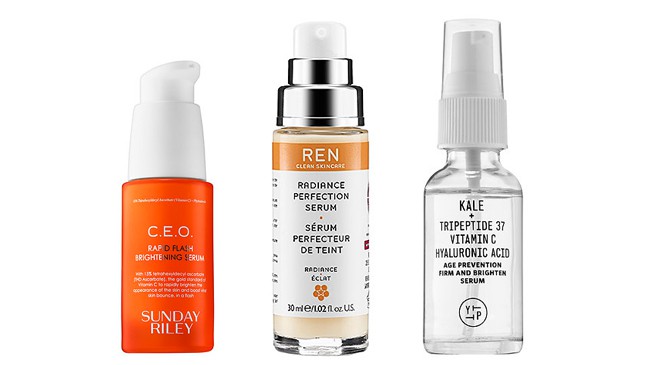 Sunday Riley CEO Rapid Flash Brightening Serum // Vitamin C is a great ingredient to add to your skin routine—it'll make your skin radiant and improve its tone.
REN Radiance Perfection Serum // A brightening serum that helps correct skin tone, this serum works for every skin type.
Youth to the People Age Prevention Superfood Serum // You might not be seeing signs of aging yet and this firming serum will help keep it that way!
Serums for dry or aging skin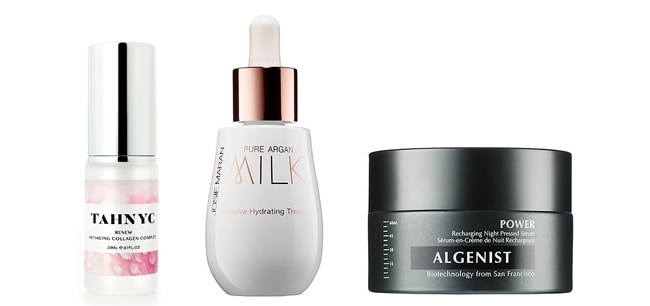 Tahnyc Renew Antiaging Collagen Complex // This serum does it all when it comes to aging: fights fine lines and wrinkles, firms and tones, and restores softness.
Josie Maran Pure Argan Milk Intensive Hydrating Treatment // Microdroplets of argan oil penetrate the skin quickly and deeply to moisturize even the driest skin, while also fighting signs of aging.
Algenist POWER Recharging Night Pressed Serum // When your skin needs some serious TLC, this bedtime serum will give it a refresh in as little as 10 days.
Serums for sensitive skin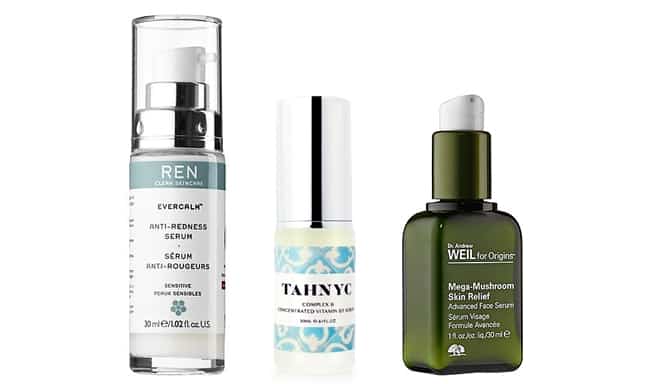 REN Evercalm Anti-Redness Serum // If you're embarrassed by constant facial redness, this gentle serum will help keep irritation and inflammation at bay, all while improving skin tone and moisturizing.
Tahnyc Complex B Concentrated Vitamin B5 Serum // Stressed out skin? Vitamin B5 and peptides combine to heal and calm redness and irritation.
Dr. Andrew Weil for Origins Mega-Mushroom Skin Relief Advanced Face Serum // Mushrooms are one of our favorite superfoods—and they can soothe sensitive skin too!
27