You've definitely heard of smoothies by now, but what about smoothie bowls? These filling and nutritious breakfasts are just like smoothies, but are made a thicker so they can be spooned up and topped with extras.
They're perfect for those who like to sit and eat their breakfast versus sipping it from a straw (don't know about you, but I can chug a smoothie in about 5 seconds flat…), and are a super easy way to pack in tons of superfoods, protein, vitamins and minerals.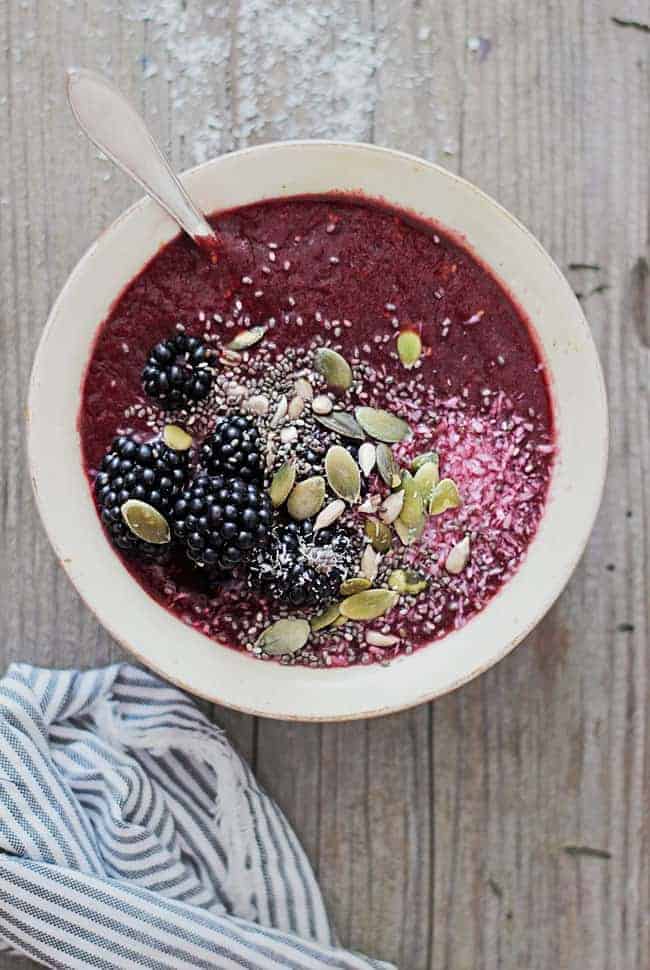 Whereas the ingredients are all mixed in in a smoothie, smoothie bowls are usually topped with something—like nuts, seeds, granola, fruit or shredded coconut—to add nutrition and textural variety.
Are Smoothie Bowls Healthy?
While having a smoothie is a simple snacking way to add more veggies and fruits to your diet, you can actually turn your smoothie bowl into a nourishing meal on its own. The trick is to create a combo that fuels your cells with all the nutrients they need to keep you going and satiated until the next meal.
As long as you go for whole ingredients and fresh fruits and veggies, staying away from refined sugar and saturated fats, your smoothie bowl is definitely a healthy meal.
Smoothie Bowl Ingredients
Smoothie bowls are a very simple way to nurture your body's cells. A balanced diet needs a constant intake of:
fiber (oats, ground flax seeds or chia seeds) to eliminate old hormones and prevent them for leaking back into your system
fermented foods to maintain the health of your gut microbiome (yogurt)
fresh fruits and veggies for minerals
fresh greens to boost natural detoxification
complete protein (cooked quinoa, beans)
healthy fats (avocado)
A smoothie bowl is an ideal way to include all of these. Adding adaptogens and superfoods such as maca powder, bee pollen, ginger, turmeric or spirulina is also a great way to boost the nutritional value of your bowl, and add extra support for a balanced hormone production.
Making one is as simple as making a smoothie. In fact, you can adapt almost any smoothie recipe to a bowl by using about 1/3 less liquid and/or adding in a thickener like silken tofu, avocado, nut butter, extra frozen fruit (bananas will make it extra creamy), yogurt or even cooked cannellini beans.
Make sure to use as much frozen fruit as possible in a smoothie bowl to keep it thick; you don't want your breakfast to be soupy, and you don't want your delicious toppings to sink, either!
5 Steps to the Perfect Smoothie Bowl Recipe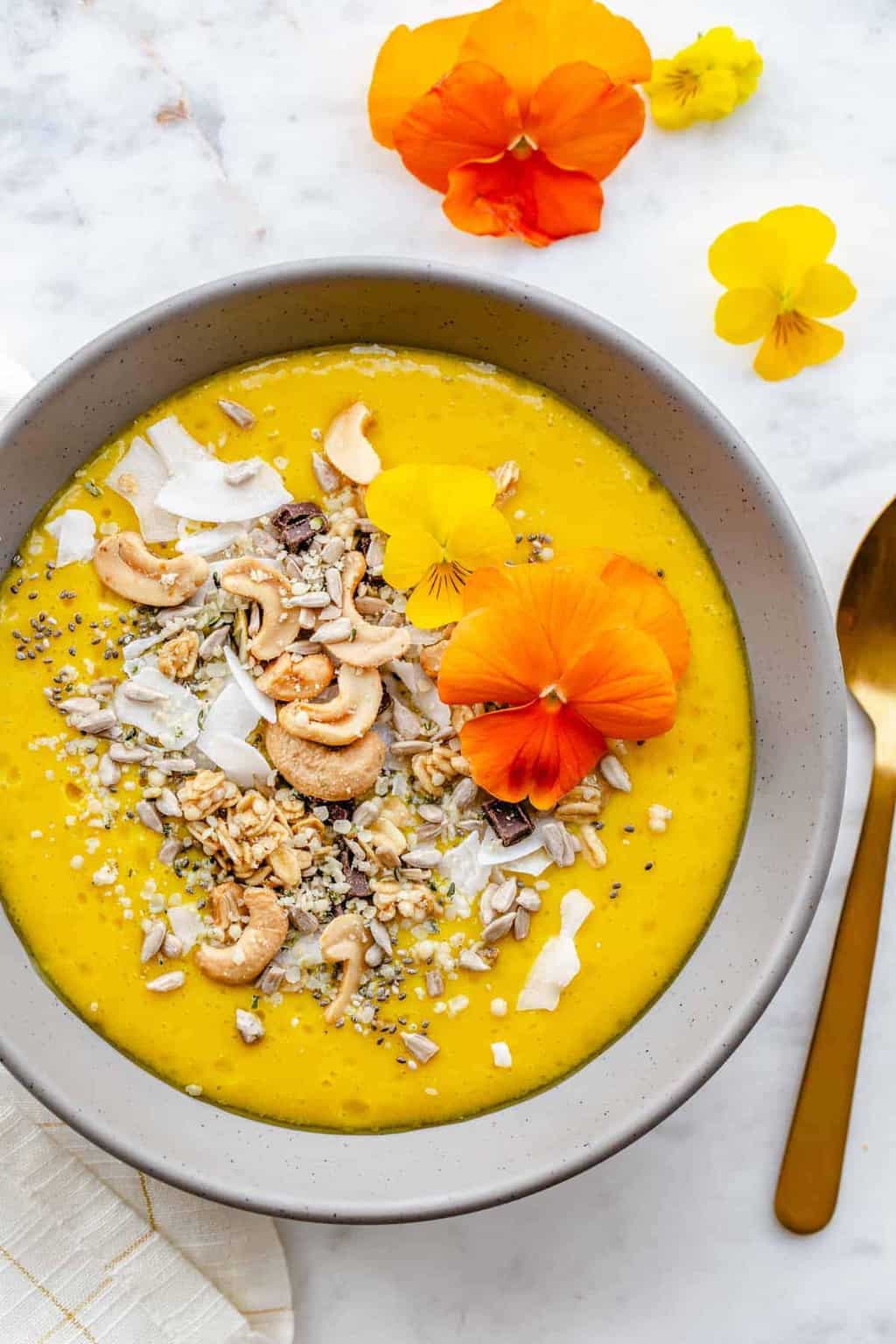 Adjust these amounts to your desired flavor and thickness. Simply add everything into the blender, mix up and pour into a bowl before topping.
1. Pick a Thickening Protein (about 2 tablespoons)
Choose from: tofu, nut butter, Greek or coconut yogurt, cooked beans
Note: chia seeds absorb liquid, so they will also help thicken your smoothie
2. Add a Liquid (about 1/3 cup)
Choose from: coconut water, milk or non-dairy milk, veggie or fruit juice
3. Add Fruit to Thicken (about 1 cup)
Choose from: fresh avocado or apples, frozen bananas, berries or peaches
4. Don't Forget the Greens! (a handful or two)
Choose from: kale, spinach, chard, romaine lettuce, peas
5. Tasty Toppings (about a tablespoon each)
Chose from: fresh fruit, nuts, seeds, shredded coconut, granola or muesli, dark chocolate chips, cocoa powder
Get started with these smoothie bowl recipes: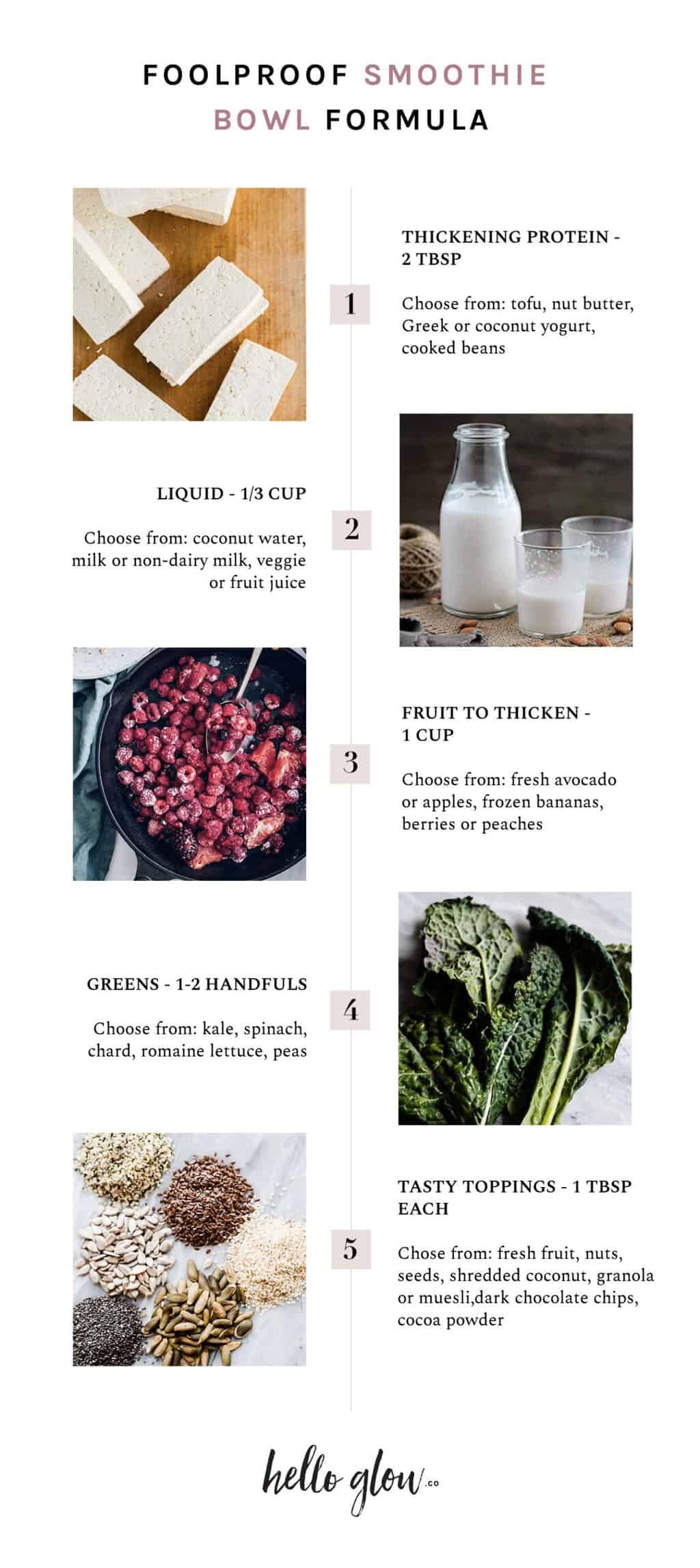 93