This year, I've made it a goal to drink more water. It's because I realized that sluggish, headachy, a little "off" feeling seemed to hit me whenever I wasn't properly hydrated. To make the resolution stick, I've had to go beyond 'trying to remember' to drink more and take specific actions to make it a habit.
First, I bought my own special water bottle and started carrying it with me wherever I go. Then I found a way to make drinking water a bit less tiresome and more like a spa treat.
Making your own infused water is practically calorie free and gives you a refreshing and healthy way to stay hydrated. So if you avoid drinking water because it's boring, this is for you!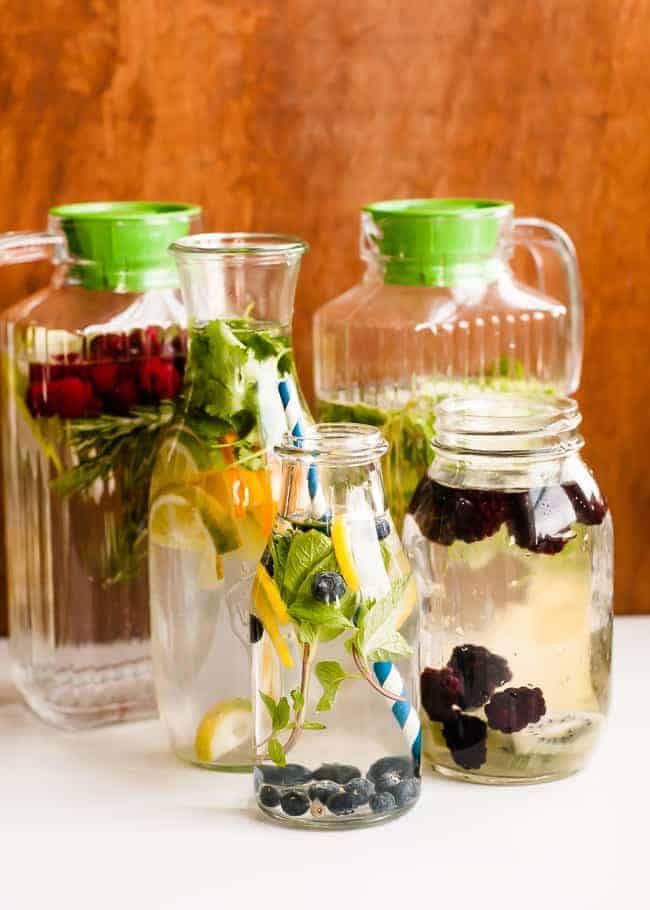 Benefits of Drinking Infused Water
We know sugary drinks aren't good for us because they are high in calories, and they don't really hydrate us all that well. Caffeinated beverages like soda and coffee can actually leave us more dehydrated.
Infused waters have been on the market for years, and quite often, what you find on store shelves contains additives and "natural flavors." Well, I don't know exactly what natural flavors they put in there, but I prefer the natural ones I can select from my fruit bowl.
Infused water can offer quite a few health benefits, depending on the fruits, vegetables, and herbs you use. Besides providing an array of nutrients, antioxidants, and bio-available compounds, infused water can also:
Protect against aging. Many fruits are loaded with antioxidants, which protect our cells against free radical damage and boost their longevity.
Control bloating and aid digestion. Things like excess salt, hormones, and a sub-optimal diet can encourage water retention and bloating. But some foods, such as ginger and cucumber, may help reduce swelling and prevent water retention.
Boost relaxation. If you're feeling stressed, you can infuse your water with herbs that promote relaxation, such as sage, lavender, and chamomile [source].
How to Make Infused Water
Believe it or not, you really can infuse water easily with fruit, vegetables, herbs, and spices. This goes beyond the classic ubiquitous lemon slice in a glass of water. It's one of those things where you can get super creative and think outside the bottle. The possibilities are endless!
Here are some ideas:
Herbs: Rosemary, thyme, mint, basil, cilantro, parsley
Spices: Cinnamon sticks, cardamom pods, fresh ginger, cloves, vanilla bean
Edible flowers: Rose, lavender, citrus blossoms, hibiscus, pansies, violets (just make sure they're 100% pesticide-free)
Fruit: Berries (fresh or frozen), melon, tropical fruits, citrus, apples, pears
Vegetables: Cucumber, celery, fennel, carrots
Water: Filtered water is great, but if you don't have a filtration system, tap water is fine too.
Gather ingredients
I like to make infused water using large glass pitchers or jars with lids. Give the add-ins a good wash or rinse. You can leave the fruits or veggies peeled or unpeeled. That's up to you.
Try to use organic if you can, and avoid any fruit that's bruised or overly ripe or herbs that don't look fresh. Cut it into thin slices or small cubes because the flavor will infuse more quickly. Add the fruit, herbs, spices, or whatever you want to use into a bottle and then fill it up with fresh water.
Be patient
Let the water sit for a few hours to allow the flavors to infuse. The longer it sits, the more flavorful the water will be.
Some fruits or herbs will infuse more quickly than others. Citrus is pretty instant. Herbs take a little longer. Berries take a few hours and will also release color into the water.
I immediately put the infused water in the fridge after I make it, but it doesn't hurt to let it sit at room temperature for a little while (just like when making sun tea, sunlight can help extract the flavors). However, you should keep it in the fridge or add ice if you aren't planning on using it right away.
Drink + refill
Pour a glass and enjoy! If you don't like the feeling of seeds or pulp in your infused water, filter it through a few layers of cheesecloth or a fine sieve before drinking. You can refill the water a few times and let it infuse again, but the flavors won't be as pronounced.
Here are 5 of my favorite flavor combinations:
1. Blueberry Lemon Mint
Rich in antioxidants, blueberries are known to fight inflammation and lower the risk of some cancers [source]. Meanwhile, lemon is rich in vitamin C, and mint helps to freshen breath.
2. Citrus Cilantro
Not everyone is a fan of cilantro, I know, but citrus and cilantro go so well together that you might not even know it's there. Cilantro is often used in detox diets because it stimulates digestive enzymes and juices, which helps with certain gastrointestinal disorders [source]. It also has antimicrobial, hypoglycemic, analgesic, anti-inflammatory, and anti-cancer effects [source].
Also, lemon, orange, or grapefruit slices add a dose of vitamin C while promoting hydration. If you don't have cilantro, then use mint or basil instead.
3. Green Apple Raspberry Rosemary
Because they're both tart and sweet, green apples tend to pack a more flavorful punch than other fruits. Combine them with raspberries (antioxidants and vitamin C) and rosemary (anti-inflammatory, antioxidant, and antimicrobial [source]), and you have a double-duty hydration booster.
4. Pineapple Cucumber Mint
Cucumbers are a spa water superstar—and for good reason. They're said to help cleanse the body by getting rid of "accumulated pockets of old waste materials and chemical toxins" [source]. They also have a cooling effect on the body and boost hydration.
Pineapple is loaded with micronutrients and bioactive compounds such as potassium, manganese, magnesium, and B vitamins. And the volatile oils in peppermint can help improve conditions such as acid reflux, hiatal hernia, and kidney stones [source].
5. Kiwi Blackberry
Kiwi fruit is rich in polyphenols, a potent antioxidant, and helps stimulate the immune system [source]. And blackberries provide high levels of vitamins C, A, E, K, and D.

10 more tasty infused water ideas
1. Orange Chai Spice: sliced oranges, cardamom, cinnamon, clove, allspice
2. Vanilla Basil Strawberry: vanilla bean (remove seeds first), a handful of fresh basil, 1 cup of sliced strawberries
3. Fennel Pear: thinly sliced fennel bulb plus a few green fronds, and thin slices of ripe, but firm pear
4. Basil Melon: sliced or cubed melon, handful of basil leaves
5. Ginger Lime: sliced fresh ginger, sliced limes
6. Blueberry Cucumber Basil: a handful of fresh blueberries, sliced cucumber, a small bunch of basil leaves
7. Lemon Lavender: slices of lemon, a few teaspoons of lavender (tied in cheesecloth)
8. Raspberry Rose: a handful of raspberries, organic fresh rose petals
9. Mango Pineapple Mint: slices of firm-ripe mango, slices of pineapple, a handful of fresh mint leaves
10. Apple Cinnamon: slices of green or red apple, a few cinnamon sticks
Infused Water FAQs
Can I eat the fruit when I'm done?
Sure! Assuming the fruit hasn't gotten too soft (it's still edible, it just might be less enjoyable), feel free to eat the fruit as you drink your water. You can always add it to a smoothie if it gets a little too soggy, and you don't feel like eating it.
Can I infuse water with frozen fruit/citrus peels/dried fruit?
Yep, you can use dried fruit, frozen fruit straight from the freezer, and any fruit and vegetable peels you like to add more flavor to your water. But just like with fresh fruit, I recommend choosing organic, if you can, and thoroughly washing peels before making an infused water.
Can I just squeeze fruit juice into the water rather than diffusing it?
Sure, if you're in a hurry, feel free just to squeeze the juice directly into your water. It might turn out sweeter than if you had steeped it, but it won't hurt anything.
How long can I leave the water on the counter while it steeps?
I recommend only letting your spa water sit out on the counter for 2–3 hours at most. Any longer and you run the risk of having bacteria begin to set up shop in your water.
How can I keep the fruit from disintegrating in the water?
Over time, the fruit will start to soften and get pulp, seeds, and oils in your water. Some fruits do this more than others. You can either use a diffuser pitcher (or a good portable diffuser bottle) to keep the fruit somewhat contained or you can strain the water through a few layers of cheesecloth to remove pulp and debris before drinking.
What if some of my fruit or herbs turn brown? Is it still safe to drink the water?
A little oxidation (think cut apples sitting on the counter for an hour) is perfectly safe to drink. But if your fruit turns brown after a prolonged period of time (like after sitting in the fridge for a few days), it's kind of iffy. In that case, I recommend tossing the whole batch and starting fresh.
How long will a batch of infused water stay good for use?
Try to drink your infused water within 48 hours. After that, the fruit gets waterlogged and may start to break down, so it's best to toss it out and start over.
Can I reuse the same fruit a few times before throwing it out?
Sure! Feel free to reuse the same fruit 2–3 times within 48 hours. After that, it's best to make another batch with fresh fruit.
What's the best fruit to water ratio to use?
For the most flavor, I recommend a 1:3 ratio of fruit to water. That means you'll use 1 cup of the combined fruit, veggies, and herbs to 3 cups of water. Scale that ratio up or down depending on the size of your container.
We're curious, what are your tips for upping your water intake?
P.S. See more infused water ideas perfect for summer right here!
This article was medically reviewed by Dr. Gina Jansheski, a licensed, board-certified physician who has been practicing for more than 20 years. Learn more about Hello Glow's medical reviewers here. As always, this is not personal medical advice and we recommend that you talk with your doctor.
1,000