What sorts of things do you keep in your woo-woo toolkit? While I may not readily admit to it (at least not to anyone I know in real life), I have a small drawer full of crystals, essential oils, rose water, and incense. You know, things one might pull out occasionally to get rid of a bad mood, kick off a life change, or amplify an intention. Another thing I've recently added to the list is Florida Water, a citrus-infused water often used in cleansing practices. Because it's made with plants, it carries the energetic properties of the particular plants used—and that means there are just as many ways to make it as there are to use it.
Here's everything you need to know about Florida Water—what it is, how to make it, and how to use it.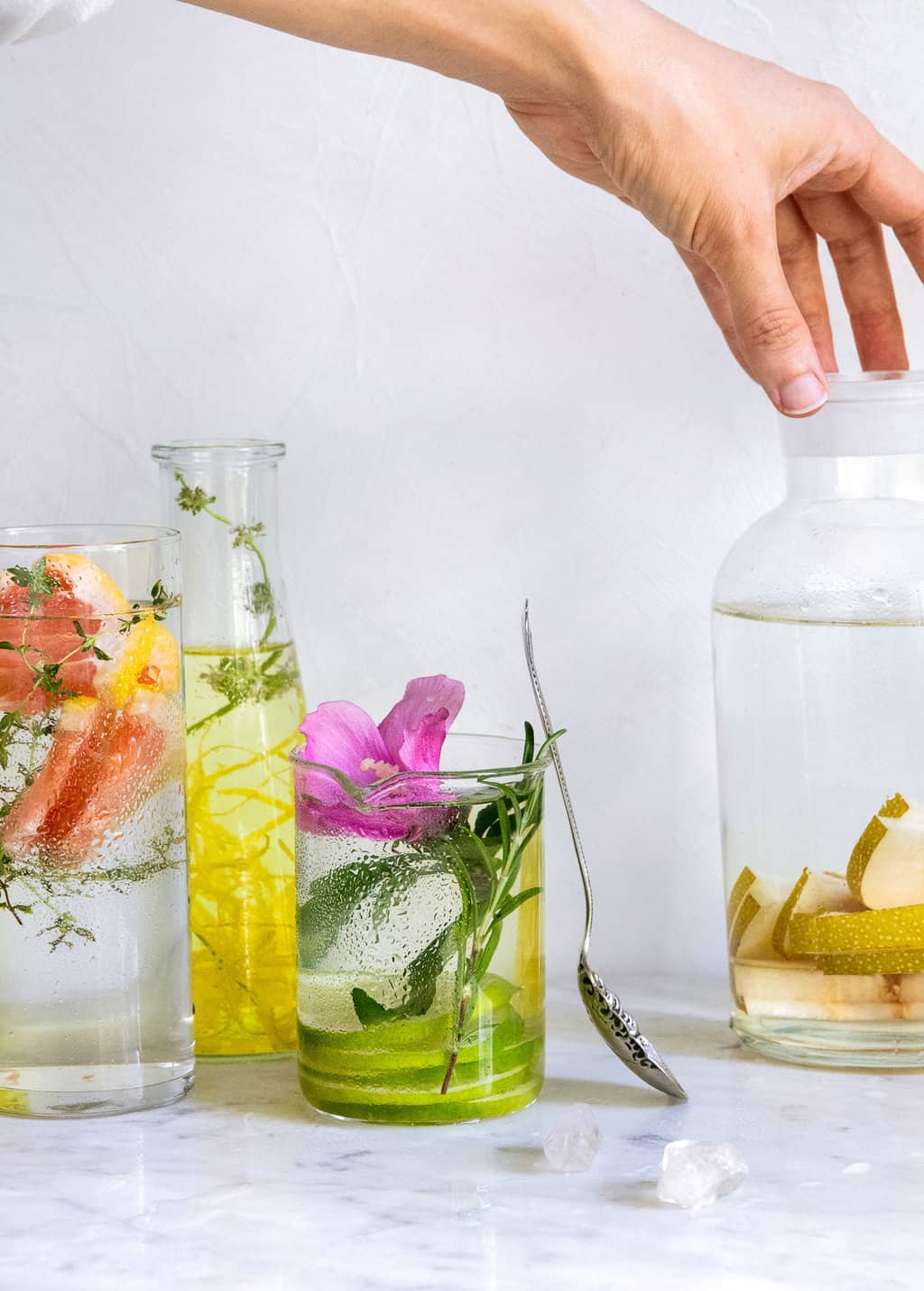 What Is Florida Water
?
Florida water is a plant-based cologne made by infusing flowers, herbs, and spices in alcohol. Because it carries the essence of the plants, it's often used like holy water to cleanse spaces, purify intentions, and enhance spiritual practices.
But even if you don't consider yourself spiritual, you can still use Florida Water as perfume, in DIY cleaning recipes, or as part of homemade beauty treatments.
What Is Florida Water Made Of
?
The oldest recipes use lavender, cinnamon, bergamot, orange, clove, and balsam—all of which boast strong cleansing properties. But you don't need to limit yourself to just those herbs and spices.
The beauty of Florida Water is that it's customizable, so you can use the ingredients you can find and skip the ones you can't. Just remember, the alcohol extracts both the scent and the essence of the plants, so choose plants that you enjoy and that have qualities you would like to utilize.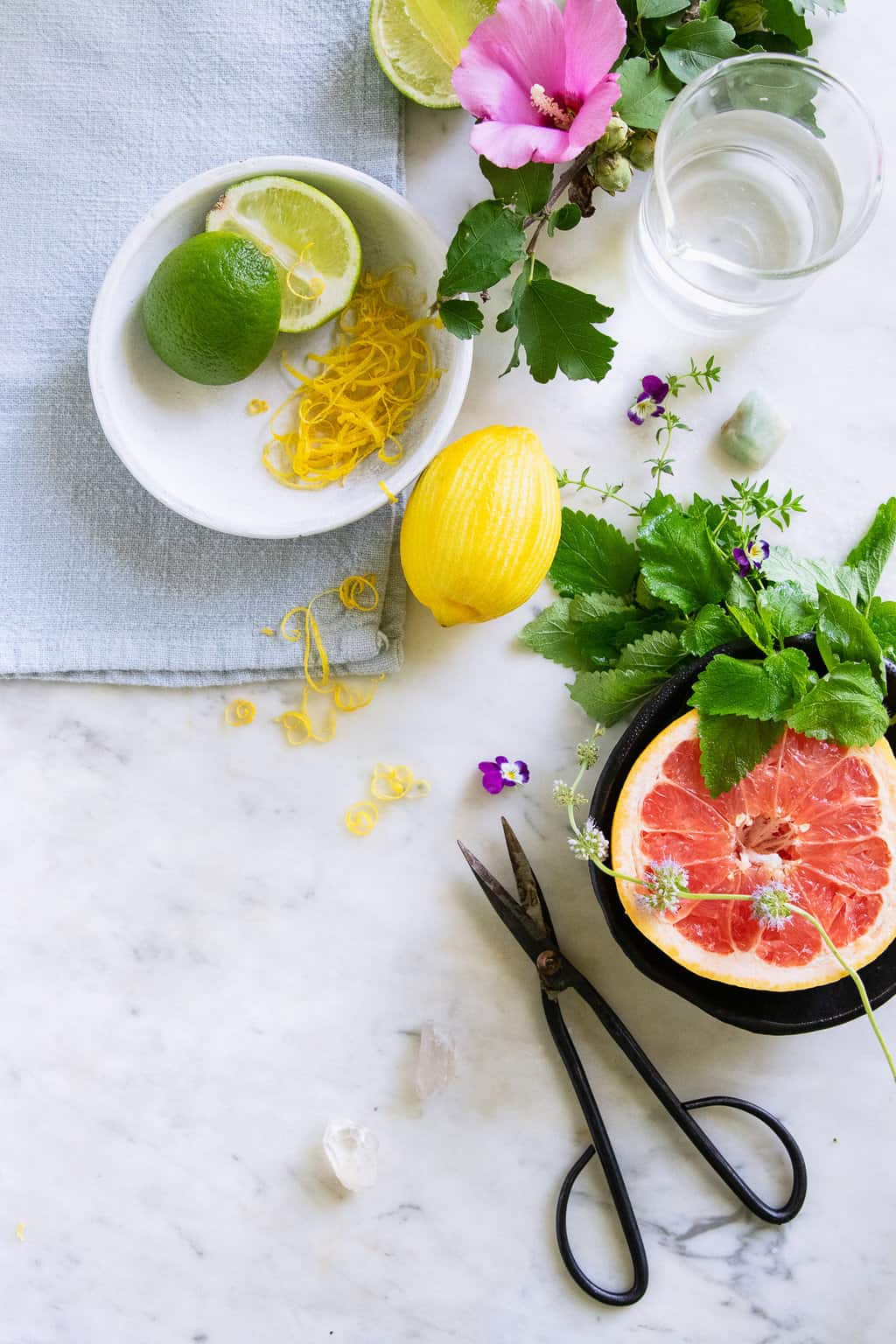 To make your own recipe, choose ingredients from the following categories:
Citrus
— Lemon
— Orange
— Grapefruit
— Lime
Flowers
— Rose
— Lavender
— Bergamot
— Jasmine
— Chamomile
— Ylang ylang
— Neroli
— Violet
Herbs
— Thyme
— Rosemary
— Oregano
— Sage
— Basil
— Eucalyptus
— Mint
— Lemon balm
Spices
— Cinnamon
— Clove
— Anise
— Cardamom
— Black pepper
— Vanilla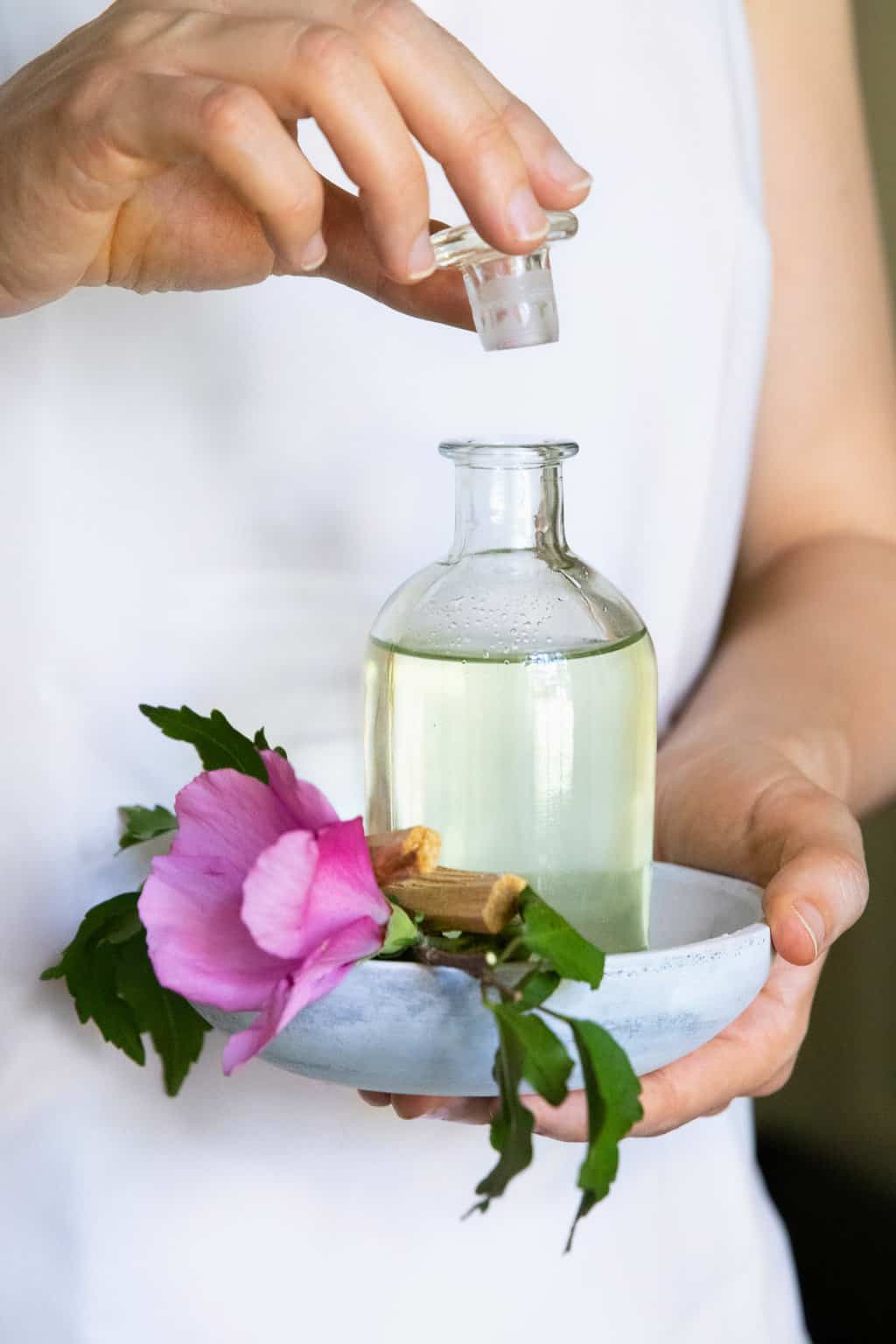 16 Ways to Use Florida Water
Florida Water isn't just for woo-woo work. But because it has a high alcohol content, it's best reserved for cleaning and purifying purposes. If you do decide to use it on your skin, make sure to follow up with a heavy duty moisturizer.
Florida Water can be used:
— As air freshener - Put it into a spray bottle and spritz anywhere you need a clean, fresh scent.
— To freshen laundry - Pour 1 to 2 ounces into the washing machine during the final rinse cycle.
— As a body spray - Spray your underarms, like a deodorant, or on the inside of your wrists, like perfume.
— To cleanse the energy of a space - Spray Florida Water around doorways, on windowsills, or in the corners of a room to lift the energetic frequency.
— To lift your mood - Citrus scents are known for their mood-boosting properties [source], so use it whenever you need a lift.
— In rituals - Light a candle, grab your crystals, and spray some Florida Water to set your intention during rituals, yoga, or meditation sessions.
— In cleaning recipes - Substitute Florida Water in place of white vinegar and rubbing alcohol in DIY cleaning recipes.
— To disinfect your yoga mat - Spray a little on your yoga mat to get rid of germs and freshen it after use.
— To ward off bad luck - If you're stuck under a dark cloud, spritzing a bit of Florida Water on clothes or a lucky talisman may help to turn things around.
— To add into a bath - Pour ¼ of a cup into a running bath to soak in its cleansing properties.
— As a linen spray - Before you hop in bed, give your linens a quick spritz to help lull you to sleep after a stressful day.
— After engaging with negative people - Shake off a bad vibe and cleanse your energy following a negative interaction.
— To soothe bug bites - Alcohol acts as an astringent, which can help with pesky bug bites.
— In floor wash - Mix ½ a cup of Florida Water, 4 drops of dish soap, and 2 gallons of water together to make a natural, gentle floor wash.
— To shine windows and stainless steel - Pour some on a clean dish towel and use it to shine windows and stainless steel appliances.
— To clean sinks and countertops - Spritz directly on sinks and counters to disinfect heavily-touched surfaces.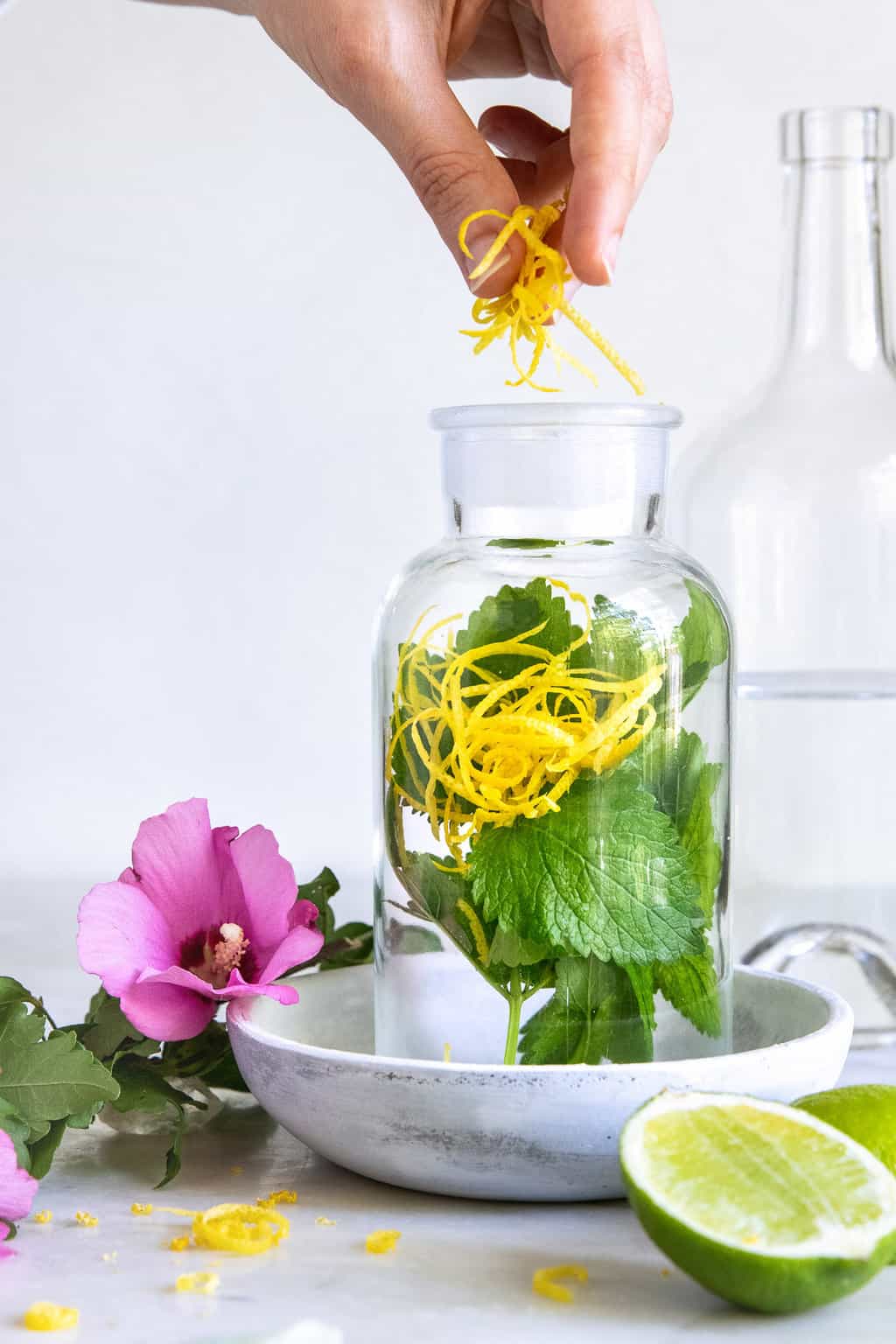 How to Make Florida Water
After straining out the solid herbs, your Florida Water should last for 6 months. For long-term storage, keep it in an airtight amber bottle away from direct sunlight.
Ingredients
— Vodka or grain alcohol (not rubbing alcohol)
— Distilled water
— Handful of fresh herbs, like basil, thyme, or rosemary
— Handful of fresh or dried flowers
— 1 orange or lemon peel
— Optional: 1–2 cinnamon sticks or a small handful of cloves
— Glass mason jar
— Cheesecloth or mesh sieve
Step 1 | Add citrus and herbs

Fill the mason jar ¾ of the way with herbs, citrus peels, flowers, and spices.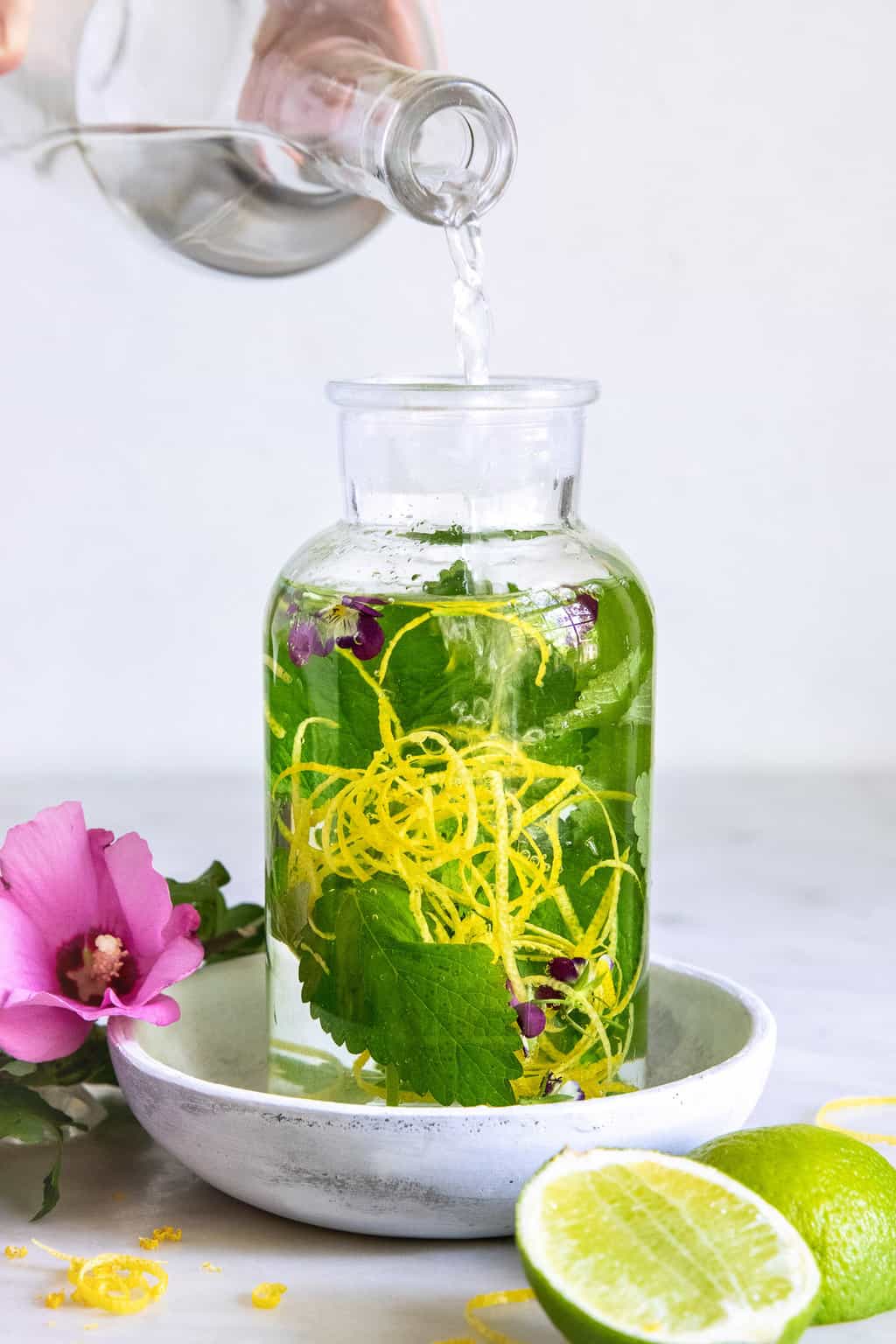 Step 2 | Add water and alcohol
Fill half of the jar with distilled water (do not use tap water) and the other half with vodka or grain alcohol.
Step 3 | Infuse for 40 days
Replace the lid and gently swirl to combine. Store in a cool, dark pantry or cupboard for 40 days, shaking once a day.
Step 4 | Strain
Strain the ingredients through a cheesecloth or fine mesh strainer and store the Florida Water in an airtight glass bottle.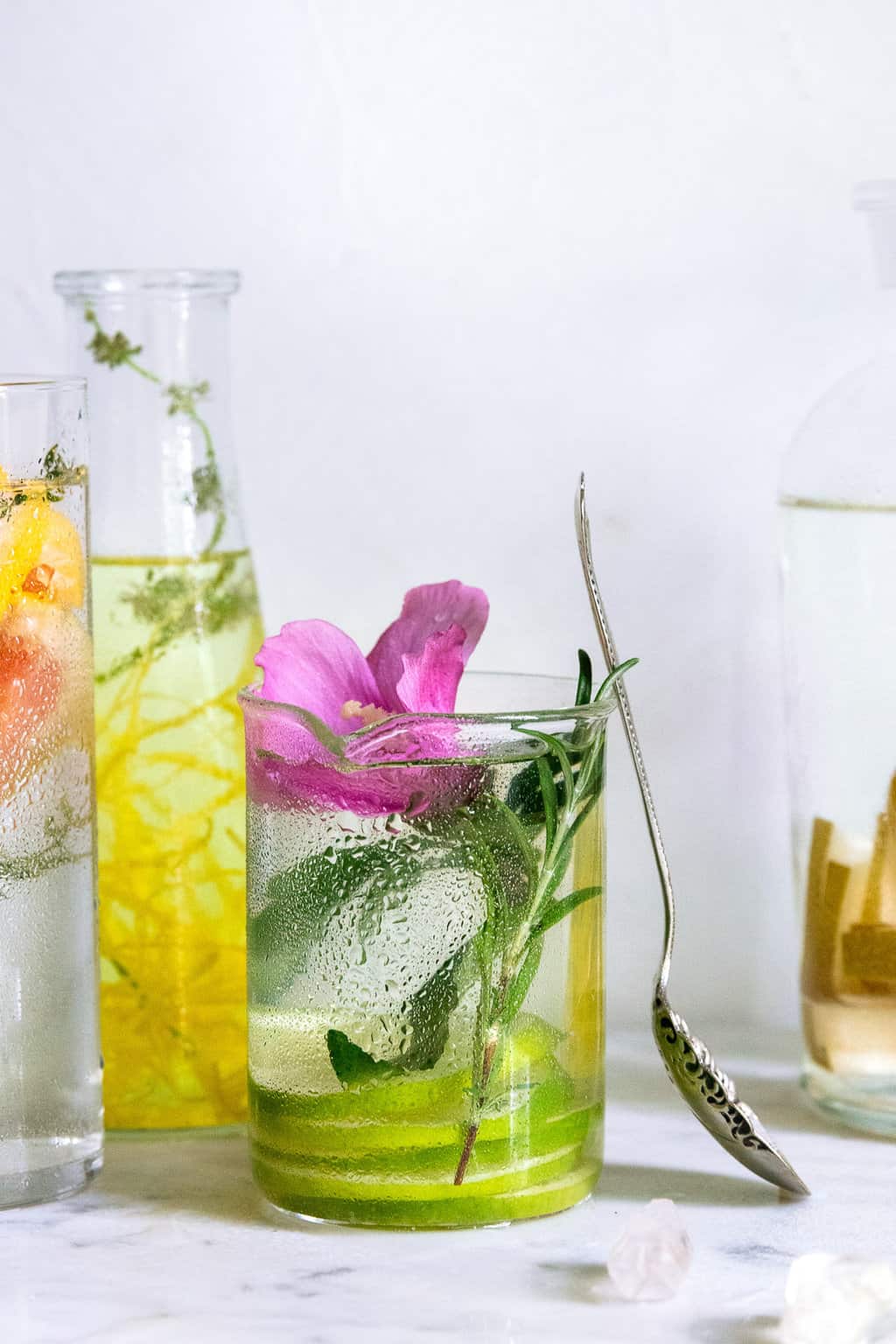 Florida Water FAQs
Can I use essential oils instead of fresh herbs
?
If you can't get your hands on the real thing, use 3 to 4 drops of essential oils instead. Simply add them at the end, after you've strained out the solid herbs, and give the mixture a good shake.
Why is it called Florida Water
?
While not actually from Florida, Florida Water was originally named in honor of the Fountain of Youth, which is thought to have been in Florida.
Can I use crystals when making Florida Water
?
Yes, crystals can be used to amplify the water's energetic properties. After making your Florida Water and straining out the herbs, place 1 to 2 water-safe crystals (amethyst, quartz, citrine, carnelian, or obsidian) in the water overnight. In the morning, remove the crystals and your energetically charged Florida Water is ready to use.
146