Last week the hubby and I had a good laugh on a somewhat random topic—bad breath. Each time I was pregnant, certain smells would totally turn my stomach. Unfortunately, my husband's breath was one of them! Apparently, this is normal (what isn't during pregnancy?), but I forced the poor man to give up certain foods, chew gum like a fiend, and try every mouthwash out there. But the medicine-like smell of most commercial mouthwashes just made things worse.
So, we turned to a natural alternative. Cloves and clove oil have been used in dental care by many cultures for years, for everything from gum numbing to breath freshening—and that's before we even know the causes of bad breath, namely bacteria. Clove is a natural antimicrobial that fights yeast, viruses, and bacteria [source] and keeps them from creating what's known as a biofilm that helps them adhere to surfaces like the gums and tongue [source].
Combined with the naturally minty freshness of peppermint essential oil, this clove mouthwash makes the perfect natural remedy for getting rid of stinky breath!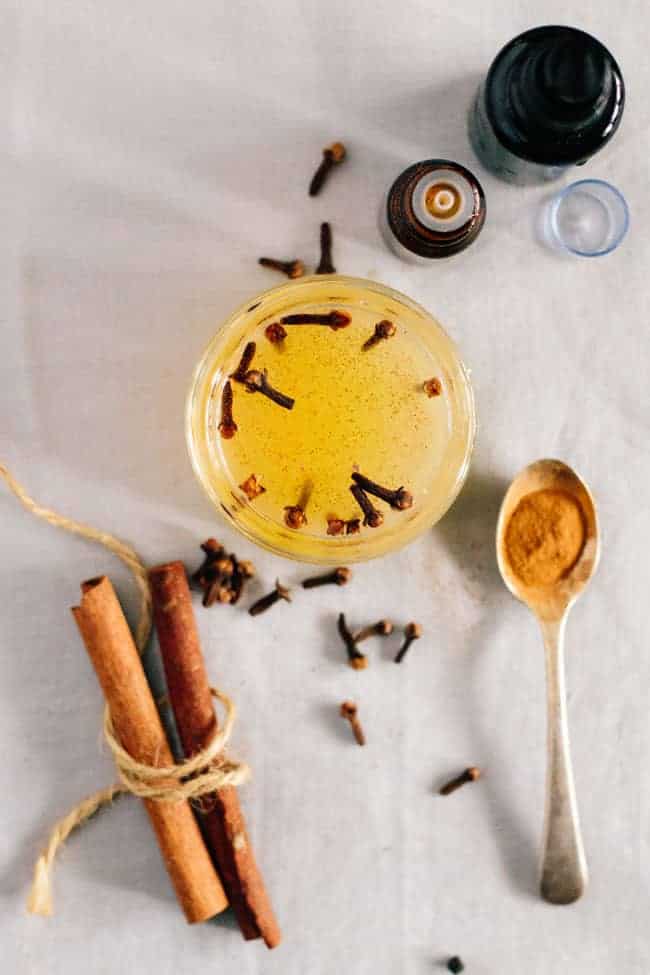 Fortunately, my wacky sense of smell eventually returned to normal. But I wish I had tried a natural remedy back then because homemade mouthwash works wonders—and it tastes good, and there's no weird after smell or alcohol burn. The alcohol in mouthwash is incredibly drying to the gums, which actually causes a further cycle of bad breath that you can never seem to get on top of. Yep, that's right—instead of making the problem better, it could be making it worse!
Every time I try a natural remedy, I'm shocked at how easy it is to make and how much better it works. Here's how to make your own.
Mint
,

Cinnamon

+

Clove Mouthwash

Cinnamon and cloves are awesome little spices for bad breath. Cinnamon contains cinnamic aldehyde, which reduces the amount of bacteria in your saliva, and cloves have powerful antiseptic properties to zap bad breath. They both contain a compound called eugenol, a powerful antimicrobial [source], and research shows that the two spices work better together to kill bacteria [source].

The combination of clove, cinnamon, and peppermint in this rinse gives your mouth a nice zing (2 thumbs up from the hubby!), and you can use it as often as you'd like because it doesn't contain any harsh ingredients.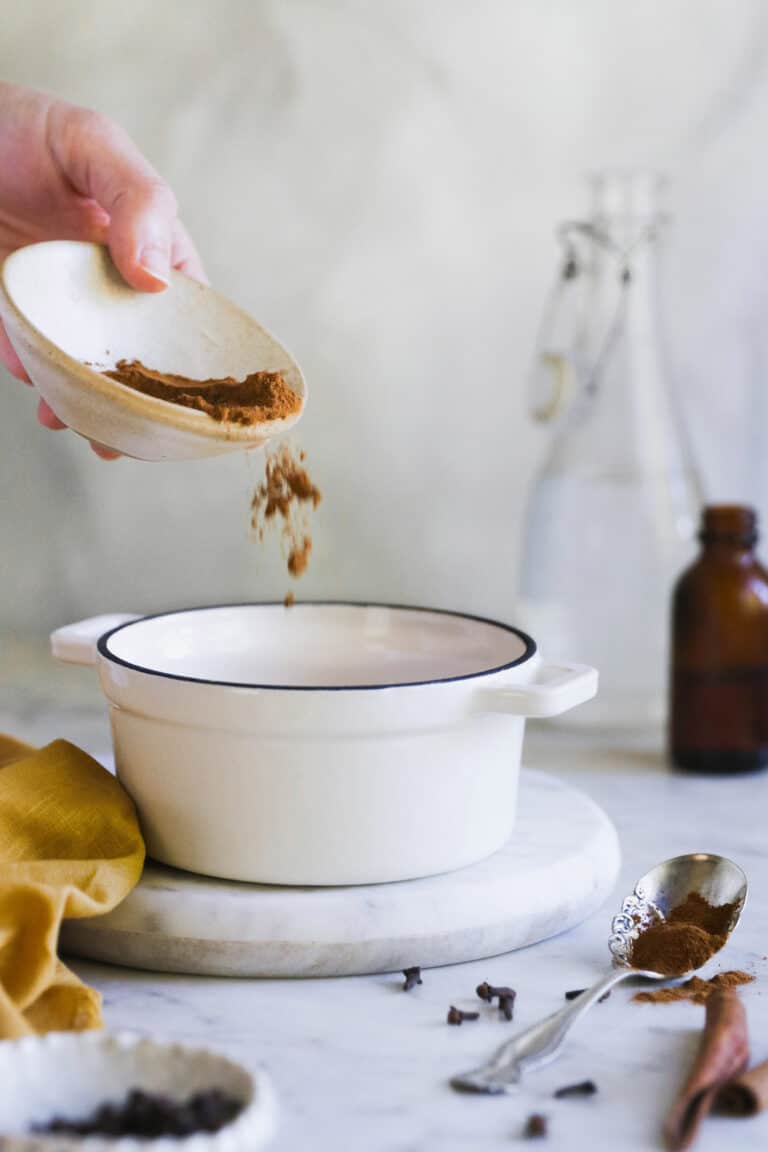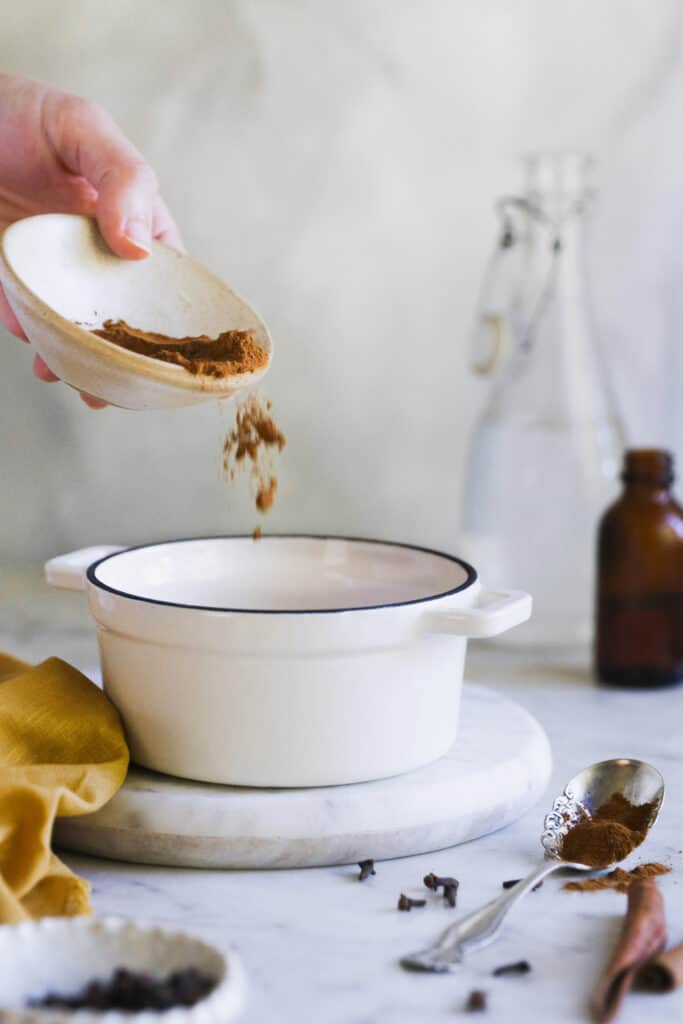 Simply mix the spices with hot water, and let them steep for several minutes. Much like tea, the hot water will extract the flavors and beneficial properties, leaving you with a minty, mouth-cleansing elixir. Oh, and don't worry, we have you strain out the spices, so there's no chance of your homemade mouthwash becoming choke-bait!
Turn It Into a Breath Spray
Make a spray version for on-the-go, or keep it on the nightstand for a good morning breath spritz!
Pour your clove mouthwash into a small spray bottle and add a squeeze of honey. If you don't like cinnamon, you can make an all-peppermint version with just water, a few drops of peppermint essential oil, and honey. I found these small bottles in the travel section of Wal-Mart. Just shake and spritz into your mouth for a quick pick me up!
I was going to add parsley to this list, but apparently, the claim that it fights halitosis is no longer true [source]. But research shows that green tea does [source]! You can also try munching on fresh mint or spices like clove and cardamom instead. To avoid bad breath in the first place, cover the basics: brush often (especially your tongue!) and drink lots of water.
What's your favorite way to get rid of bad breath?
Homemade Mouthwash FAQs
Can I use ground cloves instead of whole cloves
?
Yes! Just make sure to strain your mouthwash 2–3 times to remove any lingering particles that may get stuck in the throat.
How long will this stay fresh when not refrigerated
?
While these herbs have antibacterial properties, it's usually not enough to prevent mold from forming. Without refrigeration, your mouthwash may only last 3–5 days, a week tops.
Can I use peppermint extract or fresh peppermint instead of essential oil
?
Yes, you can use both peppermint extract or fresh peppermint. Just note that peppermint essential oil is much stronger and provides more antibacterial benefits. But if you're only after the minty flavor, either will work.
Is it safe to eat essential oil
?
As long as you use a pure, high-quality peppermint essential oil from a brand that you trust, swallowing a little bit shouldn't hurt anything. Plus, the oil is incredibly diluted, so you aren't really eating that much of it, anyway. If you plan to use another essential oil, such as lemon, clove, or cinnamon, then you'll need to do some research to see if it's safe to consume.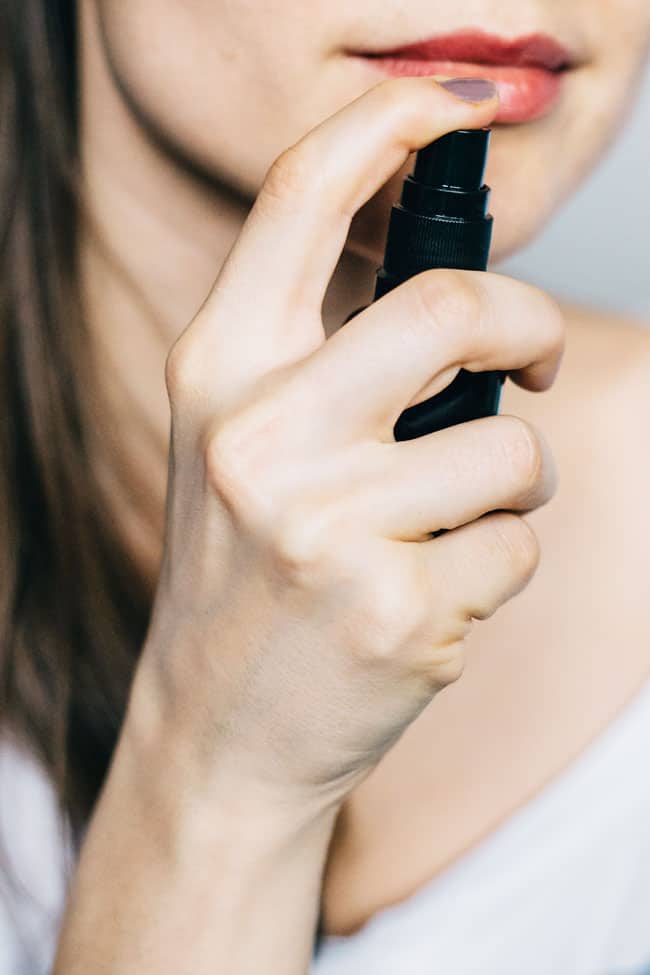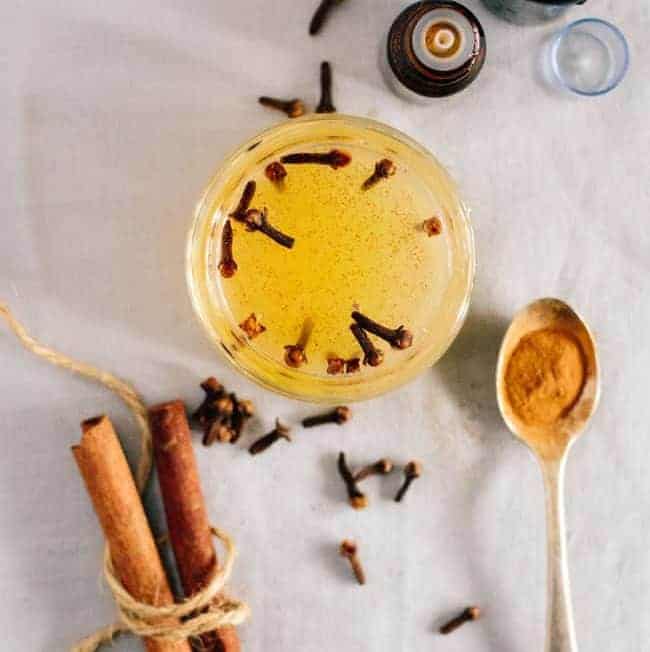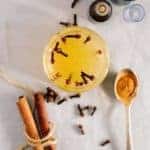 Print
Minty Clove Mouthwash
Make your own minty clove mouthwash and breath spray using only natural ingredients, such as ground cinnamon, cloves, and peppermint essential oil.
Equipment
Small saucepan

Mesh strainer

Glass jar with lid
Instructions
Bring the water to a boil, then remove from heat. Add cloves, cinnamon, and peppermint and stir well. Let the spices infuse for about 10 minutes.

Strain the mixture twice with a fine-mesh strainer.

Pour into an amber glass bottle with a lid. Let it cool completely before using.

If using it as a breath spray, pour the mouthwash into a small spray bottle and add a squeeze of honey.
Notes
Keep refrigerated and use within 1 to 2 weeks. Unrefrigerated, this should be used within 3 to 5 days.
This article was medically reviewed by Dr. Gina Jansheski, a licensed, board-certified physician who has been practicing for more than 20 years. Learn more about Hello Glow's medical reviewers here. As always, this is not personal medical advice and we recommend that you talk with your doctor.
Photos by Ana Stanciu
269