Raise your hand if this has ever happened to you: you walk into the gym feeling great, walk out an hour later feeling uh-mazing, and then wake up the next day feeling like you were hit by a truck.
I know, no pain, no gain, but that sting is rough. So why not make a batch of this warming muscle rub to help soothe those tense, tired muscles.
It's super creamy, so a little goes a long way, and it's loaded with natural ingredients and essential oils guaranteed to ease inflammation and dull the ache.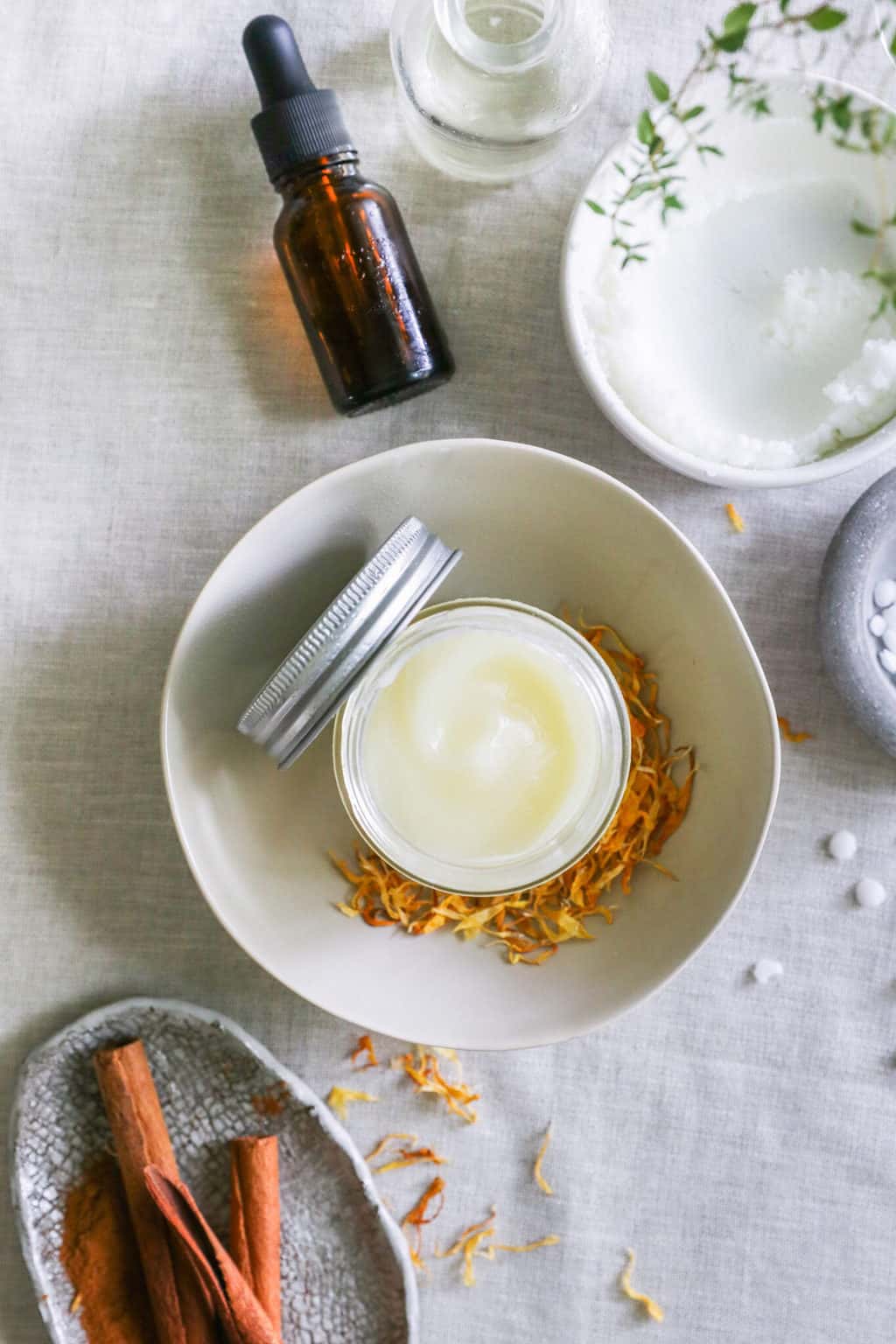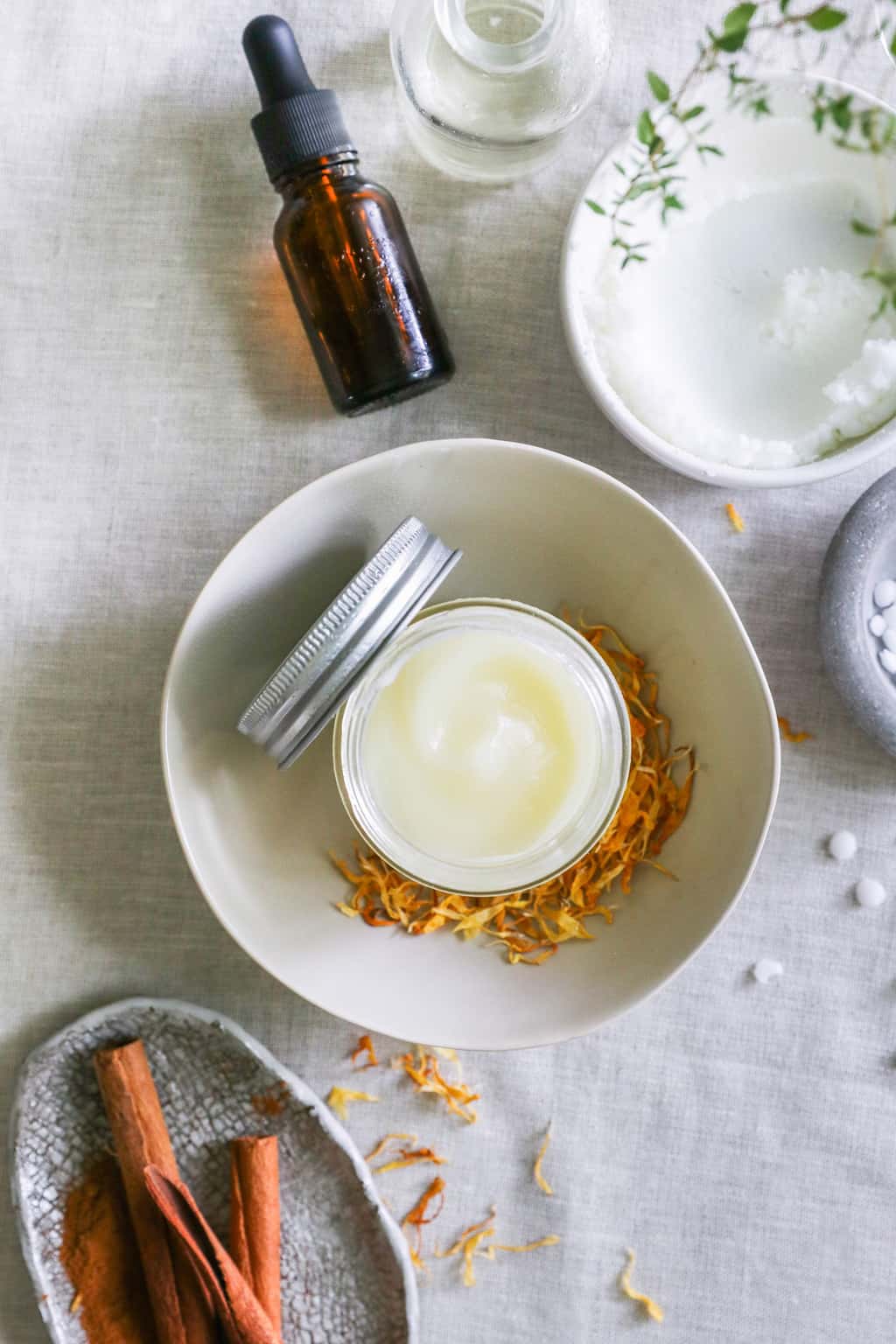 Best Essential Oils for Muscle Pain
Muscle rubs have become popular because they can do wonders for soothing minor muscle aches. But a lot of the products you find at the store are either full of chemicals or cheap (ahem, ineffective), so they don't work as well as you might like.
This homemade muscle rub is surprisingly simple and so, so helpful when it comes to pain and inflammation. It's loaded with essential oils like camphor, peppermint, and cinnamon to give it that warm-cool sensation that's so good for muscles.
Plus, it has a creamy, lotion-like consistency that swipes on smoothly and sinks in quickly. Just a dab or two applied directly to hot spots can have you back up and running in no time.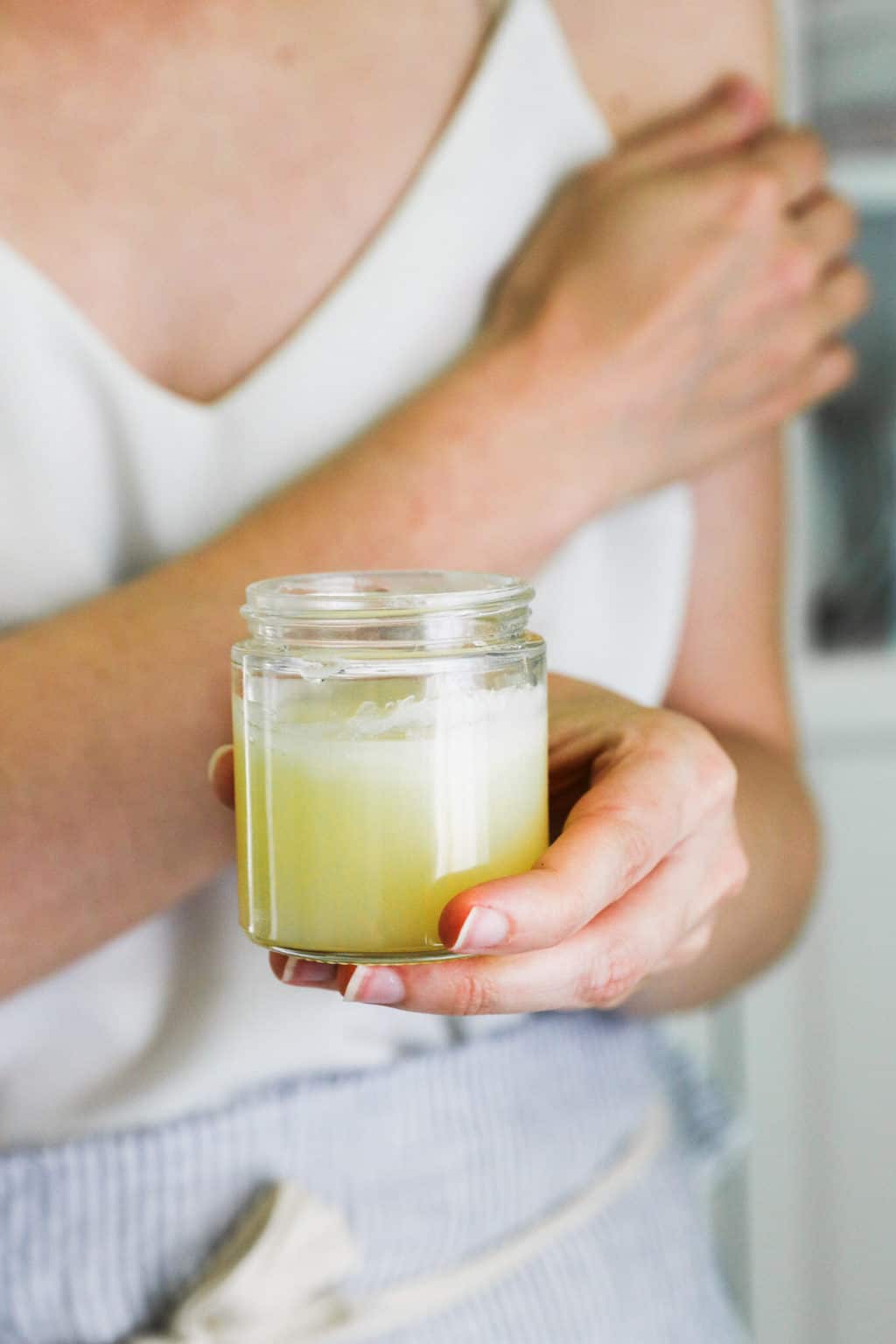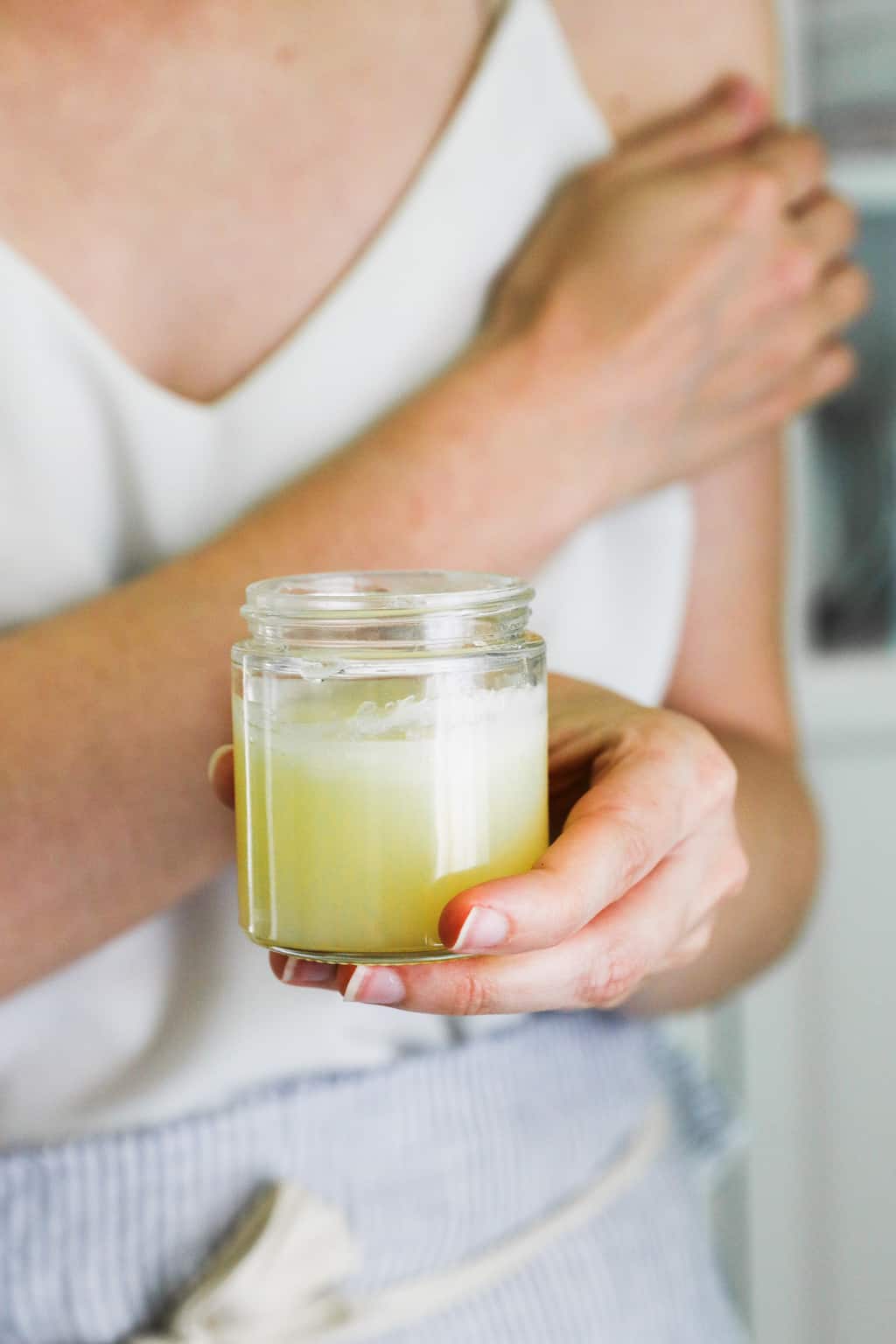 Here's how it works:
Camphor
Camphor is used topically to increase local blood flow and reduce pain and itching [source]. It's considered a "counterirritant," which means that it can help reduce pain and swelling by causing irritation.
Menthol
Like camphor, menthol is also thought of as a counterirritant. It works by causing the skin to feel cool, then warm, which helps distract you from muscle, joint, and knee pain [source]. One study even found that topical menthol-based muscle rubs were found to be significantly better at relieving pain than ice [source].
In this recipe, we're using peppermint essential oil, which is a natural source of menthol.
Cinnamon
Cinnamon has anti-inflammatory properties, which can reduce swelling and soothe muscle soreness. It's especially helpful in treating age-related inflammatory conditions [source].
Clove
Clove works by providing a slight numbing sensation to soothe pain [source].
Eucalyptus
Eucalyptus oil is an anti-inflammatory and an analgesic. When used in homemade muscle rub, it helps to soothe both the inflammation and pain associated with things like rheumatoid arthritis, osteoarthritis, and even muscle injury [source].
Calendula
While it doesn't have much of a warming effect, calendula can help soothe swollen muscles and calm irritated skin, so I like to include it in my homemade muscle rub. If you don't have a lot of these ingredients on hand, you can go ahead and skip the calendula without decreasing the effectiveness of your balm.
DIY Warming Muscle Rub
This muscle rub recipe is made for those with sensitive skin (like me). If you'd like more of a warming effect, experiment with adding more essential oils a little at a time until you reach a strength you like.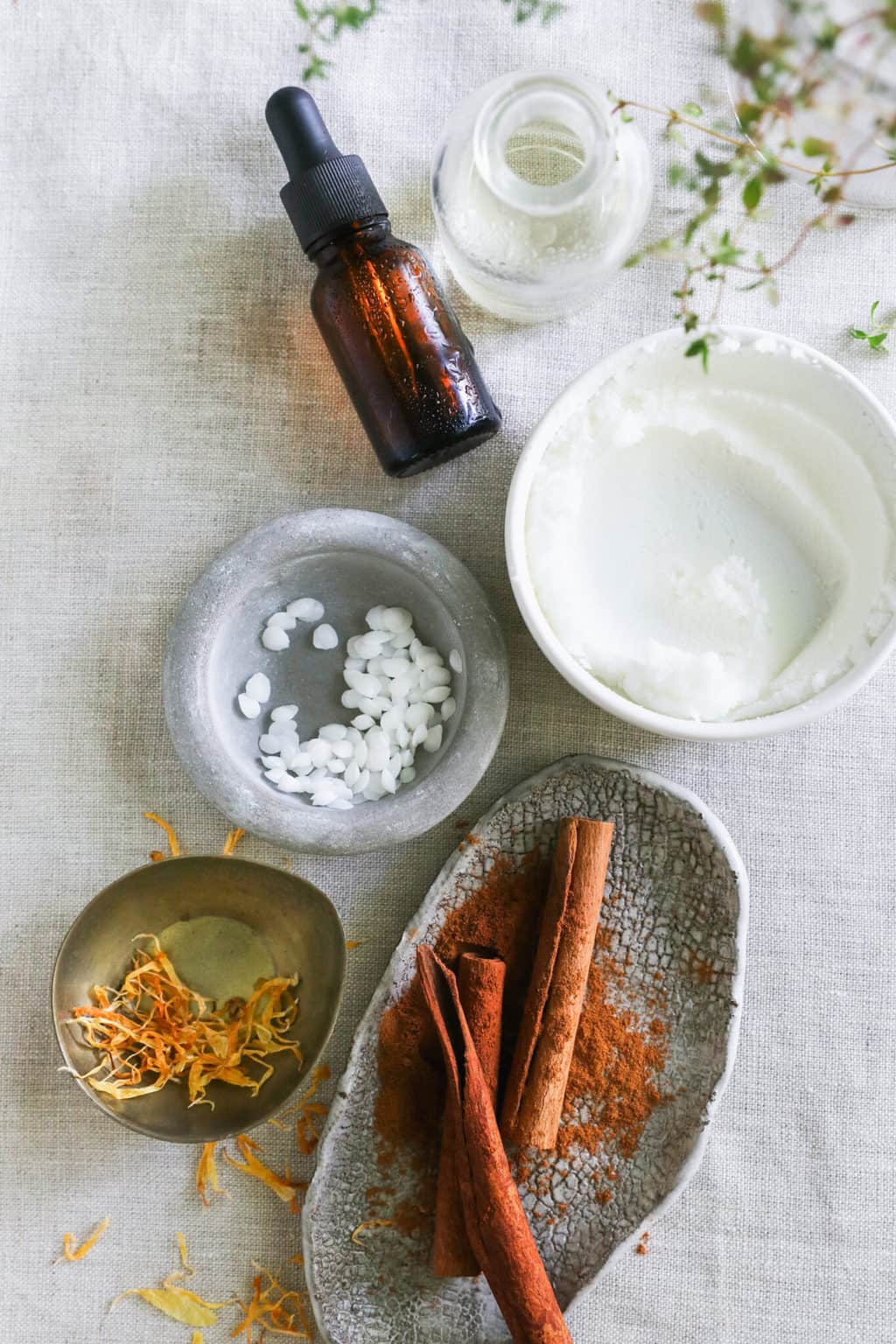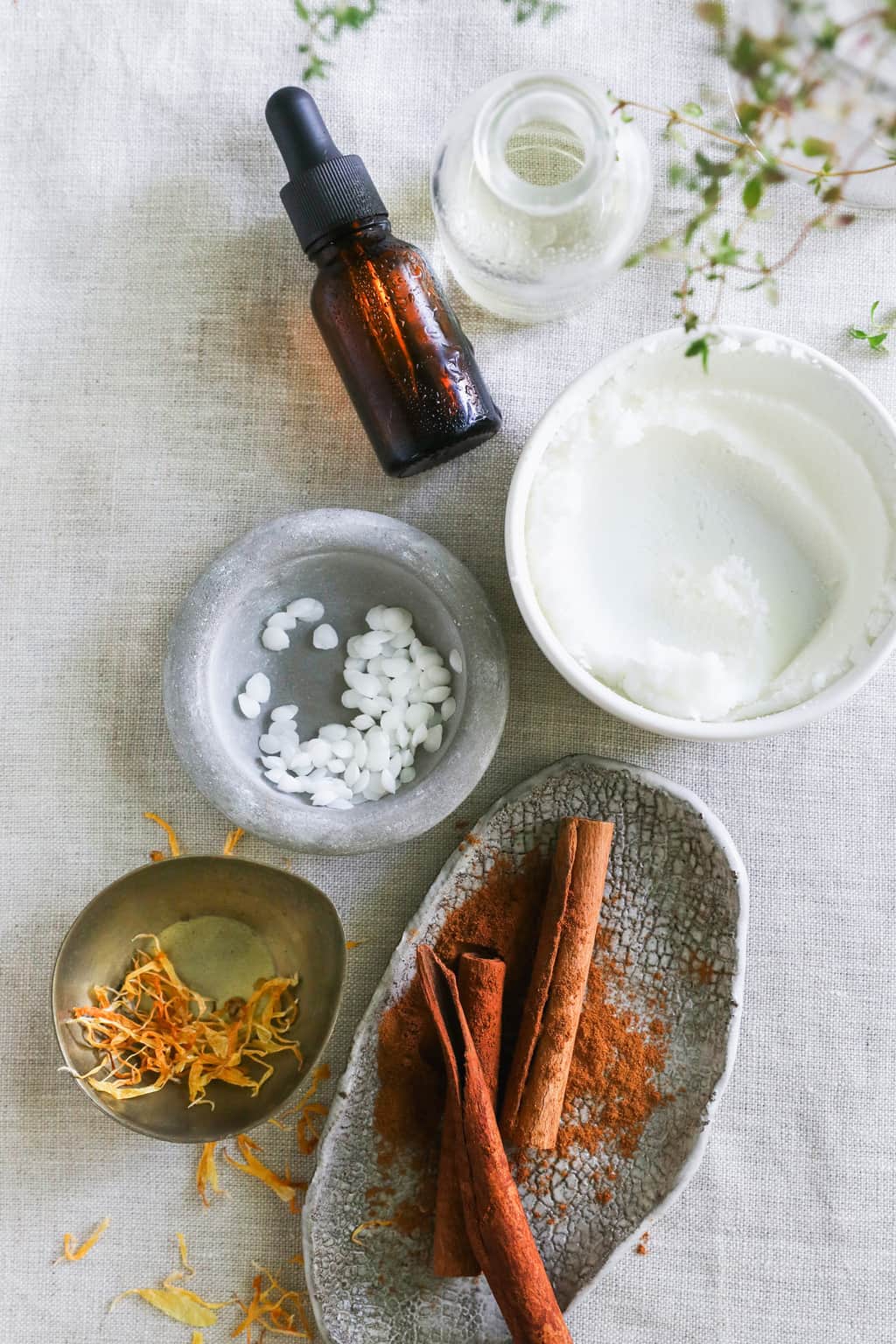 To use, simply apply a pea-sized amount to the painful area and massage into the skin for instant relief. The rub will solidify over time, but you should be able to soften it with your hands prior to applying.
While it's made for tired muscles, go ahead and try using it for treating headaches, colds, and sinus pain.
Feel free to sub out the essential oils or add any other oils you'd like. For a vegan balm, use candelilla or carnauba wax in place of the beeswax.
Store in a cool, dry place for up to a year.
Muscle Rub FAQs
I'm having trouble finding camphor oil, can I use something else?
I would just leave it out entirely and add a few extra drops of peppermint oil in its place. Peppermint creates a strong cooling sensation, so you might not even miss the camphor.
Can I add another essential oil to make my muscle rub smell better?
Sure! A few drops of chamomile, ylang ylang or lavender essential oil can give you a fresh scent while also boosting your balm's soothing effects.
Can I use solid beeswax instead of pellets?
Yes, solid beeswax can be substituted for the beeswax pastilles. But since I haven't tried it myself, I don't know how much you'll need. It's hard to mess up this recipe, so I recommend just eyeballing the beeswax, and if you need more, re-melting the balm and adding more wax.
Can I adjust this recipe to make a solid bar?
With a little trial and error it's definitely possible. I would try using 1/3 cup beeswax and pouring the mixture into a silicone mold to cool. If it's too hard, re-melt the mixture and add more olive oil. If it's too soft, add more beeswax.
Do you use olive oil you cook with?
Yes, extra virgin olive oil is ideal.
Where is the menthol in this recipe?
We're getting our menthol from peppermint essential oil. But if you would prefer a stronger warming effect, try using straight menthol oil.
My homemade muscle rub doesn't feel very warm. What am I doing wrong?
Since these essential oils can be incredibly irritating to sensitive skin, I like to go easy on them. If you would prefer a stronger warming effect, then add more essential oils (slowly and carefully, testing the mixture every few drops) until you reach a strength that works for you.
Do I need to use all these different oils in my muscle rub?
No, they're not all 100% necessary. If you're having trouble finding the oils or your homemade rub is getting pricey, then you can limit your essential oils to just peppermint and cinnamon and still get a warming effect.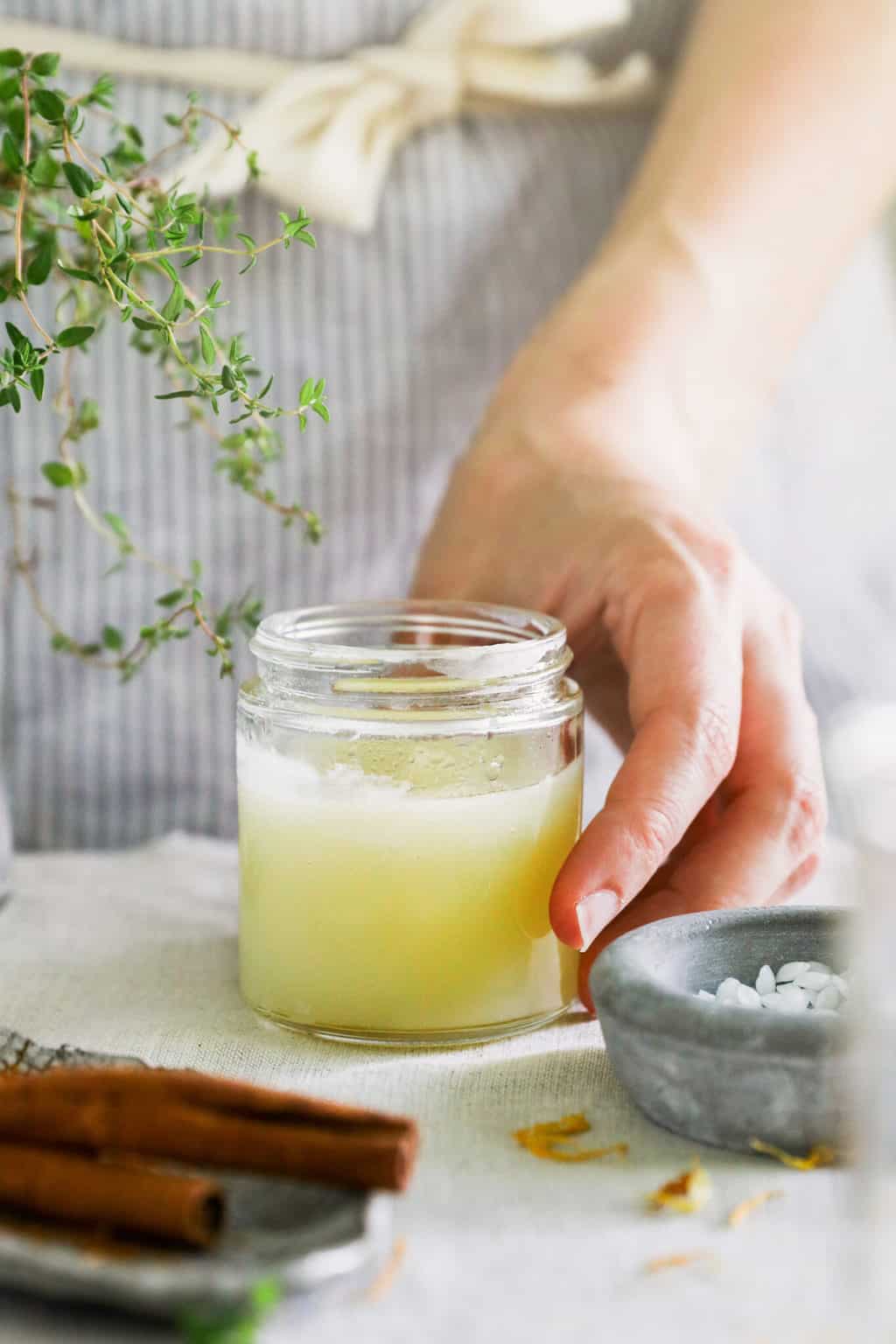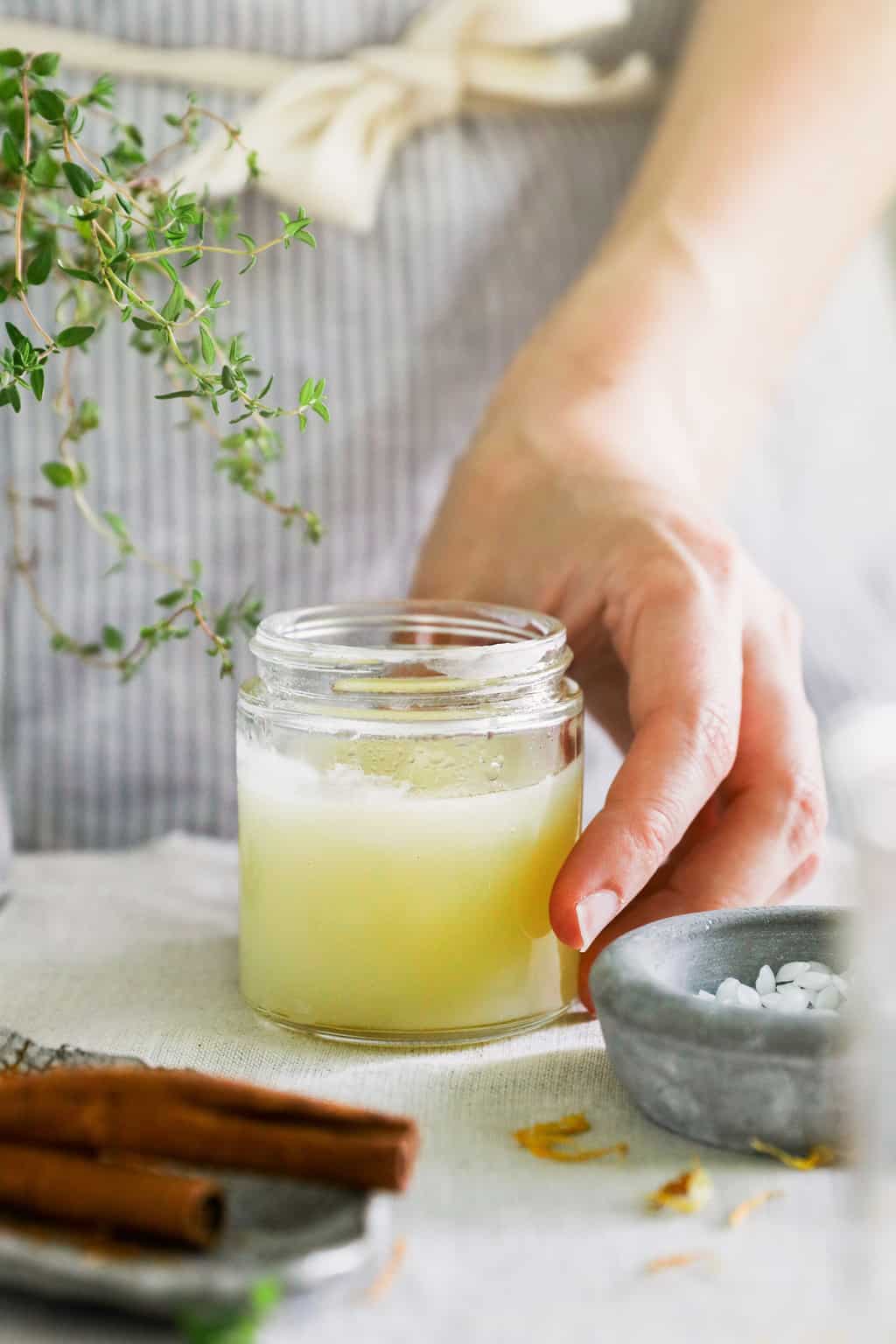 View this post on Instagram
This article was medically reviewed by Dr. Gina Jansheski, a licensed, board-certified physician who has more than 20 years of experience. Learn more about Hello Glow's medical reviewers here. As always, this is not personal medical advice, and we recommend that you talk with your doctor.
299