Sometimes in the summer, without winter's biting winds and dry air, it's easy to forget to take care of our lips. While I'm rarely ever out without a tube of lip balm, I can go weeks without even remembering to put it on. And considering that lip balm is often the only thing standing between me and a pair of sunburned lips, that's not exactly ideal.
Ever since I whipped up this vegan lip balm recipe a few years ago, I've really put in extra time perfecting it—and it's now one of my favorite homemade beauty products ever.
It's chock full of things like nontoxic soy wax, nourishing coconut oil [source], and relaxing, aromatic lavender essential oil [source] to keep your lips soft. Plus, it contains antioxidants and skin soothers from carrot seed oil [source] and vitamin E [source] to revitalize skin and heal chapped lips.
But it's not just limited to lips—you can apply this nourishing balm anywhere you have dry skin. I love using it on the backs of my hands (with all the washing we're doing nowadays, this really helps!), on my face, and even as a hair serum. It does it all.

DIY Vegan Lip Balm with Lavender
While you probably don't think about your lips very often (at least I don't), what we put on our lips can wreak havoc on our health if, like most commercial beauty products, it contains hidden toxins, heavy metals, and chemicals.
Even if you're careful about what you put on your skin, not all natural lip balms are created equal. Many contain things like lanolin (aka sheep grease—gross!), parabens, and fragrances.
And those made from beeswax aren't on the vegan menu if you'd prefer to avoid animal products altogether. Sometimes natural lip balms may even contain ingredients that clog the pores and irritate the skin.
Rather than risk it, why not make your own vegan lip balm, complete with nourishing oils and plant-derived SPF to keep your pout protected all summer long?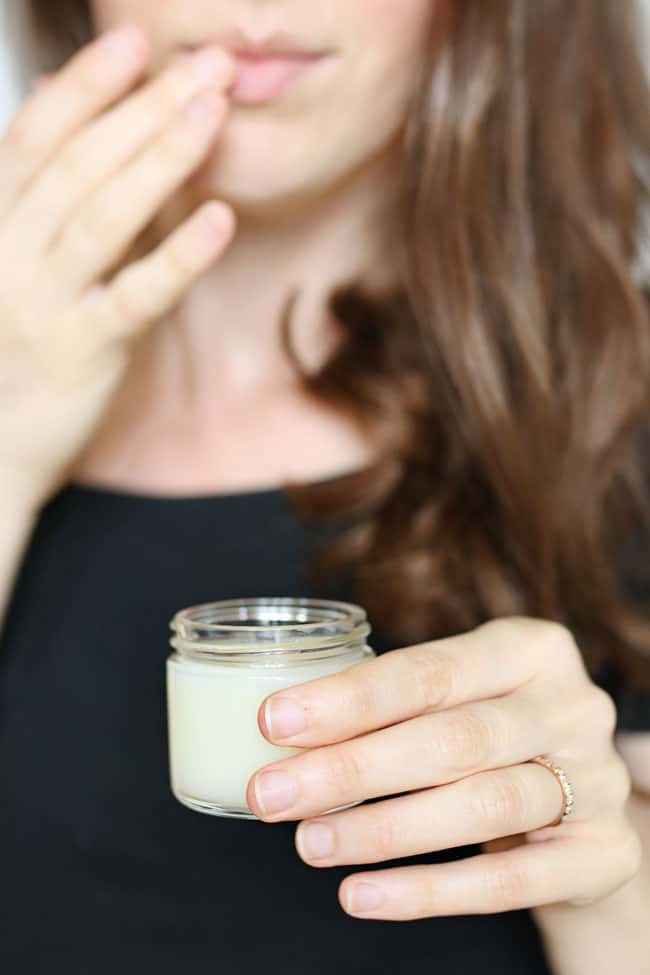 How to Make Your Own Vegan Lip Balm
Beeswax is usually the wax of choice in natural beauty products, but even though bees aren't harmed when collecting it, it's still an animal product and unsuitable for vegans. By combining a plant-based wax with a solid oil like coconut oil, you can effectively replace the beeswax and still end up with a nourishing lip balm. So that's exactly what I did.
For this vegan lip balm, I chose to use soy wax because it's what I had on hand, but you can always use carnauba or candelilla wax instead. When melted and mixed with a bit of coconut oil, which softens it a bit, your vegan lip balm takes on the perfect smooth-and-creamy consistency.
The more coconut oil you add, the shinier and more glossy your lip balm will be when it warms up. If you prefer your lip balm on the firmer side, go ahead and add an extra tablespoon or two of wax until you get the consistency you prefer.
You can even add a pinch of dried raspberry or beet root powder to give it a pretty pink tint.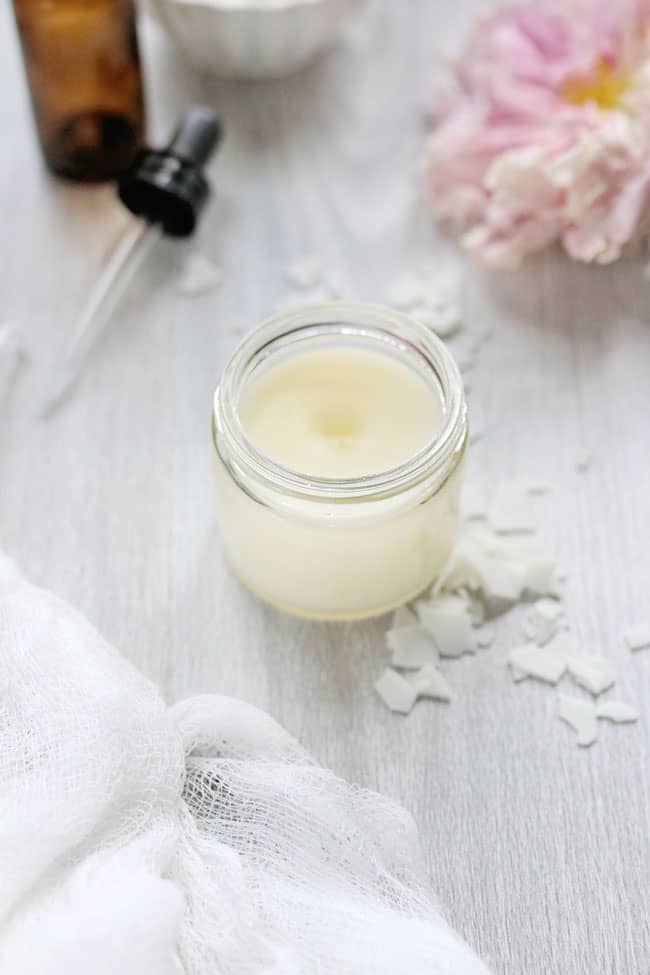 How to Use Oils in Lip Balm
I like to take my vegan lip balm a step further and add oils that offer a little SPF protection, nourish skin, and decrease inflammation. Carrot seed oil is said to provide some sun protection [source] as well as a myriad of vitamins and minerals, while lavender essential oil soothes irritated skin and heals chapped lips. But there are a bunch of soothing oils you can choose from for your balm.
Lip Balm Carrier Oils
Vitamin E oil – While not technically an essential oil, vitamin E oil keeps skin looking young and radiant [source].
Camellia – Camellia oil has been proven to reduce the signs of aging and increase collagen production [source], thus making lips look fuller.
Almond oil – Chock full of healthy fats, almond oil replenishes moisture [source] and locks it in, so lips remain plump and flake-free.
Lip Balm Essential Oils
Geranium – Geranium EO helps soothe dry, cracked skin. It has antimicrobial and anti-inflammatory properties [source]. Plus, it smells like a dream.
Chamomile – Chamomile EO has long been known to soothe chapped skin and replenish moisture [source].
Like I mentioned earlier, the more oils you add to your lip balm, the softer it will be. If you decide to play around with adding extra oils, make sure to also add a little more wax so your balm stays solid at room temperature and doesn't run or feel too greasy on your skin.
And while some oils are thought to contain some SPF protection, that sun-blocking power only goes so far. You definitely don't want to rely on homemade lip balm alone when spending extra time in the sun. Either add some zinc oxide powder to your lip balm or use a store-bought SPF lip balm and reapply frequently.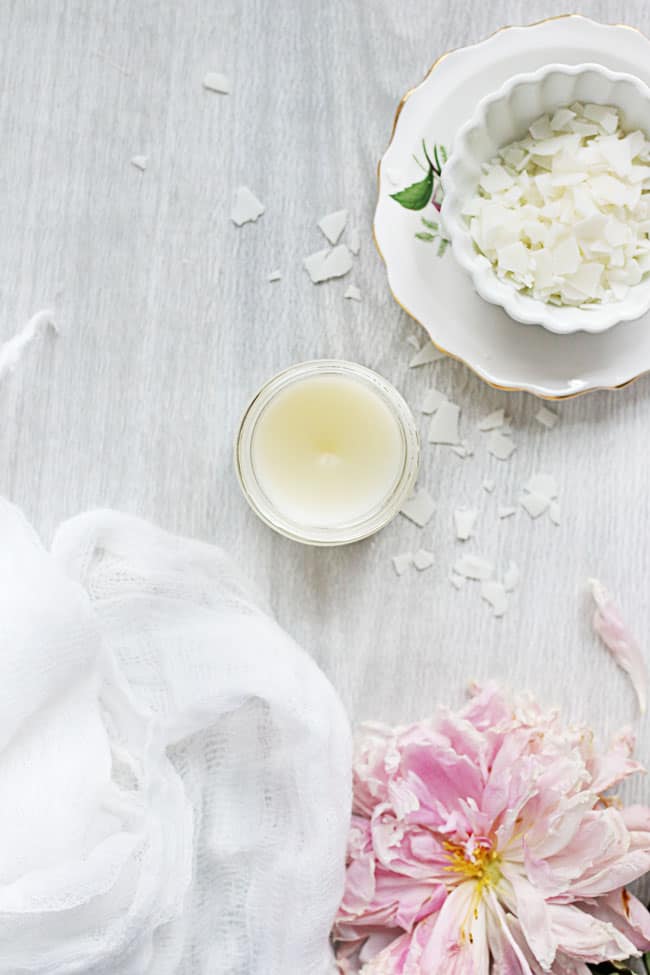 Vegan Lip Balm FAQs
How do you make flavored lip balm
?
If you'd like your lip balm to have flavor, the easiest thing to do is add flavor oils or spices with natural flavor, such as cinnamon, rose petals, coffee, or finely ground dried citrus peels. Just be forewarned, commercial flavor oils aren't considered nontoxic like natural spices are.
How long does homemade lip balm last
?
There isn't a hard-and-fast expiration date for homemade lip balm. Since our vegan lip balm recipe only contains oils, it should last for about 6 months without preservatives.
If you add any water-based ingredients, like aloe vera, or food-based flavorings, it will expire much sooner and should be used within 2 weeks to a month.
What are some other vegan alternatives for soy wax
?
Shea butter and cocoa butter are vegan alternatives that harden at room temperature like soy wax, but they create more of a buttery consistency. Because of that, they require some experimentation if you plan to use them in place of soy wax in this recipe.
Will homemade lip balm soften in warmer weather
?
It might! Coconut oil naturally softens when it gets warm out, so your lip balm may take on a more gloss-like consistency. If that's the case, you can always re-melt your balm and add more wax.
Where can I get lip balm tubes
?
I love these eco-friendly cardboard lip balm tubes. I also recommend repurposing old plastic lip balm containers or using small aluminum tins or glass jars.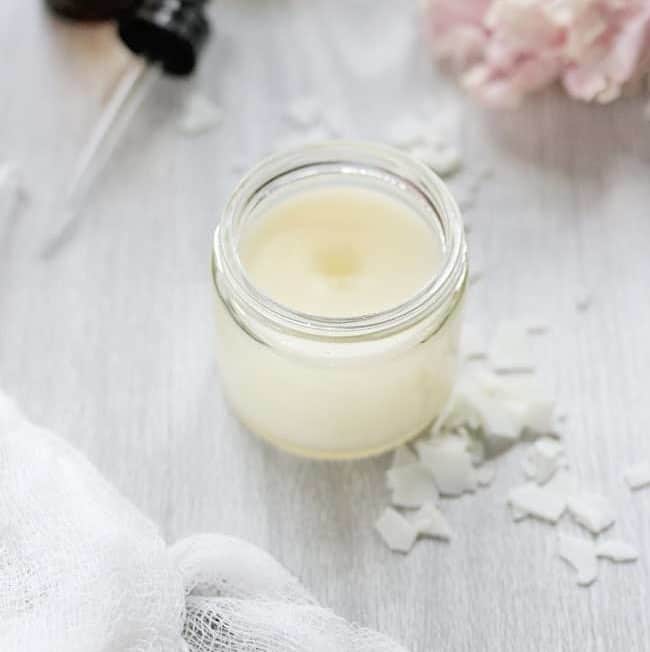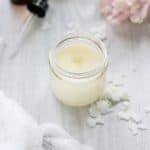 Print
Vegan Lip Balm with Lavender
Keep your lips soft and hydrated with this homemade vegan lip balm.
Equipment
2-ounce glass jar or lip balm tube
Instructions
Place the wax and coconut oil in a small microwave-safe dish. Microwave in 15-second intervals until melted, then stir with a popsicle stick or toothpick to blend it all together.

Let it cool for a couple of minutes. Add your oils and stir again.

Pour the mixture into a small glass jar or lip balm tube. Let cool completely before using.
Notes
Your lip balm should last for about 6 months without preservatives.
To make your balm more of a lip gloss-like consistency, add more coconut oil. To make it firmer and less glossy, add more wax.
References:
Lin TK, et al. Anti-inflammatory and skin barrier repair effects of topical application of some plant oils. Int J. Mol Sci. 2018.
Koulivand PH, et al. Lavender and the nervous system. Evid Based Complement Alternat Med. 2013.
Moore EM, et al. The enigma of bioactivity and toxicity of botanical oils for skin care. Front Pharmacol. 2020.
Keen MA, et al. Vitamin E in dermatology. Indian Dermatol Online J. 2016.
Singh S, et al. Formulation and evaluation of carrot seed oil-based cosmetic emulsions. J Cosmet Laser Ther. 2019.
Binic I, et al. Skin Ageing: natural weapons and strategies. Evid Based Complement Alternat Med. 2013.
Ahmad Z. The uses and properties of almond oil. Complement Ther Clin Pract. 2010.
Narnoliya LK, et al. The phytochemical composition, biological effects and biotechnological approaches to the production of high-value essential oil from geranium. Essential Oil Research. 2019.
Lee SH, et al. Effect of German chamomile oil application on alleviating atopic dermatitis-like immune alterations in mice. J Vet Sci. 2010.
This post was medically reviewed by Dr. Rina Mary Allawh, M.D., a dermatologist who practices adult and pediatric medical dermatology, skin cancer treatment, and cosmetic dermatology. Learn more about Hello Glow's medical reviewers here. As always, this is not personal medical advice, and we recommend that you talk with your doctor.
244