Turmeric has become a popular (dare I say trendy?) ingredient lately in health and beauty. But this golden-hued spice has actually been around since ancient times, dating back some 4,000 years! It was used for a myriad of medicinal and religious purposes in South Asia, according to research published in the book Herbal Medicine: Biomolecular and Clinical Aspects.
Along with its numerous health benefits, you often hear the word 'glowing' associated with turmeric. And who doesn't want glowing skin, right? Here are two ways to get turmeric's acne-fighting and skin-improving benefits, inside and out.
Skin-Enhancing Turmeric Acne Mask
Turmeric and its main component curcumin are also beneficial in treating your body's largest organ: your skin! It can help soothe the hard-to-treat autoimmune disease, psoriasis, thanks to its anti-inflammatory abilities. And it can help fade acne scars and lighten skin, fight premature aging and sun damage, and can even be used to treat wounds.
Needless to say, turmeric is certainly a spice you will want to keep in your kitchen cabinet. And if you do, you can easily use it as an ingredient in at-home beauty treatments like this acne-fighting and skin-improving mask.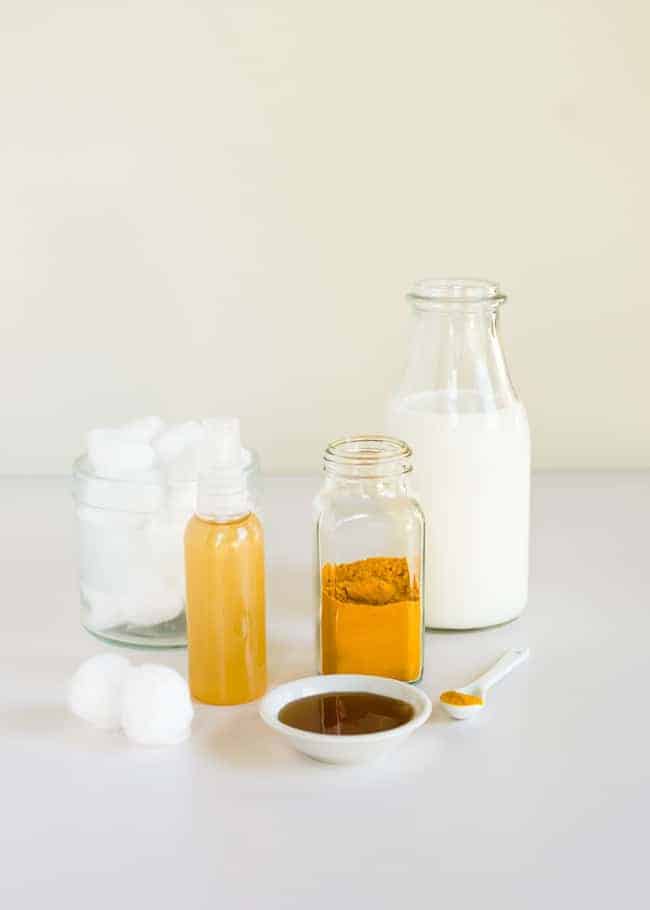 Naturally antiseptic and antibacterial, turmeric and honey soothe inflamed skin and acne.
Organic apple cider vinegar
1/2 teaspoon turmeric powder
1 tablespoon of organic, raw honey (preferably Manuka honey)
Milk
Apply vinegar to a cotton ball and swipe all over the skin. Wait about five minutes before you apply the mask.
Mix the turmeric powder with the honey. Use your clean hands to apply the mask, avoiding the eye area. Let the mask sit for 15-20 minutes then rinse with warm water. If the turmeric powder leaves a yellowish tint on the skin, use a milk-soaked cotton ball to go over stained areas. Repeat this mask twice a week.
Adapted from celebrity aesthetician Susan Ciminelli
Glowing Skin Turmeric Smoothie
The main compound found in turmeric is called curcuminoids, a strong antioxidant that contains powerful anti-inflammatory effects that helps the body ward off illness and toxins lurking in the environment (known as free radicals). In fact, research has linked lower levels of inflammation to a reduced risk for life-threatening diseases such as heart disease, Alzheimer's and even cancer.
Curcumin has also been shown to improve both memory and mood. One study published in the journal Phytotherapy Research found that curcumin supplements may be as effective as taking an antidepressant. So get a daily dose of turmeric in your diet with this tasty turmeric smoothie recipe.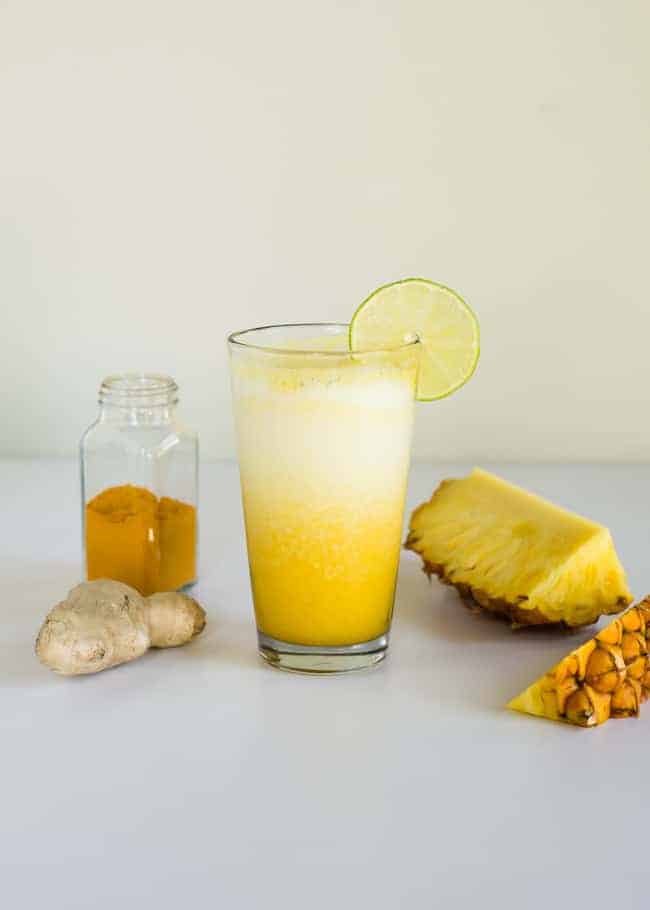 This smoothie combines hydrating coconut water with skin-loving pineapple and turmeric for a healthy morning wake-up.
1 cup frozen pineapple
1 cup coconut water
1 inch fresh ginger
1/4 tsp turmeric
Combine all ingredients in a blender and pulse together. Serve immediately, topped with a squeeze of lime.
This post was medically reviewed by Dr. Jennifer Haley, a board-certified dermatologist with extensive experience in medical, cosmetic and surgical dermatology. Learn more about Hello Glow's medical review board here. As always, this is not personal medical advice and we recommend that you talk with your doctor.
178