Turmeric has become a popular (dare I say trendy?) ingredient lately in health and beauty. Along with its numerous health benefits, you often hear the word glowing associated with turmeric. And who doesn't want glowing skin, right? Here are two easy ways to use turmeric for acne.
Why use turmeric for acne?
This golden-hued spice has actually been around since ancient times, dating back some 4,000 years! It was used for a myriad of medicinal and religious purposes in South Asia, according to the book Herbal Medicine: Biomolecular and Clinical Aspects.
Acne is now understood to be primarily an inflammatory condition triggered by certain internal and external factors [source]. Turmeric's most active component, curcumin, is a powerful anti-inflammatory [source], so it has the potential to reduce redness and swelling in existing pimples. It is also antimicrobial, which helps to fight one of the external triggers—bacteria [source]. Additionally, turmeric is an antioxidant [source] known to have brightening qualities, which can help with discoloration.
Use this mask and scrub to reap the many skin benefits of turmeric. You'll soon see a more even skin tone and reduced acne flare-ups.
Honey Turmeric Acne Mask
You can easily use turmeric as an ingredient in at-home beauty treatments. This skin-improving turmeric acne mask from celebrity aesthetician Susan Ciminelli is a great way to get the soothing effects of turmeric on a regular basis.

A turmeric face mask is naturally antiseptic, antibacterial, and anti-inflammatory [source], so it works wonders at soothing inflamed acne-prone skin, notes Dr. Rose. Honey, too, has skin-saving benefits [source]. "It's a natural humectant, so it's great for dry, irritated skin as it helps your skin retain moisture," she says. "When mixed with water, hydrogen peroxide is naturally formed, which helps lighten hyperpigmentation and acts as a natural antibacterial to fight acne-causing microbes."
You'll need
—Organic apple cider vinegar
—½ teaspoon turmeric powder
—1 tablespoon of organic, raw honey (preferably Manuka honey)
—Milk, optional
Instructions
Apply the vinegar to a cotton ball and swipe all over the skin. Wait about 5 minutes before you apply the mask.
To make the mask, mix the turmeric powder with the honey. Use your clean hands to apply the mask, avoiding the eye area. Let it sit on the skin for 15–20 minutes, then rinse with warm water. If the turmeric powder leaves a yellowish tint on the skin, use a milk-soaked cotton ball to go over any stained areas. Repeat this mask twice a week.
You can also use a 1:1 ratio of raw honey and turmeric as a quick spot treatment.
Why it works
In addition to turmeric, inflamed skin and acne can be treated by the natural antiseptic and antibacterial effects of honey [source], especially Manuka honey [source]. While raw apple cider vinegar tones the skin and provides a dose of beneficial bacteria to aid your skin microbiome—which we now know impacts acne [source].
For more ideas on masks incorporating the healing powers of turmeric, check out this post
Glowing Turmeric Face Scrub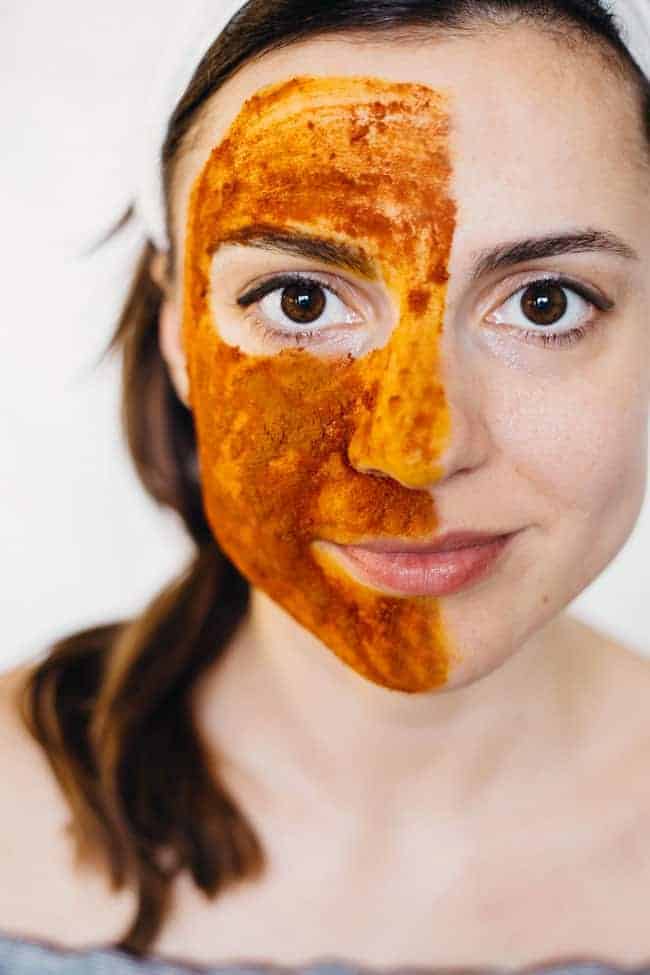 Despite its bright color that has a tendency to stain whatever it comes in contact with, turmeric actually works well in homemade face scrub recipes because it exfoliates and also helps even out your natural skin tone [source]. And by inhibiting an enzyme in your skin that produces pigment [source], turmeric may also lighten scars and other discolorations, making it helpful for acne-prone skin.
You'll need
—1 teaspoon turmeric
—3 teaspoons almond milk
—3 teaspoons baking soda
Instructions
Mix all ingredients together in a small bowl, and stir to combine. Using clean hands, massage over clean, damp skin with your fingertips, starting with your chin and working upward in small circles. Rinse and follow with moisturizer.
If you experience any skin discoloration from the turmeric, don't fret; it's not permanent! Rinse again with water or use a gentle cleanser (like this rice milk one) to remove any remaining yellow tint.
Why it works
Turmeric's texture provides excellent exfoliation. It's also a potent anti-inflammatory with excellent wound-healing effects, and it helps fight unwanted bacterial pathogens [source].
Turmeric Acne Mask FAQs
Can I use almond or coconut milk instead of cow
'
s milk to remove turmeric stains from skin
?
If you don't have cow's milk, I recommend pouring a bit of olive oil (or sweet almond, jojoba, or even coconut oil) in your hands and massaging it into the stained areas for about a minute. Then wipe it away with a soft, damp washcloth.
For stubborn turmeric stains, combine 1 tablespoon of white sugar with a drizzle of oil and gently massage it into the skin.
Will this turmeric acne mask remove dark spots and hyperpigmentation
?
There are few studies on the subject, but a scientific review mentioned that turmeric extract cream was shown in one study to effectively lighten hyperpigmentation by 14% in just 4 weeks [source]. The only way to know for sure is to give it a try—and be patient!
How often can I use turmeric for acne
?
These masks can be used as often as needed during flare-ups and once a week as maintenance.
Can I make this mask ahead of time in large batches and save it for later use
?
Since there are no preservatives in this mask, you would only want to make enough to use at once. We don't recommend saving any for later use. In this case, and in many applications made with natural components, fresh is best.
Will turmeric stain my skin?

It might give your skin a yellowish tinge temporarily, but the color is easy to remove. Wash your face with something with fat—like an oil or yogurt—to help release the color.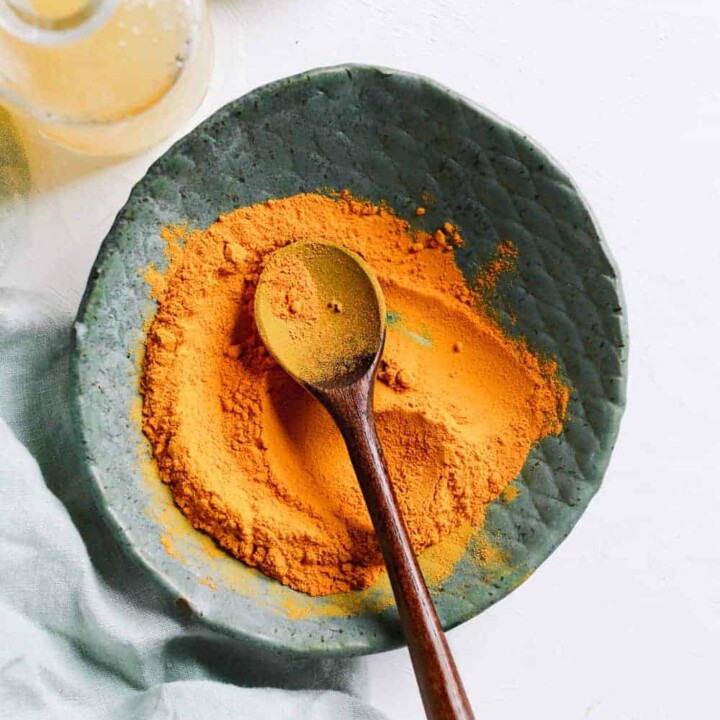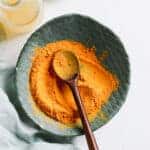 Print
Turmeric Acne Mask + Glowing Skin Smoothie
Get the skin-improving benefits of turmeric two ways: a turmeric acne mask and a delicious turmeric smoothie with pineapple and ginger.
Instructions
Turmeric Acne Mask
Apply vinegar to a cotton ball and swipe all over the skin. Wait about 5 minutes before you apply the mask.

Mix the turmeric powder with the honey and apply to clean skin, making sure to avoid the eye area. Let it sit for 15–20 minutes, then rinse with warm water. Repeat twice a week.
Turmeric Smoothie
Combine all ingredients in a blender and pulse together. Pour into a glass and serve immediately, topped with a squeeze of lime.
Notes
Store face mask or smoothie leftovers in the refrigerator for up to 24 hours.
For the mask:

If the turmeric powder leaves a yellowish tint on the skin, use a milk-soaked cotton ball to go over any stained areas. 
This post was medically reviewed by Dr. Jennifer Haley, a board-certified dermatologist with extensive experience in medical, cosmetic, and surgical dermatology. Learn more about Hello Glow's medical reviewers here. As always, this is not personal medical advice, and we recommend that you talk with your doctor.
227