We've all been there. We know what those sore, achy muscles feel like. Maybe you spent too long outside shoveling snow, working out too hard at the gym, or walking the length of the mall one too many times. Now you're left feeling sore, and even though you know the soreness will subside in a few days, you need some relief right now. Am I right? That's delayed onset muscle soreness...and it's awful.
Delayed onset muscle soreness (DOMS) is a common condition that can occur after intense workouts, particularly if you have not been engaging in regular physical activity. It is caused by microscopic damage to muscle fibers, which can lead to soreness and stiffness in the affected muscle groups. Fortunately, there are many home remedies that can help relieve muscle soreness and reduce discomfort.
Yeah, it can be easy to overdo it sometimes. I've got some quick tips for soothing sore muscles, plus a homemade achy muscle rub recipe to help ease the pain.
6 Ways to Ease Sore Muscle Pain

1
.
Stretch first
First up—prevention. Try to remember to stretch before any kind of strenuous physical activity. Gentle stretching before and after will help prevent the muscle strain that causes those pesky sore, achy muscles.
The soreness that occurs after exertion was thought to be caused by lactic acid build-up in the muscles. But it is actually due to microscopic tears in the muscle fibers causing inflammation [source]. It's important to move around after a tough workout to keep the blood flowing and help those tissues to heal.
2
.
Drink cherry juice
But in case you forgot to stretch or cool down, or it's been a while since you've worked out like that, try easing the pain naturally by drinking a glass of tart cherry juice [source]. Researchers have shown that the antioxidant power of polyphenols in cherry juice works to fight inflammation and help repair muscles [source].

3
.
Put those muscles on ice
You might want to head straight for a hot shower, but studies show that icing sore muscles slows down swelling from injury and speeds healing [source]. You can also try alternating hot water with 30-second bursts of cold water.
The hot water dilates blood vessels, which brings more blood to the muscles and also takes the waste products (i.e., lactic acid) away.
4
.
Massage with lavender
Lavender-infused massage oil can also help with muscle soreness [source]. Lavender has long been used for numerous maladies and its calming effects, but did you know it is also great for easing pain?
Massage itself can help with muscle pain because the manipulation of muscles helps to warm them up and relax them. Using lavender is a one-two punch on muscle pain. A healing balm can also help.
5
.
Take an Epsom salt bath
Epsom salt in a hot bath is widely thought to be one of the best ways to relieve muscle cramping and soreness. At a cellular level, magnesium works in balance with calcium as the muscles relax and contract [source].
However, there is much speculation about whether or not the magnesium in Epsom salts is absorbed through the skin while you soak in the bath [source]. It may just end up being that a bath has its own healing properties by directly heating and relaxing the muscles [source].
6
.
Make a cayenne and ginger muscle rub
Capsaicin, a compound found in hot peppers, is a natural pain reliever. When applied to the skin, the capsaicin tricks your brain into thinking it's been exposed to extreme heat, which results in a release of neurotransmitters that eventually block the pain [source].
This DIY achy muscle rub contains cayenne pepper and ginger. The ginger contains other compounds that have anti-inflammatory and pain-relieving benefits [source].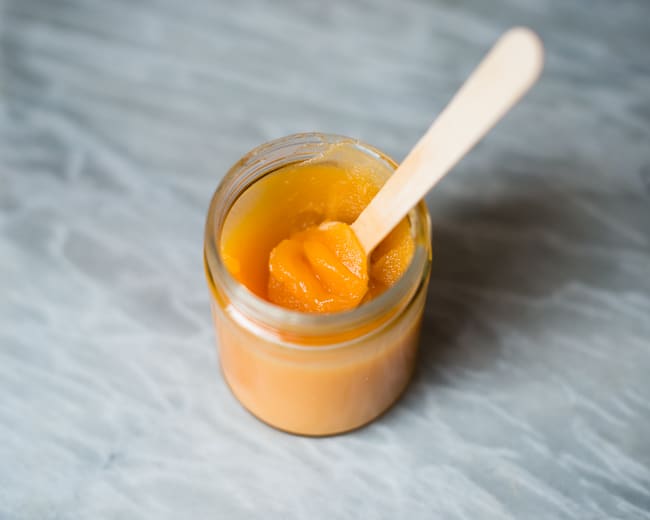 Let's talk more about what's in this muscle rub—almond oil, shea butter, coconut oil, beeswax, ground cayenne pepper, ground ginger, and camphor, peppermint, clove, and eucalyptus oils.
The coconut and almond oils work as carrier oils to prevent irritation. The shea butter adds extra moisturizing and helps with absorption, as do the carrier oils. The beeswax is there mainly for texture but also has healing benefits. Each of the essential oils provides healing and anti-inflammatory relief.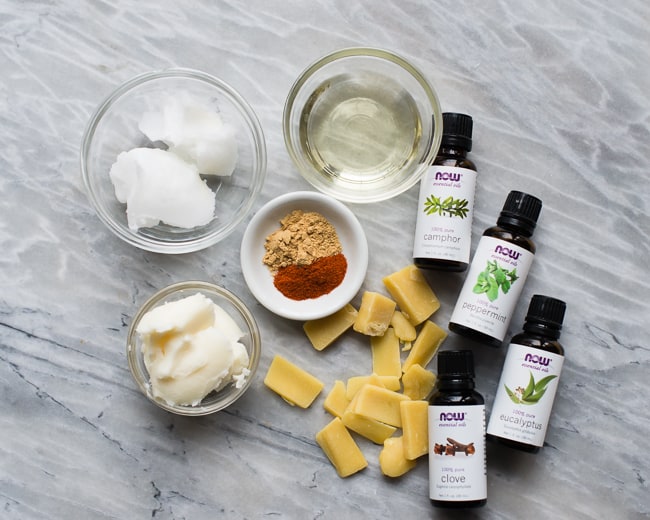 The peppermint helps cool. Clove is an anti-inflammatory, but it also works naturally to provide a slight numbing sensation to soothe sore muscles [source].
Camphor is a common ingredient in over-the-counter topical preparations. It is an anti-inflammatory that helps to boost circulation, temporarily desensitizes nerves, and provides a cooling, calming sensation [source]. It also may promote the penetration of other substances into the skin [source].
The peppermint oil has similar benefits to camphor [source]. Eucalyptus oil has analgesic properties and can help with pain when massaged into the skin [source].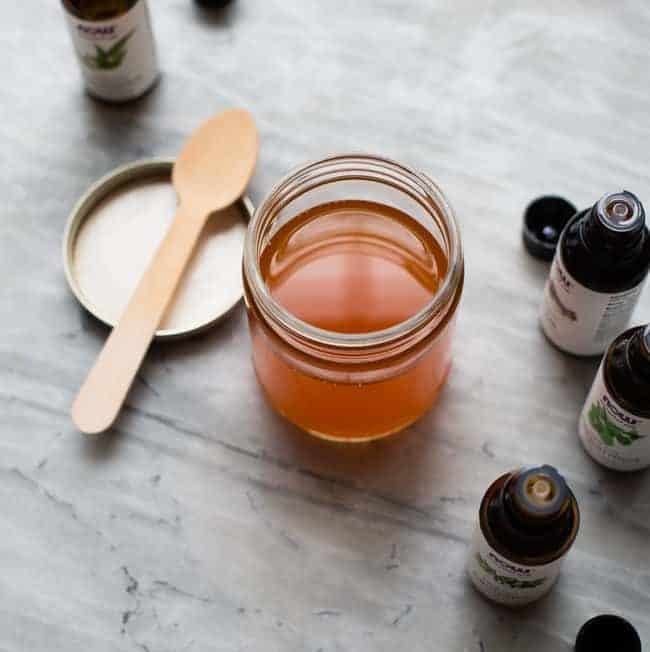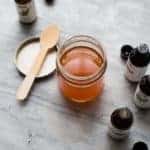 Print
DIY Sore Muscle Rub
Soothe sore muscles with this homemade rub made from shea butter, coconut oil, ginger, cayenne, and essential oils.
Equipment
Glass measuring cup

saucepan

Fine mesh strainer

Cheesecloth

8-ounce glass jar with lid
Instructions
Gently heat coconut and olive oils in a glass measuring cup or jar in the microwave, or place it in a small pan of simmering water.

Add the ground ginger and cayenne. Let stand for 30–60 minutes in a warm place.

Place the the beeswax in a measuring cup and set that into a pan of simmering water. Allow the wax to melt. Be careful as it will be very, very hot after it melts. Add the shea butter and stir until melted. Keep warm.

Strain the cayenne and ginger infused oil into the measuring cup with the beeswax and shea butter by running it through cheesecloth set over a mesh strainer. (Warm the oil again if it's too thick to strain.)

Stir well. Remove from the heat and let it cool slightly before adding the essential oils. Stir gently until combined.

Transfer to a jar with a tight-fitting lid. Let cool completely before using. To use, remove a small amount from the jar and place it in palms to melt the balm. Rub onto sore area in a circular motion. The skin will become red and feel warm to the touch. (See notes below.)

Will keep for several months. Use as often as needed.
Notes
Do not use on children because it could cause skin irritation. Test on a small area of skin before using. If the rub creates extreme irritation, wash it off with water and soap. Wash hands well after applying, and be careful not to get it onto mucous membranes. Do not use on broken or irritated skin.
Additional Tips
One effective way to reduce muscle soreness is to increase blood flow to the affected muscles. This can be done through light exercise, such as walking or cycling, which can help get the blood flowing and promote muscle recovery. Another way to increase blood flow is through foam rolling, which can release tension in the muscles and improve muscle function.
In addition to increasing blood flow, static stretching and active recovery exercises can also help relieve muscle soreness and speed up the recovery process. Acute soreness can be relieved with ice packs and heating pads, which can reduce inflammation and improve blood flow to the affected area.
Tart cherry juice is a natural anti-inflammatory that can also help reduce muscle soreness. It has been shown to be particularly effective in reducing soreness after tough workouts. Drinking plenty of water can also help with muscle recovery, as it helps flush out toxins and waste products that can build up in the muscles.
If you are experiencing muscle soreness that lasts for more than a week or is accompanied by trouble breathing, it is important to seek medical advice. However, for mild to moderate muscle soreness, home remedies such as foam rollers, light exercise, and natural anti-inflammatories like tart cherry juice can be effective in reducing muscle soreness and promoting muscle recovery.
Frequently Asked Questions
What is Delayed Onset Muscle Soreness (DOMS)?
Delayed Onset Muscle Soreness (DOMS) is a type of muscle pain and stiffness that typically occurs 24-72 hours after exercise or physical activity. DOMS is caused by microscopic damage to muscle fibers, resulting in inflammation and soreness. DOMS is commonly experienced after engaging in high-intensity or unfamiliar physical activities such as weightlifting, running, or jumping. Delayed onset muscle soreness is not to be confused with acute muscle soreness, which typically occurs during or immediately after physical activity.
How can I prevent Delayed Onset Muscle Soreness (DOMS)?
Unfortunately, there is no foolproof way to prevent Delayed Onset Muscle Soreness (DOMS), but there are a few strategies that can help reduce its severity. Firstly, it's essential to warm up adequately before engaging in physical activity to prepare your muscles for the exertion. Gradually increasing the intensity of your workouts can also help your muscles adapt and minimize the damage that causes DOMS. Additionally, stretching and foam rolling after exercise can help alleviate soreness and stiffness. Finally, adequate rest and recovery time between workouts are crucial for preventing DOMS, so make sure to give your muscles time to heal before pushing yourself too hard again. Remember, Delayed Onset Muscle Soreness is a common and normal response to exercise, and it usually resolves on its own within a few days.
What causes muscle soreness?
Muscle soreness can be caused by a variety of factors, including exercise, injury, or illness. When you exercise, you can experience muscle soreness as a result of delayed onset muscle soreness (DOMS). DOMS typically occurs 24 to 48 hours after exercise and is characterized by pain and stiffness in the muscles. Other causes of muscle soreness can include overuse, improper form during exercise, and not warming up or cooling down properly.
Is muscle soreness a good thing?
Muscle soreness can be a sign that your muscles are adapting to a new level of physical activity or that you are challenging your muscles in new ways. However, excessive muscle soreness can also indicate that you have pushed yourself too hard and may be at risk for injury. It is important to listen to your body and rest when needed to avoid muscle soreness and injury.
This article was medically reviewed by Dr. Gina Jansheski, a licensed, board-certified pediatrician with more than 20 years of practice experience. Learn more about Hello Glow's medical review board here. As always, this is not personal medical advice, and we recommend that you talk with your doctor.
219