Certain foods, like ghee and green smoothies, become trendy in wellness circles. Now bone broth is getting buzz as a beverage people are drinking like a cup of coffee. Broth is a nutritious source of collagen, amino acids, and minerals, and making your own is easy and inexpensive to do at home.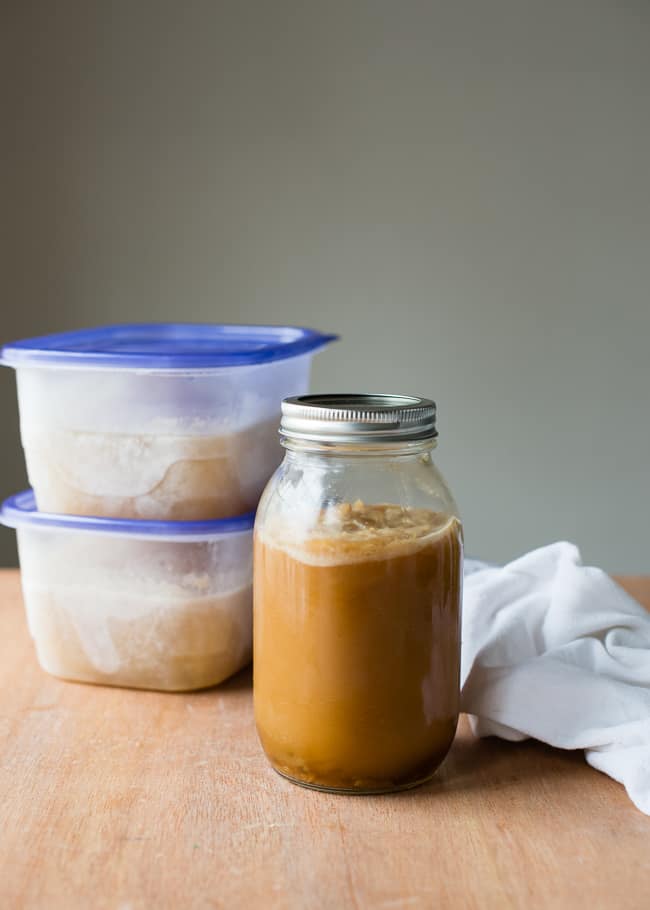 What Is Bone Broth?
Back in the old days, everyone made soup with soup bones. It was the secret ingredient to my grandmother's famous vegetable soup.
By definition, broth is a thin, lightly flavored liquid made from meat or poultry simmered in water. Very few bones, if any, are used. Stock is made primarily with bones and just a small amount of meat. When we say bone broth, we really mean stock.
The best flavored stock comes from bones that have been roasted. This could be a poultry carcass, like a Thanksgiving turkey, or it could be made from beef bones that are dry roasted in the oven first with the intent of using them for stock.
Roasting bones deepens their flavor. The bones are then cooked in water at a low temperature for a very long time to allow as many nutrients as possible to leach into the stock.
Why you should drink bone broth
As we age, our skin starts to sag a little here and there, our joints start to ache, our bones become more brittle, and even our skin and nails tend to become thinner. Back in those good old days on the farm, every part of the animal was used, and diets were rich in the nutrients found in bone broth—calcium, magnesium, phosphorus, and collagen.
If you've ever made bone broth before, you've probably noticed that when it's cold, it sets up firm like Jello. That's due to the collagen; it's a natural gelatin.
Most of us need extra collagen to keep our connective tissues healthy [source]. That's everything from our tendons and ligaments to our blood vessels, digestive tract, and even our corneas are composed of collagen!
Essential amino acids arginine, glycine, and proline, and other nutrients leach out of the bones as the stock cooks. We need those amino acids to help the body synthesize hemoglobin, support digestion, and promote skin and connective tissue health.
How To Make Bone Broth
Start with a whole roasted chicken (chicken parts can also be used, this is just how I usually do it). Add aromatics like onion, celery, carrots, and herbs.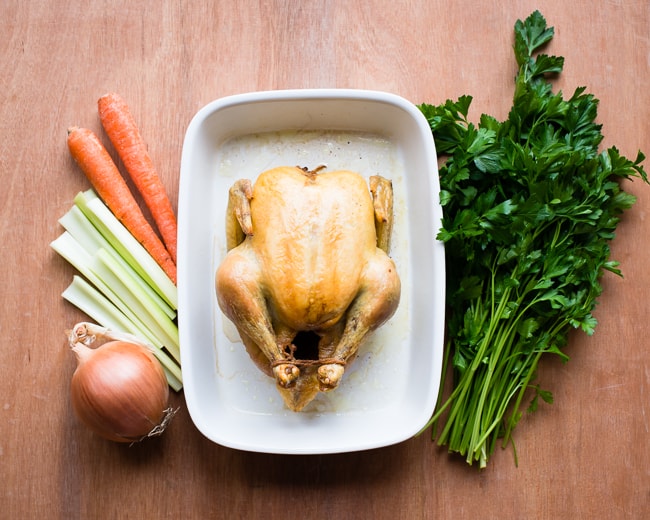 Place everything in a slow cooker or stockpot, and cook on high for a few hours. Then lower the heat and cook for 8–12 hours. Starting with high heat at the beginning will extract the most flavor from the chicken and veggies.
I've tested this out over the last few years, and whenever I cooked the broth on low for the entire time, the flavor was thin and watery. So I start the broth in the evening and cook in my slow cooker on high for about 2 hours, then turn it to low and let it cook for the remaining hours while I'm sleeping. In the morning, it's ready for me to strain and separate into containers.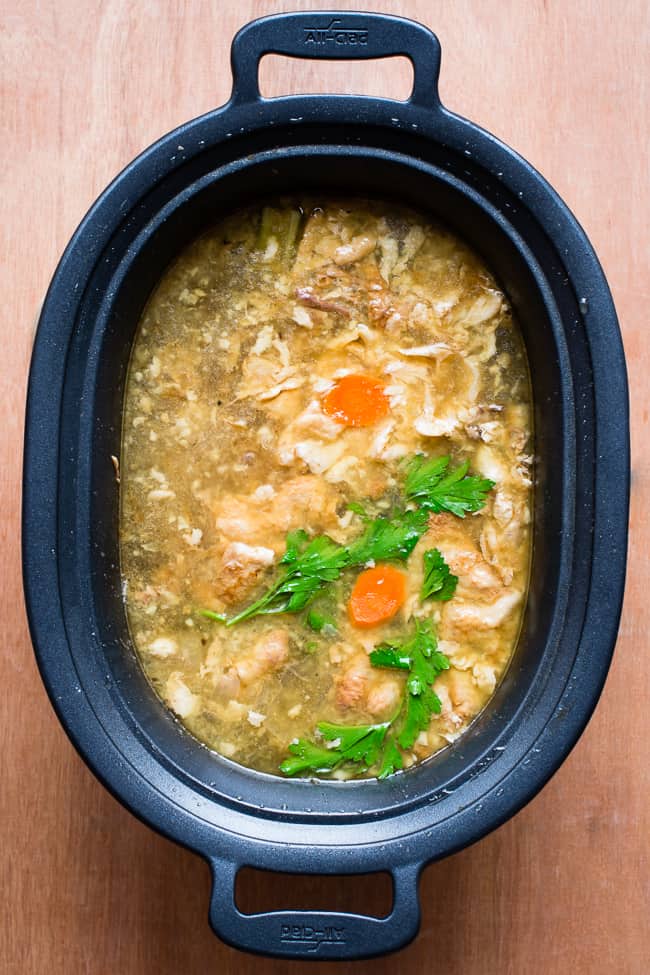 The long, slow cooking time means everything will be very soft and falling apart. It's necessary to strain out the solid bits from the broth. I remove the larger pieces with a slotted spoon and strain the rest through a fine mesh sieve.
For a really clear broth, it can be strained a second time through cheesecloth, but I don't bother with that because I usually use this for soup or braising, where it doesn't matter quite so much.
Once the broth cools a bit, I transfer it to jars or plastic containers, depending on how long I'm planning to store it. Jars are for using that week, and plastic containers are for longer term storage.
Once the broth has chilled, I remove any of the fat or other stuff that's risen to the surface. It definitely won't hurt you to consume it, but it can be a little unsightly.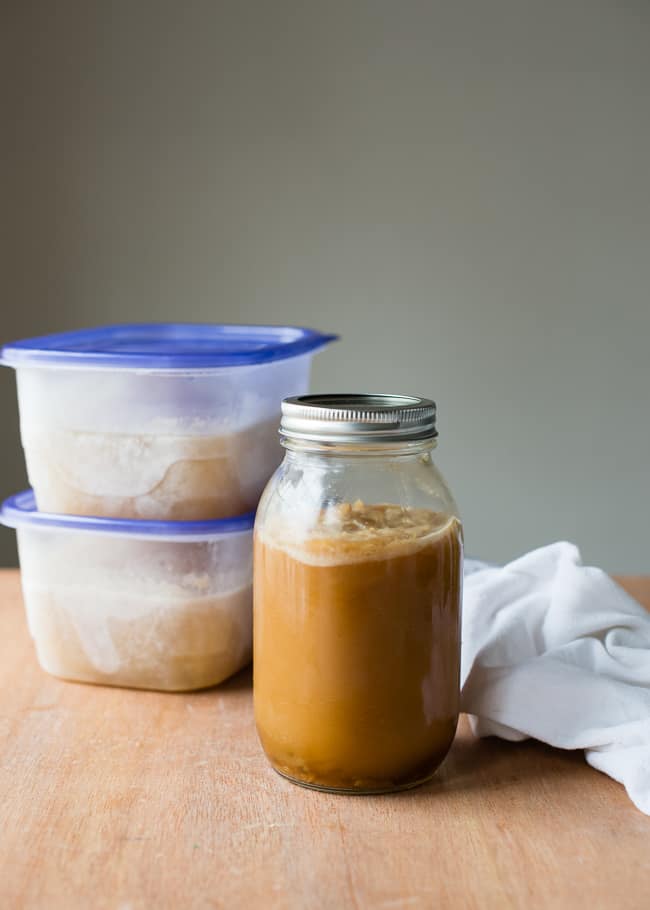 One last tip—because I often make so much broth at one time, I will also reduce it further in a pan on the stove, so it doesn't take up so much space in the freezer. It's a bit like making my own bouillon. Let it simmer until it reduces by half. Then, to reconstitute it, I use equal parts broth to water.
Most people who consume bone broth for health purposes will drink or eat 1 quart of broth per day. This can be in the form of soup, warm in a mug, or in other recipes. We use broth wherever we would normally use water—to make rice, gravies, and sauces.
When I'm feeling under the weather, one of my favorite hot drinks is 8–10 ounces of broth mixed with a little lemon juice, freshly grated ginger, and turmeric. It instantly makes me feel better.
What To Do With Your Homemade Bone Broth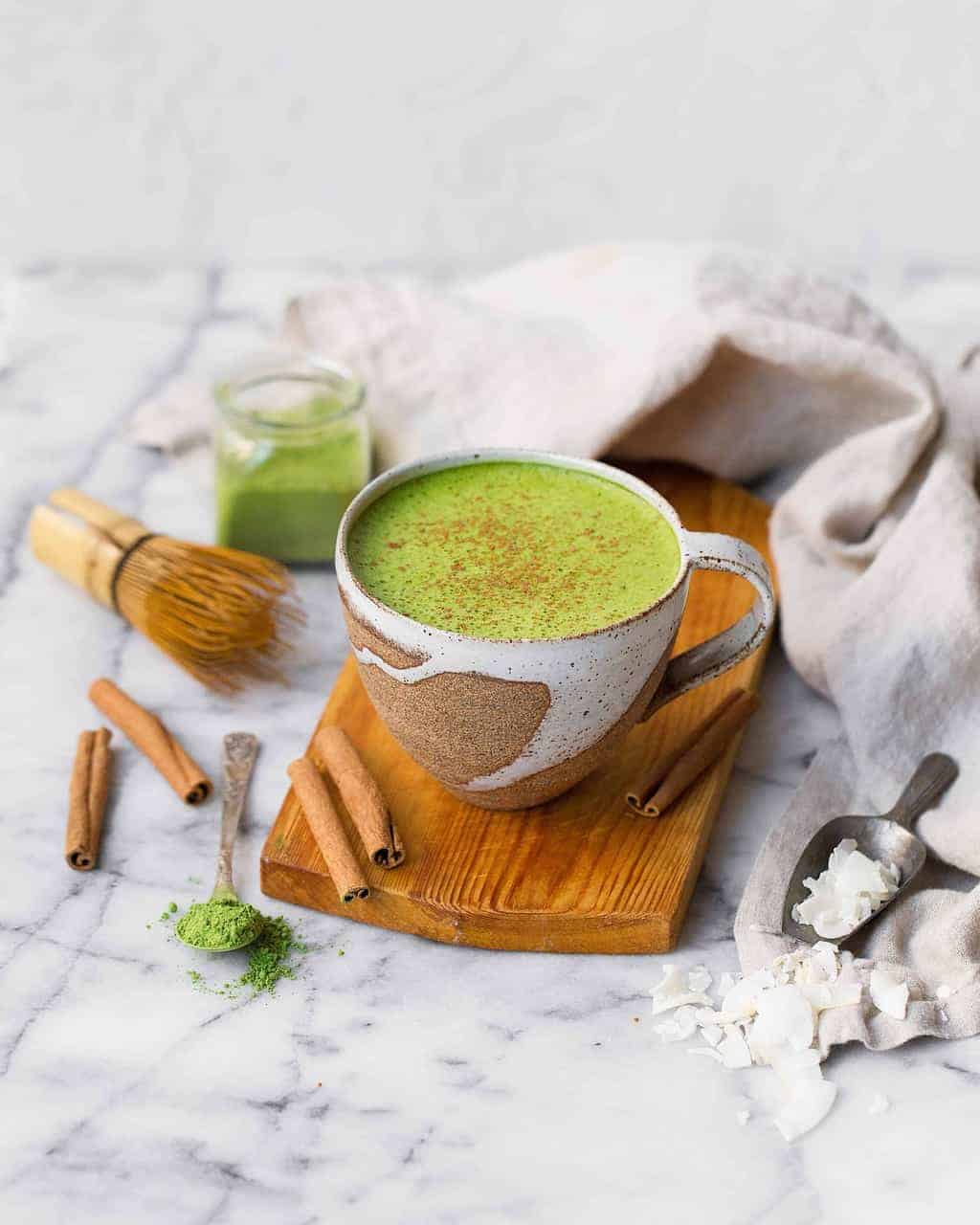 This keto latte features a healthy combination of bone broth and turmeric for a mineral-rich, gut-friendly morning treat.
If you love matcha lattes, you'll really enjoy this upgraded version! It's filled with antioxidants [source], great for your skin, and just a little bit sweet.
Stop a cold in its tracks with this restorative Tom Kha soup, made with spicy Thai peppers and the medicinal power of ginger [source].
Mashed potatoes have never tasted this good! Not to mention, they're more nutritious than ever with the addition of bone broth.
P.S. If you're vegetarian, you can still make a veggie "bone" broth!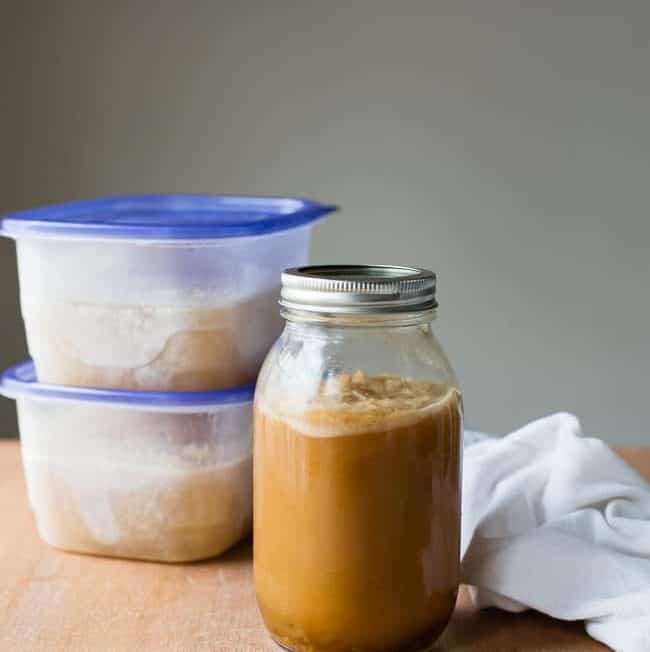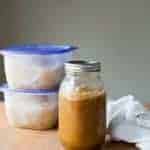 Print Recipe
Basic Chicken Bone Broth
The easiest way to make bone broth for good health and culinary use.
Ingredients
1

roasted chicken,

preferably organic and free-range

1

large onion,

halved

A few celery stalks

2

carrots,

scrubbed well

A handful of parsley

Optional:

bay leaves, garlic, rosemary, and thyme
Instructions
Remove the meat from the chicken and save for another use.

Place the chicken carcass into the slow cooker along with the veggies and herbs. Cover with enough water so that everything is submerged, and cook on HIGH for 2–3 hours, then turn to LOW for another 8–12 hours. If using the stove, place everything in a big stockpot and cover with water. Bring to a boil, then lower heat and cook at a simmer for 8–10 hours, adding more water if needed.

After the long cooking period, remove the large pieces of bone and the veggies with a slotted spoon. Strain the broth through a fine mesh sieve into a large bowl. Let the broth cool a bit before transferring to airtight containers or jars. Alternatively, the entire bowl can be chilled and transferred later to containers. To remove the layer of fat, chill and scrape off with a slotted spoon.

Broth will keep for about 1 week in the fridge or several months in the freezer.
Notes
Space-saving technique: After the broth has been strained, pour back into a pan on the stove and bring to a boil. Lower the heat a little, and continue cooking at a low boil until the liquid is reduced by half. Pour into containers or let cool and transfer to ice cube trays. Reconstitute with an equal amount of water to stock.
This article was medically reviewed by Dr. Gina Jansheski, a licensed, board-certified physician who has been practicing for more than 20 years. Learn more about Hello Glow's medical reviewers here. As always, this is not personal medical advice and we recommend that you talk with your doctor.
19