I'm just going to say it, this soap is magic. Unlike the soap you're probably used to, whipped soap is more like a foaming body butter than an actual soap. And because it's loaded with good-for-you oils like coconut and palm, it forms a semi-solid soap that can be used as a shaving cream, face wash, or even as a deep conditioner for your hair.
But if you find the idea of making soap from scratch intimidating, don't worry. The best thing about this soap is that it's super easy to make and perfect for newbies who might not have a ton of ingredients on hand.
How to Make Whipped Soap
Whipped soap making can be tricky business. Many of the tutorials I've seen contain a laundry list of hard-to-find ingredients like lard, tallow and lye. But this soap recipe couldn't be easier. The trick? Pre-made bar soap. Not only does it cut down on prep time and measuring, but you can also avoid some of the more questionable ingredients often found in whipped soap recipes.
I chose a bar of Dr. Bronner's lavender castile soap for mine because I love the scent and I had some on hand. Plus, castile soap is already chock full of natural oils so it will help boost the moisturizing powers of your soap. But any bar soap will work here, so feel free to choose whichever kind you like.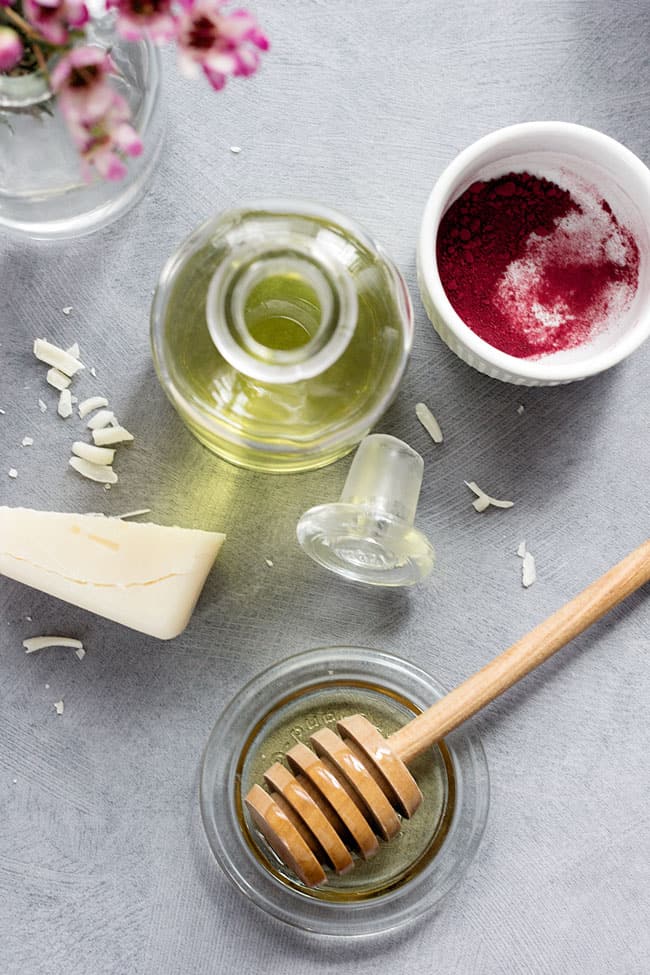 The trick to making whipped soap is choosing the right oils. For your soap to hold it's shape, you need a ratio of about 60% hard oils like coconut oil, shea butter or lard, to 40% soft oils like canola, grapeseed or olive oil. The hard oils give it shape, while the soft oils keep it pliable. Once you have your oil base, you can add your soap for suds and whichever essential oils and colors you choose.
In fact, grapeseed has been shown to be helpful in the treatment of many skin diseases and protects the skin from the oxidative stress causes by extensive sun exposure. Grapeseed extract acts as a powerful antioxidant shielding our body from skin aging processes.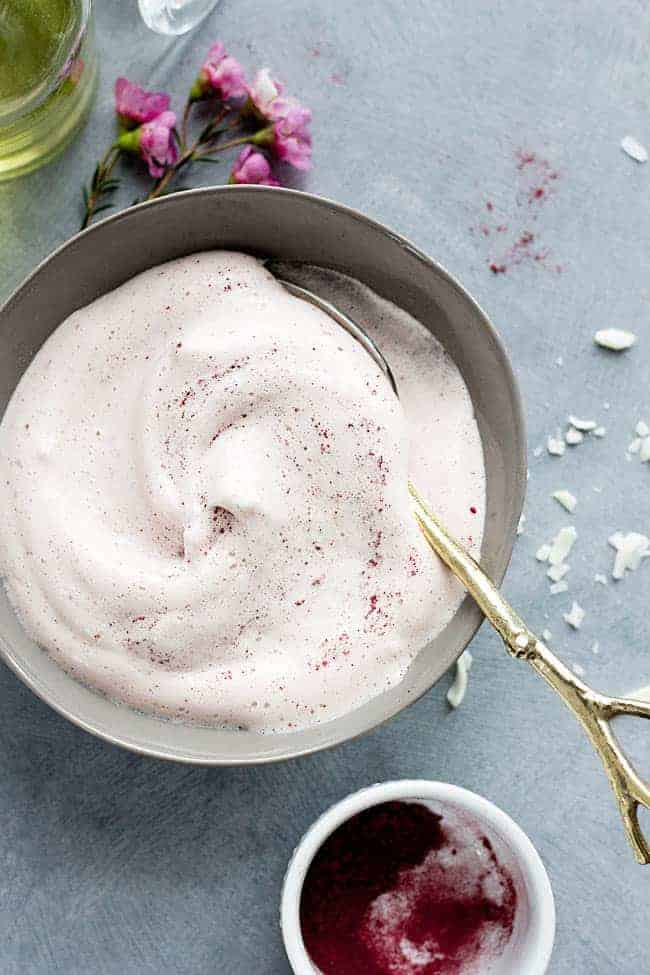 Just a word of warning: don't whip your soap for too long or it might start to foam. I whipped mine about a minute longer than I should have, so it lost a bit of its hold. I like it because it's not quite as thick and greasy as other whipped soaps. But in case you want yours more like a body butter, whip it until it just comes together and then stop. If you do happen to over-mix it, add more coconut and palm shortening until you reach the desired texture.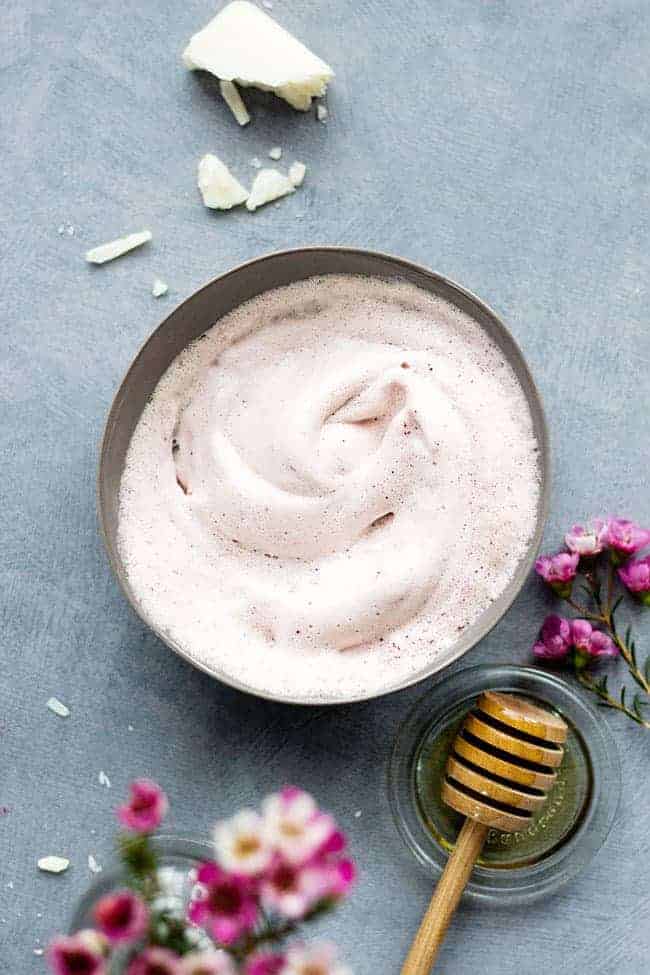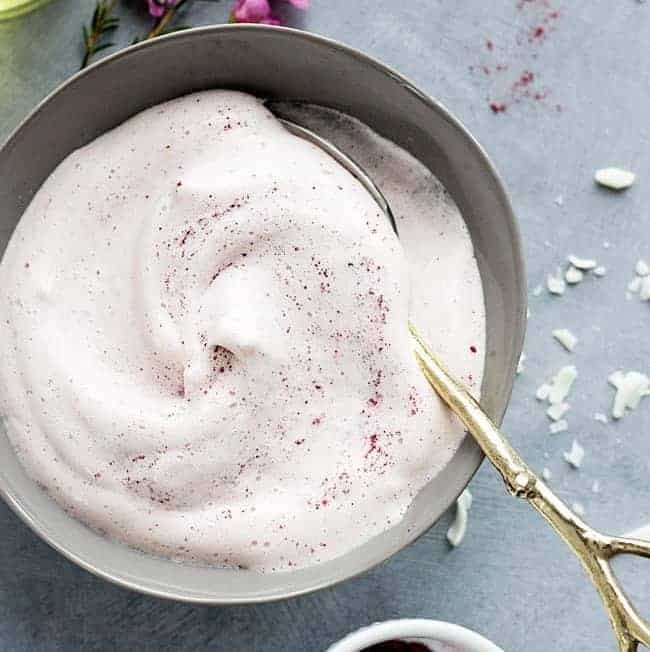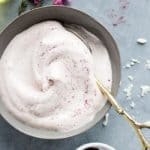 Print
Magical Moisturizing Whipped Soap
Get squeaky clean, soft skin with this magical whipped soap.
Equipment
Cheese grater

Small saucepan

Plastic tupperware container

Electric mixer
Instructions
In a small saucepan, combine the grated soap with the water. Bring to a low simmer and whisk constantly until the soap has just melted. Add the glycerin and whisk again.

Pour the soap mixture into a plastic container (make sure it's not so hot it can melt your container, let cool slightly if needed) and let it cool to just slightly above room temperature. You want your soap to be cool to the touch but not solid, so if it does harden, microwave it in 10 second intervals until it melts again.

Combine the coconut oil and vegetable shortening in a large bowl. Use an electric mixer to whip the oils until smooth. Next, slowly pour in your room temperature soap mixture and whip until combined. Add you essential oils and beet root powder for color.

Scoop the whipped soap into a jar and seal tightly with a lid for up to 2 weeks.
Notes
Note: this whipped soap doesn't feel as sudsy as normal soap. It's more of a soap-lotion combo, that hydrates skin while also cleansing. The soap may separate or deflate slightly over time. Be sure to stir well before using and, if needed, whip again to fluff.
Since it contains water, use within 2 weeks.
This post was medically reviewed by Dr. Rina Mary Allawh, M.D., a dermatologist who performs adult and pediatric medical dermatology, skin cancer treatment and cosmetic dermatology. Learn more about Hello Glow's medical review board here. As always, this is not personal medical advice and we recommend that you talk with your doctor.
643