There are probably a few ailments in life that a long soak in a warm bath can't fix, but I'd venture a guess that most of them (the day-to-day minor ones, at least) can be.
I used to buy those little envelopes of pre-mixed bath salts for things like insomnia or muscle aches, but if you have a few staple ingredients—such as Epsom salts and essential oils—at home, it's infinitely easier (and cheaper) to make your own.
Plus, soaking in a bath is by far the best way to maximize your alone time if you have needy kids, a partner and/or pets in the house. (Bonus!) So stock up on salts, shut the door, run the water and soak up all of the home-remedy goodness.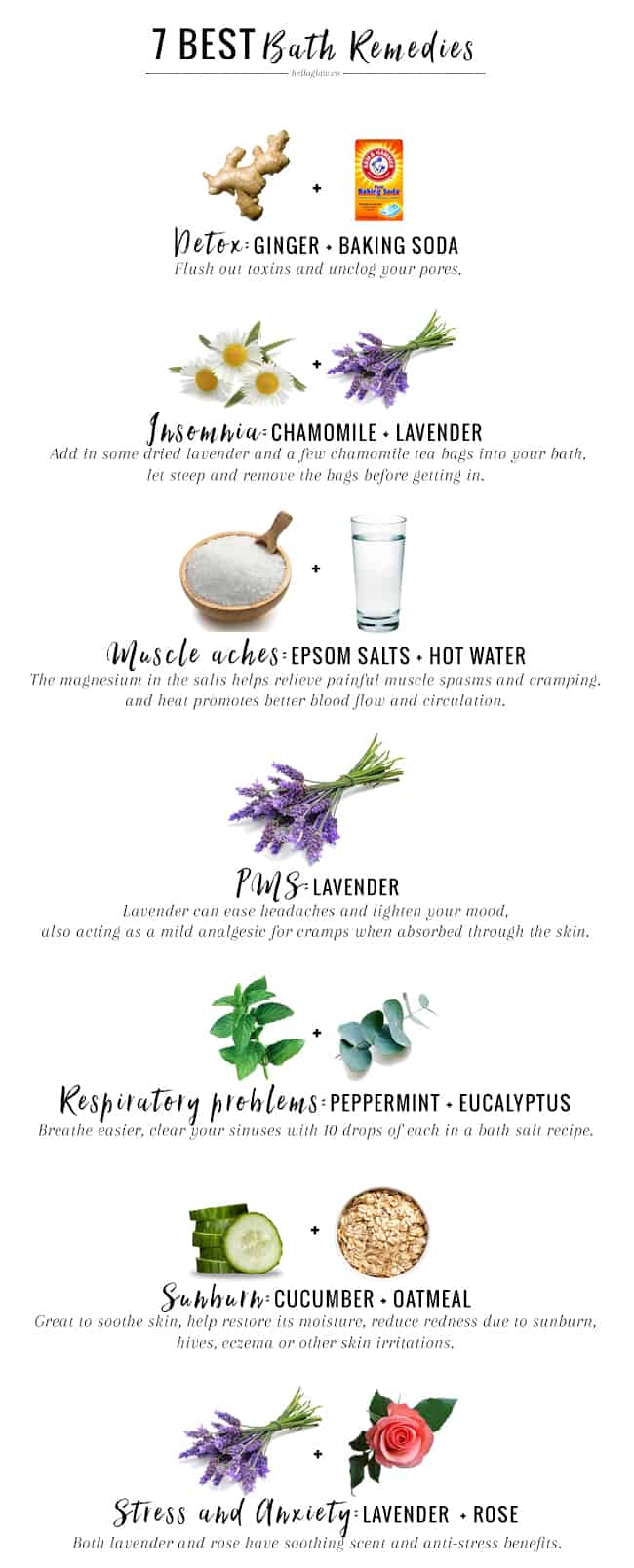 7 Best Bath Remedies
Detox: Ginger + Baking Soda
Some fresh grated ginger added to a hot bath will get you sweating, but don't worry—that means it's doing its work. The sweat will help your body flush out toxins and unclog your pores.
Try it along with Epsom salts, cleansing and alkalizing baking soda, and mustard seed (a traditional Ayurvedic remedy) in this Ginger Detox bath. Simply adding apple cider vinegar to a warm bath works wonders, too.
Insomnia: Chamomile + Lavender
Nothing works to calm you down before bed than a big mug of chamomile tea, and the same logic applies to the bath. Lavender and chamomile both are well known for their soothing, sleep-inducing properties.
To mix up an ultra-relaxing soak, add in some dried lavender and a few chamomile tea bags into your bath, let steep and remove the bags before getting in. It's a great bath to take directly before bed for a full night's rest.
Muscle aches: Epsom Salts + Hot Water
Straight-up Epsom salts combined with hot water is one of the best ways to relieve muscle cramping and soreness. The magnesium in the salts is readily absorbed through your skin as you soak, working to relieve painful muscle spasms and cramping.
In addition, heat promotes better blood flow and circulation to the area, eliminating any lactic acid waste buildup.
PMS: Lavender
When you have PMS, a bath sounds like an even better idea than normal. (Maybe because you don't have to talk to anyone?)
Lavender can ease headaches and lighten your mood, also acting as a mild analgesic for cramps when absorbed through the skin. Add 40 drops of lavender essential oil to these easy cornstarch- and baking soda-based aromatherapy bath bombs and keep them on hand when you need to chill. Just add your favorite music, podcast or audiobook. And maybe some chocolate or wine—up to you.
Respiratory problems: Peppermint + Eucalyptus
The one time I've caught the flu (like, the flu flu) and was feverish and quarantined at home for a week, baths and Netflix were the only thing that kept me sane and feeling, well, human. While the situation isn't usually so dire when you have allergies, a cold or a sinus infection, a bath can still work wonders to refresh you, clear up congestion, ease an achy body and regulate body temperature.
Add 10 drops of peppermint essential oil and 10 drops of eucalyptus oil to this simple DIY bath salt recipe to breathe easier, clear your sinuses. and feel human again.
Sunburn: Cucumber + Oatmeal
When you get that familiar stinging sensation from being out in the sun too long, nothing sounds better than submerging your whole body in cool water. To soothe skin and help restore its moisture, puree 1 large cucumber in a blender (or finely chop it) and strain through cheesecloth into a tub of cool or warm water, depending on your preference. Add 2 cups Epsom salt and 3 to 4 peppermint tea bags if you like.
Oatmeal is a tried-and-true skin soother, too—a mixture of ground oatmeal, baking soda and ACV (recipe here) can reduce redness due to sunburn, hives, eczema or other skin irritations.
Stress and Anxiety: Lavender + Rose
Lavender to the rescue again! This wonderful little purple flower is said to make you feel relaxed and alert at the same time when you toss in a few dried lavender buds or drops of lavender essential oil.
For a different floral stress-busting bath add-in, rose essential oil is a must. Pure rose oil or rose absolute can be expensive, but you don't need much to get its soothing scent and anti-stress benefits.
Add 15 drops of rose absolute and 10 drops of jasmine or ylang ylang to this DIY bath bomb recipe or whip up some rose and vanilla bath bombs. Also: the magnesium in Epsom salts is perfect for calming your mind, as well as physical aches and pains.
64