The anti-inflammatory and antibacterial properties of pink salt make it a perfect choice for skin irritations like eczema or psoriasis. Since pink salt can be absorbed through the skin, adding it to a bath soak can help infuse our skin with minerals and remove any waste or toxins in our body. It can also improve circulation, which helps the blood to bring oxygen and nutrients to all areas of our skin, leaving a nourished and healthy glow.
Volunteers bathing in a high-saltwater source have seen improvements in the skin barrier and overall skin hydration, as well as reduced redness and irritation [source]. Its anti-inflammatory effects have also been seen in patients with knee arthritis [source], fibromyalgia [source], and other rheumatologic conditions [source].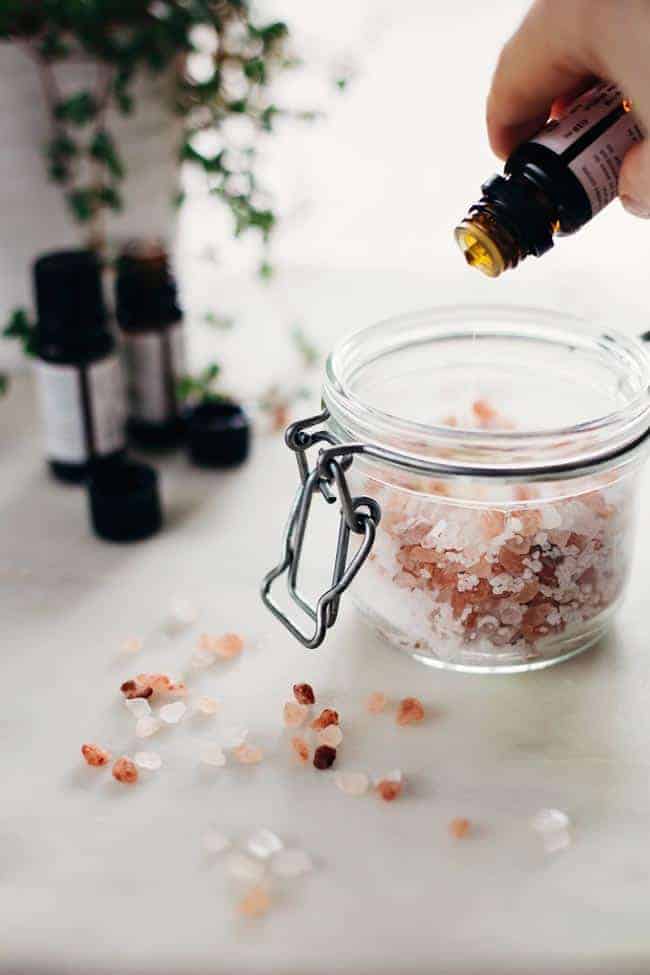 Benefits of Himalayan Salt Bath Soak
Detox baths go beyond a traditional relaxation soak.
They can soothe the symptoms of colds and infections, aid the immune system, and boost the body's detoxification pathways.
As the heat from the bath dilates the blood vessels, your pores open, and detox ingredients like Epsom salt can be absorbed into the skin more readily [source] to draw out toxins and deliver minerals like magnesium.
So, whether you're attempting to soothe sore muscles, detox, or improve your overall health and beauty, the next time you draw a bath, consider a combination of pink salt, Epsom salt, herbs, and essential oils for a health-promoting bath soak.
3 Ways to Make a Himalayan Salt Bath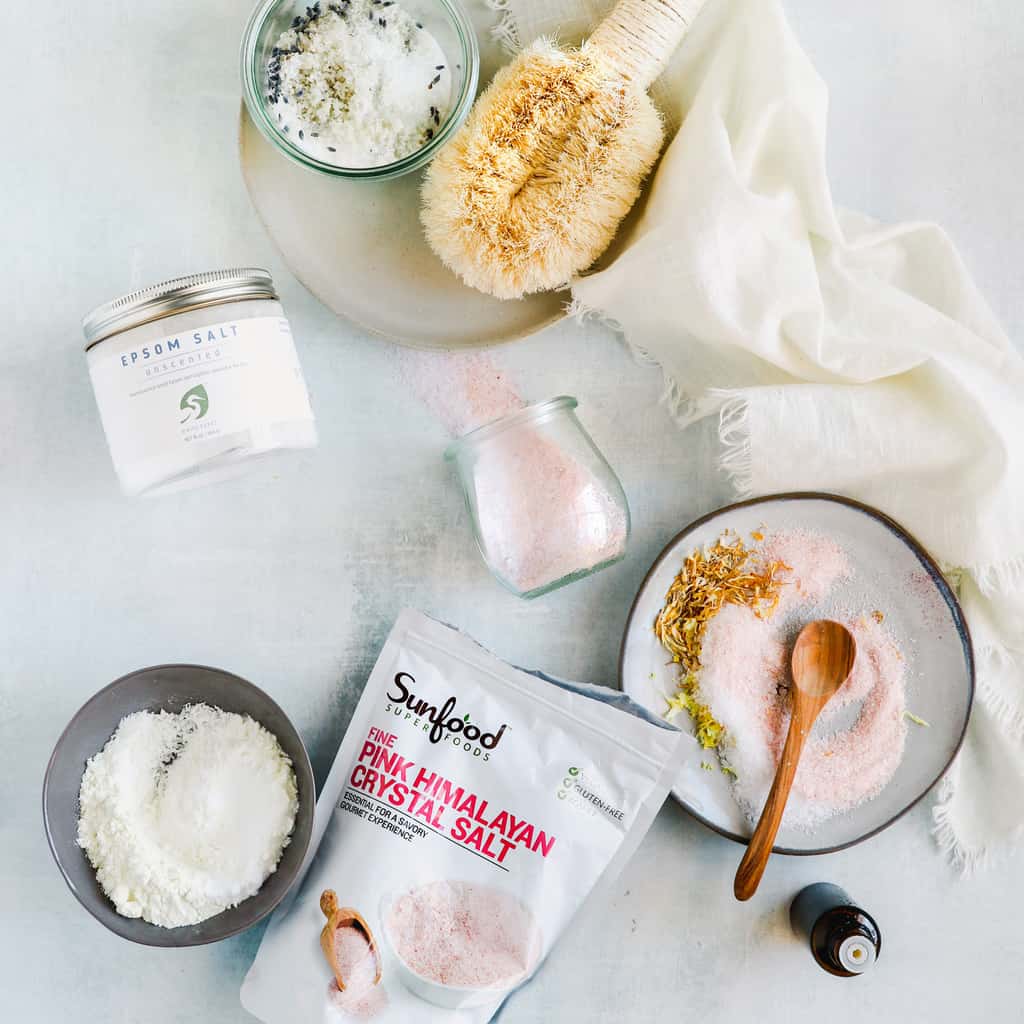 1. Soothing Double Salt Soak
This basic detox bath soak soothes muscles, replenishes minerals, and gives you a healthy dose of aromatherapy.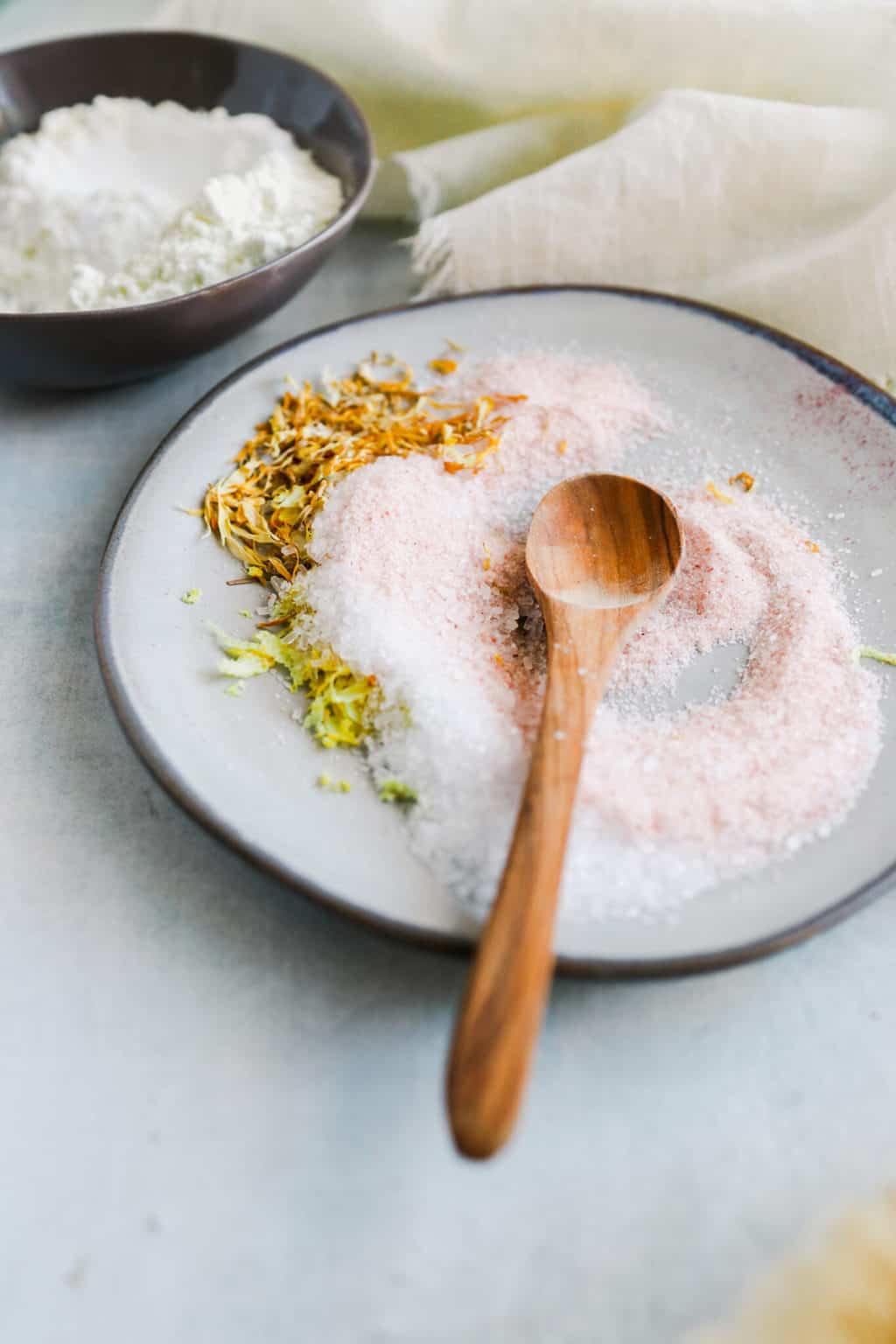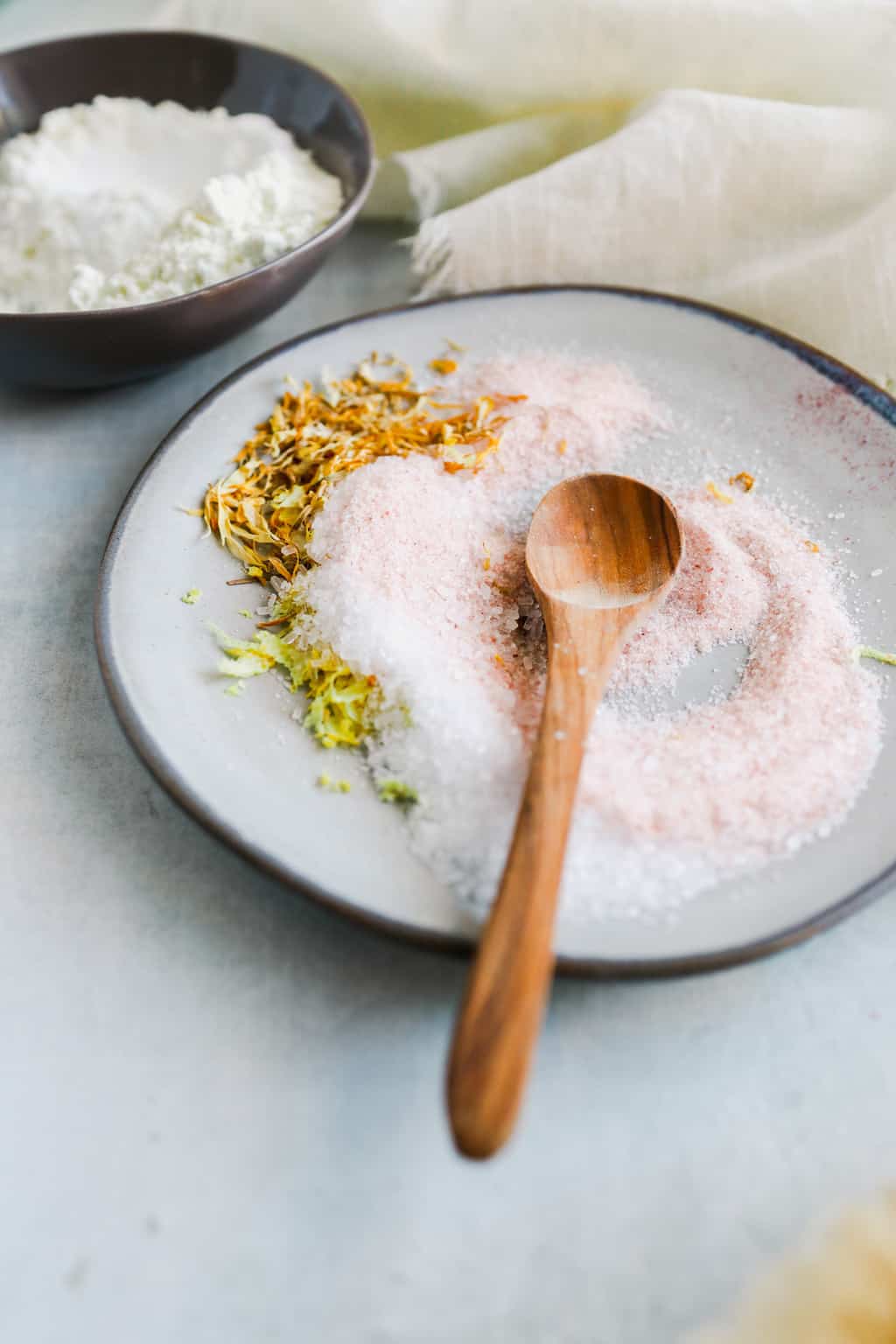 2. Immune-Boosting Salt Soak
Epsom salt is rich in magnesium to help support multiple body processes [source]. While Himalayan salt supplies vitamins and minerals, the lemon zest [source], calendula [source], and essential oils lend their natural benefits to the skin.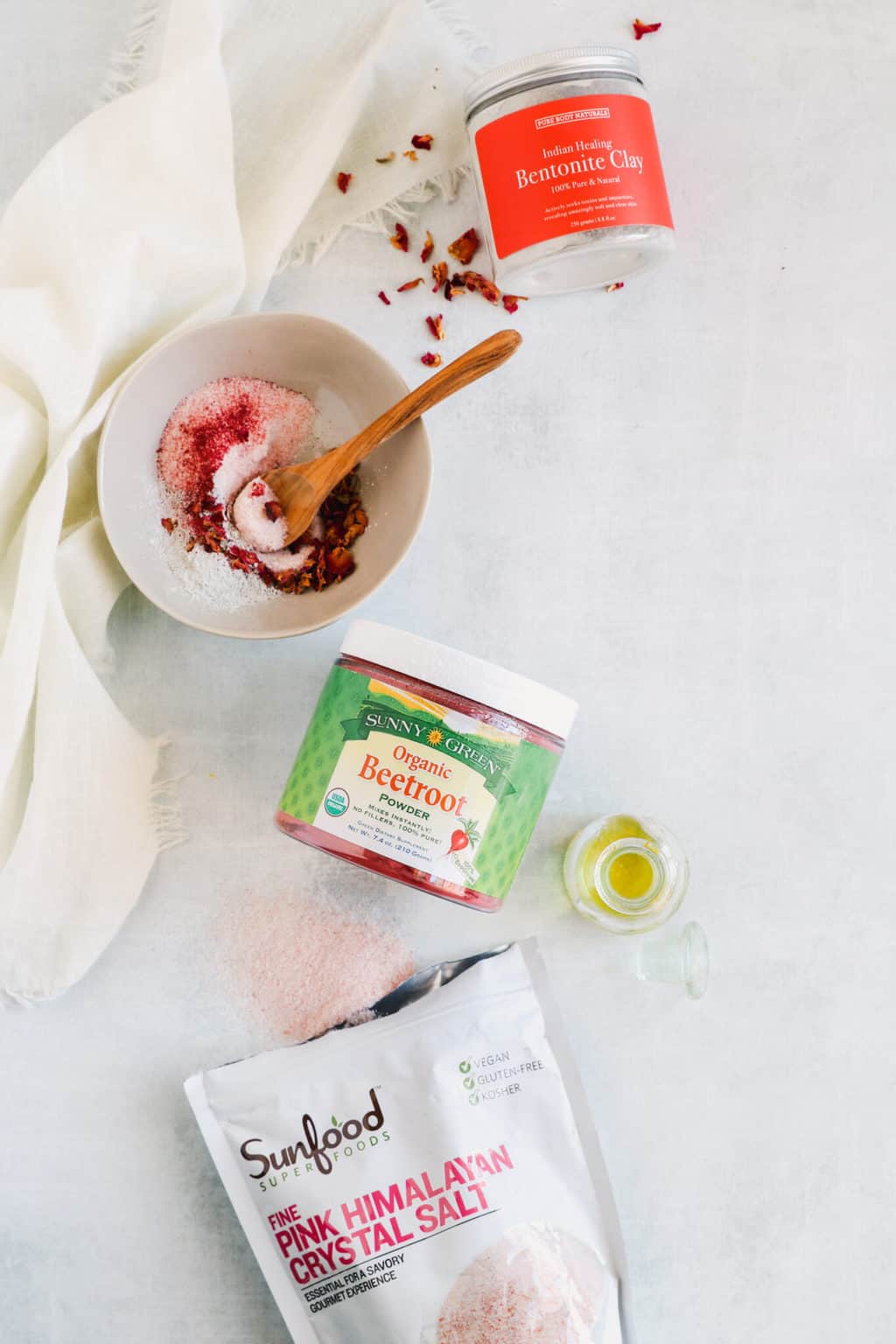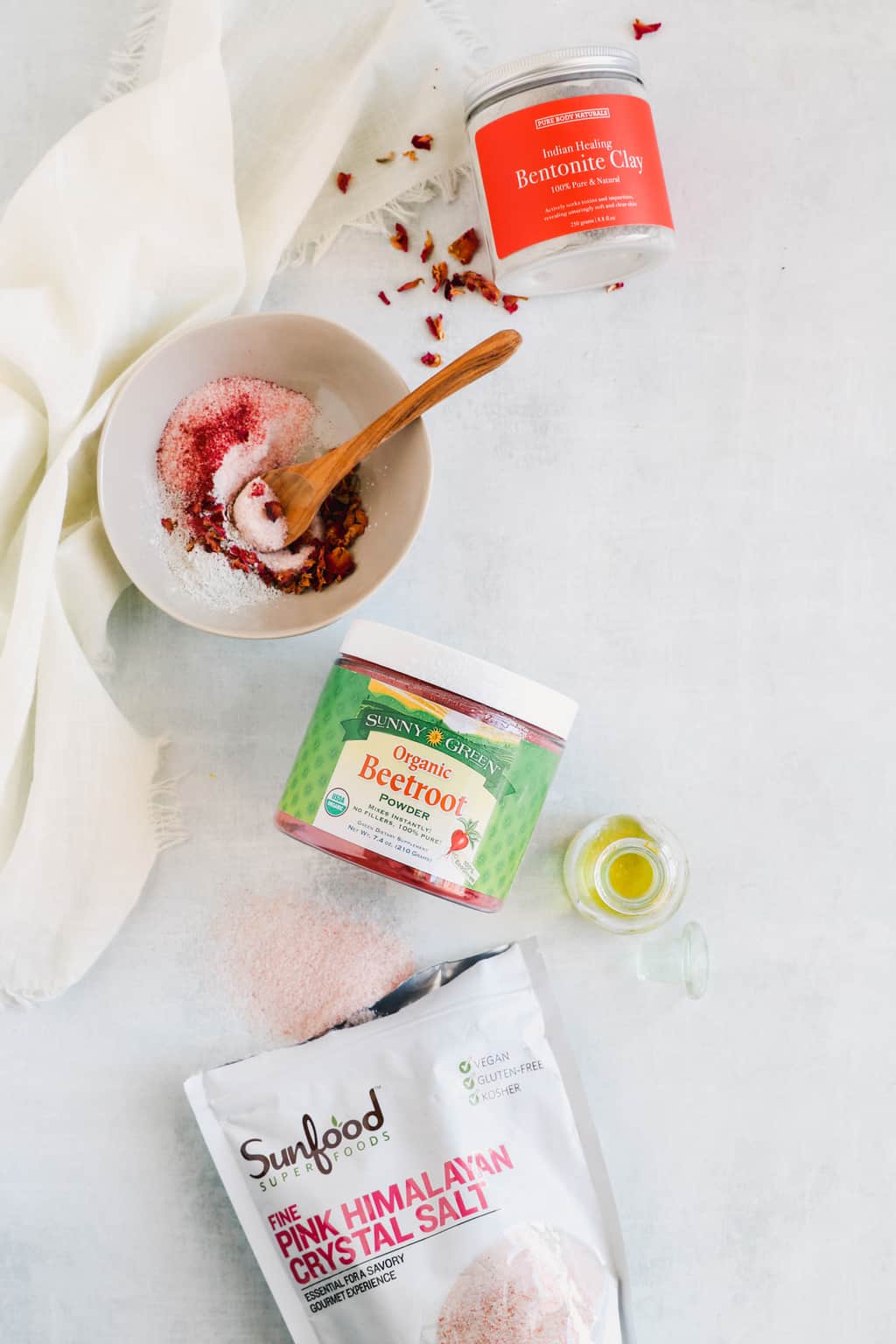 3. Detox Clay Pink Salt Soak
Bentonite clay is said to help remove impurities from the body. When used as a bath soak, it encourages detoxification by drawing impurities out through the skin [source]. Not only are they antibacterial, but beet root powder [source], rose petals [source], and geranium [source] supply powerful antioxidant compounds to the skin that counteract oxidative damage.
To make your bath soak, simply combine the ingredients in a small bowl. Pour the entire mixture under hot running water, and use your hands to help dissolve the salt before climbing in.
Soak for 20–40 minutes before toweling off (or feel free to take a shower and rinse off when you're done).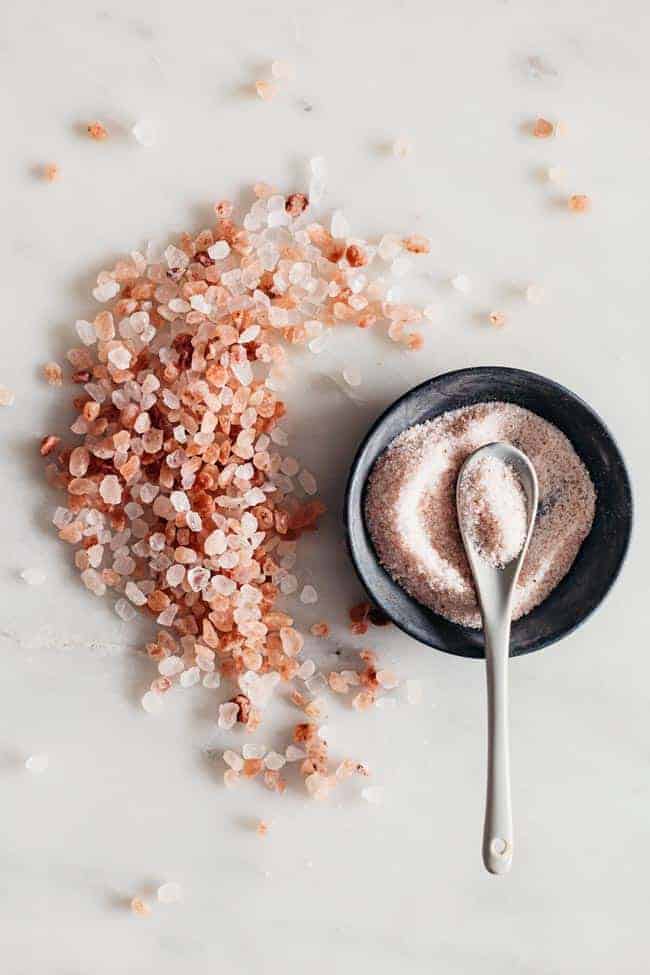 Tips for the Perfect Himalayan Salt Bath
Hot water makes you sweat. And the more you sweat, it may be the better the detox [source]. So, make the water as hot as you can tolerate without burning yourself or harming your skin.
If you don't have a bathroom water filter, add 1 cup of baking soda to help remove chemicals from the bath water and aid in mineral absorption.
You'll want to soak between 20 and 40 minutes, so give yourself plenty of time to relax and enjoy your peaceful bath soak.
Take a glass of water and keep it next to the tub. Since you'll be sweating, you'll want to hydrate both during and after your bath.
Once you're done, make sure to stand up slowly while holding on to something that will steady you in case you feel light-headed. So take it easy, and don't move too quickly.
A light, chemical-free moisturizer can help replenish moisture after your bath. But you'll want to avoid anything with chemicals, artificial fragrances, or anything that might irritate skin.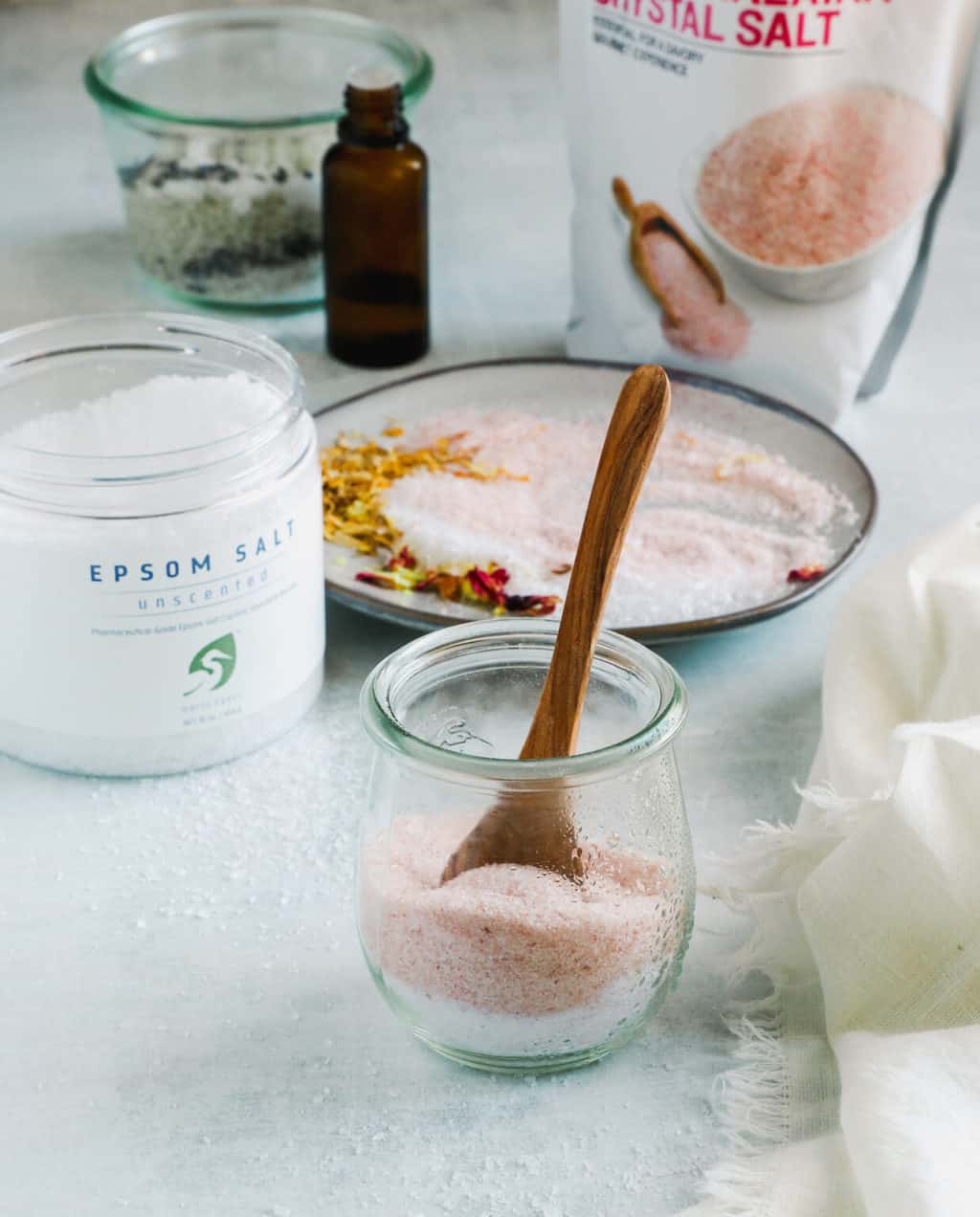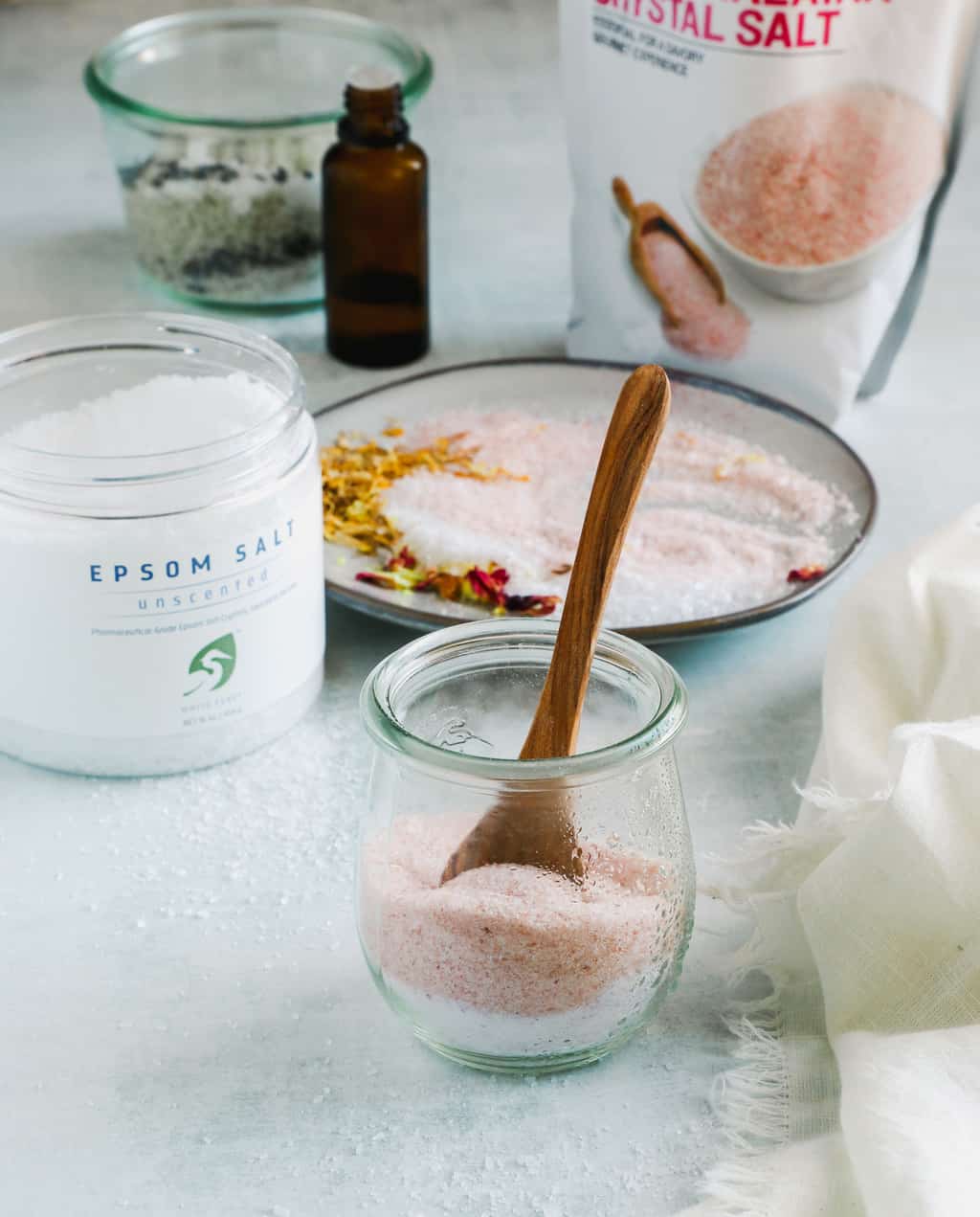 Pink Salt Bath FAQs
Do I need to rinse off after my bath
?
No, you don't need to. But if you don't like the feeling of post-bath skin, then you might want to take a cool shower to rinse off after your bath.
How much bath soak should I use
?
Generally speaking, 1/2–1 cup of soak should be enough to reap its detoxifying benefits. But you can't really add too much, so I recommend using the entire recipe.
How long does homemade bath soak last
?
You'll want to use your homemade bath salts within a week or so (unless you add food-based ingredients, in which case they'll last only 1–2 days). While traditional bath salts don't really go bad, too much moisture will eventually cause them to harden into a solid block of salt, which makes them unusable.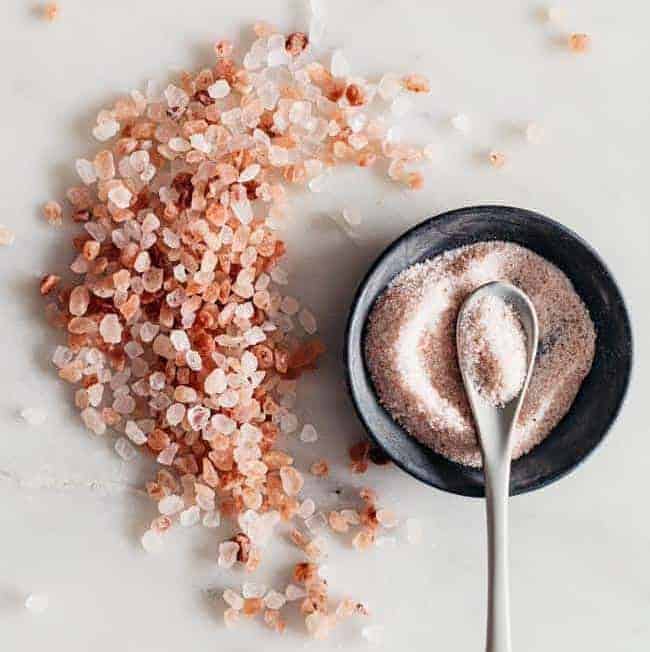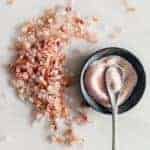 Print
3 Himalayan Salt Bath Recipes
The anti-inflammatory and antibacterial properties of Himalayan salt make it a perfect choice for a pink salt detox bath soak.
Materials
Immune-Boosting Salt Soak
Instructions
Combine ingredients in a small bowl and stir well.

Pour the whole bowl under hot running water, and use your hands to help dissolve the salt before climbing in.

Soak for 20–40 minutes.
This article was medically reviewed by Dr. Gina Jansheski, a licensed, board-certified physician who has been practicing for more than 20 years. Learn more about Hello Glow's medical reviewers here. As always, this is not personal medical advice and we recommend that you talk with your doctor.
15