Unwinding after a long day while also giving your body a refreshing detox? Look no further than this ginger bath recipe. Ginger, known for its stimulating properties, has been a staple in holistic practices for centuries. And when incorporated into a detox bath and body scrub combo, the heat and the ginger will make you sweat, unclog your pores, and relax your muscles.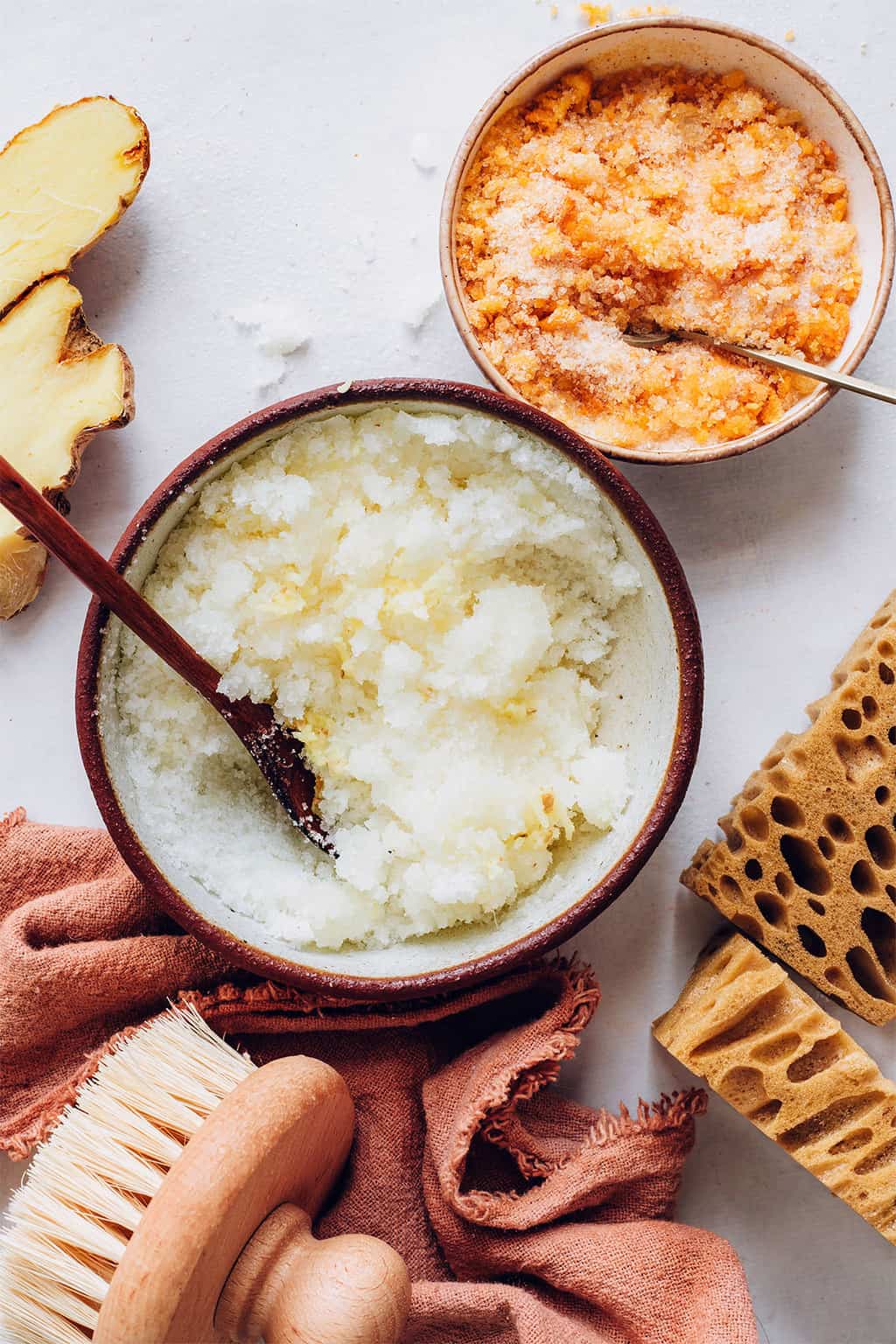 I tried this ginger detox bath and scrub combo in the middle of a juice cleanse when I was tired and cranky with a killer headache. The three small kids who desperately need to go back to school might have contributed. It was the perfect time to escape for an hour-long soothing soak in the tub.
Ingredients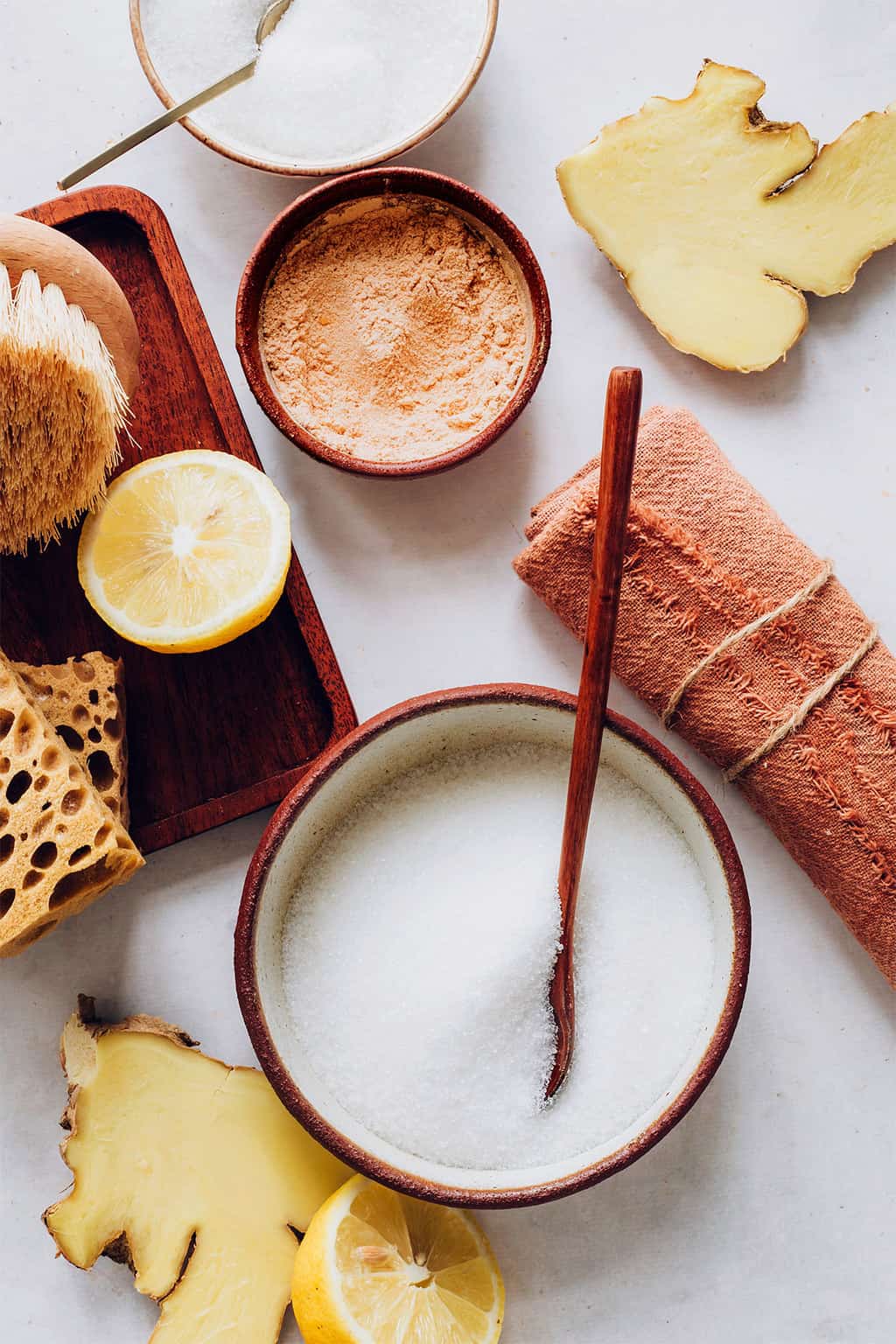 Epsom salt — Epsom salt contains magnesium sulfate, which is believed to assist with relaxation, and Epsom salt baths are often used to soothe muscle aches.
Ginger — It creates a warming sensation in the bath and contains antioxidants, anti-inflammatories [source], and compounds that may help promote circulation and detoxification.
Baking soda —There are many reasons to include baking soda in the bath, including helping to balance the skin's pH and enhancing the detoxifying effects.
Mustard powder — A mustard bath warms up the body and boosts circulation, adding an extra layer of detoxification. Mustard oil baths have been shown to improve muscle pain and inflammation [source].
See the recipe card below for quantities.
Instructions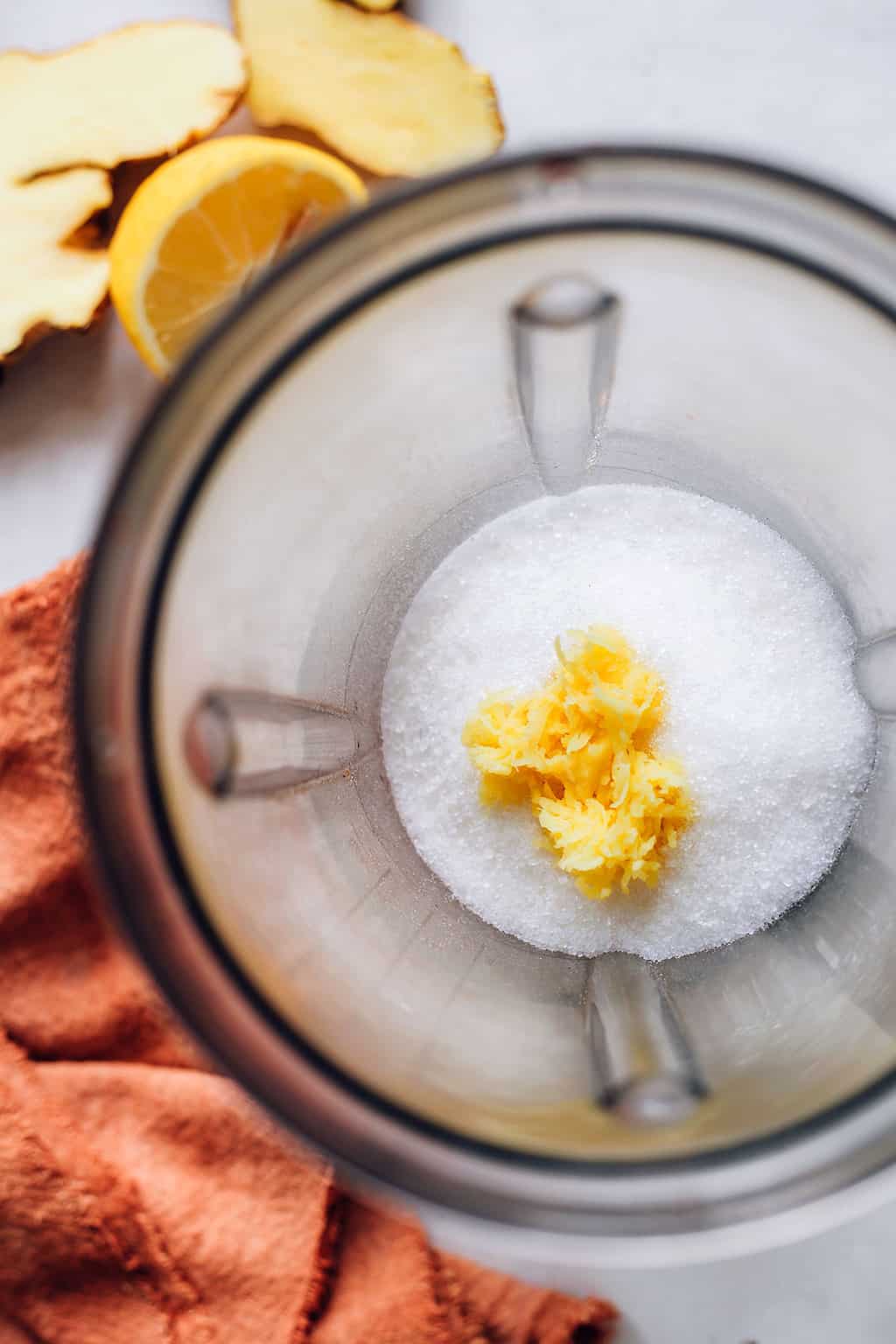 Make the body scrub: Combine roughly chopped ginger and ½ cup Epsom salt in a food processor. Pulse a few times until the Epsom salt is more finely ground and the ginger is incorporated.
Pour into a small bowl and add lemon juice.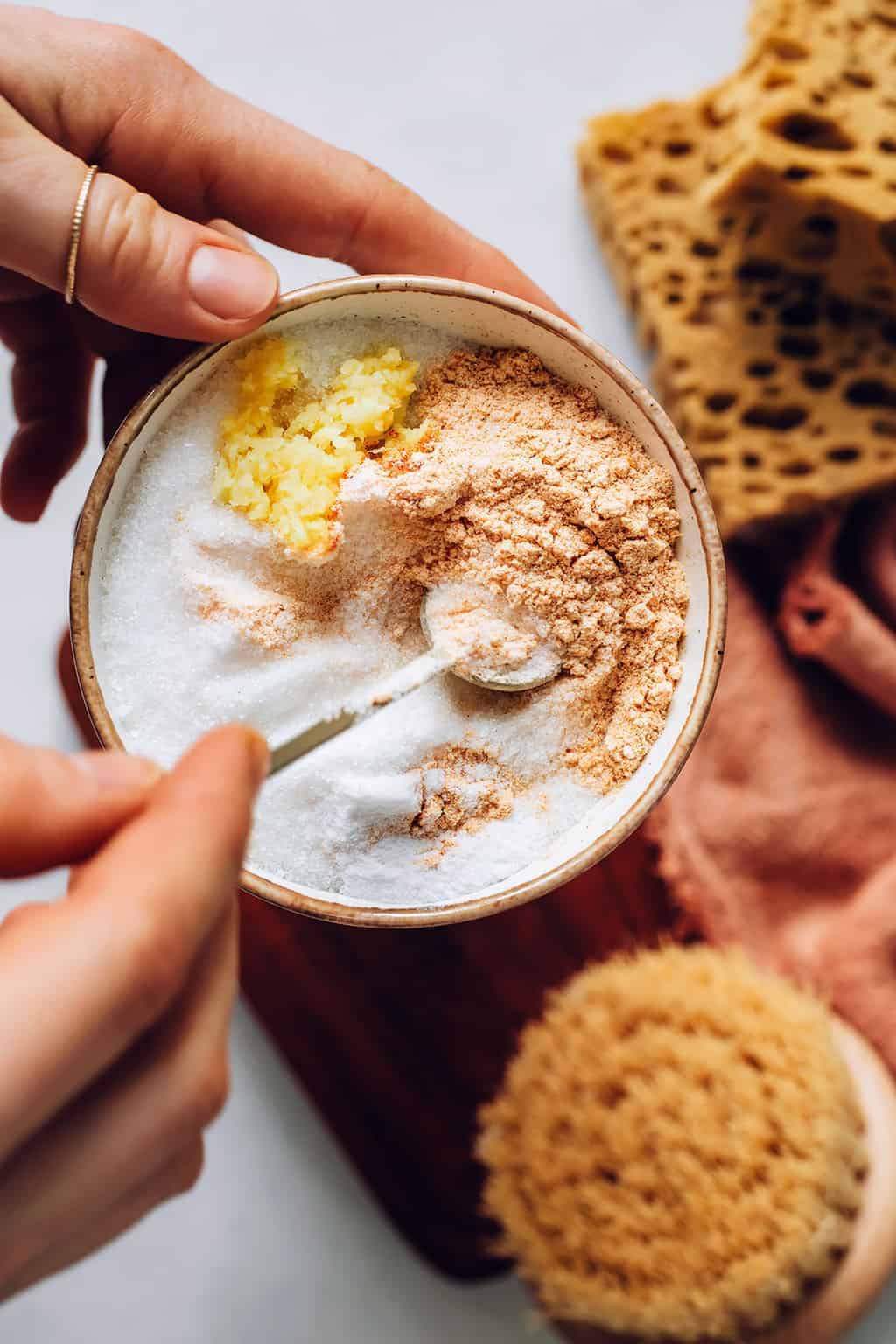 Make ginger bath mixture: Combine Epsom salt, grated ginger, baking soda, and mustard powder in a bowl.
Prepare bath: Put down a towel and start filling the bath with hot water.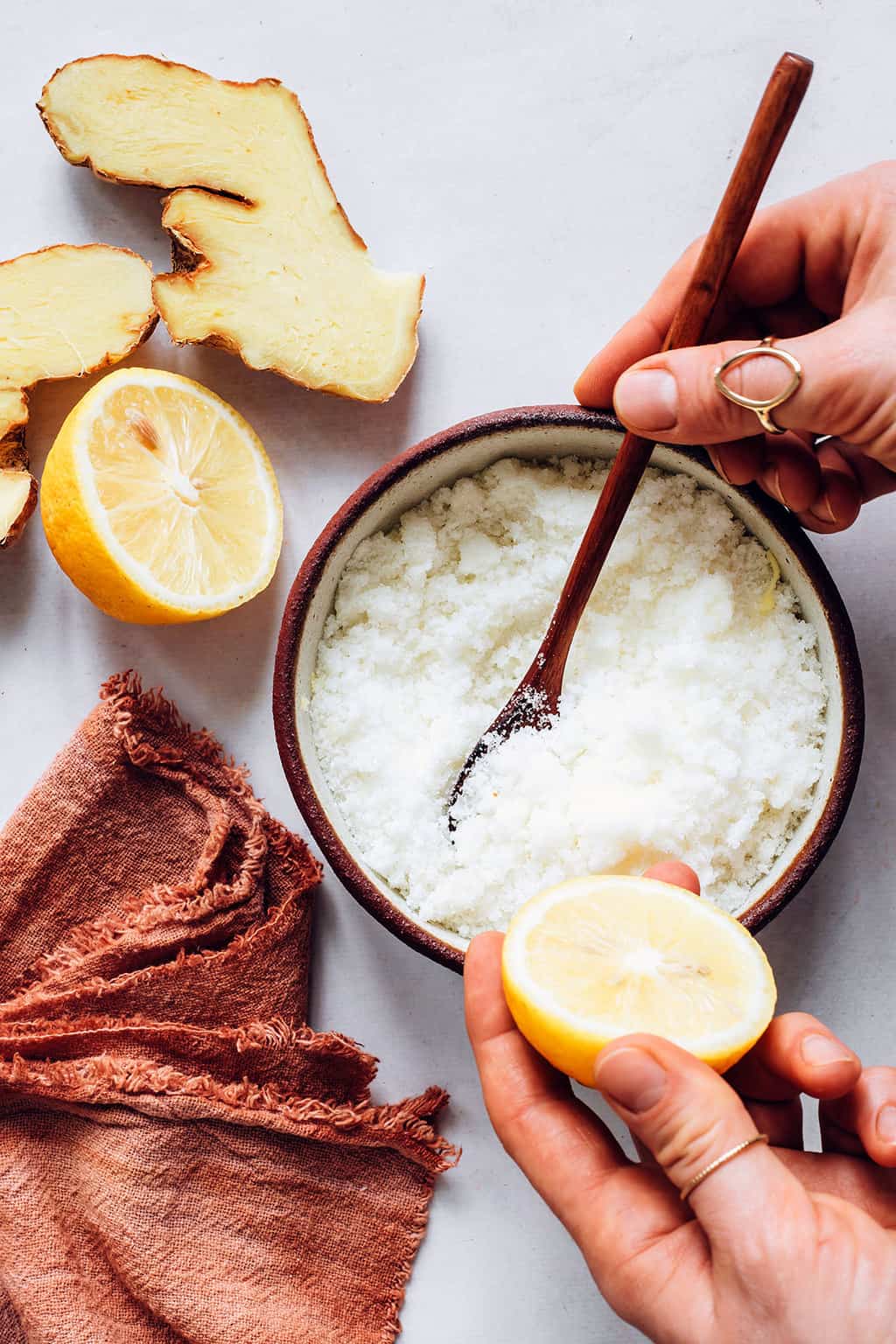 Apply scrub: Stand on a large towel to catch the scrub because it gets a little messy. Then scoop some in your hand, and starting with your feet, work upward.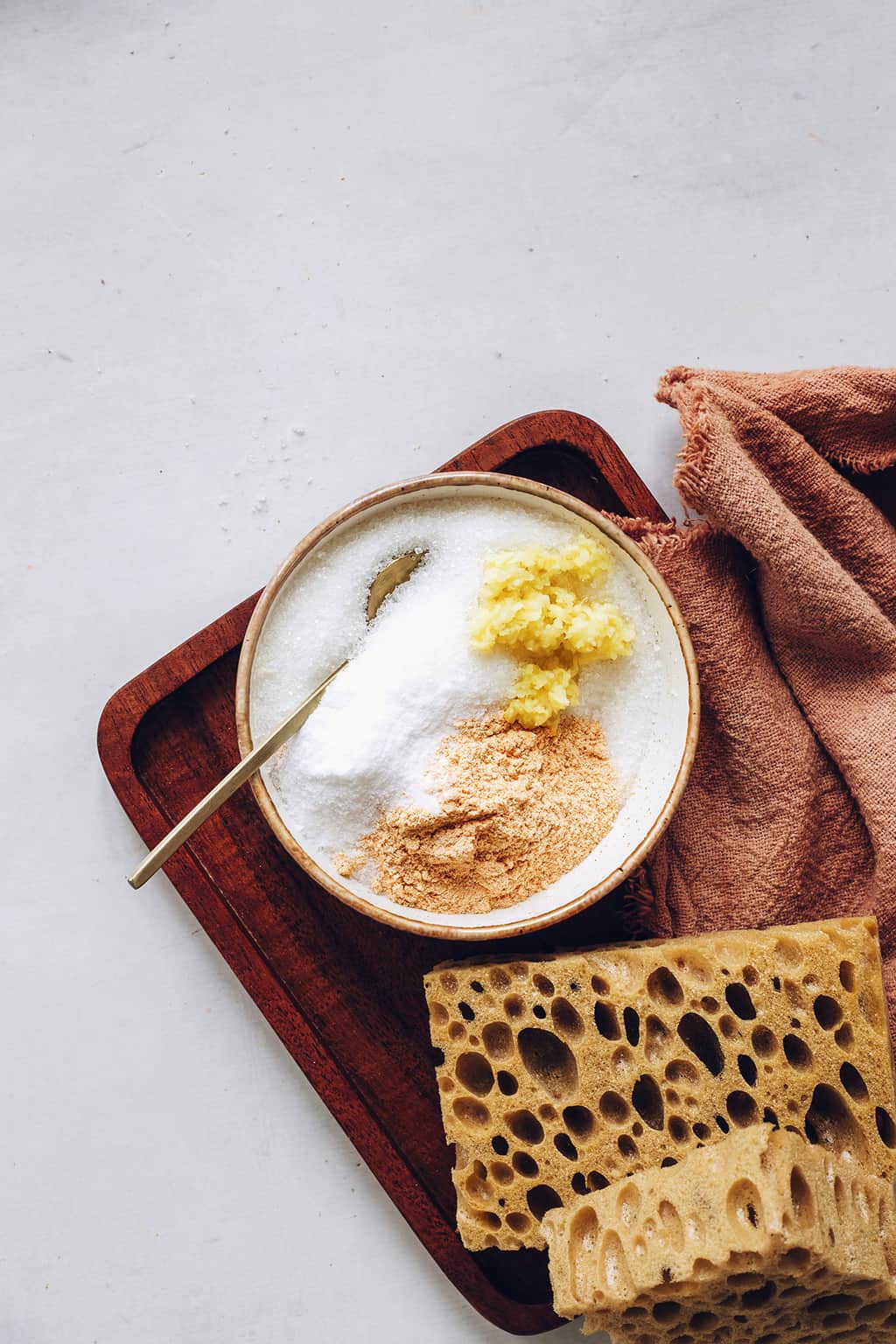 Soak in the bath: Add the ginger bath mixture to your bath of hot water. Submerge your body for 30 minutes to an hour to absorb the minerals from the Epsom salt and the beneficial compounds from the ginger-infused water.
Hint: It's a good idea to have a glass of water nearby to stay hydrated during your bath. Or you can drink ginger tea before or while bathing to enhance the overall detox effects.
Substitutions
Epsom salt — Try a sea salt or pink salt bath. Although there are chemical and structural differences between the two, sea salt shares the exfoliating and relaxing benefits of Epsom salt.
Lemon juice — Swap out another citrus juice or switch to a carrier oil like coconut oil if you have dry, sensitive skin.
Fresh ginger — If you don't have fresh ginger, you can use ginger powder instead. Just be aware that the effects might be milder than using fresh ginger. You can also dilute 6 drops of ginger essential oil in 1 tablespoon of carrier oil and add it to the bath.
Variations
There are lots of options for customizing a ginger bath recipe:
Herbal tea bags: Along with ginger, you can add herbal tea bags such as chamomile, peppermint, or green tea to the bathwater to contribute to relaxation and skin health.
Apple cider vinegar: Adding a small amount of raw and unfiltered apple cider vinegar to the bathwater can help balance the skin's pH and provide additional detoxification support.
Clay: Bentonite clay or kaolin clay can be added to the bath water to help draw out impurities from the skin. Mix the clay with a small amount of water before adding it into your bath.
Oatmeal: Adding colloidal oatmeal to the bath can soothe irritated skin and provide relief from itching or dryness. It also helps to restore the natural skin barrier function [source].
Lemon or citrus zest: The citrusy aroma of lemon or other citrus fruits can uplift your mood. Citrus fruits are also rich in antioxidants and antiaging [source].
Rose petals: Adding rose petals to your bath not only brings a lovely fragrance, but also contributes to the overall relaxing experience. Rose petals contain antioxidants and are naturally antimicrobial [source].
Hydrogen peroxide: A small amount of food-grade hydrogen peroxide can be added for its antimicrobial properties.
Milk or coconut milk: Adding a splash of milk or coconut milk can make your bath feel luxurious and add moisturizers to the skin.
FAQ
How long will this recipe last?
The quantities for this recipe are meant for a single use.
How often can I take a ginger bath?
It's generally safe to take a ginger detox bath 1 to 2 times per week. However, listen to your body and adjust the frequency based on your skin's response and overall well-being.
Can I combine a ginger bath with detox methods?
Yes, you can combine a ginger bath with other healthy detox practices for a more comprehensive approach.
More Bath Soaks
Getting my sweat on in the ginger bath worked wonders on my headache. In fact, I felt downright amazing. Have you ever done a juice cleanse? Or taken a detox bath? Let me know how it went!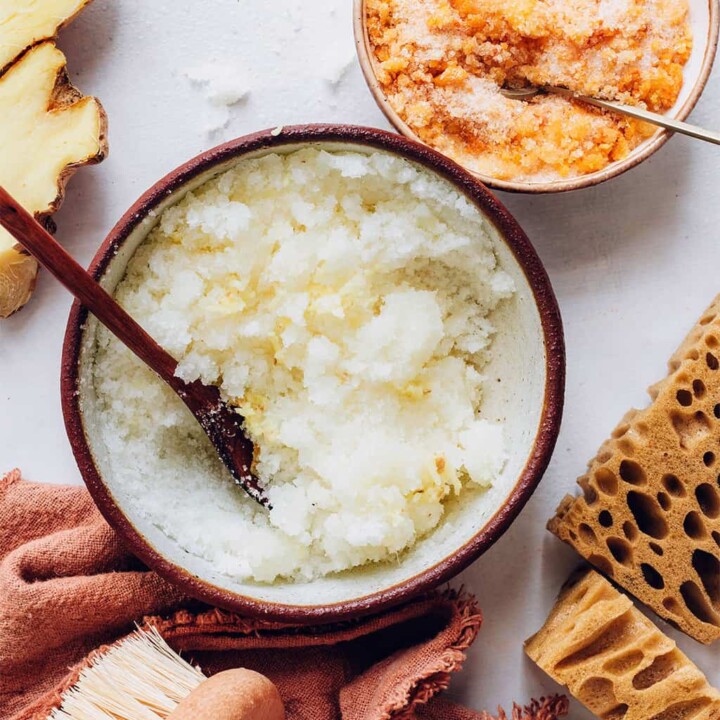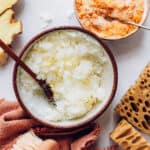 Print
Ginger Detox Body Scrub + Bath
Draw out toxins with an invigorating body scrub and a long soak in this ginger detox bath.
Materials
Ginger Body Scrub
1

tablespoon

fresh ginger

grated

½

cup

Epsom salt

1

tablespoon

lemon juice
Instructions
Ginger Body Scrub
Combine roughly chopped ginger and ½ cup Epsom salt in a food processor. Pulse a few times until the ginger is ground and combined. Remove to a small bowl and add lemon juice. Put down a towel and apply scrub before your detox bath.
Ginger Detox Bath
Run a bath of hot water and add bath detox recipe. Submerge body for 30 minutes to an hour.
Notes
Before you start scrubbing, start filling the bath with hot water. The heat and the ginger will make you sweat—which is pretty much the goal, right? Because sweating is how the body eliminates toxins. Plus, it also helps unclog your pores and relax the muscles.
You can drink ginger tea before bathing to enhance the detox effect.
This post was medically reviewed by Dr. Rina Mary Allawh, M.D., a dermatologist who practices adult and pediatric medical dermatology, skin cancer treatment, and cosmetic dermatology. Learn more about Hello Glow's medical review board here. As always, this is not personal medical advice, and we recommend that you talk with your doctor.
Photos by Ana-Maria Stanciu
219