Did you know that essential oils have been used for centuries to treat wounds, ailments and enhance beauty? Each essential oil imparts specific properties that make it unique and extraordinary – one may zap acne in its tracks, while another provides the skin with an antioxidant boost. There's an essential oil for every skin type – let's break down a few of my favorite essential oils for acne.
3 Best Essential Oils for Acne
1. Melaleuca
Also known as tea tree oil , the benefits of Melaleuca are countless. But when it comes to treating acne and oily skin, we're all about its zit-fighting antibacterial properties. This means tea tree oil is also a great choice to treat minor cuts and scrapes.
It also has natural anti-fungal abilities, which is why it features heavily in anti-dandruff hair products – a couple of drops added to your weekly coconut oil mask is a great way to condition hair and purify your scalp. Who doesn't love a multipurpose product?
The history of melaleuca and its healing abilities goes way back – its purifying benefits were first discovered by the indigenous people of Australia. The leaves and bark of the tree were used to speed up healing and detoxify minor wounds.
While melaleuca is highly effective, it also has a high risk of causing irritation and allergic reactions to the skin. So, when in doubt, remember that a little goes a long way and use of a carrier oil to dilute it is recommended.
2. Lavender
Lavender essential oil helps heal irritated skin and blemishes and can be used for all skin types. It can cleanse cuts and scrapes, and also calm down stressed skin. Acne is usually accompanied by redness, inflammation and irritation, all treated with this powerful soothing essential oil.
What sets lavender essential oil apart from other essential oils are its high levels of skin-nourishing antioxidants. Antioxidants do a lot to heal and comfort skin – first, they help to reduce inflammation, which can help minimize the discomfort from inflamed pimples.
Antioxidants also defend the skin from harmful free radicals, which damage the skin, resulting in premature aging – not the look that anyone is going for! Lavender oil is also well known for its ability to calm and soothe dry, itchy skin, and when diluted with coconut oil, may help to fade away the hallmark symptoms of eczema and psoriasis.
3. Lemongrass
Acne and large pores can be difficult to treat, but with lemongrass essential oil, it doesn't have to be. Lemongrass essential oil is highly effective at reducing the appearance of both acne and large pores for glassy, smooth skin. Lemongrass can also be used as an astringent skin toner and is great at enhancing skin's glow.
Like melaleuca, lemongrass essential oil is perfect for eliminating any acne-causing bacteria on the skin – it's a natural cleansing and purifying essential oil that ensures breakouts are totally banished!
Along with its antibacterial abilities, lemongrass essential oil has natural anti-inflammatory abilities that are just as important for helping to get rid of acne. When skin gets inflamed because of a zit, it makes it more likely that it might leave a scar (aka, post-inflammatory hyperpigmentation) behind.
If you can tackle inflammation as soon as it starts, you're doing two incredibly helpful things for your skin – first, it's no lie that inflamed pimples hurt. We all know the feeling of a deep and painful zit, right? It's this same inflammation that encourages hyperpigmentation to form and leave a tiny reminder of where a zit once was.
(As always, read labels and dilute concentrated oils before applying them to the skin to avoid harmful reactions. Here's a list of carrier oils for every skin type.)
Melaleuca Acne Mask with Clay
When it comes to the clay mask itself, this is one of my favorite face masks to use – ever. Aztec clay and apple cider vinegar are already a potent combo that draws out acne-causing impurities from the skin, and adding an acne-banishing essential oil like Melaleuca takes it to the next level.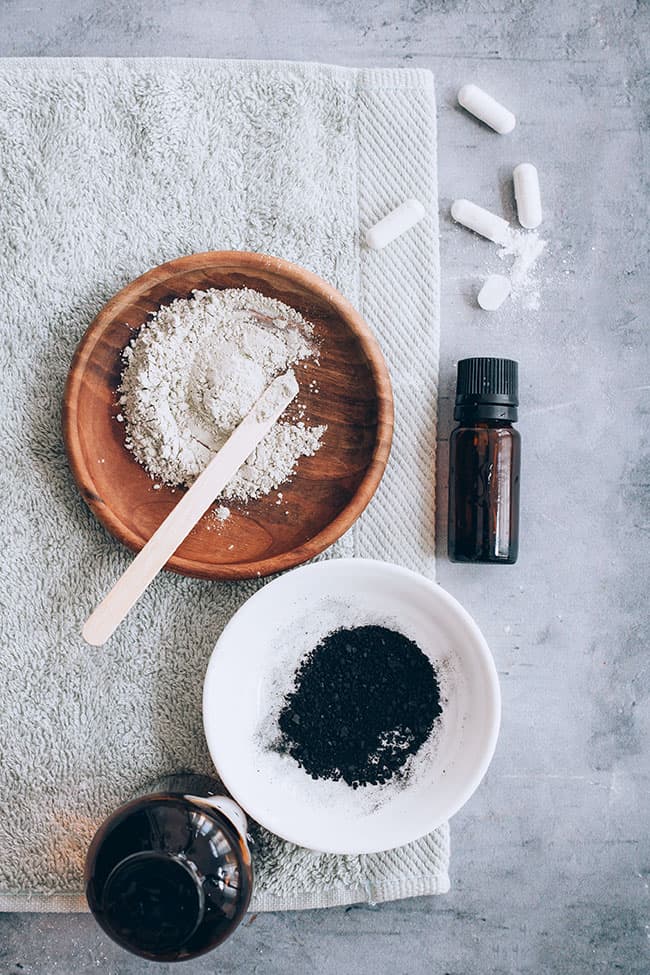 I know – you might be thinking, wait, isn't apple cider vinegar a little too strong for skin? Shouldn't I use water instead? Raw ACV is actually the perfect thing to mix Aztec clay with – here's why. Unlike filtered ACV, raw ACV has the 'Mother' included in it (the cloudy stuff floating around), and it's amazing for your skin. Yes, it is acidic, but when it's combined with the more alkaline Aztec clay, they basically neutralize each other and create a perfectly pH-balanced clay mask.
Using raw ACV also ensures that your mask is super smooth and easy to make – I've made the mistake of trying to use water before, and ended up with a lumpy, unusable mess! Read on for my favorite DIY Clay Acne Mask recipe for clear, glowing skin. It's also great as a spot treatment, too – just dab a little where needed, and wipe away after fifteen minutes.
By using this base recipe, you can personalize it by adding a skin-specific essential oil – which I love. Always remember that a little essential oil goes a long way – too much can be irritating and defeat the purpose of using it!
Why? When essential oils are processed from plant parts (whether it's leaves, roots, bark, seeds, anything!) all of the amazing benefits become very highly concentrated in the essential oil. When it comes to essential oils, it's easy to underestimate how potent they really are – so while one drop of essential oil doesn't necessarily sound like a lot, it's the perfect amount to help you get the results you want.
I hope you'll enjoy this DIY Melaleuca & Clay Acne Mask as much as I do. Drop me a comment if you do, and let me know your favorite essential oils to customize it with.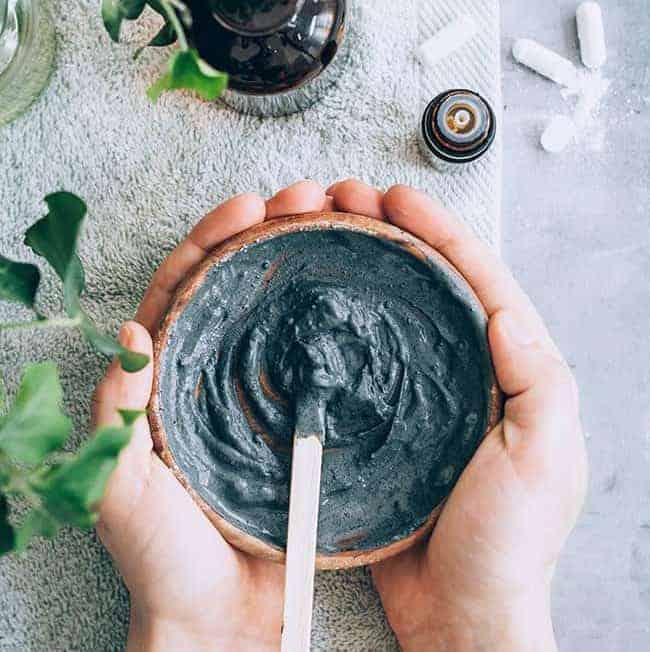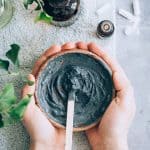 Print
Melaleuca & Clay Acne Mask
A clay mask with our favorite acne-fighting essential oils.
Instructions
Combine activated charcoal, clay and probiotic powder in a small bowl.

Add ACV to make a paste. It's okay to use more, if needed, to get a smooth paste.

Add essential oil and stir. With clean fingers spread over your face and let sit for 15 minutes.

Rinse with cool water and apply moisturizer.
Notes
If the apple cider vinegar irritates you skin, feel free to water it down or leave it out entirely and use tap water instead.
If you have any leftover mask, store it in the refrigerator for up to 24 hours.
This post was medically reviewed by Dr. Jennifer Haley, a board-certified dermatologist with extensive experience in medical, cosmetic and surgical dermatology. Learn more about Hello Glow's medical review board here. As always, this is not personal medical advice and we recommend that you talk with your doctor.
185