I'm sure you don't need me reminding you, but cold weather can be really hard on our skin – particularly our hands. I wash my hands a lot during the day and I feel like the moisture is zapped from my skin. It's incredibly easy (and cheap) to make your own antibacterial foaming hand soap using castile soap and essential oils. Since it doesn't contain any of the harsh surfactants that strip your skin of moisture, it actually nourishes skin and prevents splitting or cracking that often leads to illness. And adding coconut oil helps moisturize my hands every time I wash them. Plus, it smells great too. Read on to learn how to make your own DIY antibacterial foaming hand soap with coconut oil.
DIY Coconut Oil Antibacterial Foaming Hand Soap
If I had to pick a favorite soap, castile soap would be at the top of my list. I love making my own bath and body products, so I use castile soap for practically everything! Combining it with the coconut oil and a blend of germ-fighting essential oils means I can have soft, clean hands all winter long. Plus, it foams up just like those store bought hand-soaps that are usually chock full of chemicals. This time of year, I keep a bottle by my kitchen sink and one in each bathroom.

By now I'm sure we all know the hazards of traditional hand soap. Most commercial antibacterial soap contains triclosan, a chemical introduced in the 1970's to kill bacteria in hospitals. Since then, triclosan has been found to be incredibly harmful to both humans and the environment as a whole. Triclosan is a known endocrine disruptor and a suspected carcinogen. Overuse of triclosan in hand soap has contributed to bacterial resistance in the same way we are cautioned against the use of antibiotics. And since triclosan is often washed down the drain and ends up in our waterways, it has been shown to negatively affect water quality as well.
Recently, triclosan has been banned from most, if not all, commercial hand soap. But that doesn't hand soap doesn't contain chemicals that can affect your health. To stay safe, I try to avoid all commercial antibacterial soap if I can help it.
Benefits of essential oils:
Note: If you have very sensitive skin, use less essential oils. Some of the oils can be irritating to sensitive skin. The coconut oil acts as a carrier, but use caution just in case.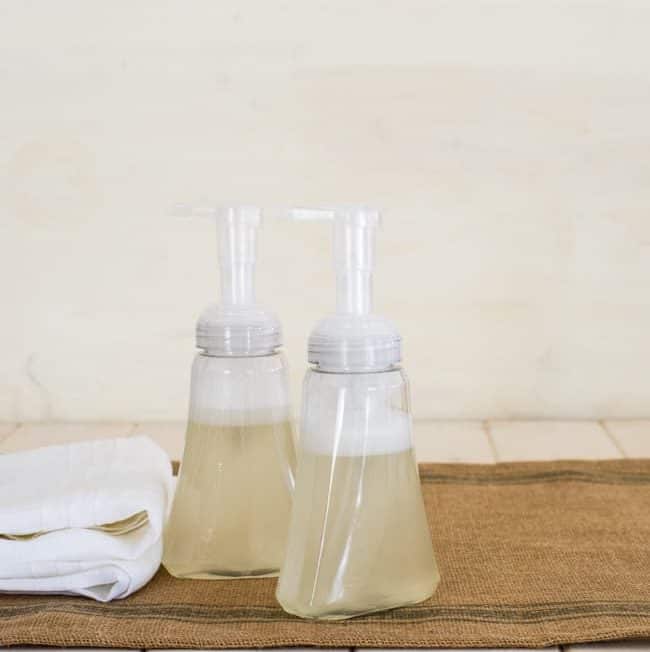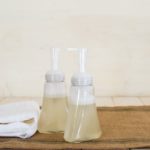 Print
Antibacterial Coconut Oil Hand Soap
Coconut Antibacterial Foaming Handsoap
Instructions
Fill an empty foaming soap dispenser 3/4 of the way with water.

Add the castile soap, fractionated coconut oil, and essential oils.

Add a little more water, if needed, to fill the bottle the rest of the way, but leave enough room at the top for the pump.

Place pump on top and tighten. Shake well to combine and use as desired.
212