Chilly nights just beg for a fire in the fireplace. It's so nice to snuggle up under a favorite blanket in front of a fire and read a good book or enjoy a cup of hot chocolate. But getting the fire lit is a different story.
Even if I buy the good, aged wood, I will inevitably spend half an hour (at least!) stoking the fire. Sure, you can purchase fire starters at the store, but it's much more fun to make your own fire starters at home.
These wax fire starters are very similar to a candle but have combustible items such as dried leaves and pine cones to help get the fire going. I added in some aromatic whole spices and herbs that will fill the house with a lovely smell as the fire burns.
DIY Aromatic Wax Firestarters
My favorite thing about these wax fire starters is that they come together in minutes using materials you already have in your pantry—or can forage for in your backyard—like pine cones, cinnamon sticks and bay leaves. Plus, they smell amazing!
To start, you'll need the following supplies: soy or beeswax, bay leaves, cinnamon sticks, whole cloves, mini pine cones, dried rosemary, cotton wicks, paper muffin liners and a muffin pan.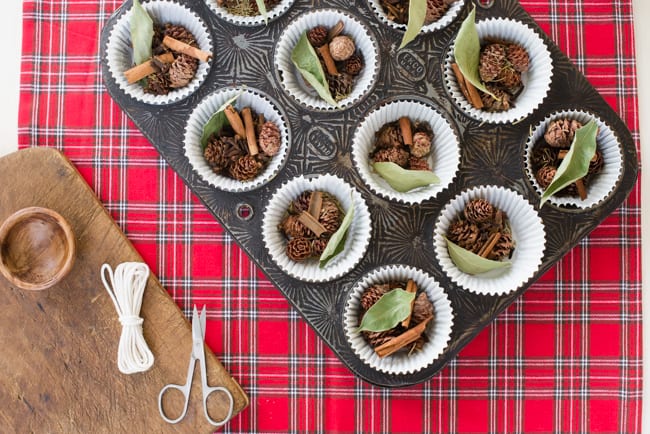 First fill the paper muffin liners with a mix of bay leaves, cones, spices and herbs. Then nestle a 1 and ½ inch piece of cotton wick into the center of each well.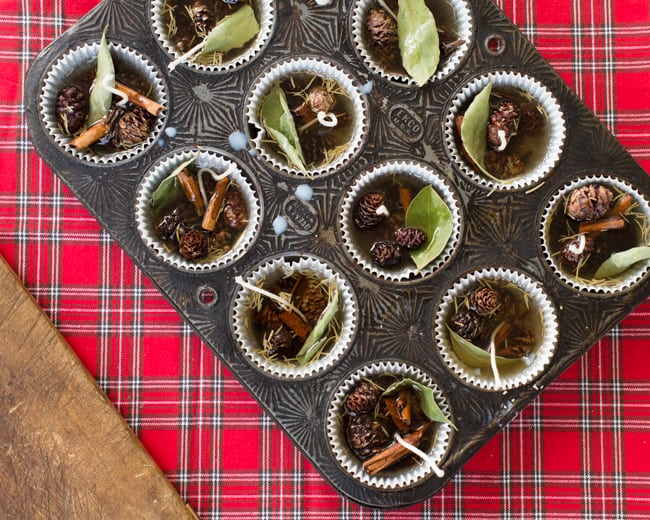 Melt the wax and pour it into each well, making sure the items are at least partially submerged in the hot wax. (They don't have to be completely covered.)
After allowing the wax to cool completely, remove fire starters from the muffin tin and store them in a tin or jar until ready to use.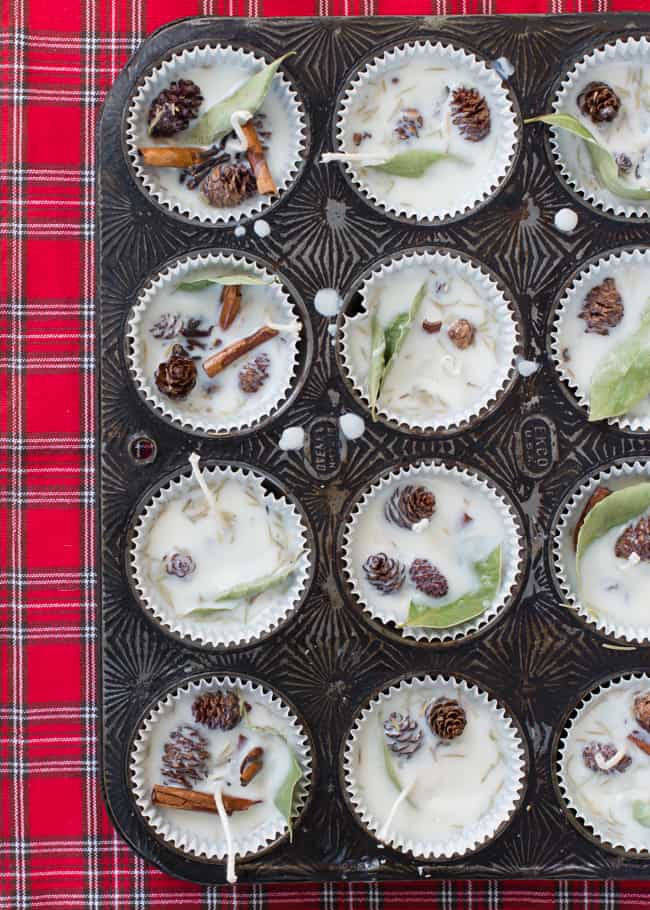 To use a fire starter, place it in the bottom of your fireplace between the logs and light the wick.
IMPORTANT: These are only for use in traditional fireplaces. Do not use for gas fireplaces or wood-burning stoves. Can be used outside for campfires. Exercise safety precautions when using.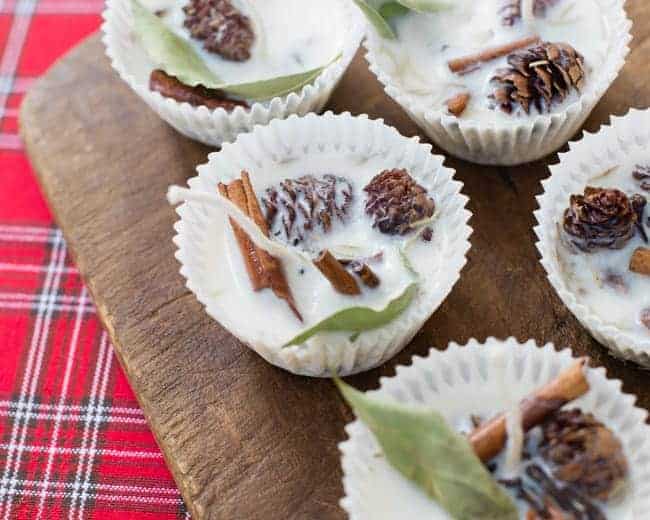 DIY Aromatic Wax Fire Starters FAQ
Can I use paraffin wax instead of soy wax or beeswax to make fire starters?
I prefer to use a natural wax like soy or beeswax. Paraffin wax, which is a byproduct of the petroleum industry, releases toxins like benzene and toluene into the air when it burns. Because this aromatic fire starter DIY features natural wax, all you're releasing into the air is the lovely scent of your favorite herbs and spices.
Is it OK to burn pine cones in my fireplace?
Yes! That's why I love using pine cones as an easy (and free!) all-natural ingredient in DIYs like this one. You may notice that pine cones smoke a tad bit more than other types of kindling (like twigs). But pine cones make excellent fire starters, especially for igniting larger pieces of wood.
Will wax fire starters leave melted wax behind or make a mess in my fireplace?
In my experience, the fire typically burns hot enough to melt away all of the soy wax or beeswax. No wax residue (or mess) is left behind.
Can I use wax fire starters in a wood-burning stove or gas fireplace?
I've only used these DIY fire starters in a traditional fireplace, but they are not recommended for use in wood-burning stoves or gas fireplaces. If you're unsure about using these (or any other fire starters) in your fireplace, I would recommend contacting the manufacturer of your fireplace for additional safety information. You can also use them outdoors in a campfire or fire pit.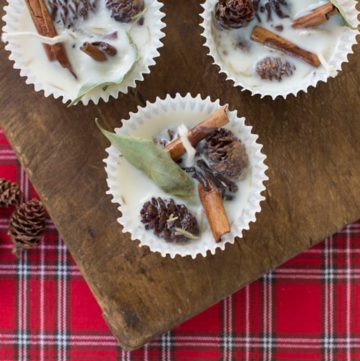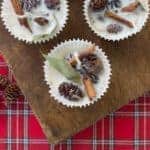 Print
DIY Aromatic Wax Firestarters
These DIY firestarters are easy to make and will fill your house with the smell of aromatic spices and herbs.
Materials
4

cups

(about 1 pound) soy wax flakes

2-3

cups

mini pine cones

12

bay leaves

6

cinnamon sticks

broken into pieces

2

Tablespoons

dried rosemary

1

Tablespoon

whole dried spices, such as cloves and allspice berries

Twelve 1 and ½ -inch pieces of cotton wick or string

Standard 12-cup muffin tin

12

paper liners

Old pan

for melting wax
Instructions
Line a muffin tin with paper liners. Fill each one with 1 bay leaf, 3-4 mini pine cones, a few pieces of broken cinnamon sticks, about ½ teaspoon dried rosemary and a few whole spices.

Nestle one of the cotton wicks into the center of each well.

In an old pan over medium heat, melt the wax flakes. Pour an even amount of wax into each well. If needed, gently press the items down so they are mostly submerged in the wax. (They don't need to be completely covered—just enough to hold them together.) Let cool completely.

Remove the fire starters from the muffin pan. Store in an airtight jar or tin or package individually to give away as gifts.

To use the fire starter, place in the bottom of a traditional fireplace between the logs. Light the wick.
Notes
These fire starters should only be used in traditional fireplaces or in outdoor campfires and fire pits. Do not use in gas fireplaces or wood-burning stoves. Please exercise safety precautions when using.
339