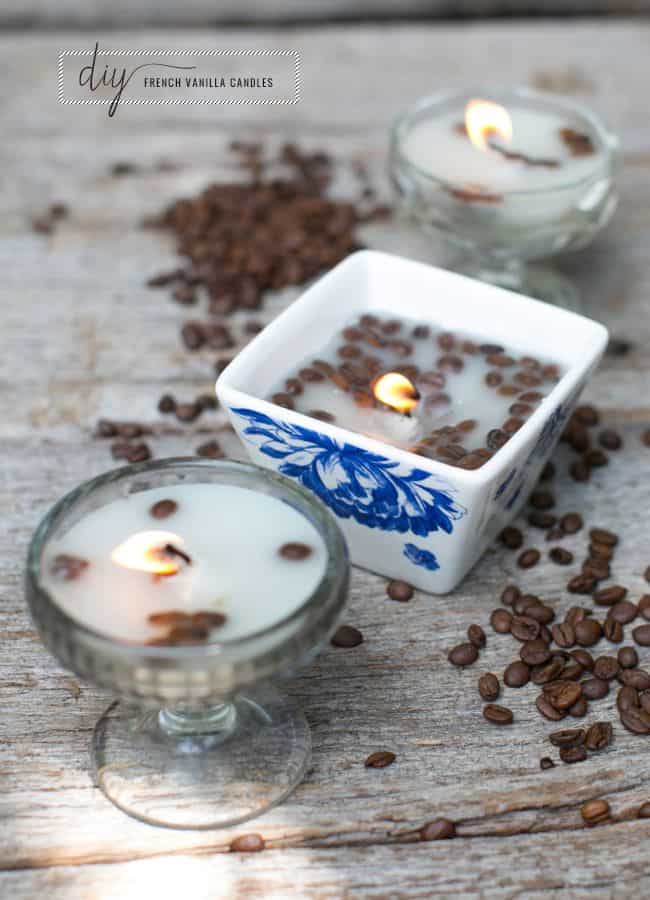 When fall rolls around, it's fun to make your house feel cozy and warm. As the heat dissipates you don't mind turning on the oven again to bake a yummy pie. The sun goes down earlier and you can light a toasty fire in the evening. No fireplace? A few scented candles are the next best thing. We added coffee and vanilla beans to these candles, and the scent is so good you kind of want to eat it.
Candle making is one of those deceptively easy crafts. All you do is melt and pour! So it's fun to mix things up by adding texture (like with ice) or using a fun container (like a paint can). I find the smell of most candles overwhelming – does anyone else get a headache just going into a Yankee Candle store? So I was amazed at the natural the smell of these – very warm and homey but not cloying.
DIY candles with coffee and vanilla beans
Supplies needed
Small bowls or glasses. Raid your kitchen to find a pretty bowls or cups.
Candle wax. I love chopping up an old unscented candle and reusing the wax. Or you can also buy wax chips at the craft store.
Coffee beans
Vanilla beans, chopped
Instructions
Using a double broiler or a microwave safe bowl, melt the wax. Glue the wick in place at the bottom of the cup or just hold it in place with your hand (at the top, of course). Pour in a small layer of wax and add a layer of coffee beans and vanilla beans. Then fill the rest of the cup with wax. You can stir wax with a chopstick to distribute the bean pieces if needed. Then let the wax harden and trim the wick.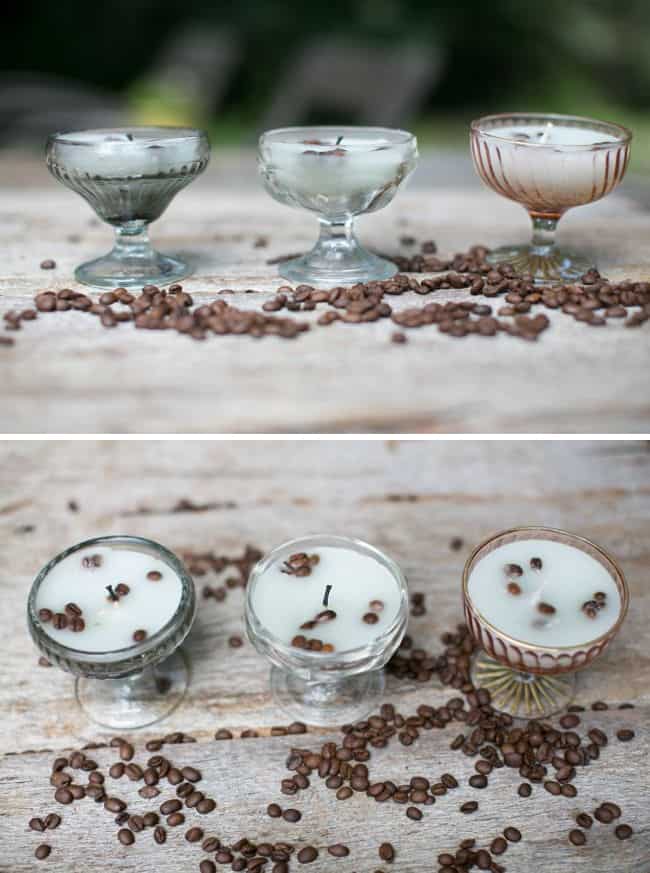 We filled up several of the tinted glass cups that were hanging around. Wouldn't they be so pretty as table decorations?
368