You've probably used bath salts before, but have you ever considered using salt in the shower? It may seem like an unusual addition to your daily routine, but incorporating salt into your shower can provide a range of body-boosting benefits. It's also a great way to get the relaxation of a bath without the time commitment or mess. Whether you're looking for a natural exfoliant that'll leave your skin feeling soft and smooth, or hoping to reduce muscle soreness after a tough workout, here are some ways to incorporate Epsom salts into your shower routine.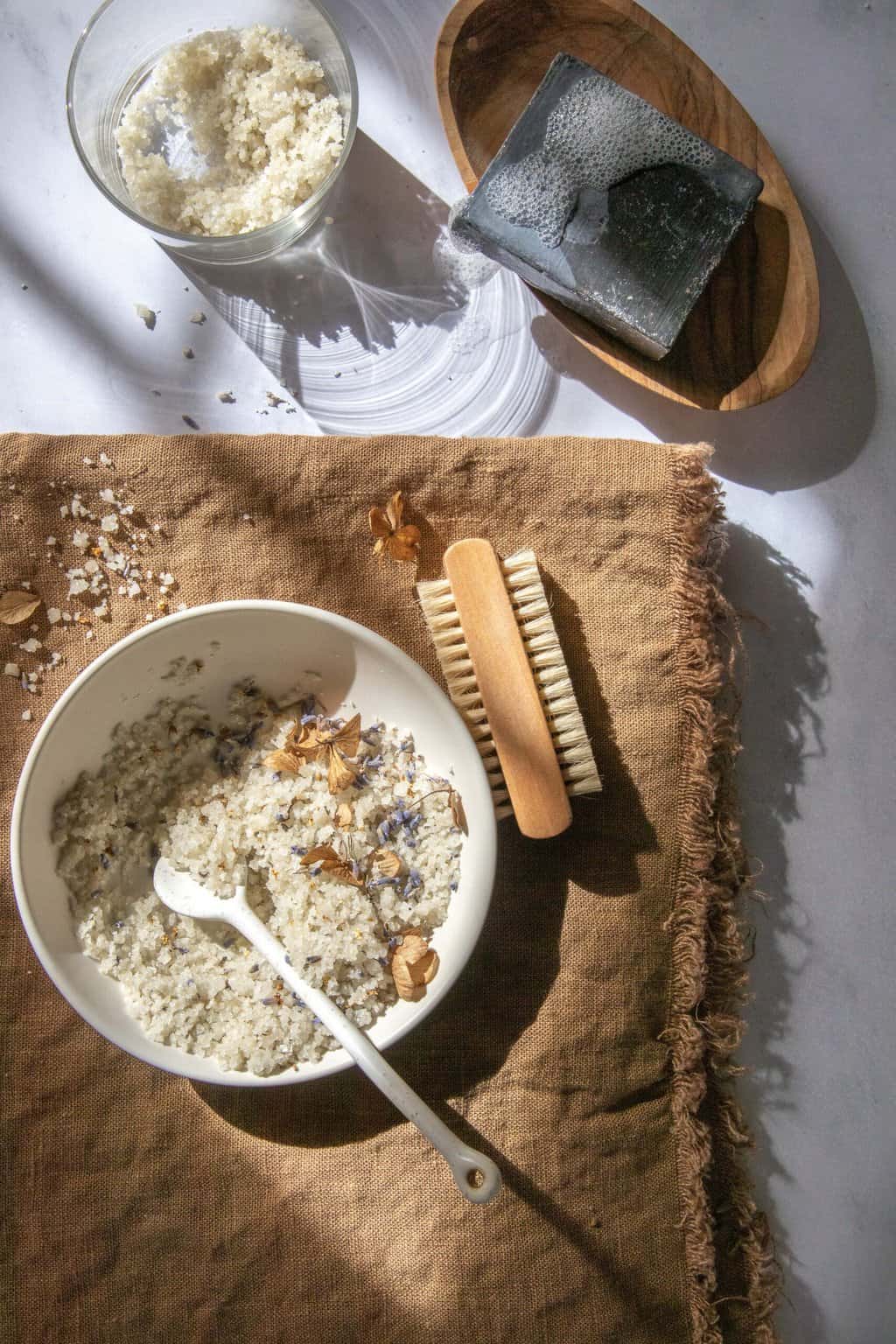 5 Ways to Use Salt in the Shower
Salt is a versatile ingredient with numerous health benefits that can help turn a regular shower into a luxurious spa-like experience. Whether you're making a mineral rinse or using it as a body scrub to remove dead skin, you'll be amazed at how quickly and effectively salt can transform your shower experience.
1. Aromatherapy Shower
Creating an aromatherapy shower using sea salt and essential oils is a great way to relax and unwind without having to clean the tub. All you need is some sea salt, essential oils and a muslin bag to hold everything. If you'd like to get fancy, add some dried herbs, flowers or botanicals and you've got yourself a mess-free tub tea (ahem, shower tea) and a healing shower scrub.
In a small bowl, mix together 1/2 cup of sea salt with 10-20 drops of your favorite essential oils. You can use one essential oil or a combination of a few, depending on your preference. Spoon the mixture into a muslin bag or sachet, then cinch the drawstring to keep everything securely inside and make clean up a breeze.
Hang the muslin bag in the shower, near the stream of hot water. As the water flows over the bag, the steam will help to release the essential oils and sea salt. Hop in the shower and breathe deeply, inhaling the calming scents and therapeutic benefits of the essential oils. Enjoy!
2. Salt Body Scrub
Mix sea salt with a little carrier oil to create a hydrating body scrub perfect for sensitive skin. Olive oil, coconut oil and almond oil work very well.
In a mixing bowl, combine 1/2 cup sea salt and with 1/4 cup carrier oil (olive, avocado or sweet almond oils are my favorite), and stir to mix thoroughly. Feel free to adjust the amount of carrier oil as needed to reach the desired consistency.
To use, apply the salt scrub to damp skin and use circular motions to gently exfoliate the flakes away. Rinse with warm water.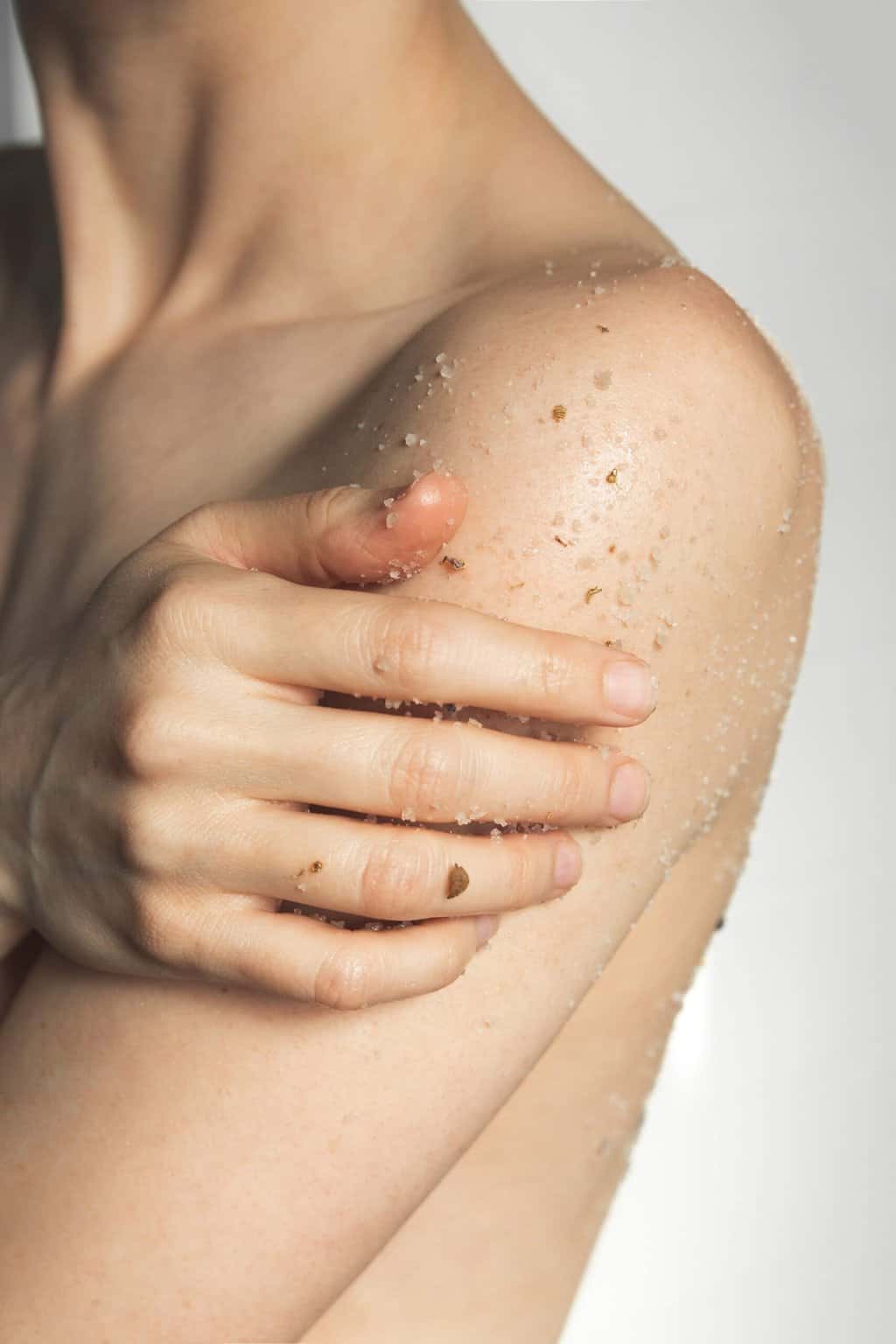 3. Mineral Rinse
Sea salt contains a variety of beneficial minerals, such as magnesium, potassium and zinc, which can help nourish skin, reduce the appearance of fine lines and wrinkles, and lock in moisture. To reap sea salt's skin-soothing benefits, sprinkle a little fine salt into the palm of your hands and apply to damp skin. Let sit for 5 minutes before rinsing off.
4. Shower Steamer
Remember when you were sick as a kid and grandma told you take a hot shower? Steamy showers can help relieve congestion by moistening the nasal passages and throat. Add a few sinus-soothing essential oils and you'll be back to 100% in no time.
Place a washcloth on the floor of your shower and sprinkle a handful of bath salts over it, making sure they sink in between the fibers (this will keep the salt from washing down the drain). Place the washcloth somewhere it will get wet, but that you won't step on it. As the water hits it, it will dissolve the salts and disperse the essential oils throughout the air, creating a relaxing and soothing spa-like environment.
5. Exfoliating Soap Scrub
Scrubbing soap bars are having a moment — and we're totally onboard! They're a great way to do double duty by letting you cleanse and exfoliate at the same time. If you're short on time, make your own exfoliating soap bars by pressing sea salt into a wet, slightly soft bar of soap.
Then let it dry for several hours or overnight. Next time you're in the shower, use the soap as you would any other exfoliating bar soap, focusing on knees, elbows and anywhere else you might have dry skin.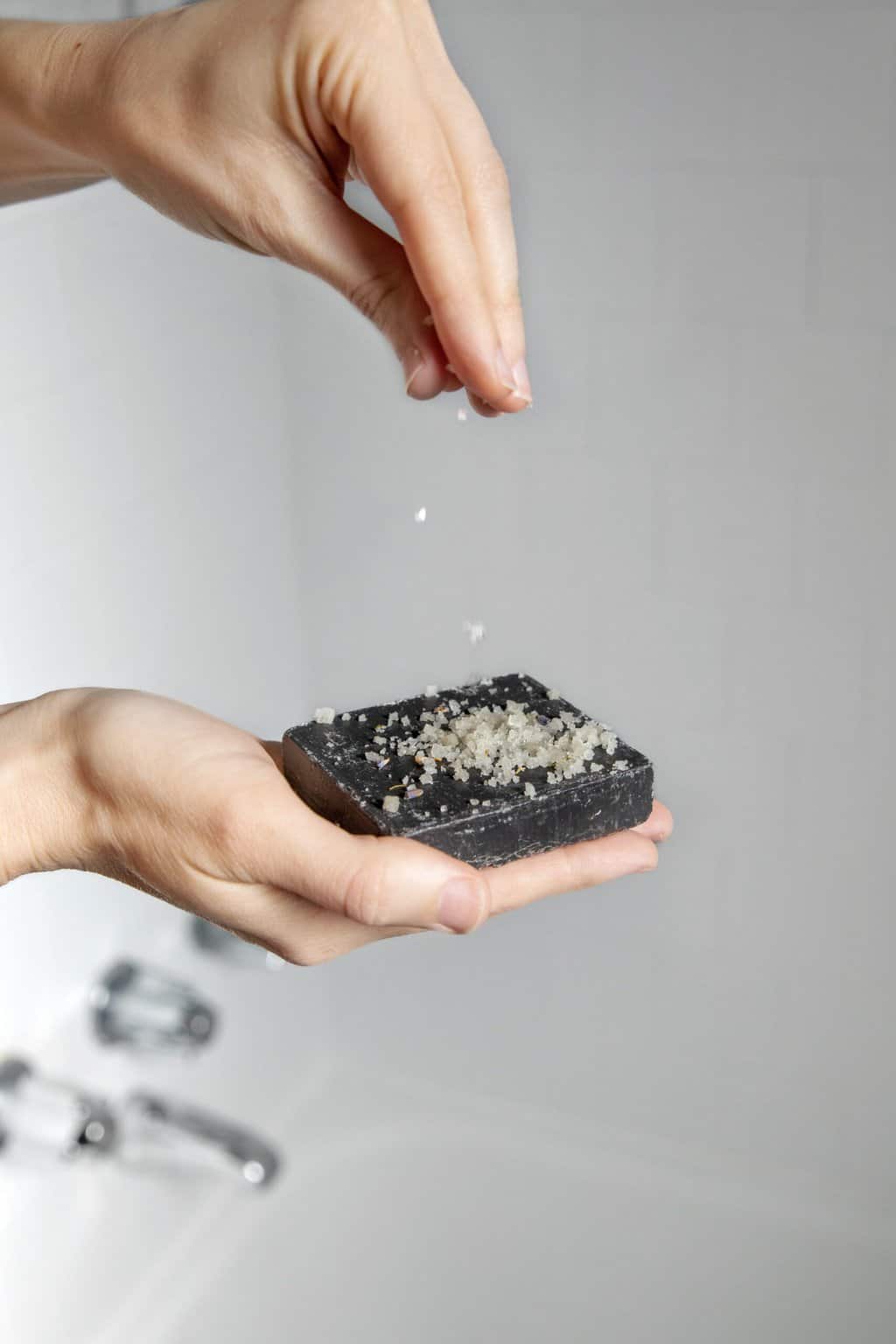 4 Salt Blends You Can Use in the Shower
Mix all ingredients together in a bowl and store in an airtight container until ready to use.
Sleep Salt Blend
Congestion Relief Salt Blend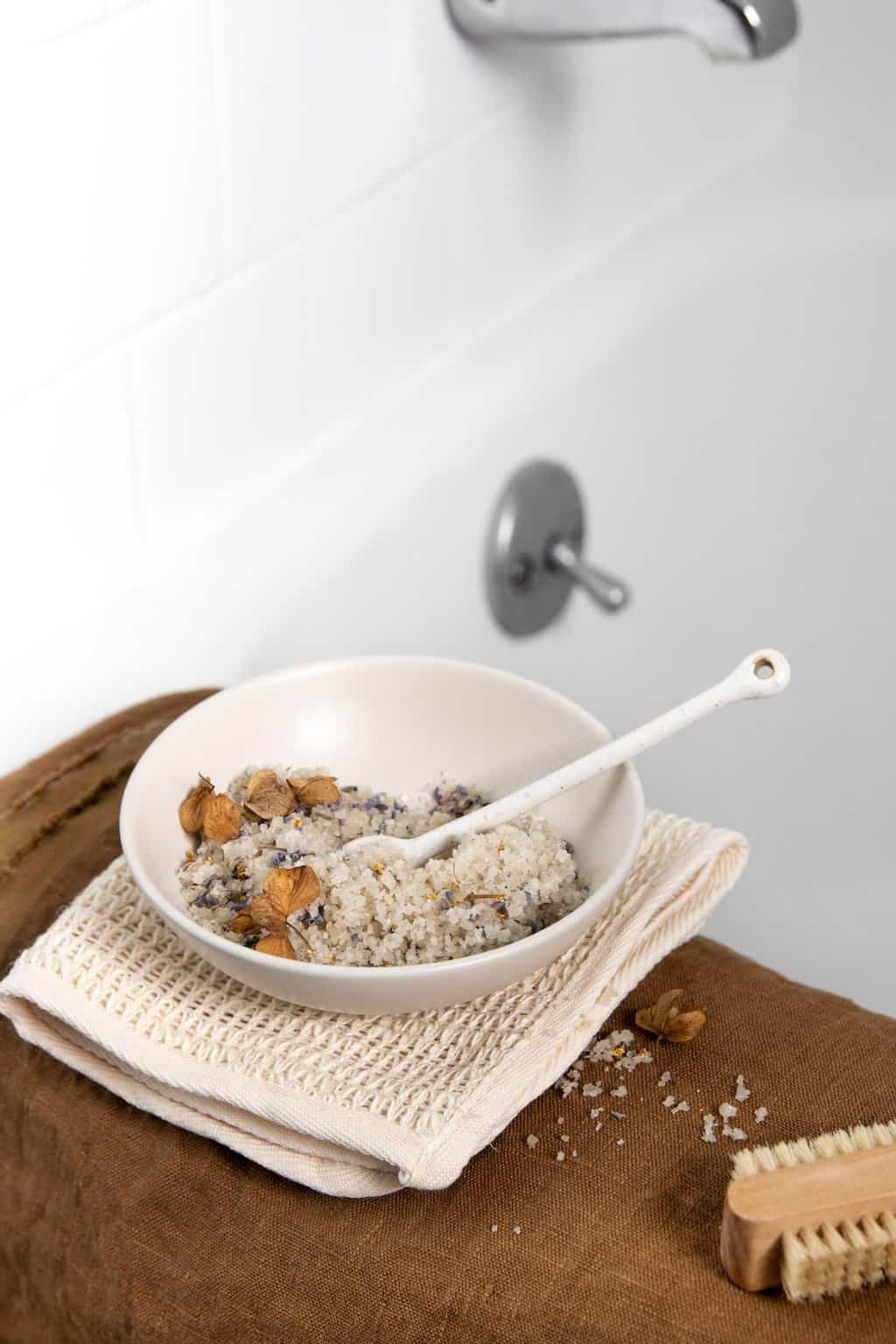 Skin Soothing Salt Blend
Mood-Boosting Salt Blend
Shower Salt FAQ
What does showering with salt do?
Sea salt can help to exfoliate and soften the skin, as well as improve circulation and reduce inflammation. It can also promote respiratory health, boost relaxation, and be used in aromatherapy.
Can I use Epsom Salt in the shower?
The benefits of Epsom salt are well-known. It's an easy and inexpensive way of reducing inflammation and soothing aching muscles.
Epsom salt can work in the shower, but it may not be as effective as an Epsom Salt bath. When used in the shower, Epsom salt can help to exfoliate and soften the skin, as well as provide some relaxation benefits. However, because the water in the shower is not as hot and the steam is not as concentrated as in a bath, Epsom salt may not be absorbed as effectively into the skin. If you have sore muscles, opt for a Epsom salt bath instead.
How often can I use sea salt in the shower?
You can use sea salt in the shower once or twice a week, depending on your skin's needs. Overuse can lead to dry or itchy skin, so it's important to listen to your skin and adjust your usage accordingly.
Can sea salt help with acne or other skin conditions?
Sea salt has anti-inflammatory properties and can help to reduce redness and inflammation associated with acne and other skin conditions. However, it's important to talk to a dermatologist before using sea salt or any other home remedy to treat a skin condition.
3