A swan-like neck may not be in the genetic cards for all of us, but I have some tips and product recommendations that can help avoid the dreaded turkey neck! Your neck and décolleté have fewer oil glands than your face, which means we rarely battle acne there–but it also means this area is dryer and thus more prone to wrinkles and sagging.
Here are my best tips for a firmer jawline, neck, and décolleté.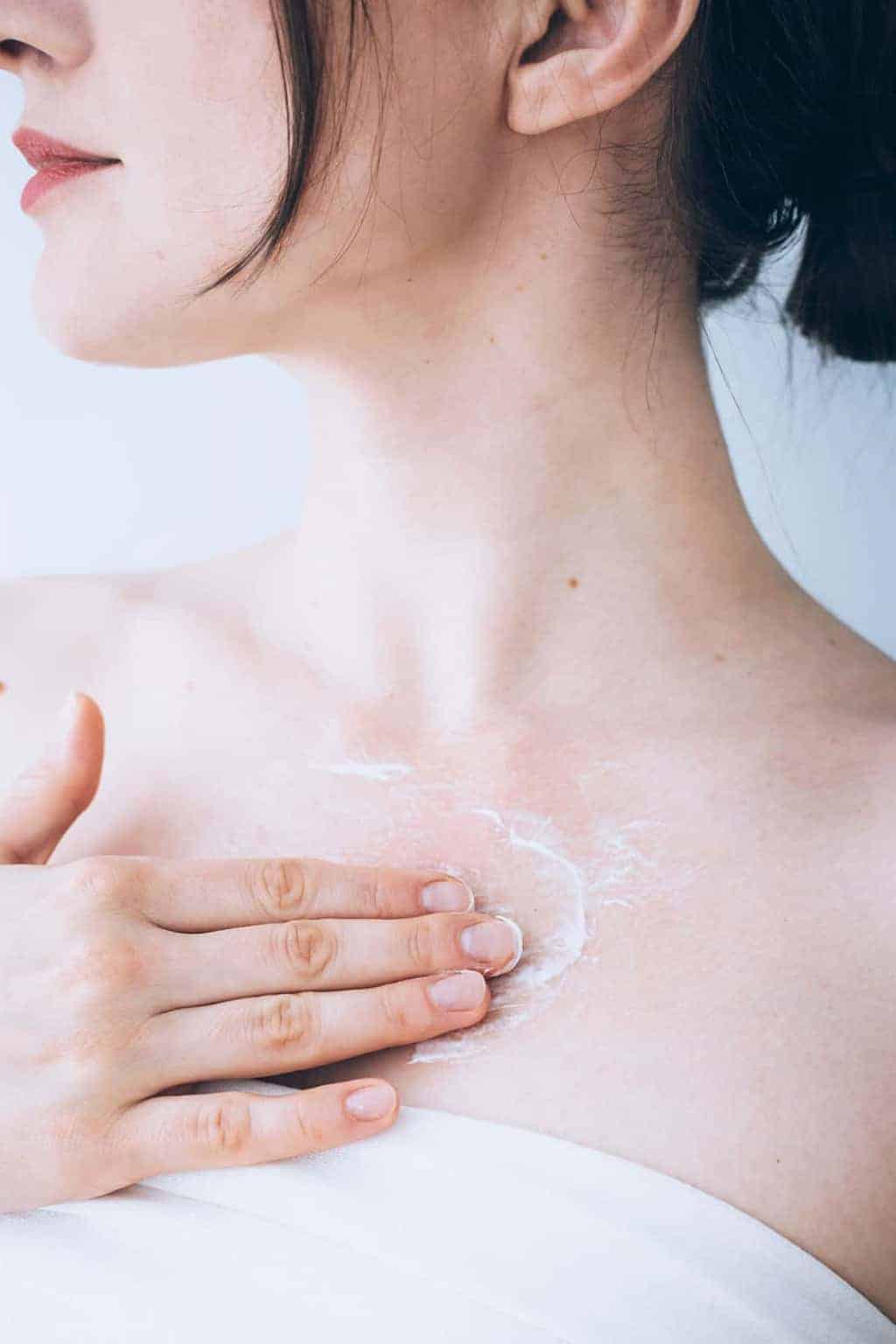 Hydrate
Since your neck is generally dryer than your face, apply serums and moisturizers twice daily. And always apply in upward strokes from the décolleté to the jawline.
Using products specifically targeted for these areas is best. Bioelements V-Neck Smoothing Crème has hyaluronic acid and anti-wrinkle peptides which smoothes sun damaged skin and evens out texture. Another favorite of mine is Fresh Black Tea Firming Corset Cream–made with firming peptides, black tea and Goji fruit extract, this cream can be applied 1-2x daily from the collarbone to the jawline.
Protect
Sunscreen is key! You might always apply sunscreen to the neck area, but how thoroughly? The face starts at the chest (not the forehead!), so be generous with application. I recommend at least an SPF 30 for the chest–find my favorite sunscreens here.
Roll It
Jade facial rollers are wonderful for firming the neck area and also boosting lymphatic drainage and increasing circulation. Be sure to use the roller in an upward direction once a day; pair with a hydrating serum to help with deeper penetration of the product.
Stretch
Over time, the skin of the neck can become loose and the muscles flaccid. Stretch the neck by sitting up straight every time you log onto the computer or at every stop light. Getting into the habit of stretching the neck is the hardest part. This exercise for the neck encourages taut skin.
The rest is up to genetics and proper sleep, diet, and exercise. Remember your skin is your largest organ, so feed it well!
This post was medically reviewed by Dr. Jennifer Haley, a board-certified dermatologist with extensive experience in medical, cosmetic and surgical dermatology. Learn more about Hello Glow's medical review board here. As always, this is not personal medical advice and we recommend that you talk with your doctor.
Photo by Ana Stanciu
73