Do you use healing crystals at home? I keep bowls of different crystals in rooms throughout my place to ward off negative feelings, improve sleep, and transmute good energy.
But I also love to incorporate crystals into my beauty routine by either adding them to my bath or homemade face oil or using them in beauty-enhancing energy work such as reiki, face massage, and acupuncture.
But whether you're bringing a new crystal into your home or wanting to care for the ones you already have, it's important to cleanse and purify your crystals regularly. Just as you and I are refreshed and rejuvenated after a trip to the spa or a solid afternoon of self-care at home, crystals need some TLC from time to time to purify their energy and remove negative vibes.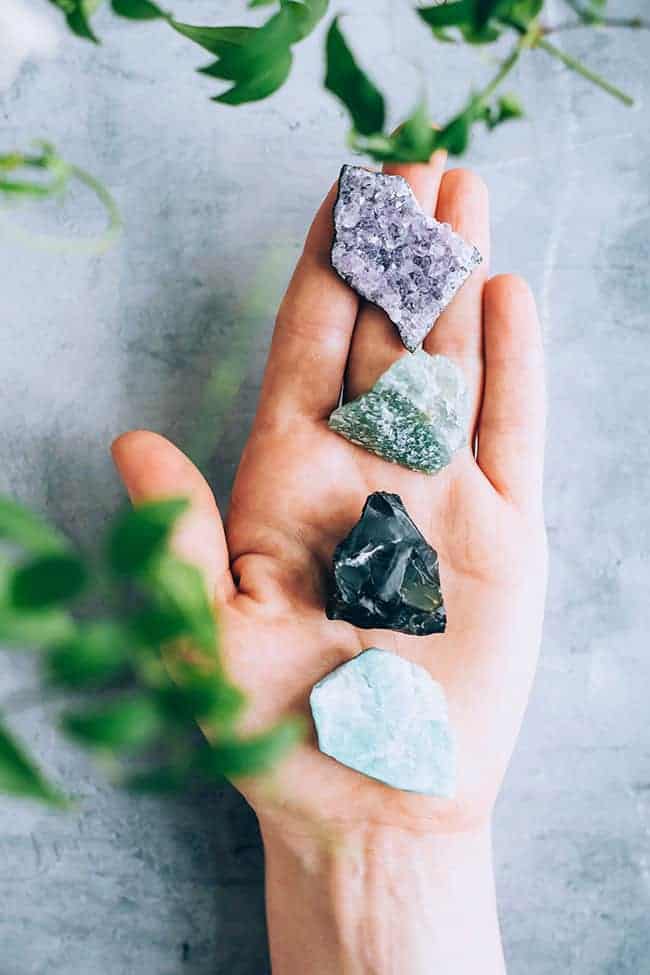 How to charge crystals
Why should you cleanse and recharge your crystals? Think about it this way: They work hard to add life to our spaces and remove negative energy from our lives. That's a lot of work!
But there are plenty of simple ways we can cleanse that energy, so they can continue to keep us peaceful for years to come.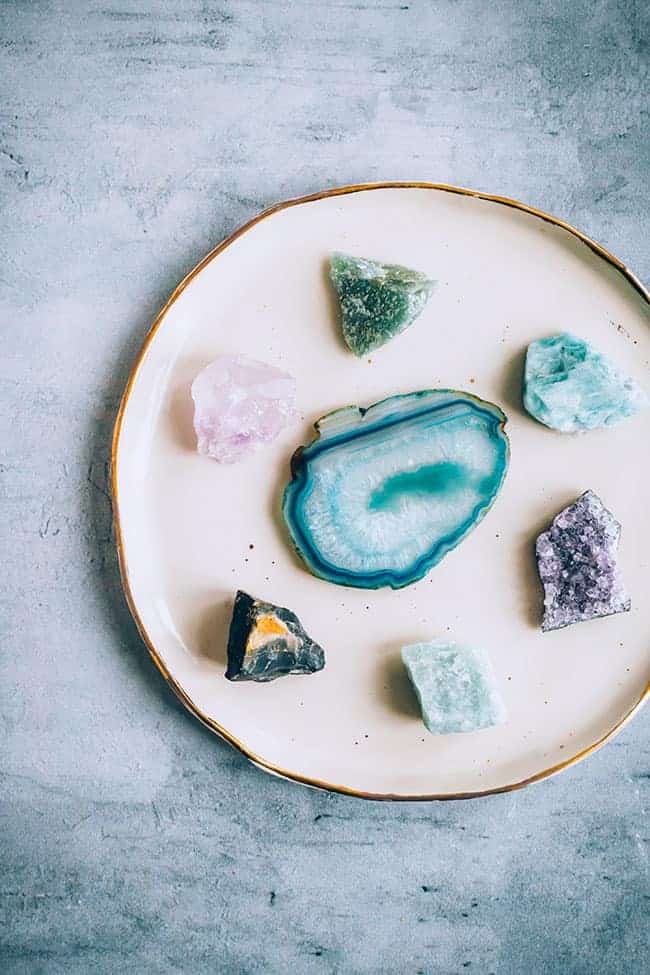 So When Should You Cleanse Your Crystals?
1
.
Any time you bring a new-to-you crystal into your home
When you identify which crystal might work best for a specific need or ailment or bring a new find home, you should clean and charge it right away. It's impossible to tell what kind of energy your crystals were in contact with before you purchased them—or what they picked up from people who touched them along the way.
Aside from cleansing, I also like to "program" new crystals when I bring them home to make sure they start working for me right away. The process doesn't have to be very involved—it can be as simple as using one of the cleansing methods listed below and then holding the crystal in your hand as you set intentions for how you'd like it to work for you while you welcome it into your space.
As you hold the stone, think about how you would like that crystal to support you. Do you need to make peace with something in your past or manifest something new and exciting in your life?
As you think about that need, visualize what it might feel like to achieve that intention. This is a great way to make a new crystal feel like your own!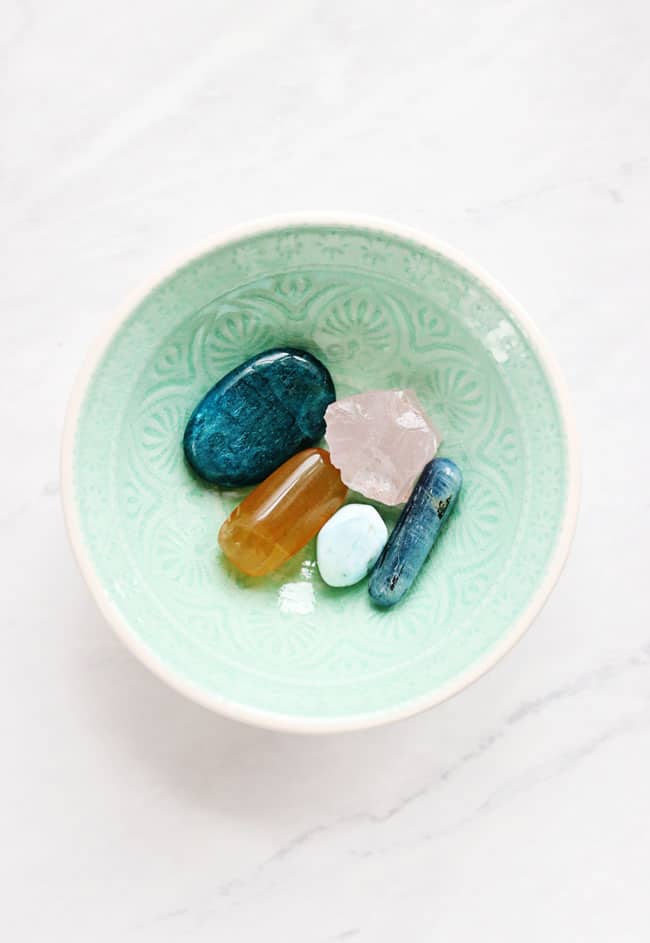 2
.
When someone else has come into contact with them
Anytime someone else holds or touches one of your crystals, you should take the time to clear the energetic footprint that may have been left behind. This process can be as simple as smudging with sage if you're short on time!
3
.
Periodically throughout the year
It can be hard to remember to cleanse your crystals, but my rule of thumb is to recharge them at least once a month. You can set a reminder on your calendar, but I typically let the lunar cycle serve as my natural reminder.
When there is a full moon, I like to charge my collection of crystals outside overnight. The lunar cycle is such a simple natural guide when it comes to this kind of energy work!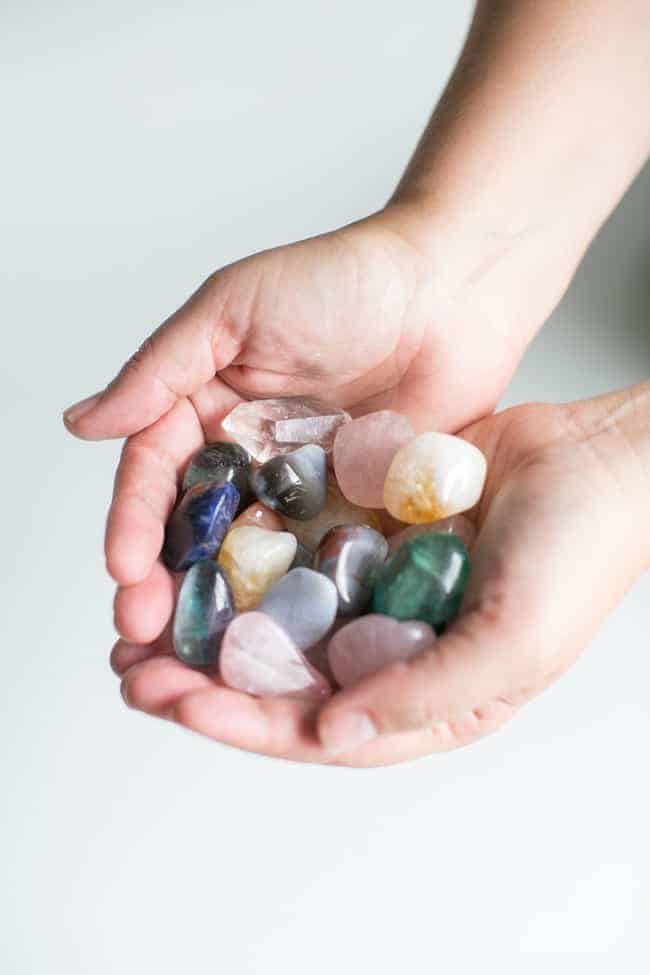 6 Ways to Cleanse
+
Care for Crystals
1
.
Sea Salt
Fill a shallow bowl (large enough to accommodate your collection) with sea salt and partially bury your crystals. While this method works for most crystals, you may not want to place porous stones with lots of ridges or holes into salt since it can get stuck in the crevices.
Let the stones sit in the salt for a few hours but preferably overnight. If you'd like, you can add dried herbs like lavender, basil, or sage to the salt to amplify the cleansing process.
2
.
Smudge
If you're unsure which cleansing method is best for a particular kind of stone, smudging is a safe bet. You can use smoke from palo santo or a smudge stick to clear negative energy.
Simply light the smudge stick as if you were preparing to smudge your space, and use your hand or a feather to direct the smoke over each crystal. I also like to light a smudge stick, place it in a clay dish or abalone shell, and hold each stone over the smoke while turning it carefully to ensure it's enveloped fully.
This is a great opportunity to set intentions and infuse each stone with positive energy as you handle each one with care.

3
.
Soak in water
Start by filling a bowl with water (preferably from a natural water source like rain water, but tap water will do in a pinch). Gently place your stones in the water, ensure they're submerged, and soak for at least 8 hours.
Remember, some stones like selenite cannot come into contact with water. The general rule of thumb is that any crystal whose name ends in "-ite" (like calcite or alexandrite) is probably not water safe.
If you're unsure whether your crystal can be placed in water, it's best to proceed with caution and use a different cleansing method.
4
.
Light of the full moon
As I mentioned before, this is my favorite way to regularly cleanse my crystals. When the moon is full, I like to place my collection of crystals on a large tray—I prefer to use one made of a natural material like wood—and set them on the ground in my yard in a spot where they can bask in the moonlight.
When I wake up in the morning, I simply bring them back inside and place them throughout the house. Charging crystals under the light of each full moon helps them regularly release any negative energy or vibes they have soaked up since their last cleanse.
If you're someone who works to consciously align with lunar vibes, this may be a great practice to incorporate into your exploration of the way lunar phases can affect our inner and outer worlds.

5
.
Selenite
Certain crystals are excellent at cleansing other stones. I like to keep a large selenite stone around for this purpose. Selenite is considered one of the best stones for this practice because it clears the negative energy of other crystals completely. Plus, it's such a beautiful stone to display on a coffee table or nightstand!
If you're using a stone like selenite for this purpose, just be sure you're taking steps to regularly cleanse it (using one of the other cleansing methods) since it will be taking on energy from the other stones it comes into contact with.
To cleanse with selenite, place your crystals near or on top of a large selenite crystal for 24 hours to magnify the natural energy of your stones.

6
.
Sound bath
This is another great option for stones that may dissolve in water (or anytime you're unsure of what cleansing method is best for a particular crystal). Simply start by spreading out your crystals on a flat surface or corraling them in a bowl or tray.
With a bell, tuning fork, or singing bowl, you can use sound frequency to wash over your crystals and bring them into a new, higher vibration. This is one of the most simple, quick, and effective ways to cleanse crystals.
The belief is that the sound vibrations can penetrate the crystals' structure to help break up any negative energy stuck inside them, and the frequency of the sound can help restore harmony. If you have a large collection of crystals you'd like to cleanse all at once with minimal effort, this is a useful option!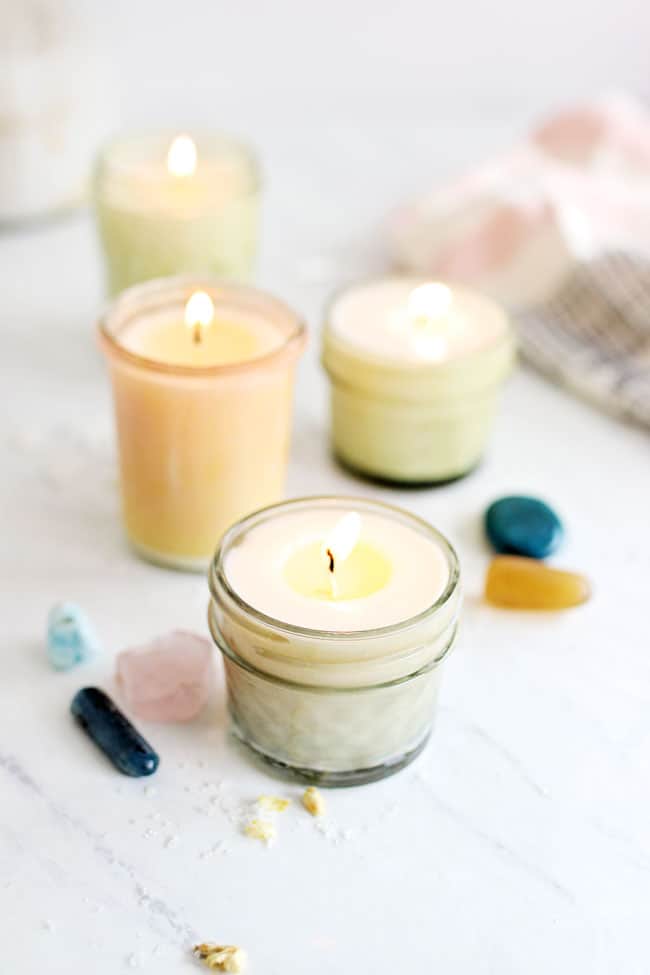 Tell me
:
What's your favorite way to use crystals at home
?
Which stones are your favorites
?
If you'd like to add healing crystals to your space but aren't sure where to start, check out our guide to healing crystals.
And, if you're interested in taking things to the next level with a DIY project, I love this how-to for making your own crystal grid and this DIY for making hidden crystal candles to energize your space.
This article was medically reviewed by Dr. Gina Jansheski, a licensed, board-certified physician who has been practicing for more than 20 years. Learn more about Hello Glow's medical reviewers here. As always, this is not personal medical advice and we recommend that you talk with your doctor.
View this post on Instagram
13