The health benefits of caffeine range from physical alertness and treating migraines to keeping our heart healthy and improving our memory. But did you know that caffeine can actually help our skin as well?
Caffeine can tighten skin, smooth puffiness, fight free radicals, and reduce dark under eye circles. It's fairly common to come across an eye cream infused with coffee thanks to all of these amazing benefits. But you don't have to splurge on expensive products when you can easily make your own eye cream with caffeine at home!
How Coffee Helps the Skin
So, how does coffee do all these amazing things for skin?
Unsurprisingly, the compound responsible is caffeine—the major part of coffee that we all know and love dearly. Caffeine is a natural antioxidant, protecting the skin from sun damage and other harmful free radicals that speed up the signs of aging such as wrinkles—combined with the other nourishing oils and butters in this cream, your undereyes will (probably) be free of fine lines for a while!
Caffeine is also a vasoconstrictor, meaning it slightly constricts blood vessels when ingested and when applied to certain areas. It's thought that this constrictive ability is what helps the most when it comes to bringing down puffy under eyes, minimizing redness, and reducing the look of dark circles.
DIY Coffee-Infused Eye Cream
Makes approximately 6 ounces
Place beeswax in a glass bowl and submerge in a larger pot of water on low heat. When the beeswax is melted, add in the coffee infused oil, coconut oil, jojoba oil and vitamin e oil, stirring as you add each ingredient.
Remove from heat and add 4-5 drops of chamomile essential oil, mix. Ensure to mix everything thoroughly so that there's caffeinated goodness in every single drop!
Transfer to a storage container, or into small tin containers. Place container(s) in the refrigerator to solidify. I recommend storing your cream in the refrigerator since the cool temperature is also key to reducing under eye puffiness.
How to Use an Eye Cream with Caffeine
Simply apply your caffeinated face cream 1-2 times a day to freshly cleansed skin. Dot on the undereye area and allow to sink in thoroughly (no need to rinse, just leave it on). Or apply a small amount anywhere you need some toning action and massage into skin.
If your face is feeling puffier than normal, one of my favorite tricks is to apply a cold dab of eye cream with a jade roller. This eye cream is perfect for using with a jade roller—its rich, moisturizing texture helps the jade just glide over the skin and smooth away any puffiness. It's the ultimate self-care treat for the end of the day!
If you don't have a jade roller, a jade gua sha is also an amazing skin care tool for promoting lymphatic drainage in the face—like with the roller, the gua sha perfectly complements the rich texture of this cream for a reinvigorated under-eye area.
(What is gua sha? It's a handheld tool that helps to relieve facial puffiness and relieves muscle tension. Initially used in traditional Chinese medicine to promote the flow of "chi" or energy in the skin, it now has many uses for anti-aging.)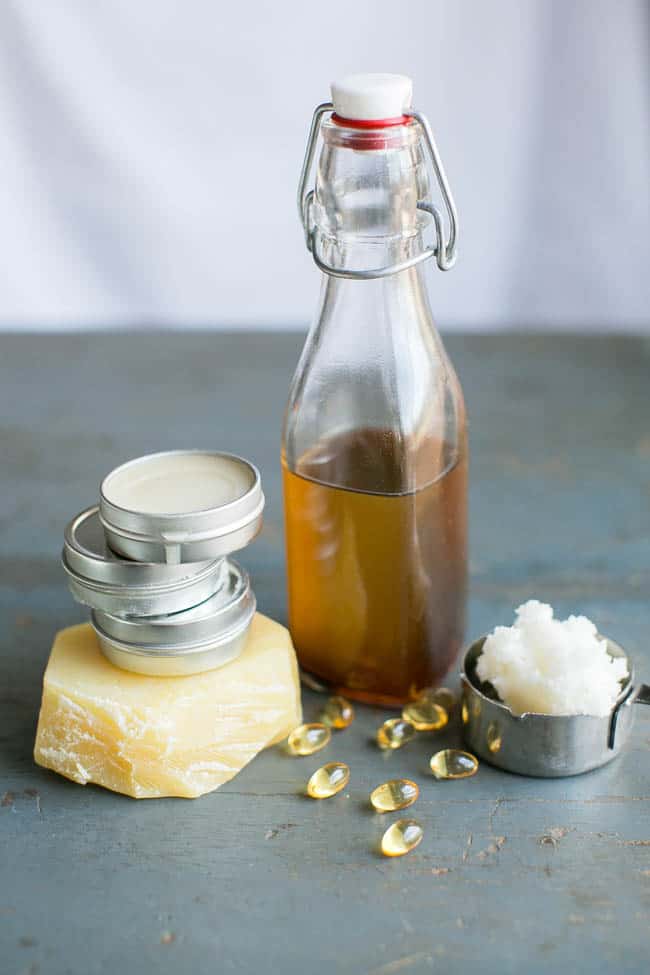 Homemade Caffeine Eye Cream FAQ
How can I make my eye cream spread more easily?
Your eye cream's consistency has to do with the ratio of beeswax to oils. If you'd prefer a softer, more spreadable consistency, simply reduce the amount of beeswax and add more coffee-infused (or jojoba) oil. If you've already made your eye cream, then just scoop it from the tin, re-melt it and add more oil.
How long will homemade eye cream last?
As long as you're careful not to get any water in the mix, your eye cream should last at least a year without the need for preservatives.
What can I use in place of coconut oil?
Try using a bit of shea butter. Since shea butter is naturally harder than coconut oil, start with 1 tablespoon and add more if needed to reach your ideal consistency.
Is there a alternative to beeswax I can use?
We love vegan carnauba wax or soy wax.
Can I leave the wax out altogether?
No, wax is a must, since this is what makes your eye cream more like a balm than a skin oil.
Will this eye cream clog pores?
Coconut oil can be slightly comedogenic for some people, which means you may breakout when using it. If you've had problems with coconut oil in the past, simply leave it out and add 1 tablespoon shea butter instead.
Do I have to use chamomile essential oil or can I substitute oils I already have?
Chamomile is naturally soothing, which is why we recommend it for the under-eye area. But you're free to use any essential oils you prefer. Just make sure they're gentle enough to use near the eyes.
This post was medically reviewed by Dr. Rina Mary Allawh, M.D., a dermatologist who performs adult and pediatric medical dermatology, skin cancer treatment and cosmetic dermatology. Learn more about Hello Glow's medical reviewers here. As always, this is not personal medical advice and we recommend that you talk with your doctor.
285