This post is sponsored by iHerb. All thoughts and opinions are my own.
When it comes to getting healthy skin and gorgeous hair, sometimes it takes more than just the right diet and some topical treatments. I know from experience that the right supplements can make a huge difference in the look and feel of your skin. But with so many to choose from, it's hard to know what works and what's just fluff.
I mean, who wants to waste their money on one more miracle product that doesn't live up to the hype? Definitely not me. So when given the opportunity, I jumped at the chance to team up with iHerb in order to bring you the absolute must-have supplements for glowing skin, shiny hair, and strong nails.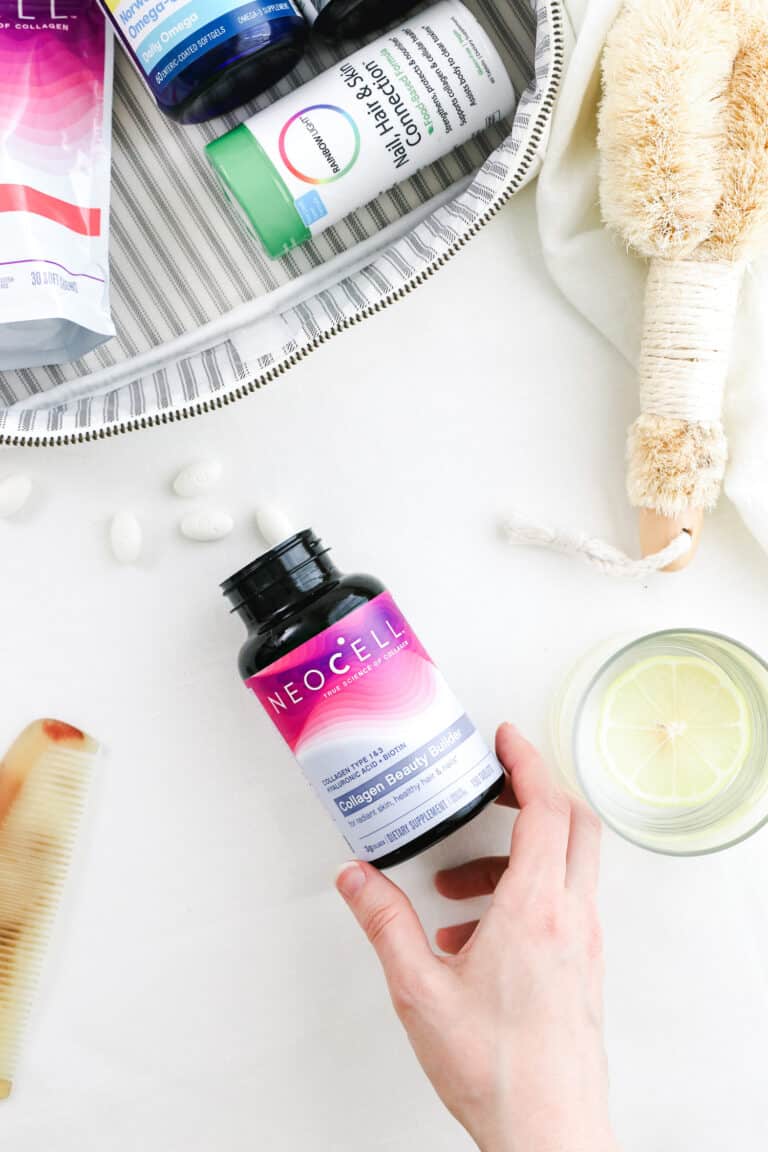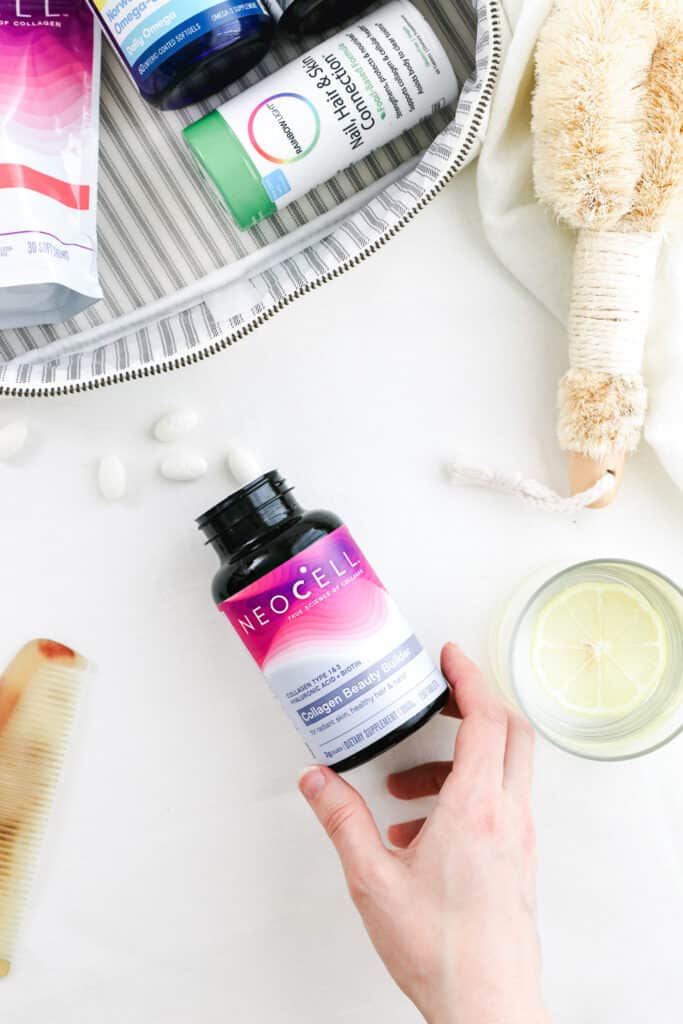 I've been a huge fan of iHerb since day one. One of the only all-natural online superstores, iHerb carries over 30,000 natural products, often at discounted prices. They store everything in climate-controlled distribution centers in order to ensure the ongoing quality of their products.
And they give huge bulk-buy discounts, so I'll usually put in a big order at the beginning of the month and impatiently wait for it to arrive a couple days later. You can often snag other discounts, too—quantity discounts, flash sales, and loyalty credits—so you can get everything you need for less than you would get at other online retailers.
And did I mention they ship to over 150 countries (often with free expedited shipping on orders over a certain amount) and offer customer service 24/7 in 10 different languages? They stand behind their products and their business model, so you never have to worry about something going wrong.
They are seriously the best.
After navigating the reviews and sifting through the noise, here are our must-have supplements for radiant skin plus strong hair and nails.
6 Must-Have Beauty Supplements for Skin, Hair + Nails
1. Collagen
Collagen is one of the main proteins in the connective tissue of your body. It helps improve skin and hair health in a variety of ways. Your body uses the amino acids in collagen as the building blocks for hair proteins, thus strengthening strands and making your hair feel more full. And it adds moisture to the skin, thereby plumping wrinkles, improving elasticity, and reducing the appearance of aging [source].
In the past, I've been a pretty huge skeptic of collagen powders. But Neocell Collagen Beauty Builder is by far the best I've tried. It contains hydrolyzed collagen types 1 and 3, which are the ones that specifically boost skin and muscle health.. It's important to know that the hydrolyzed forms of collagen are broken down and more readily absorbed by the body, so you get the best bang for your buck with this product.
Also added are hyaluronic acid and biotin, which have been shown to improve elasticity of the skin and promote anti-aging effects [source]. Together, they make my skin feel softer and more supple, which I haven't experienced with other supplements in the past. And I love that the product is free of soy, wheat, lactose, and gluten, so it doesn't make me feel inflamed when I take it.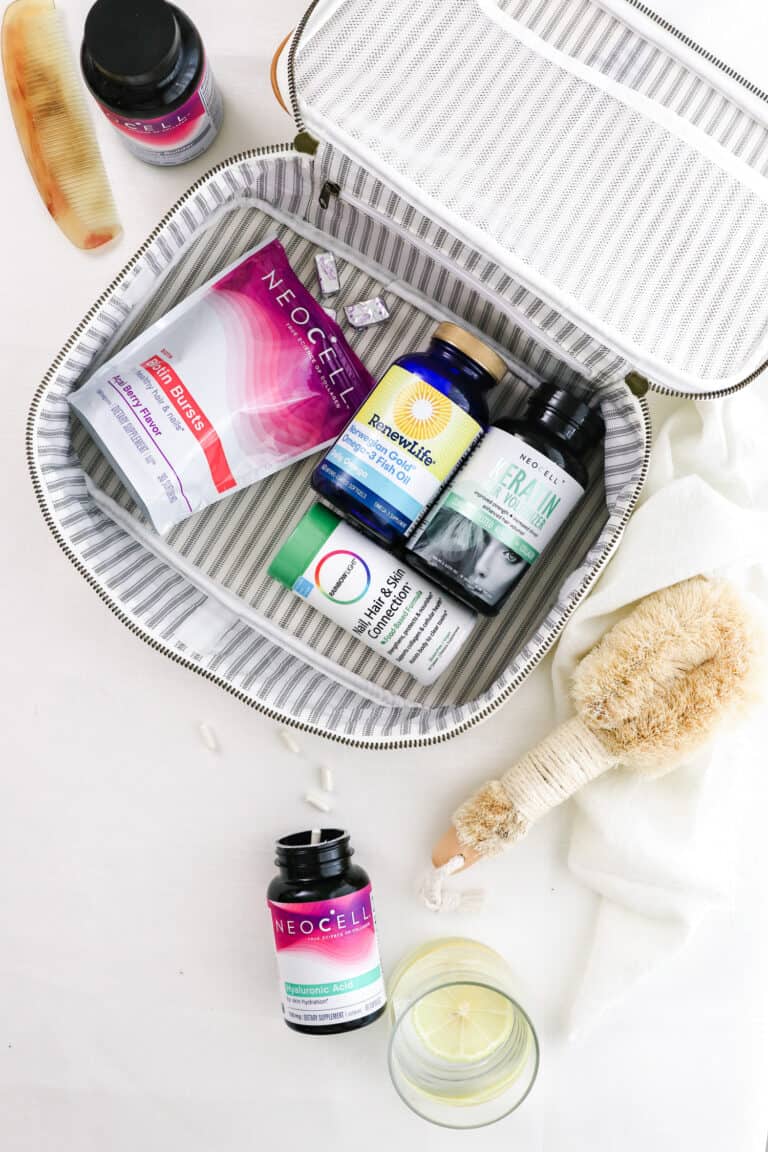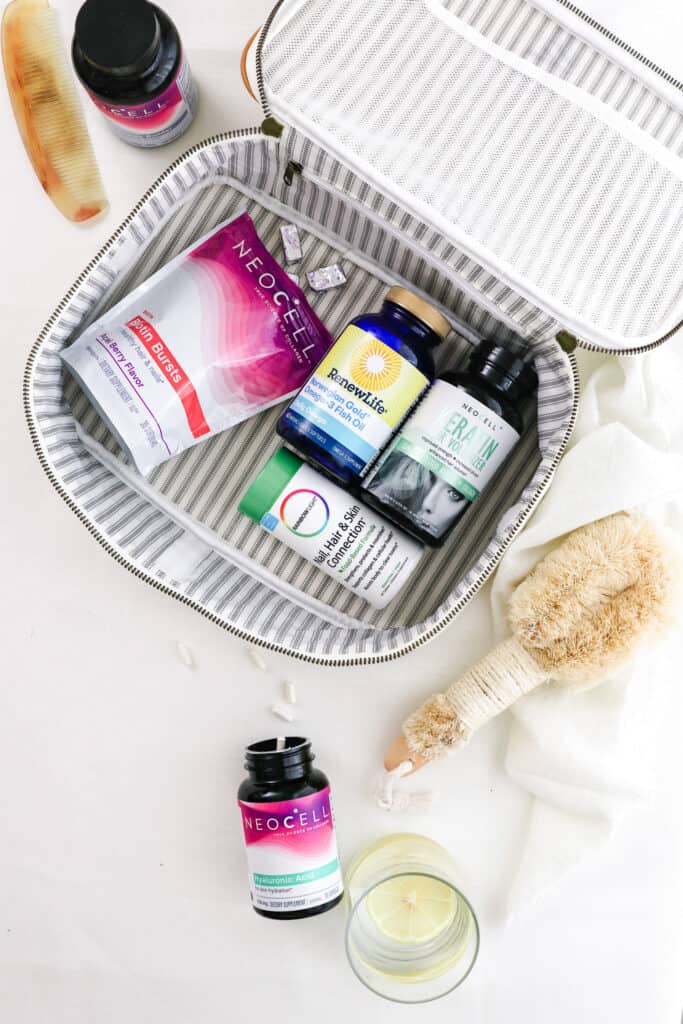 2. Keratin
Keratin is the main protein in your skin, hair and nails, so it stands to reason that a good keratin supplement can help improve the health of your skin dramatically. When it comes to hair, keratin works by smoothing down the cuticle that forms your hair strands, resulting in those full and glossy locks.
It has been shown to restore the natural properties of hair after it is overbleached [source]. It also nourishes hair at the root, causing strands to grow more quickly and strengthening them so they break less often [source].
While keratin works fine on it's own, I like my keratin supplement to contain other skin-boosting ingredients. Neocell Keratin Hair Volumizer is a 4-in-1 supplement that contains keratin for increased hair luster, hydrolyzed collagen to boost strength, amla extract to support hair health, and vitamin C to fight damage from free radicals.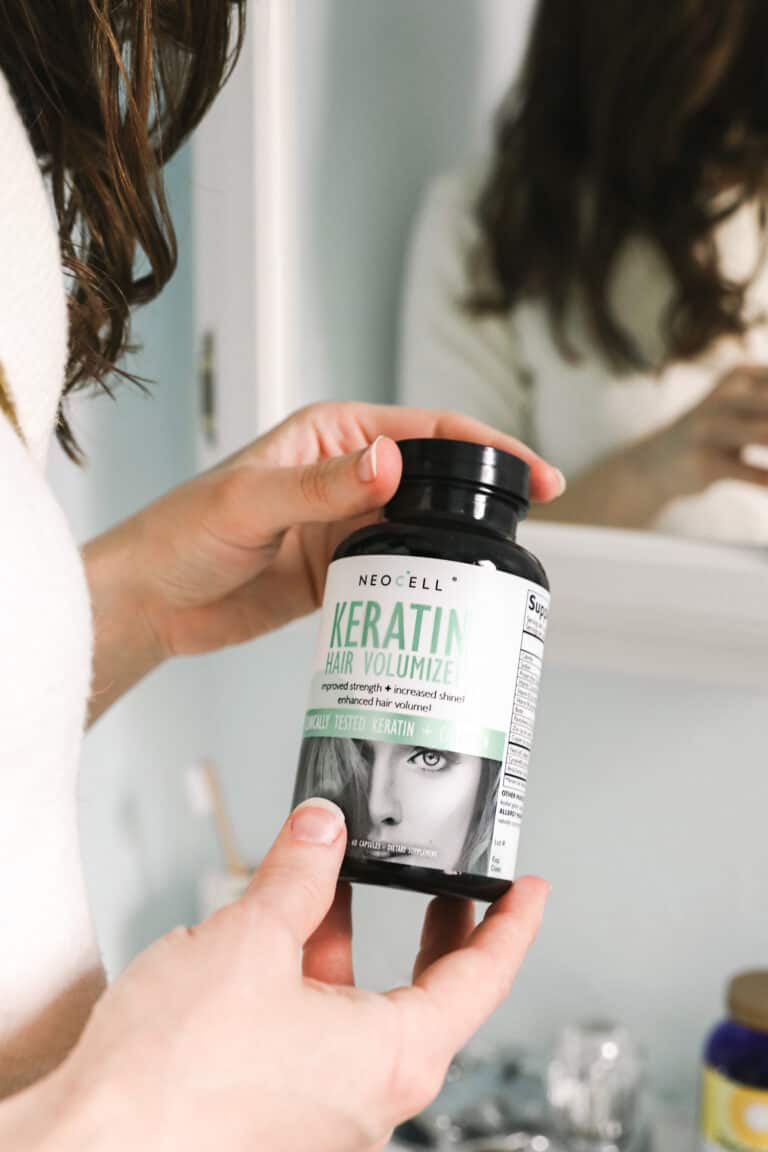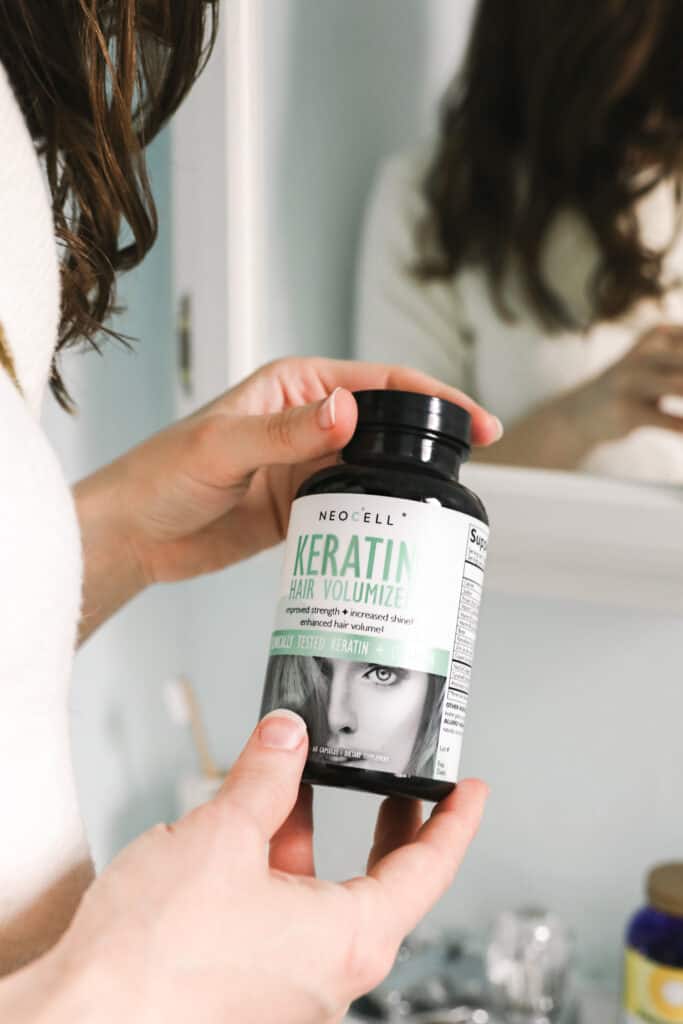 3. Biotin
The B vitamin, biotin, is one of the first vitamins most of us think of when it comes to improving hair, skin, and nail health. In addition to improving the look and feel of your skin, biotin also helps give you a nice little energy boost, without the need for caffeine or weird chemicals.
And who couldn't use a little more natural energy? I love these Neocell Biotin Bursts because they make taking biotin every day a no-brainer.
Not being a fan of chewy candy, I was a little skeptical of these individually wrapped acai berry fruit chews, but because they fit so seamlessly into my day, I decided to give 'em a go. No joke – these babies taste delicious and improve the look of my thin, fine hair.
I take one a day, as per the instructions, and within a couple weeks of starting them, I noticed my nails felt a lot stronger, and I had baby hairs coming in around my hairline. Winner!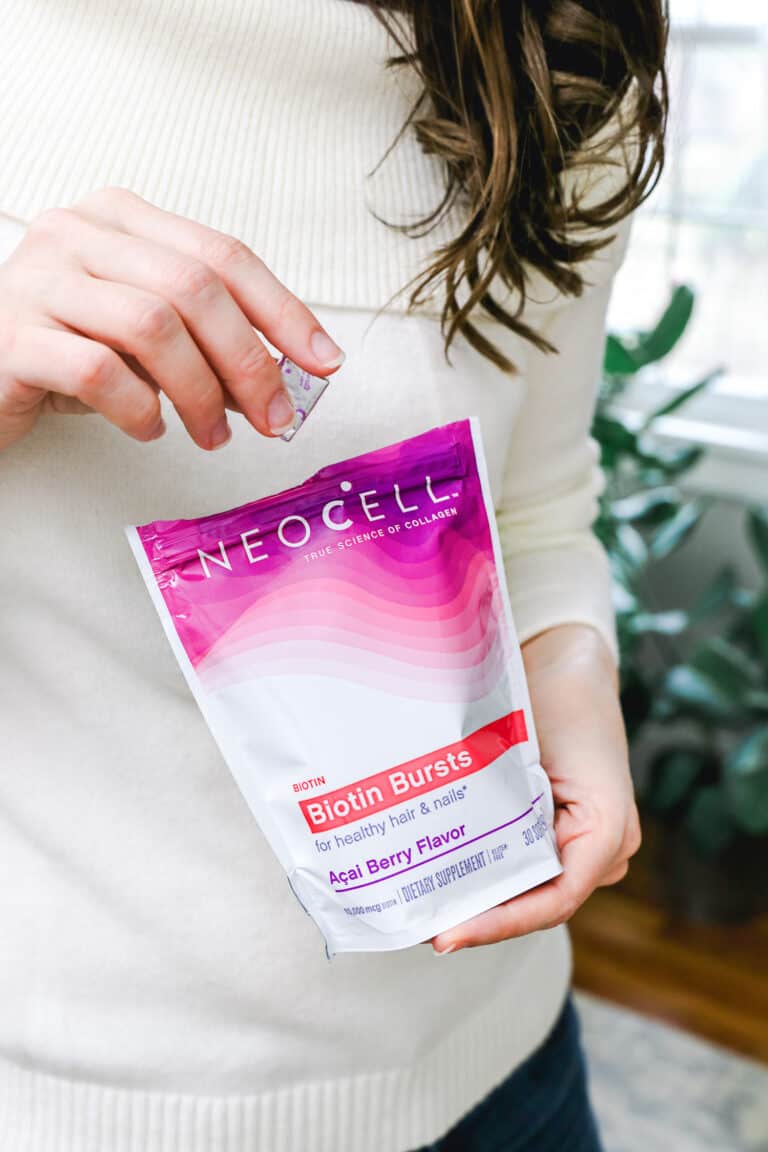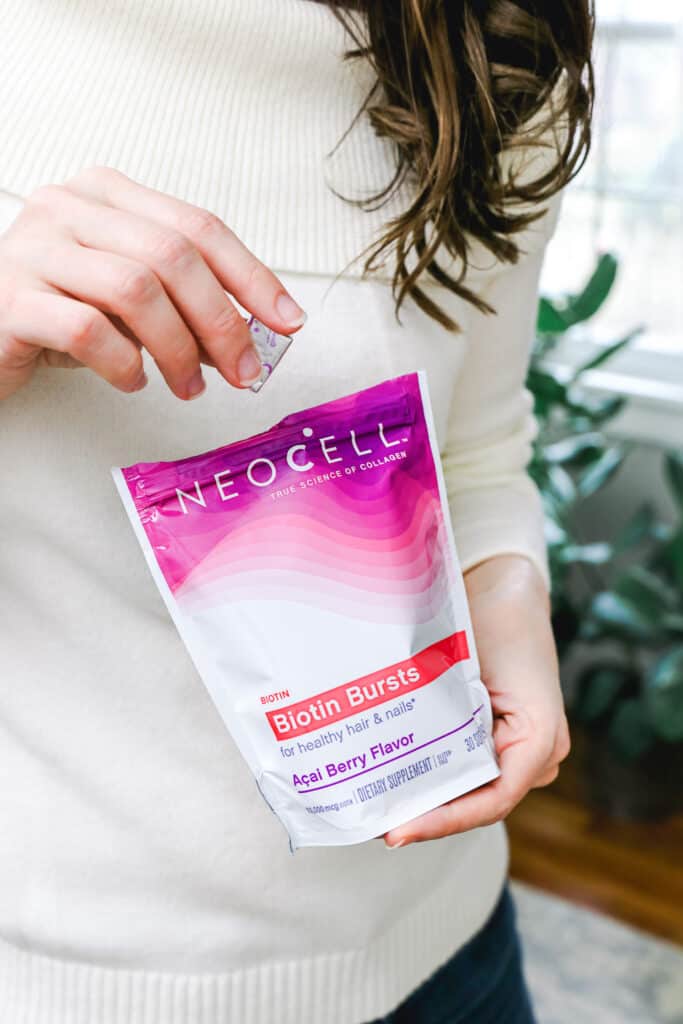 4. Omega 3's
Fish oil is one of those supplements that does practically everything. When it comes to gorgeous skin, fish oil's magic lies in the hydrating effects of its omega-3 fatty acids. It moisturizes, plumps, and firms the skin. It also has anti-inflammatory properties that help soothe redness, irritation, and inflammation [source].
And those benefits extend to your hair as well. Fish oil strengthens fragile or weakened strands and smoothes the hair shaft, making locks look shinier and more radiant.
But it's important that you choose a quality fish oil supplement in order to reap the benefits while avoiding toxins and heavy metals. Renew Life Norwegian Gold Omega-3 Fish Oil has received the highest 5-star purity rating by the International Fish Oil Standards Program (IFOS) and is guaranteed for quality, purity, and potency.
It's also highly concentrated with over 350 mg of Omega-3s in each capsule, so you get a high dose of fatty acids with just one pill a day. But my absolute favorite thing about this supplement is that it's specifically formulated to provide enhanced digestion and absorption, so there's no fishy aftertaste.
5. Hyaluronic Acid
Hyaluronic acid is an important disaccharide found in every tissue of the body. Often called "nature's moisturizer," it boosts skin hydration thanks to the fact that it can hold 1,000 times its weight in water. It also helps reduce the visibility of fine lines and wrinkles by helping the skin retain much-needed moisture, creating a plumping effect [source]. And once the skin is well-hydrated and protected, cell turnover can occur more easily, so skin looks fresh and rejuvenated.
Neocell Hyaluronic Acid gives your body a boost of hyaluronic acid without the added soy, wheat, lactose, or artificial flavors and preservatives found in other supplements. I take two capsules in the morning along with a big glass of water, and I've noticed that my skin is less dry and flaky than usual. The first week alone, I noticed the skin under my eyes looked fuller, too, which helps me look less tired and run down.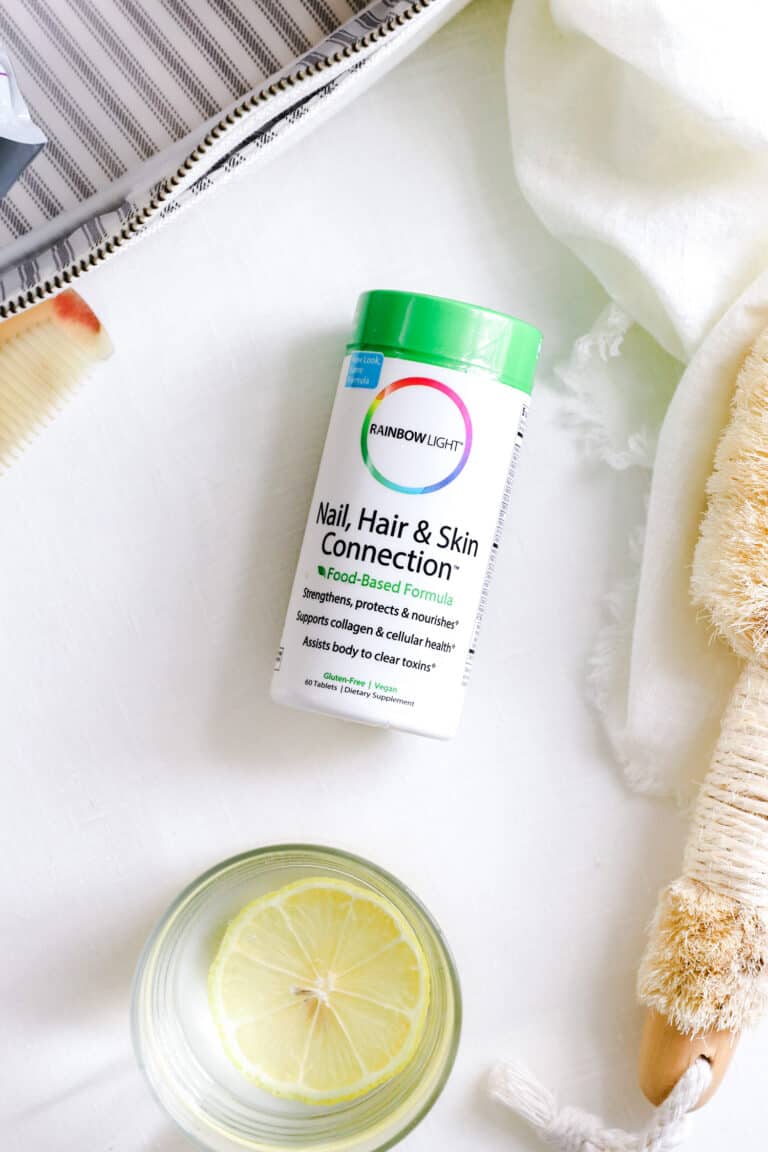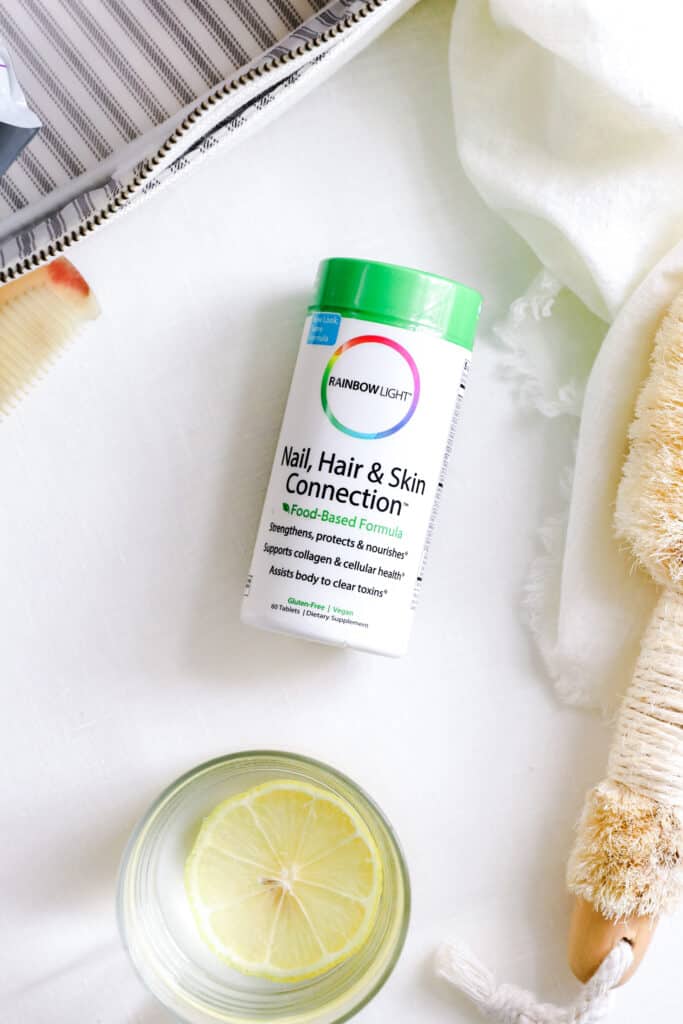 6. Food-Based Multivitamins
Lastly, a good multivitamin is important for filling in all the gaps in your diet and providing essential nutrients you might not be getting from food. These Rainbow Light Nail, Hair & Skin Connection vitamins contain all the nutrients you need for healthy skin and hair. And because they're food-based, the nutrients are more easily broken down and absorbed by the body, making them that much more effective.
High-quality nutrients like horsetail and biotin fortify nails while MSM and methionine add luster to hair and support connective tissue. Burdock, red clover, and grape root assist the liver in clearing toxins so the skin can look more radiant. I started using these vitamins a few weeks ago, and I've already seen my skin clear up and my nails grow stronger.
They're a little bigger than normal vitamins, but I feel like these supplements have definitely contributed to faster growth and they don't hurt my stomach like some other vitamins I have taken in the past.
Save on Your Next Order with iHerb
New and returning customers will get a discount on their next iHerb order with no minimum purchase by clicking here.
This article was medically reviewed by Dr. Gina Jansheski, a licensed, board-certified physician who has been practicing for more than 20 years. Learn more about Hello Glow's medical reviewers here. As always, this is not personal medical advice and we recommend that you talk with your doctor.
36