If you're one of those annoying people who love pumpkin-flavored anything (that would be me!), you'll be glad to know pumpkin is packed with beauty-boosting nutrients both inside and out.
Plus, I am always opening cans of pumpkin puree and then wondering what to do with the leftovers. An at-home pumpkin facial is a great way to use it up!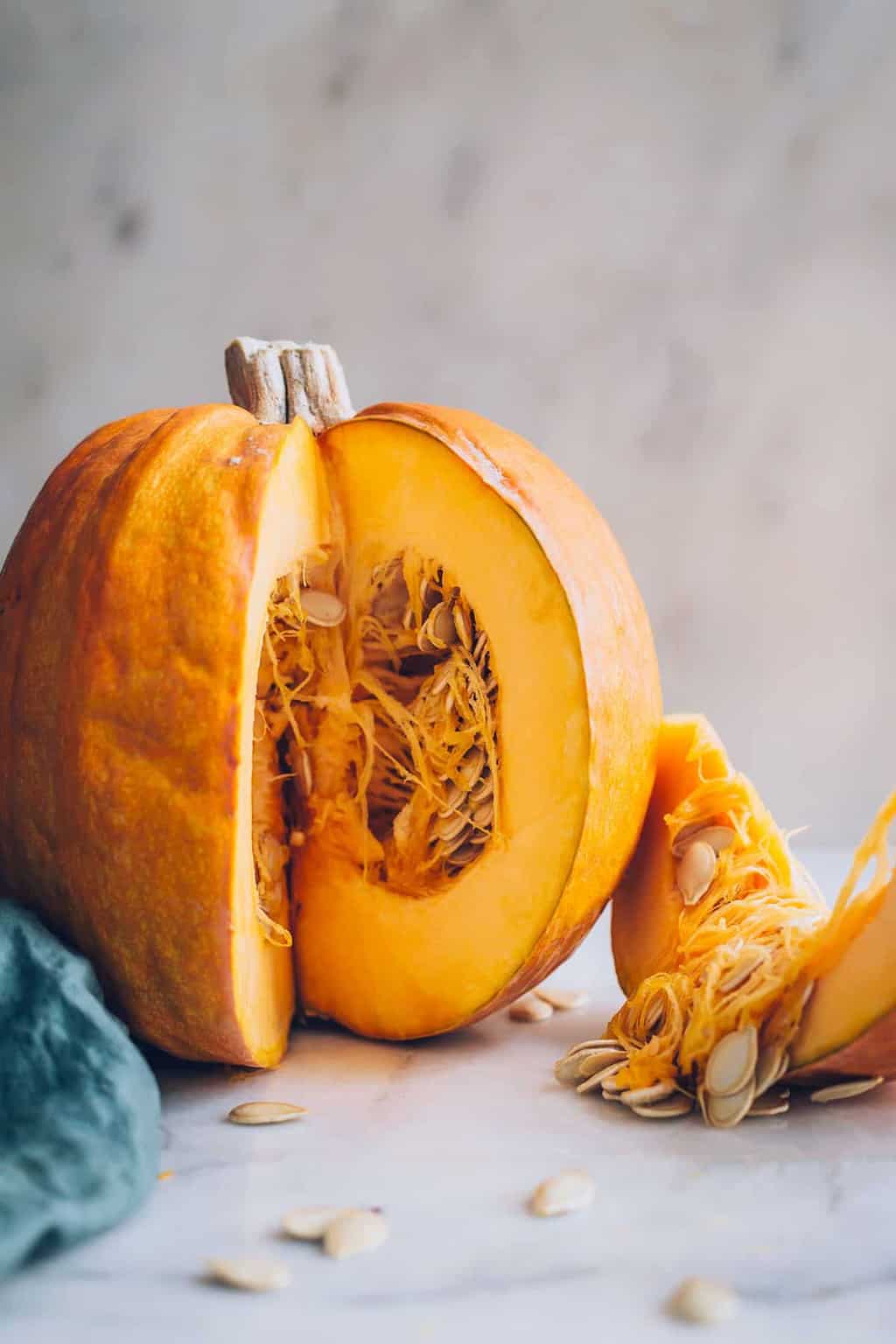 Pumpkin Beauty Benefits
Sun spots and age spots are one of the most annoying signs of aging. Anyone else regretting their time in the sun this summer?
It's never too late to get serious about wearing sunscreen, and you can also take steps to reduce hyperpigmentation and reverse the signs of sun damage on your face. The perfect pampering ingredient? Pumpkin.
It brightens dull skin
Pumpkin is an excellent exfoliator. Its fruit enzymes and alpha-hydroxy acids [source] slough off the dead skin that leads to a dull complexion, leaving you with a brighter, glowing complexion.
It fades sun spots
Pumpkin is rich in vitamin A, the anti-aging ingredient you'll find in retinol products [source]. That makes pumpkin perfect for a face mask that lightens age spots and evens out skin tone.
It smooths fine lines
You'll also get a dose of vitamin C and beta-carotene with pumpkin [source], both of which support collagen production to improve skin tone and texture [source].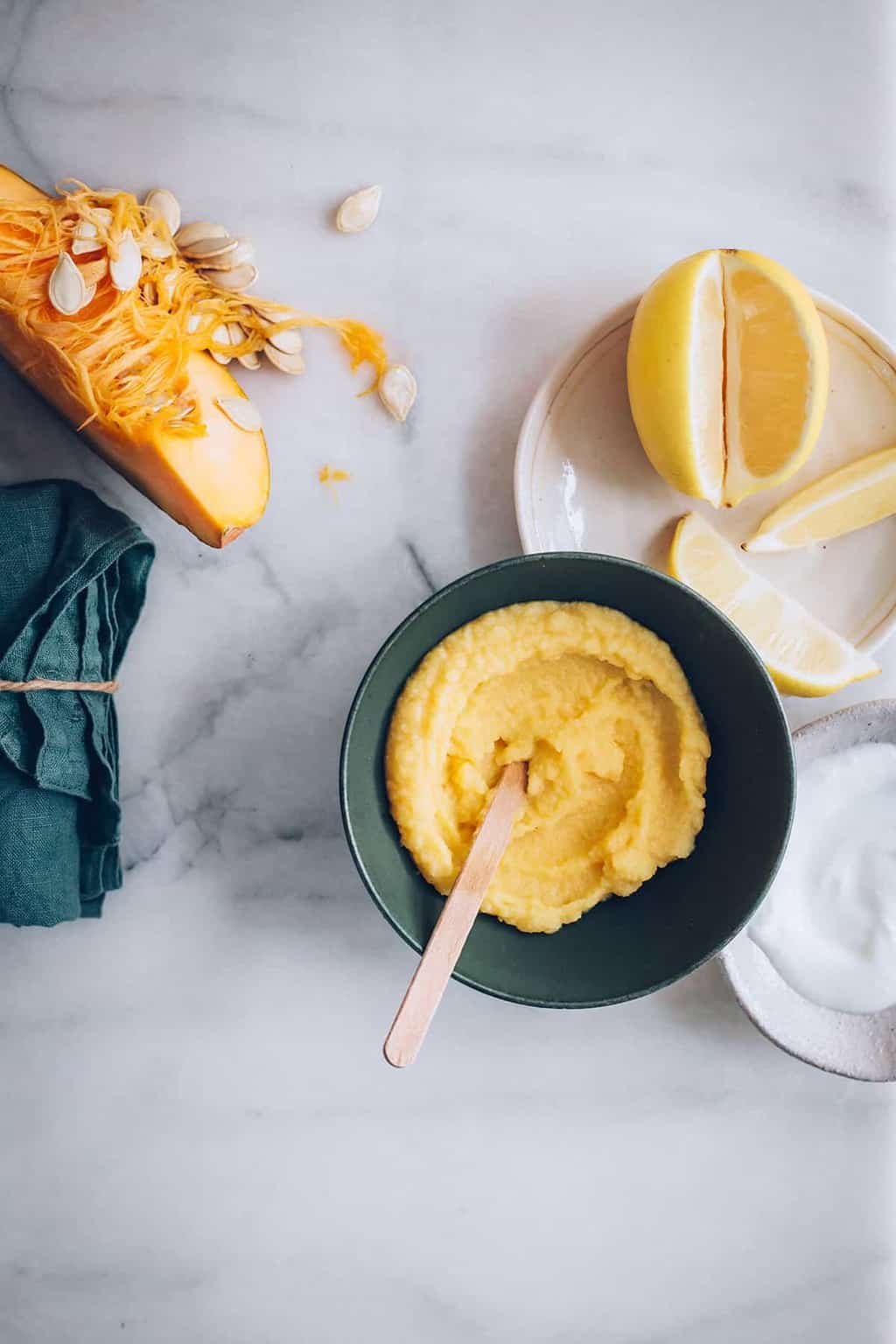 1
.
Even out skin tone with pumpkin and yogurt
Alpha-hydroxy acids in pumpkin increase cell turnover to even out skin tone. Plus, its vitamin C inhibits the production of melanin, preventing new age spots from forming [source]. The lactic acid in yogurt will exfoliate and promote cell turnover [source].
1 tablespoon canned pumpkin puree

1 tablespoon plain yogurt
Combine ingredients in a bowl and stir together. Apply to areas with dark spots and let sit for 15 minutes. Rinse with warm water and pat dry. Repeat 2–3 times a week.
Not into DIYing? Try a pumpkin purifying enzyme peel or this resurfacing mask.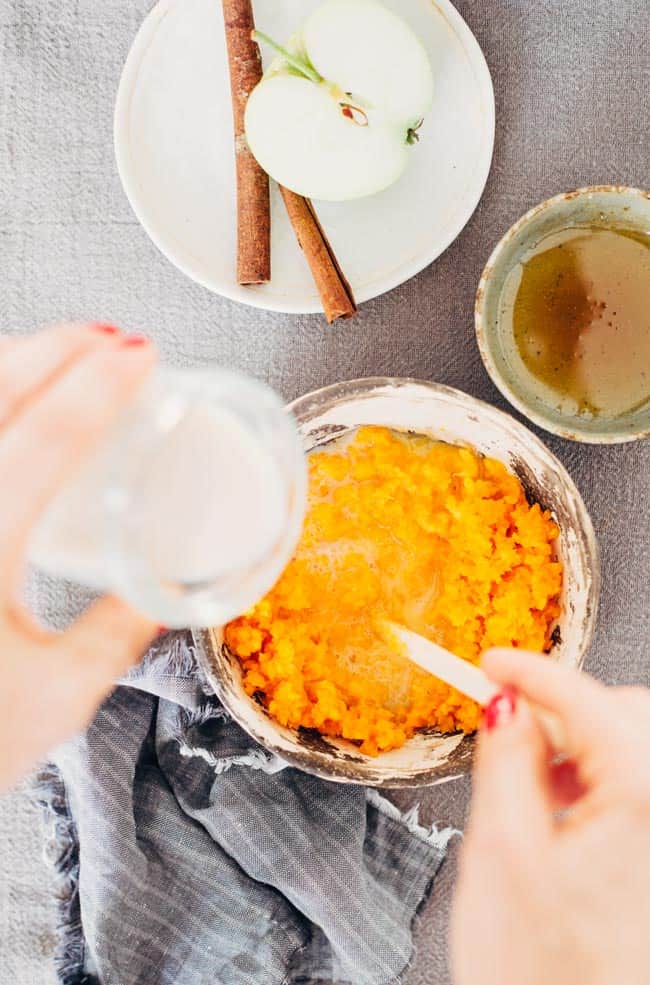 2
.
Shed dry skin with an apple pumpkin mask
I had no idea that pumpkin was so great for your skin. It has lots of antioxidants and alpha-hydroxy acids that gently exfoliate and improve skin texture at the same time [source]. And apples, the other great fall ingredient, have natural fruit acids [source] that help to get rid of old skin cells.
1/2 green apple

1/4 cup pumpkin puree

1 tablespoon honey

1 to 2 tablespoons milk

Dash of cinnamon
Peel and chop the apple. Put it in the blender with the pumpkin and blend until you have a smooth consistency. Add in the honey and milk.
Slather on your face and neck, avoiding the eye area, and use the remaining puree to enjoy a pumpkin spice latte while your mask sits for 15 minutes. Store the extra mask mixture in a sealed container in the fridge for up to 2 weeks—or have a tasty snack!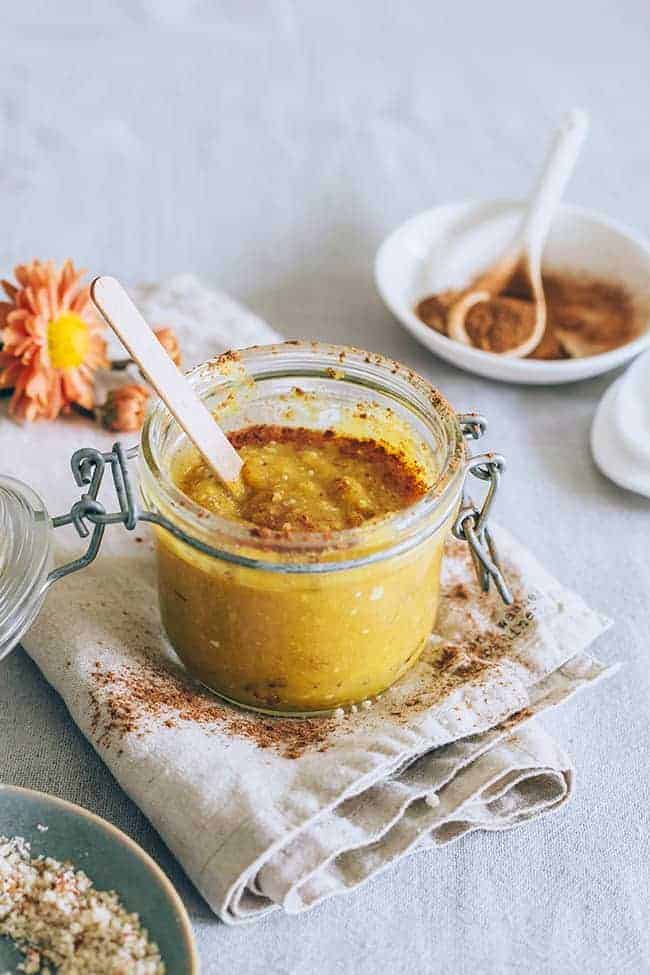 3
.
Exfoliate with an almond pumpkin spiced mask
As our foundational ingredient, pumpkin is packed with phytonutrients—basically, vitamins and minerals [source] that help moisturize dry skin, repair sun damage, and maintain a healthy level of oil production. Plus, pumpkin contains natural enzymes that break down dead skin cells, encouraging new cell growth and leaving you with a softer, brighter complexion.
Almond meal is a mechanical exfoliator that removes dead skin while its natural oils provide moisturizing and anti-aging elements to the mix [source]. A little note of caution, if you are making your own almond meal for this recipe, be sure to grind it to a very fine consistency as large pieces may scratch the skin.
And finally, the heavenly smelling spices. Combining cinnamon to cleanse and disinfect [source], nutmeg to reduce inflammation [source], and ginger as an antimicrobial [source] to treat blemishes and reduce scarring, this beautiful blend is a powerful ally in the fight to keep your skin smooth and clear.
1/4 cup pumpkin puree

1 tablespoon finely ground almond meal

1/2 teaspoon ground cinnamon

1/4 teaspoon ground nutmeg

1/4 teaspoon ground ginger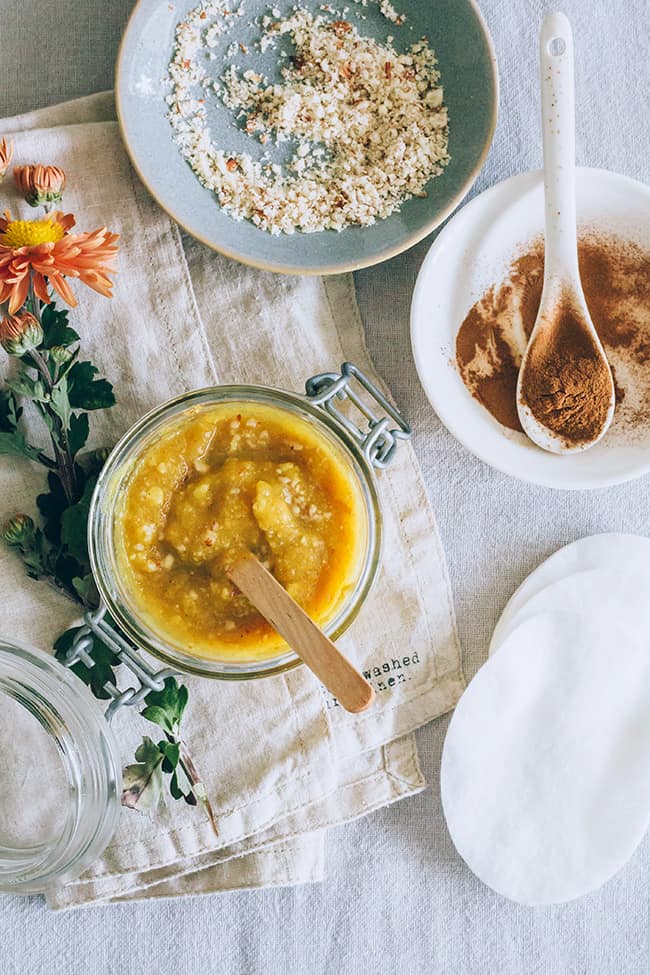 Mix all the ingredients together until they are completely combined. Remove any makeup, and wash your face thoroughly. Apply the mask to your entire face (and neck if you like) with your fingers, spreading it on with gentle, circular motions.
Sit back and relax as you let the ingredients work their magic for 15–20 minutes. Then, wash the mask off with warm water and a soft washcloth.
4
.
Smooth fine lines with pumpkin and sugar
Pumpkin's vitamin C and beta-carotene work together to boost the production of collagen, which helps diminish wrinkles [source]. Add sugar to create gentle exfoliation, leaving soft, smooth skin.
2 tablespoons pumpkin puree

1 teaspoon white sugar

1 teaspoon lemon juice
Mix ingredients together in a small bowl. Apply an even layer to clean skin. Let sit for 10 minutes, and then use your fingers to massage the mask into the skin using small, circular motions. Then rinse with warm water. Use once a week.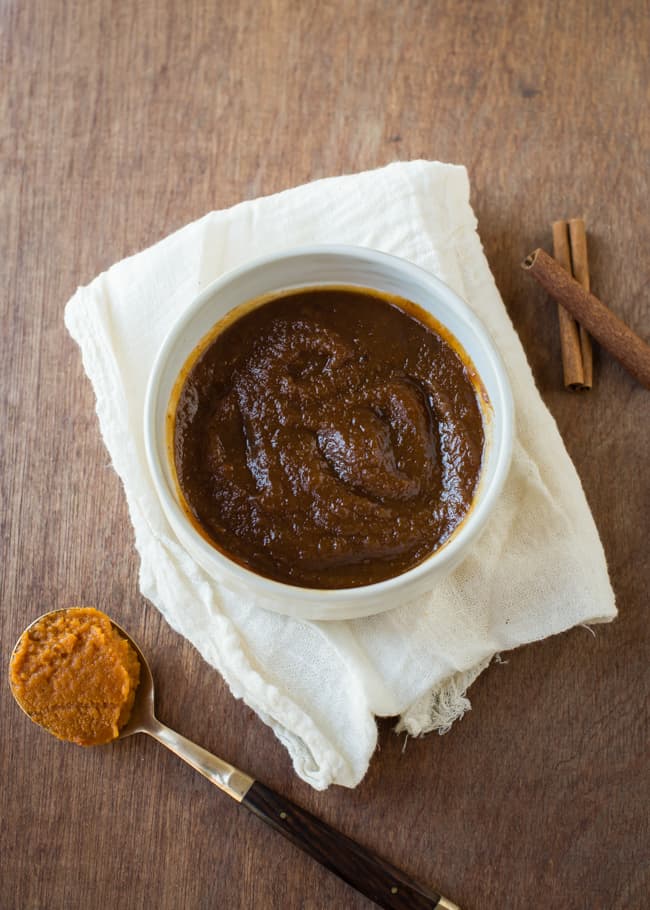 5
.
Buff away dry skin with a pumpkin body polish
Enzymes in pumpkin help soften rough, dry patches, while vitamin E helps lock in moisture.
1/4 cup pumpkin puree

1/2 cup brown sugar

1/4 cup olive oil
Stir ingredients together and massage onto damp skin for 1 minute, then rinse with water. Repeat twice a week. Store leftovers in an airtight container in the refrigerator for 2–3 weeks.
6
.
Shrink pores with pumpkin and honey
A topical application of pumpkin helps exfoliate the skin to unclog pores. Add in anti-inflammatory honey to reduce redness [source].
1 teaspoon pumpkin puree

1 teaspoon honey
Mix the ingredients together and dab onto blemishes. Or apply all over areas with enlarged pores, such as the nose, forehead, and cheeks. Let sit for 15 minutes, then rinse with water. Repeat every other day.
7
.
Stimulate growth with a pumpkin hair mask
Vitamins in pumpkin increase circulation to deliver oxygen and nutrients to follicles, which helps stimulate hair growth. Add coconut oil to moisturize and plump follicles for fuller-looking hair.
1 tablespoon pumpkin puree

2 teaspoons coconut oil
Stir the ingredients together in a small bowl. Massage the mixture onto the scalp with your fingers. Let sit for 20 minutes, and then rinse. Repeat twice a week.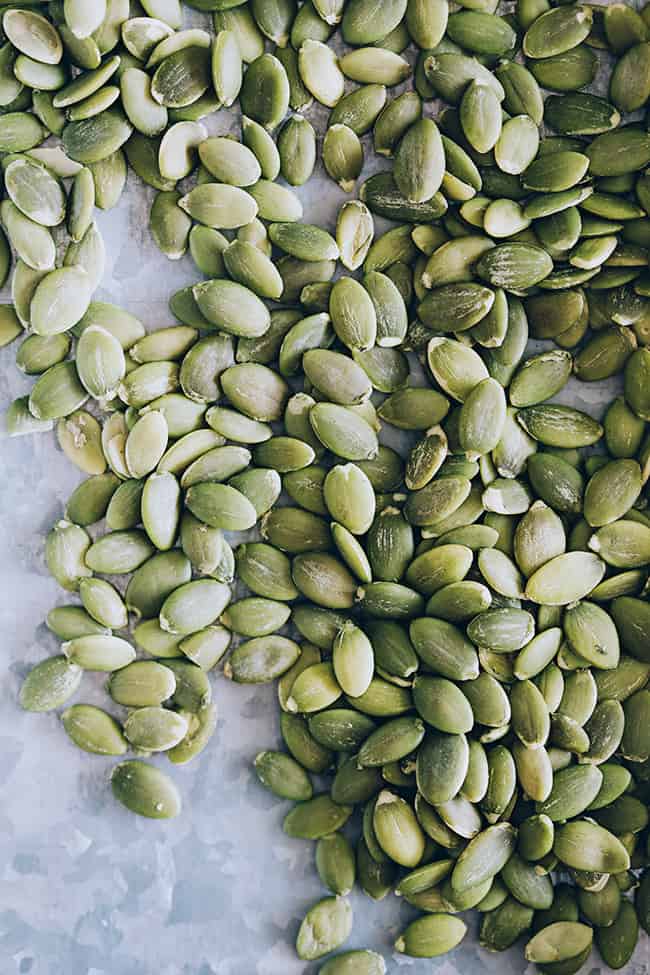 8
.
Nix breakouts with pumpkin seeds
The zinc in pumpkin seeds helps control oil production and soothe the inflammation that causes redness [source]. A bit of toothpaste holds the seeds onto the skin and also acts as an astringent.
1 tablespoon pumpkin seeds

Toothpaste
Grind the seeds into a fine powder. Mix a teaspoon of the powder with a dab of toothpaste, and dot onto blemishes. Rinse after 15 minutes.
5 More Ways to Use Pumpkin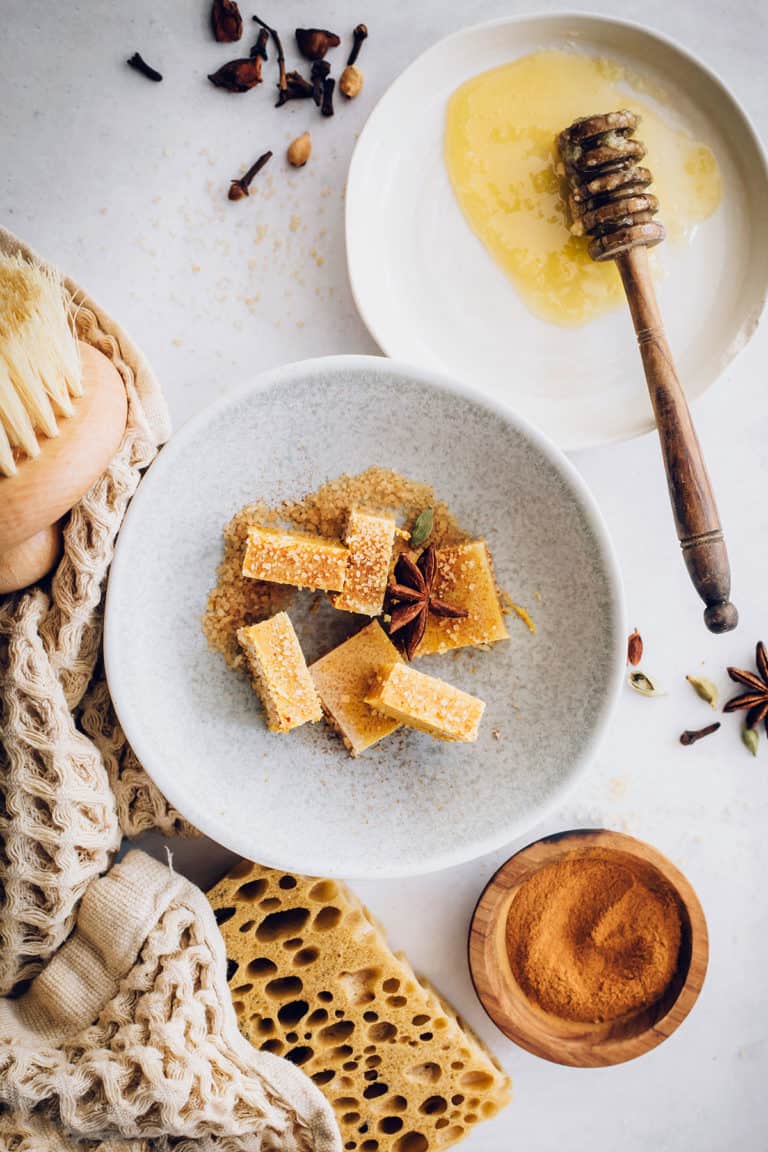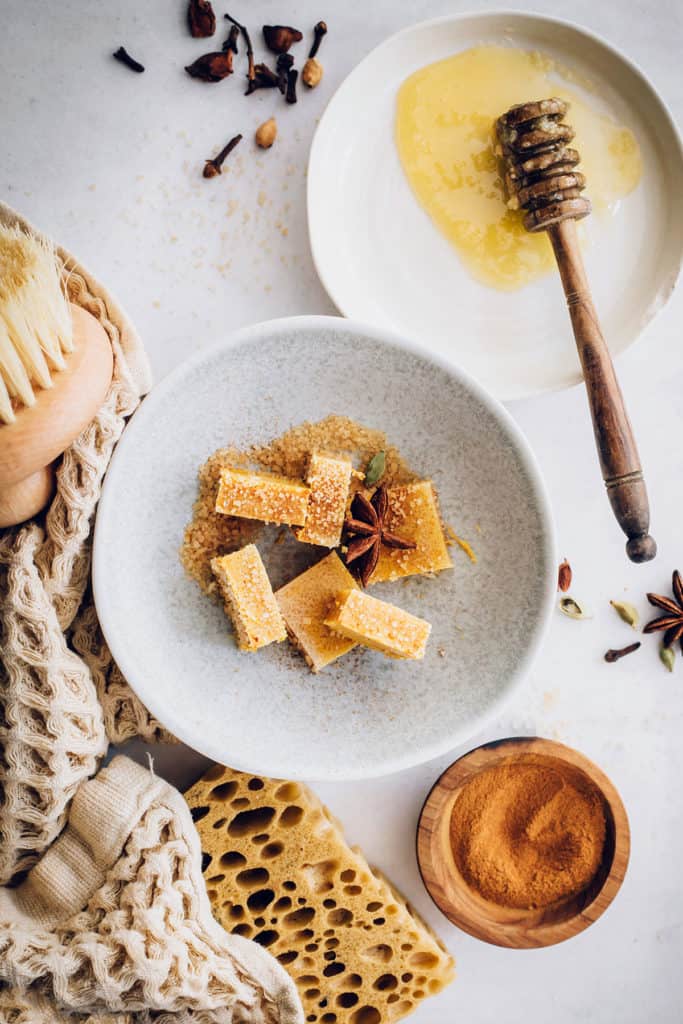 1. Make these Pumpkin-Honey Sugar Scrub Cubes (or try the maple-brown sugar or vanilla-coffee recipes) ahead of time and grab a couple any time you get the urge to exfoliate. They're easy to make ahead and portioned out to just the right size.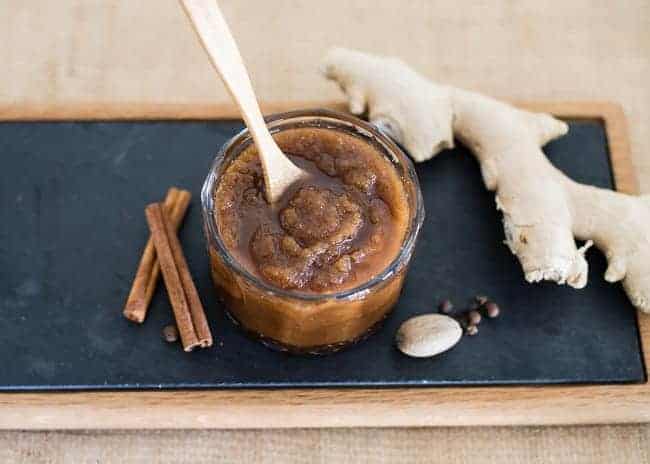 2. Yes, you still need to exfoliate your face in the fall! Learn the ins and outs of exfoliants, the right way to exfoliate, and how to make your own pumpkin spice facial scrub.
3. Pumpkin is packed with alpha-hydroxy acids that help with cell turnover and rapid exfoliation. This pumpkin cinnamon body scrub is the perfect way to brighten skin and get rid of those rough areas on the body.
4. This Pumpkin Pie Lip Scrub with honey and brown sugar is super effective and tastes so good you won't be able to resist licking your lips. Good thing it's edible!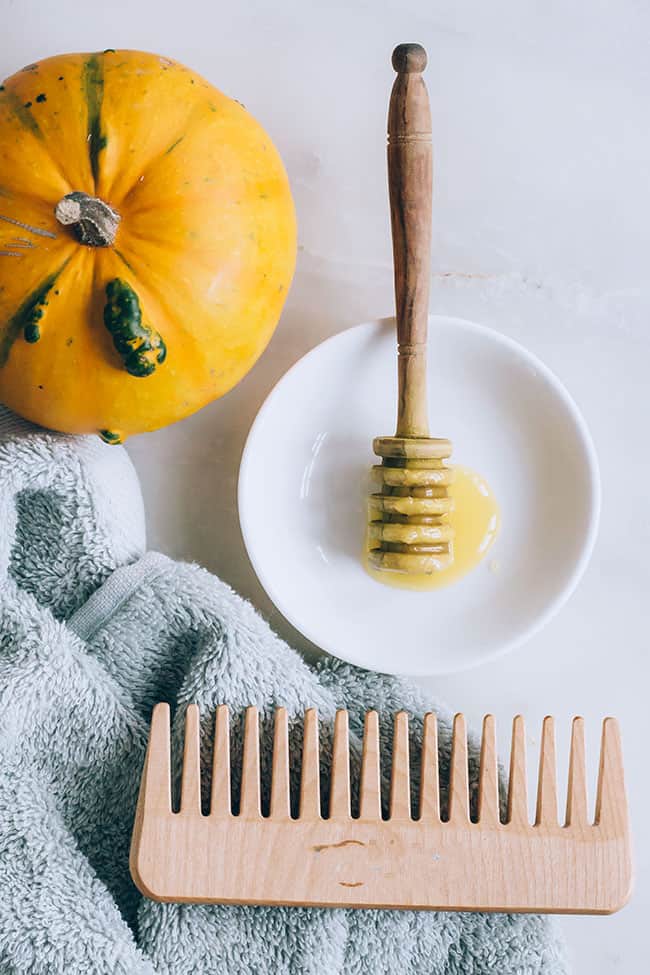 5. Got dry hair after a summer spent in the sun? Here's an all-natural hair mask with pumpkin and honey (a natural humectant) to the rescue! It's the perfect use for canned pumpkin leftovers (because there are always leftovers). Pumpkins have many amazing benefits—they're rich in vitamins A and C, beta-carotene, potassium, and zinc.
Add 1–2 tablespoons of honey to 1 cup of pumpkin puree, and pack as much as you can onto your hair and scalp. You'll need to either wrap your hair in saran wrap or wear a shower cap to keep the mask in place. Let it sit for at least 15 minutes, and then rinse. Feel free to apply to your face as well!
This article was medically reviewed by Dr. Gina Jansheski, a licensed, board-certified physician who has been practicing for more than 20 years. Learn more about Hello Glow's medical reviewers here. As always, this is not personal medical advice and we recommend that you talk with your doctor.
63