I've written before about the benefits of drinking warm or hot water throughout the day, especially during the winter months. Warm water has been shown to get the bowels moving, promoting digestive activity [source]. Warm temperatures anywhere in the body are also known to dilate the blood vessels, so potentially sipping it will help to get more blood flowing through the digestive tract.
Herbal teas are a wonderful way to make staying hydrated healing and delicious. There are endless herbal and medical tea varieties on the market these days, so feel free to experiment with any that sound appealing to you. But consult with a doctor before incorporating them into your routine if you have a serious illness or take prescription medication.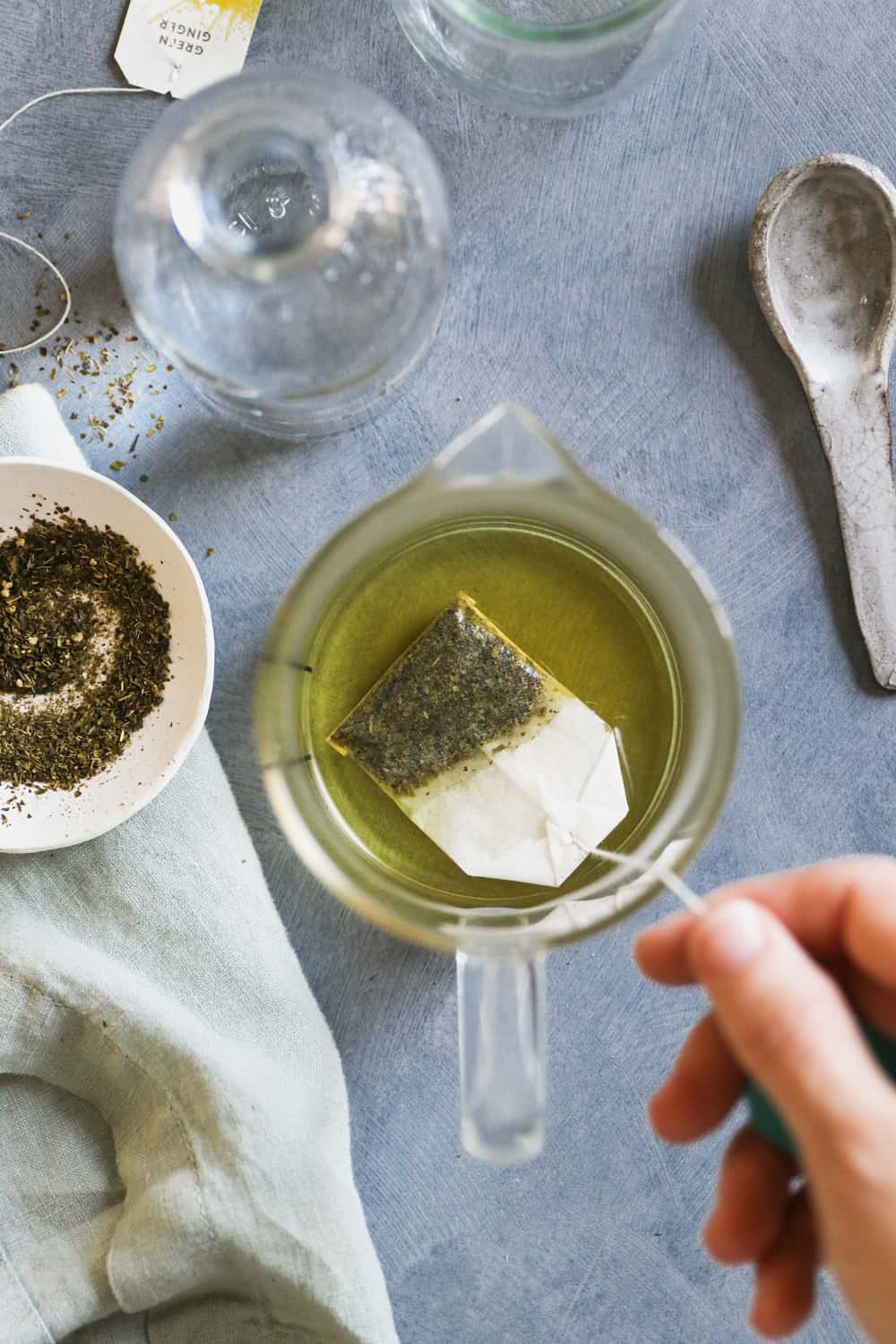 Tea with Fat Burning Potential
Matcha Green Tea – Matcha is the concentrated powder form of green tea. It contains more caffeine than other green teas but less than coffee. The caffeine, in combination with the calming amino acid, L-theanine, will help with mental alertness and concentration [source] without the jitters and anxiety that sometimes come with a cup of joe.
Studies have even shown that matcha tea can reduce stress and anxiety [source]. It's very high in antioxidant compounds called catechins which have been shown to boost metabolism [source] and promote weight loss [source]. For the cleanest matcha, look for organic matcha powder sourced from Japan. Try The Republic of Tea's Double Green Matcha Tea or Lean Green Tea.
Tea for Stress
Organic India Tulsi Red Chai Masala – Tulsi, aka Holy Basil, is an adaptogenic herb that enhances the body's natural response to physical and emotional stress [source]. Drinking tulsi tea can be an effective way to prevent and combat the damaging effects of daily stressors. I love the brand Organic India for its range of tulsi teas. My personal favorite is caffeine-free Red Chai Masala.
Teas for Gas and Bloating
CCF Tea - CCF tea is made with cumin seeds, coriander seeds, and fennel seeds, which is an Ayurvedic formula for beating bloat. These three spices work together to boost digestion, reduce bloating, and dispel gas from the intestinal tract.
To make, add ½ teaspoon of each of the three seeds into 4 to 5 cups of boiling water. Steep for 5 to 10 minutes, then strain the seeds and sip the tea throughout the day. Otherwise, if you have a Swell bottle or other thermos, you can simply add the seeds to the bottom, pour boiling water over the top, sipping as it steeps throughout the day.
Pukka After Dinner Tea – This is a great tea to have—you guessed it!—after dinner, if you tend to feel more bloated in the evening. Not only will it take care of your sweet tooth with its subtly sweet flavor, but the blend of herbs and spices will also soothe your intestinal tract after a meal.
Teas for Constipation
Warm water with lemon – So simple, but very effective! I personally have a mug of hot water with the juice of half a lemon every morning. The warm water acts as a natural lubricant, softening the stool and encouraging movement of the bowels.
The addition of fresh lemon stimulates peristalsis and kick-starts liver detoxification. Feel free to use lime if you prefer.
Smooth Move Tea – This combination of herbs, including licorice, ginger, fennel, and orange peel combined with senna leaf, is the bomb for getting things—ehem—moving! Senna is a stimulant laxative that promotes movement of the gut to relieve constipation [source]. The best thing about using these natural herbal mixtures is their action is gentle, and side effects are rare.
Tea for Heartburn
Ginger Tea with a Splash of Raw Apple Cider Vinegar - Sipping a cup of ginger tea (either tea bags or brewed with the fresh root) along with a splash of ACV about 20 minutes before a meal can help stimulate digestion and act as an acid buffer to prevent heartburn. You can also have some after a meal if you're uncomfortable or in pain.
Teas for Liver Detox
Traditional Medicinals Roasted Dandelion Root Tea – Dandelion root is great for supporting digestion and liver detoxification. It is also a natural diuretic [source]. I prefer to drink my roasted dandy tea with a splash of coconut milk, a dash of cinnamon, and a few drops of stevia. Tastes a bit like a latte!
The Republic of Tea Get Clean Tea – With a base of rooibos, this detox tea actually tastes good—unlike many of the bark-like cleanse teas out there! It incorporates milk thistle, an herb high in antioxidants and anti-inflammatory properties [source] that is thought to be great for liver detox. Get Clean also includes dandelion for detoxing the liver [source] and burdock root for cleansing the blood and lymphatic system [source].
Tea for Pain and Inflammation
Gaia Herbs Golden Milk – A creamy and delicious way to enjoy the pain-reducing and inflammation-fighting properties of turmeric is to make golden milk. You can, of course, make it yourself at home using turmeric powder, or simply add 1 teaspoon of Gaia's Golden Milk blend to your mug of warm nondairy milk, and away you go.
Teas for Sugar Cravings
Blue Lotus Rooibos Masala Chai – Rooibos is a naturally caffeine-free red tea that is bursting with antioxidants and minerals. Rooibos, along with warming spices like ginger, cardamom, cinnamon, nutmeg, and cloves, helps balance blood sugar [source] and is said to prevent cravings for sweets. I love having a cup of the Blue Lotus chai after dinner with a splash of coconut milk and a few drops of stevia.
Many teas taste like dessert, without the calories. Try the Pink Velvet Cake or Vanilla Matcha from DAVIDsTea, The Republic of Tea's Ginger Chocolate Truffle, Tazo's Sweet Cinnamon Spice, or Numi Organic's Chocolate Pu-erh.
Teas for Insomnia
Yogi Bedtime Tea – This yummy tea combines the calming benefits of lavender [source] and chamomile [source] with the natural sedative powers of valerian and passionflower [source] to make an effective sleep aid. Valerian is often used to treat sleeping difficulties due to its sedative effect, but it's also helpful for reducing anxiety as it helps sustain levels of the calming neurotransmitter GABA in the brain [source]. Passionflower calms and supports the nervous system, making it beneficial for restlessness and nervous tension [source]. Both of these herbs are great for insomnia because they help you fall asleep easily without making you feel groggy the next morning.
DAVIDsTEA Calming Chamomile – If all you need is a gentle nudge to sleep, try a simple chamomile tea like this one. Blend it with warm milk to make a relaxing bedtime latte.
Turmeric tea for the winter blues – The curcumin in turmeric helps the body produce natural mood boosters [source], e.g., cures for the winter blues.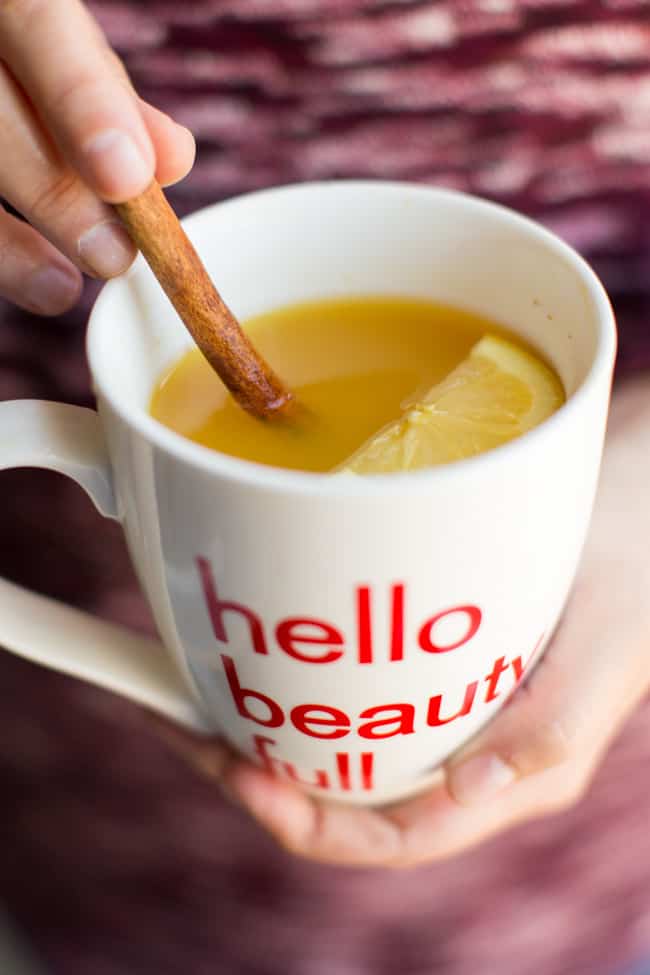 Teas for Sore Throat
Fresh Ginger Root Tea with Honey and Lemon – Ginger is a powerful anti-inflammatory that reduces pain and helps kill bad bacteria [source]. To prepare fresh ginger tea, take two inches of ginger root, grate it, and add the pieces to two cups of boiling water. Steep for approximately 10-15 minutes and drink throughout the day. Feel free to add some local raw honey for its antimicrobial properties, plus a squeeze of fresh lemon for a vitamin C boost.
Soothing Honey Spice Throat Tea – Customize a healing tea with feel-better ingredients like honey, lemon, ginger, turmeric, and cinnamon to tame that annoying achy throat and mild cough.
Organic Throat Rescue Tea – People rave about the licorice taste of this soothing sore throat tea. It combines the gentle action of mint and fennel, the anti-inflammatory effects of nettle, and the antimicrobial power of ginger, cinnamon, and cloves.
Teas for Immunity and Cold + Flu Fighting
Pukka Elderberry & Echinacea – Echinacea is a traditional herbal remedy that is used as a powerful immune stimulator [source] to help prevent and treat the common cold and other upper respiratory infections, including COVID-19 [source]. Elderberry is a super antioxidant and immune system booster that has been shown to reduce the symptoms and duration of colds [source] and flu [source]. Drink this tea at the first sign of the sniffles!
Antihistamine Herbal Tea - Make herbal tea with nettle, yerba mate, and lemon balm to relieve itchy eyes, sore throat, and the other effects of allergies.
Green Tea with Lemongrass – The catechins in green tea work directly on the immune system. A very recent study on its use in upper respiratory tract infections showed it helped to alleviate the key symptoms of runny nose, nasal congestion, and headache, as well as shorten the infection [source]. Lemongrass is a powerful anti-inflammatory [source], making it a perfect complement to the effects of green tea.
Ginger Turmeric Tea for open sinuses - This is my favorite morning "tea" that I drink almost daily. It works in a similar way as the apple cider vinegar tonic but employs the help of turmeric and ginger, which are anti-inflammatory and adds a boost of vitamin C from the lemon. The black pepper enhances the bioavailability of turmeric's curcumin, helping to increase the effectiveness of turmeric [source].
Tea for PMS
Pink Stork PMS Tea – This is a delicious tea to be drinking daily during the premenstrual period. It combines cinnamon, chamomile, licorice, fennel, ginger, and more to provide pain control and ease irritability.
Cinnamon has been shown to reduce menstrual pain almost as well as ibuprofen [source]. Chamomile's antispasmodic and anti-inflammatory properties [source] work well with the similar actions of licorice and turmeric to provide relief from menstrual cramps. Fennel and ginger alleviate gas and bloating.
Tea for Pregnancy
Traditional Medicinals Pregnancy Tea – Pregnancy tea combines raspberry leaf, nettle leaf, and alfalfa for tea with a very high vitamin and mineral content. Both raspberry leaf and nettle leaf act as a uterine tonic. Nettle contains lots of chlorophyll and is nourishing to the adrenals and kidneys, while alfalfa boasts various enzymes to support digestion.
Tea for Breastfeeding
Traditional Medicinals Mother's Milk Tea – The herbs in this tea—fennel, anise, coriander, fenugreek, and blessed thistle—are galactagogues [source], which comes from the Greek word "galactos," meaning "milk" and "agogue," which means "bringer of." Women have been successfully using these herbs for centuries to help stimulate breast milk production.

21