Have you noticed the rise in popularity of tea drinking where you live? Tea shops are popping up almost as often as coffee houses! Beyond just the charm of drinking tea, there is science supporting its health benefits. Many studies have shown that it has a protective effect against cancer, diabetes, and cardiovascular disease [source].
Tea is wonderful for you! Black, green, oolong, herbal, white—there are so many choices. Let's discuss the benefits of some different types of tea and when to drink them.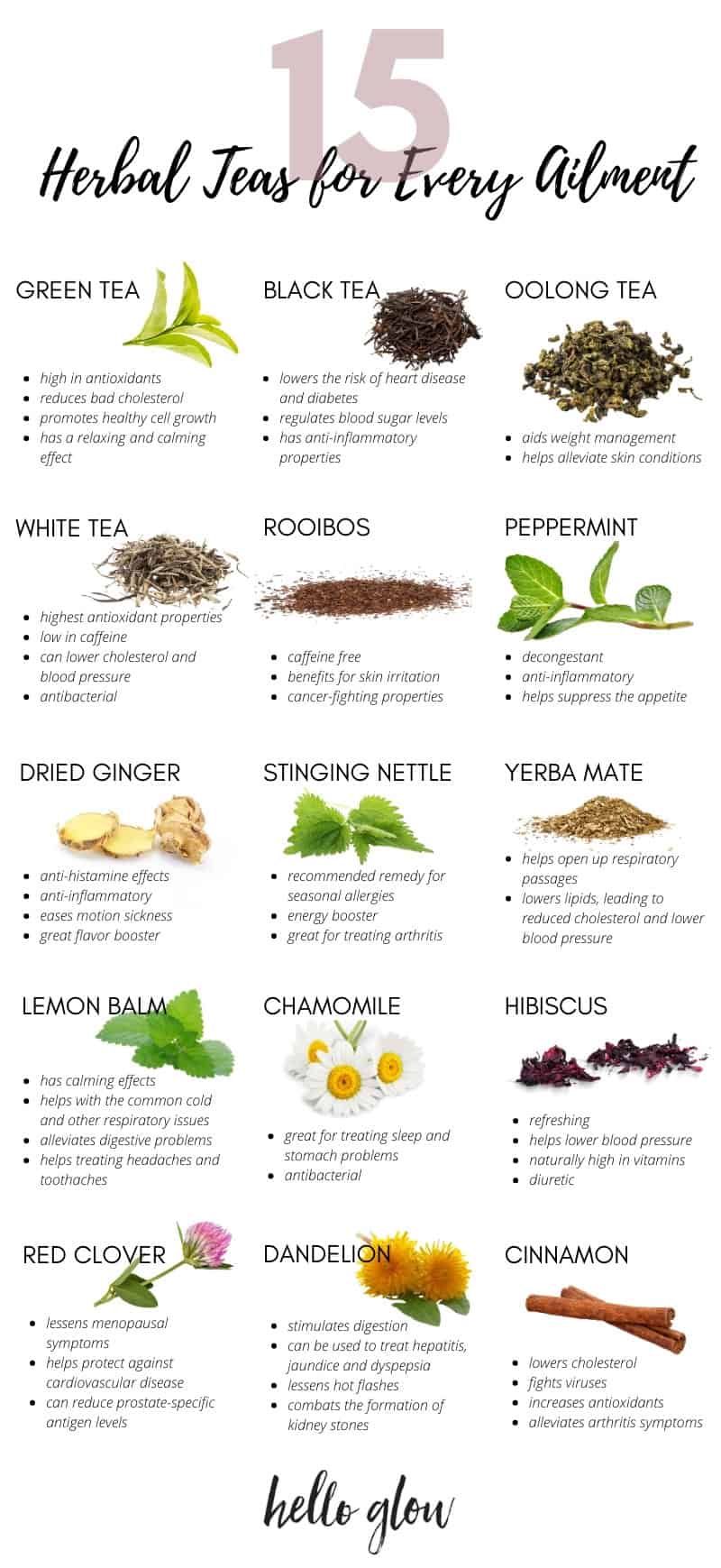 Drinking tea is an excellent way to support the body through detoxification. You can make your tea hot or cold and squeeze in the juice of an astringent fruit, such as grapefruit, lemon, or lime, to refresh and revitalize your cells.
You can also make a combination of any two or three teas. To make a medicinal tea, let it steep for at least 10 minutes, and then consume or make it into iced tea.
The Health Benefits of Tea for Any Ailment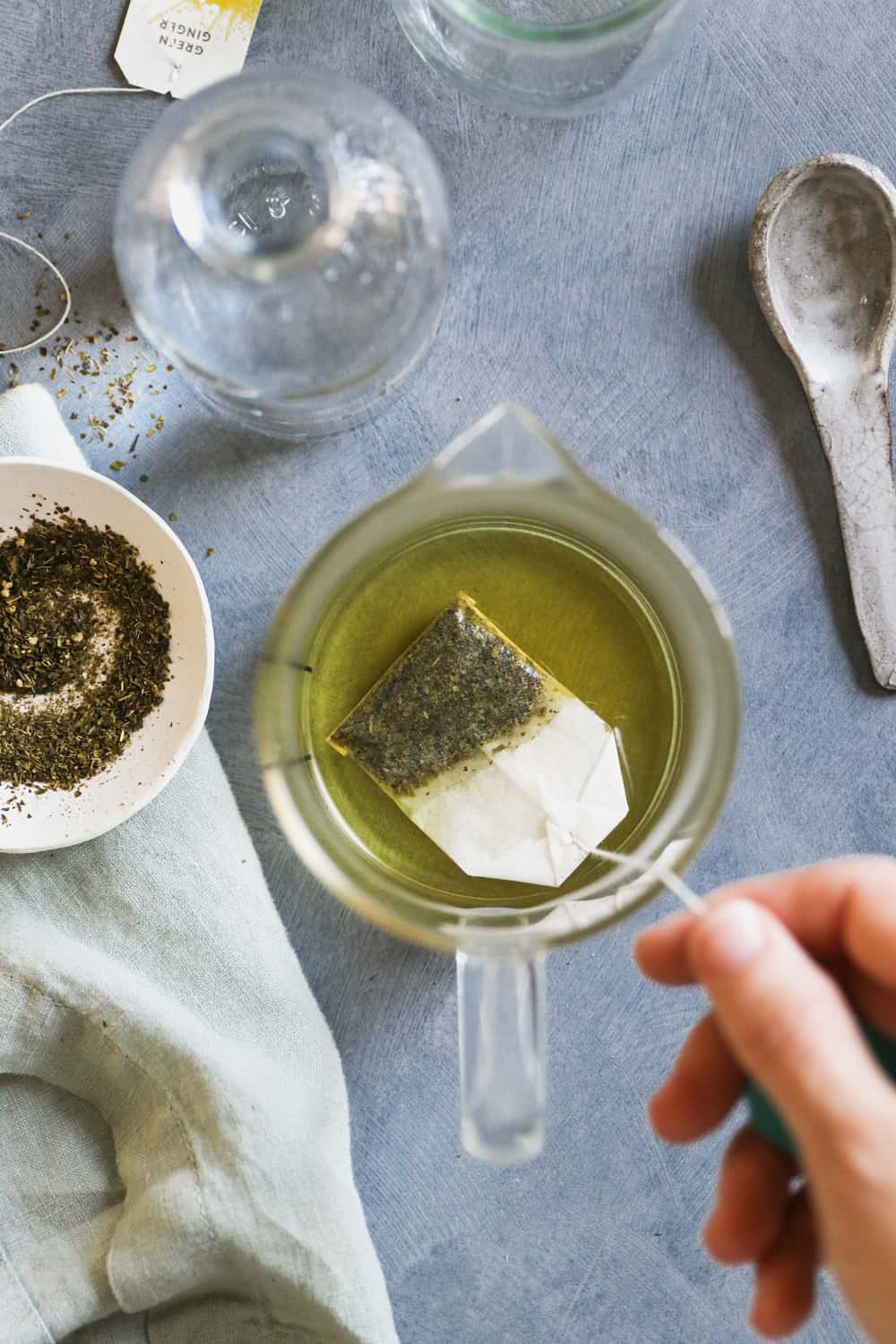 1
.
Green tea
Green tea is one of the lesser processed teas, so it's high in antioxidants, specifically catechins. In fact, it is the highest dietary source of catechins, even more than chocolate, red grapes, and apples [source].
Catechins are truly health-promoting oxidants that help fight cell damage and prevent cancer and aging [source]. They have also been shown to alleviate the severity of winter respiratory infections [source]. Their levels are much higher in green tea. So to preserve them in the brewing process, it's recommended that green tea be steeped with water no hotter than 185°F [source].
One of the greatest benefits of green tea is its effects on healthy cell growth, which confer widespread advantages for our bodies, inside and out. Studies have demonstrated its role in cancer prevention by inhibiting tumor growth [source]. Use it topically in an infused coconut oil moisturizer to fight sun damage.
Green tea helps to reduce bad cholesterol [source], and although it contains caffeine, which boosts metabolism and aids in weight loss, green tea can have a relaxing and calming effect.
Try it by drinking this Green Tea Energy Drink. Or these 25 tasty drink options!

2
.
Black tea
Black tea actually comes from the same plant as green tea, but the tea leaves are fermented and exposed to oxygen, and this oxidation turns the leaves black. Black tea is known for its larger quantity of caffeine and a healthy amount of antioxidants.
The benefits of black tea include lowering the risk of heart disease and diabetes, encouraging a healthy immune system, and regulating blood sugar levels. Studies have shown that polyphenols in black tea can actually help you lose weight [source].
If you need digestive help, black tea in small doses is known for its anti-inflammatory properties as well. Try it in Black Tea Lemonade or Cardamom Black Tea.
3
.
Oolong tea
Falling between green and black teas, you'll find oolong, with its partially oxidized leaves. Oolong provides the benefits of both black and green teas—and with it, a fruity flavor. It is often the tea of choice for weight management [source] and is also known to help alleviate skin conditions.
A word of caution—oolong tea can be very high in caffeine, so drink it in moderation if you are sensitive to caffeine.
Cinnamon Oolong Tea
—12 oolong tea bags
—3 cinnamon sticks
—Hot water
Steep tea bags and cinnamon sticks in hot water (about 190°F) for 10 minutes. Strain and serve. For iced tea, pour over ice.
4
.
White tea
White tea reigns as the least processed type of tea, making its antioxidant properties the highest. It also has more polyphenols and the least amount of caffeine of the caffeinated teas. White tea is said to lower cholesterol and blood pressure and was shown to have anti-inflammatory effects [source]. Try it in a Mint Lime Tea Cooler.
Healing Herbal Teas
There are several types of herbal teas, but none of them are produced from tea leaves. Herbal teas, or herbal tisanes, are usually made from dried fruits, herbs, roots, bark, berries, or flowers. Infusions are made by blending any number of these together.
Herbal teas are caffeine free and generally safe for children and pregnant women. These teas can be high in minerals (rooibos), act as cold and flu fighters (ginger), alleviate insomnia (hibiscus), help clear a stuffy nose (peppermint), lessen menopausal symptoms (red clover), stimulate digestion (dandelion), aid colicky babies (chamomile), and fight viruses (cinnamon).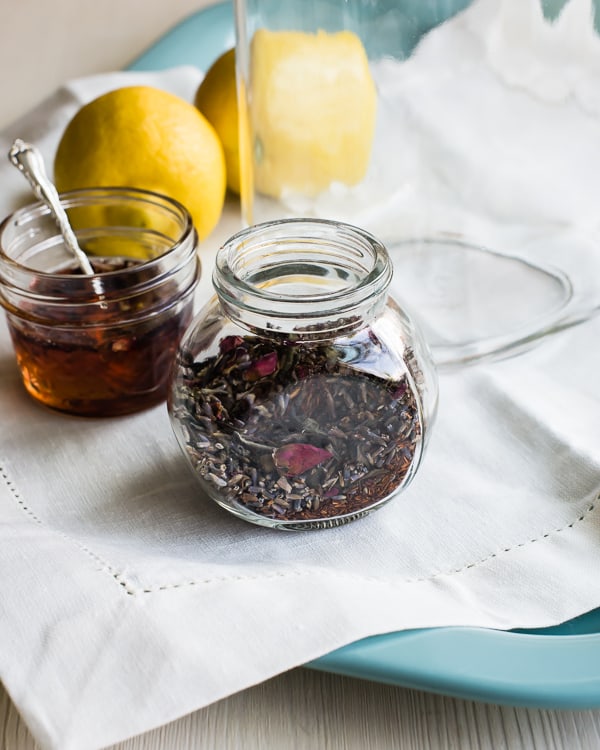 5
.
Rooibos
Rooibos, also called Red Bush Tea, comes from South Africa. It is naturally caffeine-free and contains two bioflavonoids called rutin and quercetin. Both of these compounds block the release of histamine (the chemical our bodies produce in response to allergens).
It is a strong antioxidant and has heart-protective effects in those at risk for cardiovascular disease [source]. Rooibos may also have benefits for skin irritation and contain cancer-fighting properties.
Try it in this Rooibos Sun Tea.
6
.
Peppermint
The natural oil and menthol found in peppermint tea can have a therapeutic effect, acting as a decongestant and an anti-inflammatory while also helping to suppress the appetite. It has been shown to fight bacteria and serves as a natural antioxidant [source].
The verdict is still out on whether it soothes or exacerbates an upset stomach, so contact your doctor before taking peppermint if you have a condition like heartburn (reflux).
Try it in this motivating tea blend combined with green tea and rosemary.
7
.
Ginger
Ginger has so many amazing healing properties [source]! When it comes to allergies and colds, its natural antihistamine is a boon.
Ginger's anti-inflammatory abilities can soothe the stomach, relieve sore muscles, and lessen the strength of menstrual cramps.
Going on a boat? Drink ginger tea to ease motion sickness. And, of course, we are all familiar with ginger's natural kick, which makes it a great flavor booster, even in small amounts.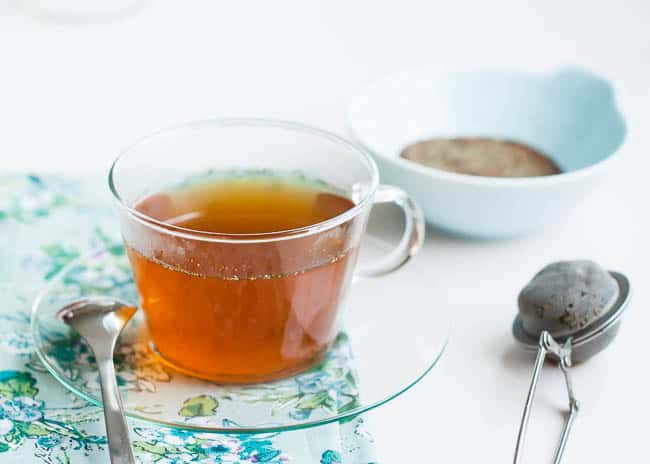 8
.
Stinging nettle
You might have less than fond memories of stinging nettles from your childhood. These are the same nettles, but they turn from harmful to healthy when boiled into nettle leaf tea.
Nettles are the most often recommended remedy for seasonal allergies and can help relieve itchy, watery eyes, sneezing, and runny nose [source]. This is also an herb to try for anyone suffering from arthritis symptoms or those who need a quick boost of energy. Try it in this Herbal Tea for Allergies.
9
.
Yerba mate
Yerba Mate is very popular in South America. It contains natural caffeine and works to produce corticosteroids, which act as an anti-inflammatory in response to allergens. This can help open up respiratory passages and increase oxygen intake.
Like many of the other teas, Yerba Mate tea is an antioxidant, but it can also speed up metabolism [source] and lower lipids, leading to reduced cholesterol and lower blood pressure [source]. It seems to correlate with increased bone mineral density in postmenopausal women [source].
10
.
Lemon balm
Lemon balm belongs to the mint family but has a lemony scent, hence its name. Widely known for its calming effects, lemon balm has been shown to lower stress and improve mood and intellectual performance [source].
It can also help with the common cold and other respiratory issues. Lemon balm tea is known to alleviate digestive problems, such as an upset stomach and gas, and it also works well for painful ailments like headache or toothache.
Try it in this mood-lifting tea blend combined with lavender and rose.
11
.
Chamomile
Long used throughout Europe, South America, and Asia to treat sleep and stomach troubles, chamomile tea is becoming quite popular in North America. It has been shown to reduce anxiety and work as a calming agent [source].
While its sleep-inducing properties are well known, chamomile can also soothe puffy eyes and be inhaled as a steam to help with cold symptoms [source]. A word of caution to allergy sufferers, though, the chamomile plant is a relative of ragweed.
Try it in this Calming Chamomile Lavender Latte.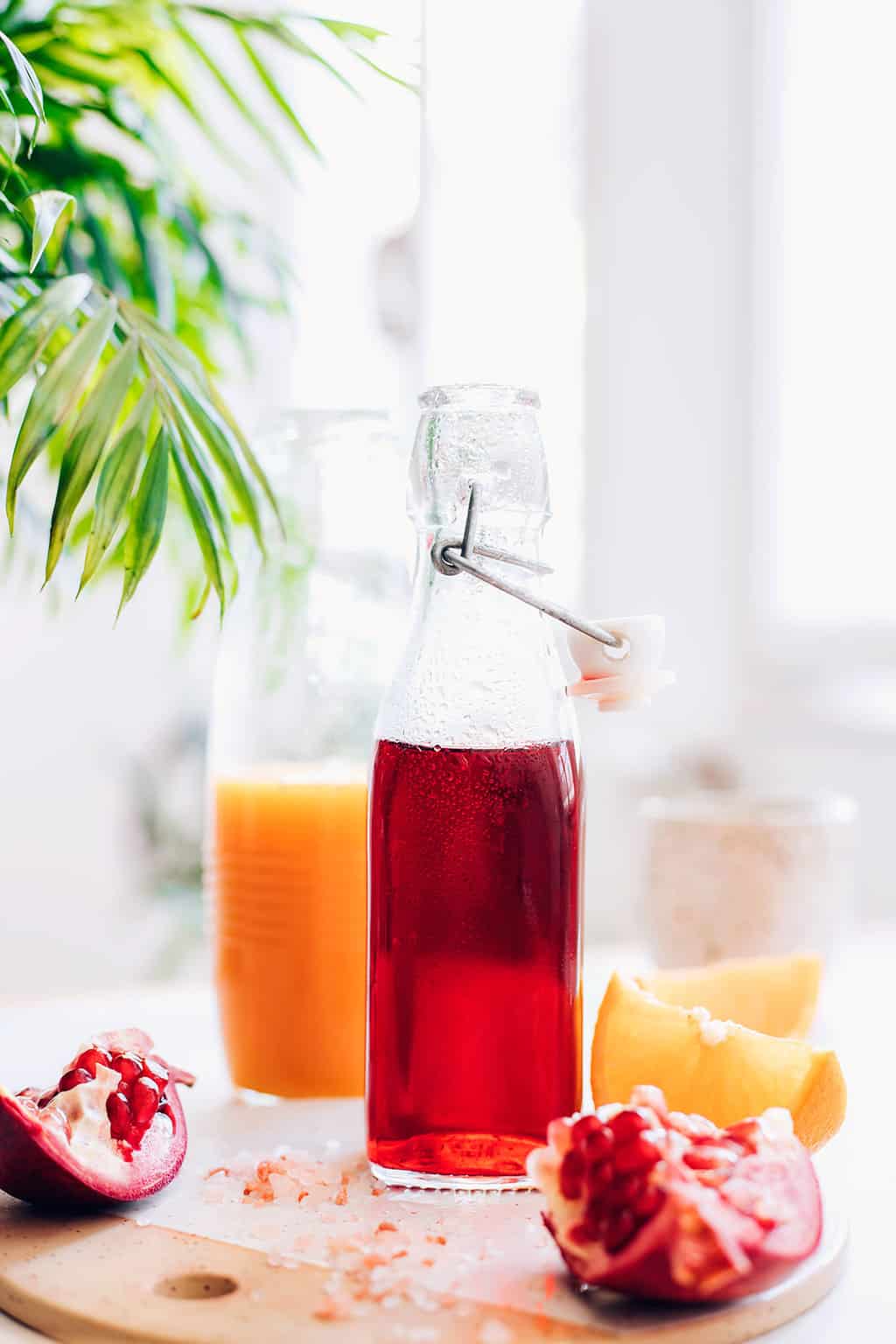 12
.
Hibiscus
Hands down, hibiscus tea is a favorite choice for cooling off during the summer. In addition to being refreshing, hibiscus also has properties that help lower blood pressure, especially for those with diabetes.
Other reasons to drink hibiscus? It's naturally high in vitamins, like vitamin C, and acts as a natural diuretic. It has also shown promising antiviral effects for fighting influenza [source].
Try it in this Ruby Red Skin Glow Tea or this natural electrolyte drink.
13
.
Red clover
Red Clover is most often associated with its ability to lessen menopausal symptoms [source], but it can help men, too. This herb contains phytoestrogens that have been shown to have the ability to reduce the prostate-specific antigen (PSA) level, the marker used to determine if you are at risk for prostate cancer [source]. Of benefit to both men and women are the isoflavones found in red clover, which help protect against cardiovascular disease.
14
.
Dandelion
Dandelion tea is popular because it acts as a diuretic [source] and an antioxidant [source]. Less commonly known is that dandelion root is used medicinally to treat hepatitis because it seems to have protective effects on the liver [source]. And it should be mentioned that dandelion tea helps to regulate blood sugar and blood clotting [source].
15
.
Cinnamon
Rounding out our list of teas is cinnamon, the super spice of the herb world. Consider it if you're interested in lowering cholesterol, fighting viruses, increasing your antioxidants, or alleviating the symptoms of arthritis [source] and menstrual pain [source].
Try it in the sore throat soothing tea.
Before you go...
Do you have a favorite type of tea? See if your favorite tea is one of the best teas for glowing skin! But, if you're not a big tea drinker, you can still enjoy its benefits by applying directly to the skin.
References:
1. Khan N, et al. Tea polyphenols in promotion of human health. Nutrients. 2019.
2. Prasanth MI, et al. A review of the role of green tea (Camellia sinensis) in antiphotoaging, stress resistance, neuroprotection, and autophagy. Nutrients. 2019.
3. Farhan M. Green tea catechins: nature's way of preventing and treating cancer. Int J Mol Sci. 2022.
4. Ozato N, et al. Effect of catechins on upper respiratory tract infections in winter: a randomized, placebo-controlled, double-blinded trial. Nutrients. 2022.
5. Saklar S, et al. Effects of different brewing conditions on catechin content and sensory acceptance in Turkish green tea infusions. J Food Sci Technol. 2015.
6. Lambert JD, et al. The antioxidant and pro-oxidant activities of green tea polyphenols: a role in cancer prevention. Arch Biochem Biophys. 2010.
7. Samavat H, et al. Effects of green tea catechin extract on serum lipids in postmenopausal women: a randomized, placebo-controlled clinical trial. Am J Clin Nutr. 2016.
8. Zhao CH, et al. Phenolic profiles and antioxidant activities of 30 tea infusions from green, black, oolong, white, yellow and dark teas. Antioxidants (Basel). 2019.
9. Sun L, et al. Comparative effect of black, green, oolong, and white tea intake on weight gain and bile acid metabolism. Nutrition. 2019.
10. Dini I. An overview of functional beverages. In: Functional and Medicinal Beverages. Elsevier; 2019:(Ch) 1.
11. Marnewick JL, et al. Effects of rooibos (Aspalathus linearis) on oxidative stress and biochemical parameters in adults at risk for cardiovascular disease. J Ethnopharmacol. 2011.
12. Sharafi SM, et al. Protective effects of bioactive phytochemicals from Mentha piperita with multiple health potentials. Pharmacogn Mag. 2010.
13. Mao QQ, et al. Bioactive compounds and bioactivities of ginger (Zingiber officinale Roscoe). Foods. 2019.
14. Bakhshaee M, et al. Efficacy of supportive therapy of allergic rhinitis by stinging nettle (Urtica dioica) root extract: a randomized, double-blind, placebo- controlled, clinical trial. Iran J Pharm Res. 2017.
15. Gawron-Gzella A, et al. Yerba Mate—a long but current history. Nutrients. 2021.
16. Gan RY, et al. Health benefits of bioactive compounds from the genus Ilex, a source of traditional caffeinated beverages. Nutrients. 2018.
17. Conforti AS, et al. Yerba Mate (Ilex paraguariensis) consumption is associated with higher bone mineral density in postmenopausal women. Bone. 2012.
18. Scholey A, et al. Anti-stress effects of lemon balm-containing foods. Nutrients. 2014.
19. Mao JJ, et al. Long-term chamomile (Matricaria chamomilla L.) treatment for generalized anxiety disorder: a randomized clinical trial. Phytomedicine. 2016.
20. Srivastava JK, et al. Chamomile: a herbal medicine of the past with bright future. Mol Med Report. 2010.
21. Baatartsogt T, et al. High antiviral effects of hibiscus tea extract on the H5 subtypes of low and highly pathogenic avian influenza viruses. J Vet Med Sci. 2016.
22. Shakeri F, et al. Effectiveness of red clover in alleviating menopausal symptoms: a 12-week randomized, controlled trial. Climacteric. 2015.
23. Engelhardt PF, et al. Effects of one-year treatment with isoflavone extract from red clover on prostate, liver function, sexual function, and quality of life in men with elevated PSA levels and negative prostate biopsy findings. Urology. 2008.
24. Clare BA, et al. The diuretic effect in human subjects of an extract of Taraxacum officinale folium over a single day. J Altern Complement Med. 2009.
25. Jeon D, et al. Anti-inflammatory evaluation of the methanolic extract of Taraxacum officinale in LPS-stimulated human umbilical vein endothelial cells. BMC Complement Altern Med. 2017.
26. Pfingstgraf IO, et al. Protective effects of Taraxacum officinale L. (dandelion) root extract in experimental acute on chronic liver failure. Antioxidants (Basel). 2021.
27. Schütz K, et al. Taraxacum—a review on hits phytochemical and pharmacological profile. J Ethnopharmacol. 2006.
28. Ranasinghe P, et al. Medicinal properties of 'true' cinnamon (Cinnamomum zeylanicum): a systematic review. BMC Complement Altern Med. 2013.
29. Jaafarpour M, et al. Comparative effect of cinnamon and ibuprofen for treatment of primary dysmenorrhea: a randomized double-blind clinical trial. J Clin Diagn Res. 2015.
This article was medically reviewed by Dr. Gina Jansheski, a licensed, board-certified pediatrician who has more than 20 years of practice experience. Learn more about Hello Glow's medical reviewers here. As always, this is not personal medical advice, and we recommend that you talk with your doctor.
96