I've got to be honest—winter is not my favorite time of year. But since I've been making my own cleaning and beauty products, my skin is faring much better than in past winters.
While bar soap can leave you feeling itchy and flaky all over after you shower, this nourishing citrus body wash (like this version with coconut oil and honey) will create a great lather without drying out your skin.
Homemade body wash is a wonderful alternative to store-bought products, as it is free of harsh chemicals and artificial fragrances. Making your own homemade body wash allows you to pick and choose the ingredients to your liking, ensuring that your skin receives all the nourishment it needs. To make homemade body wash, you can use castile soap, essential oils, and carrier oils, to name a few. Making your own homemade body wash also means you can save money and reduce your environmental impact by using reusable containers.
To make your homemade body wash, start by mixing together your chosen ingredients in a container. You can experiment with different combinations of oils and scents until you find the perfect formula for your skin. Once you have mixed your ingredients together, simply transfer the mixture to a reusable container and use it in the shower like you would any other body wash. Homemade body wash is an excellent option for those with sensitive skin or anyone who wants to avoid harsh chemicals in their personal care products. With just a few simple ingredients, you can create a luxurious and nourishing homemade body wash that will leave your skin feeling soft, smooth, and refreshed.
Here's one of my favourite recipes:
How to make a citrus body wash
Sometimes, I use castile soap on its own, but I need extra moisturizing and hydrating power for the dry chill of winter. So, I combine this body wash with fractionated coconut oil and other moisturizing ingredients to leave my skin feeling soft and smooth.
Grab a pretty pump jar and these ingredients, and you'll have a fresh-smelling citrus body wash that moisturizes while it cleanses.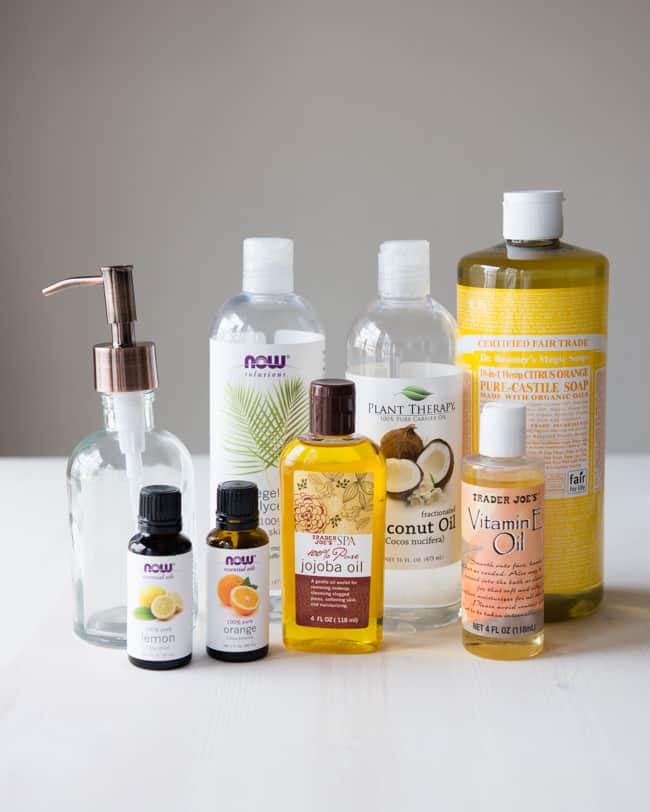 All you need for this recipe is castile soap (I used citrus, but most of the varieties will work here), fractionated coconut oil, vegetable glycerin, jojoba oil, vitamin E oil, and citrus essential oils.
Each ingredient has a distinct purpose:
Jojoba oil has anti-inflammatory and soothing properties [source], which is why it is used to treat many different skin conditions [source]. It's readily absorbed into the skin without clogging pores.
Vitamin E oil is rich in antioxidants and has moisturizing and anti-aging properties that boost skin elasticity and collagen production [source].
Fractionated coconut oil, unlike regular coconut oil, has been treated to separate out the different components of the whole oil, while maintaining its benefits for use in skin and beauty products.
I've used it here because it does not solidify at room temperature but moisturizes as well as the unrefined oil. It's also a carrier oil for essential oils. Another carrier oil, such as almond, olive, or grapeseed, could be used instead.
Vegetable glycerin adds extra moisturizing benefits. It helps draw moisture to the top layer of skin and helps prevent dryness. (If you can't find it, it's perfectly fine to leave it out.)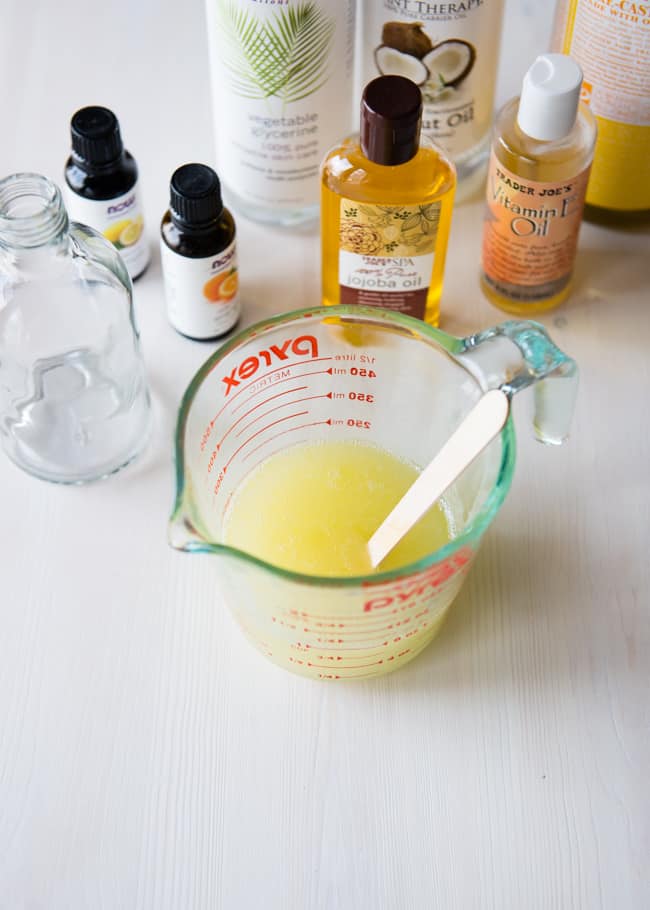 And citrus essential oils give this body wash a refreshing and revitalizing fragrance that will definitely help you feel awake and alive in the morning. Citrus oils can make skin more sensitive to the sun [source], so if you're worried about phototoxicity, you can lather up with extra sunscreen, plan to use after sun exposure instead, or swap in other essential oils.
Besides orange, lemon, and grapefruit, any oils will do. But I'm a fan of:
To make body wash, simply stir everything together and pour it into a clean bottle. I like using a pump top bottle in glass or plastic because it's much easier to use in the shower than fumbling with a screw-top lid. The citrus body wash is concentrated, so a little bit is all you need for a rich lather.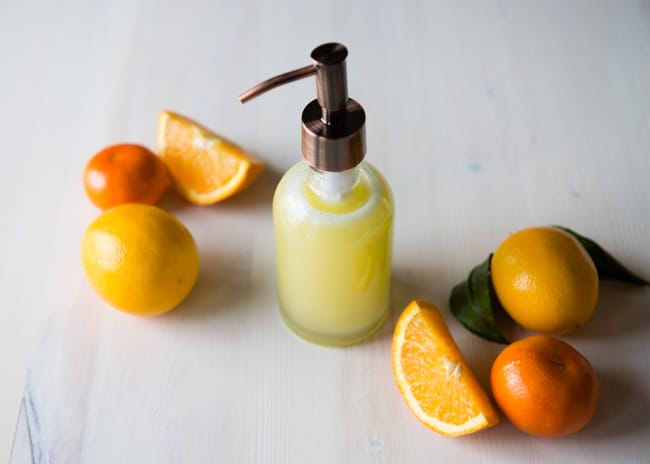 How long does this homemade body wash last?
I would try to use it within 2–3 months. Since it will most likely be living in your shower and it doesn't contain preservatives, if any moisture gets into the bottle, it can encourage bacterial growth. To keep mold to a minimum, make a fresh batch every couple of months.
What are some essential oils I can use in my homemade body wash?
You can use a variety of essential oils in your homemade body wash, such as sweet almond oil, jojoba oil, lavender essential oil, sweet orange essential oil, peppermint essential oil, and more.
Can I use castile soap in my homemade body wash?
Yes, you can use castile soap in your homemade body wash. It is a popular and gentle ingredient that can help cleanse and moisturize your skin.
Is homemade body wash suitable for sensitive skin?
Yes, homemade body wash can be suitable for sensitive skin. You can use ingredients like castile soap, avocado oil, vegetable glycerin, and sweet almond oil to make a gentle and moisturizing body wash that is suitable for sensitive skin.
My body wash solidified over time. What did I do wrong?
For starters, make sure you're using fractionated coconut oil as opposed to regular coconut oil. Fractionated coconut oil stays liquid at cooler temperatures and won't cause your body wash to thicken.
If you did, and you still notice it thickening, just add more castile soap and give everything a good stir. That should loosen it up.
If you notice any texture changes happening over a long period of time, I recommend tossing it out and making a fresh batch. Like I mentioned earlier, water can work its way into the bottle and cause issues, so you definitely don't want to keep it forever. Just be safe and make another batch, halving the recipe, if needed, so that you can use it up more quickly.
How can I keep my body wash from separating?
Most homemade recipes will separate over time. While you can use an emulsifier if you like (lecithin is a great option), I'm fine with just shaking the bottle every time I use it.
How do you make antibacterial body wash?
Just add some essential oils with antibacterial properties [source], such as cinnamon, tea tree, or clove, either in addition to or in place of the citrus essential oils.
What are some ingredients I can use to make my homemade body wash moisturizing?
You can use ingredients like avocado oil, sweet almond oil, shea butter, and olive oil to make your homemade body wash moisturizing. Additionally, you can add vitamin E oil, honey, and aloe vera gel to help nourish and hydrate your skin.
Can I use grapeseed oil in my homemade body wash?
Yes, you can use grapeseed oil in your homemade body wash. It is a lightweight and non-greasy oil that can help moisturize and soothe your skin.
What is the difference between natural body wash and commercial body wash?
Natural body wash is made with natural and often organic ingredients, whereas commercial body wash is made with synthetic ingredients and can contain harsh chemicals. Natural body wash is generally gentler and more nourishing for your skin.
How can I make a creamy homemade body wash?
You can make a creamy homemade body wash by adding ingredients like shea butter, sweet almond oil, and vegetable glycerin. These ingredients can help create a rich and moisturizing lather.
Can I use my homemade body wash as a face wash?
You can use your homemade body wash as a face wash if the ingredients are gentle and suitable for your skin type. However, it is generally recommended to use a separate face wash that is formulated specifically for your facial skin.
Ready to replace the other cleansers in your bath and body arsenal?
Try these: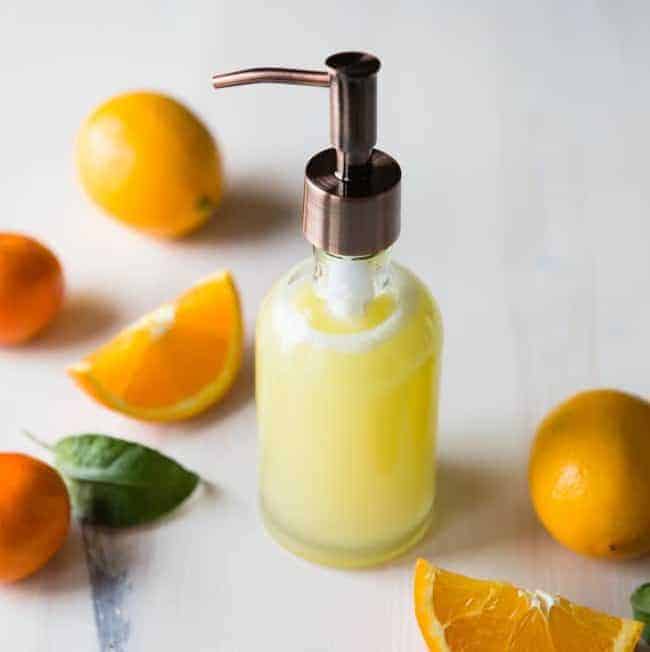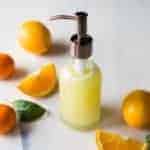 Print
Homemade Citrus Body Wash
A revitalizing DIY body wash just got seriously easy—thanks to all-natural castile soap and nourishing citrus essential oils.
Equipment
Small bowl or measuring cup

Pump bottle
Instructions
Combine the ingredients in a bowl or measuring cup and stir well.

Transfer to a glass jar with a pump. Shake well before each use.
Notes
Citrus essential oils can cause skin to be more sensitive to the sun. Use caution (and extra sunscreen) if you'll be heading out into the sun.
My recycled glass bottle with a pump top is from Rail 19, but this one is similar. Use caution with glass bottles in the bath and shower.
This post was medically reviewed by Dr. Jennifer Haley, a board-certified dermatologist with extensive experience in medical, cosmetic, and surgical dermatology. Learn more about Hello Glow's medical review board here. As always, this is not personal medical advice, and we recommend that you talk with your doctor.
490