I've got to be honest – winter is not my favorite time of year. But since I've been making my own cleaning and beauty products, my skin is faring much better than in past winters. While bar soap can leave your skin feeling itchy and flaky after you shower, homemade body wash (like this version with coconut oil and honey) will create a great lather without drying out your skin.
How to make a citrus body wash
Sometimes I use castile soap on its own, but for winter I need extra moisturizing and hydrating power. So, I combine this body wash with fractionated coconut oil and other moisturizing ingredients to leave my skin feeling soft and smooth. Grab a pretty pump jar and these ingredients and you'll have a fresh smelling citrus body wash that moisturizes as well as cleanse.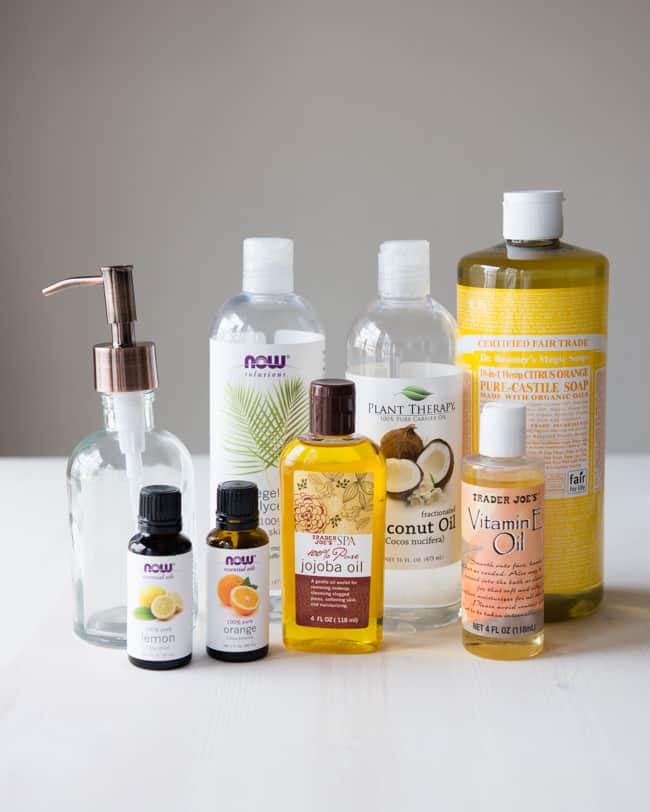 All you need for this recipe is: castile soap (I used citrus, but most any of the varieties will work here), fractionated coconut oil, vegetable glycerin, jojoba oil, vitamin E oil, and citrus essential oils.
Each ingredient has a distinct purpose. The jojoba oil has anti-inflammatory and soothing properties. It's readily absorbed into the skin without clogging pores. Antioxidant rich Vitamin E oil has moisturizing and anti-aging properties by boosting skin elasticity and collagen production.
The fractionated coconut oil has been treated to separate out the different components of the whole oil, while still maintaining its benefits for use in skin and beauty products. I've used it here because it does not solidify at room temperature, but moisturizes as well as the unrefined oil. It's also a carrier oil for essential oils. Another carrier oil such as almond, olive, or grapeseed could be used instead.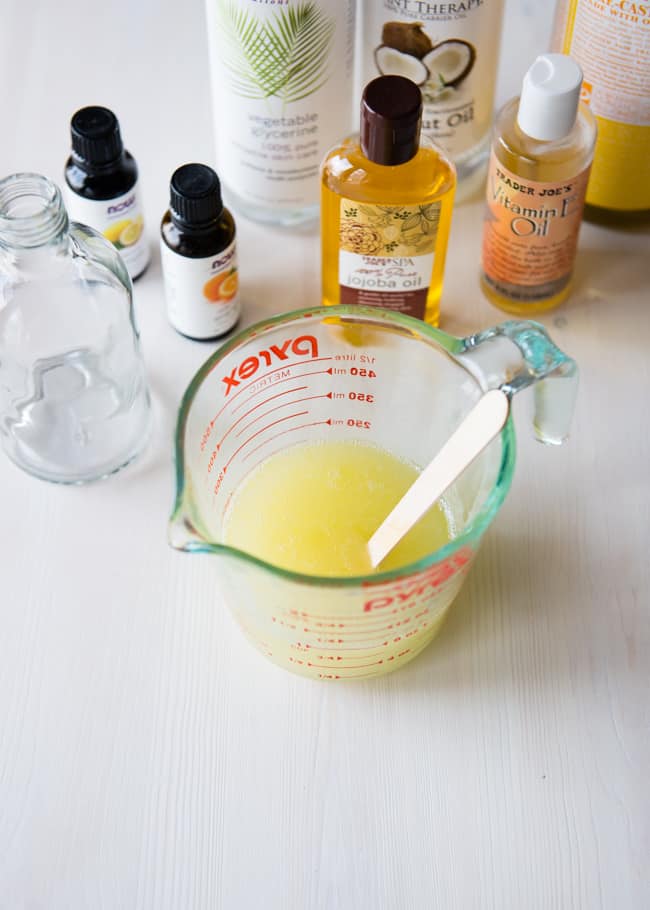 Vegetable glycerin adds extra moisturizing benefits. It helps draw moisture to the top layer of skin and helps prevent dryness. (If you can't find it, it's perfectly fine to leave it out.) The citrus oils are refreshing and revitalizing, and they smell fantastic. This body wash will definitely help you feel awake and alive in the morning.
Stir everything together and pour into a clean glass bottle. I like using a pump top – much easier to use in the shower than fumbling with a screw-top lid. (See below for source.) The body wash is concentrated, so a little bit is all you need for a rich lather.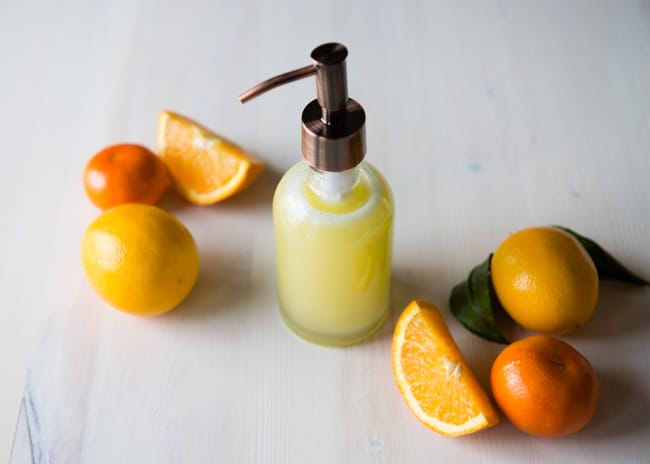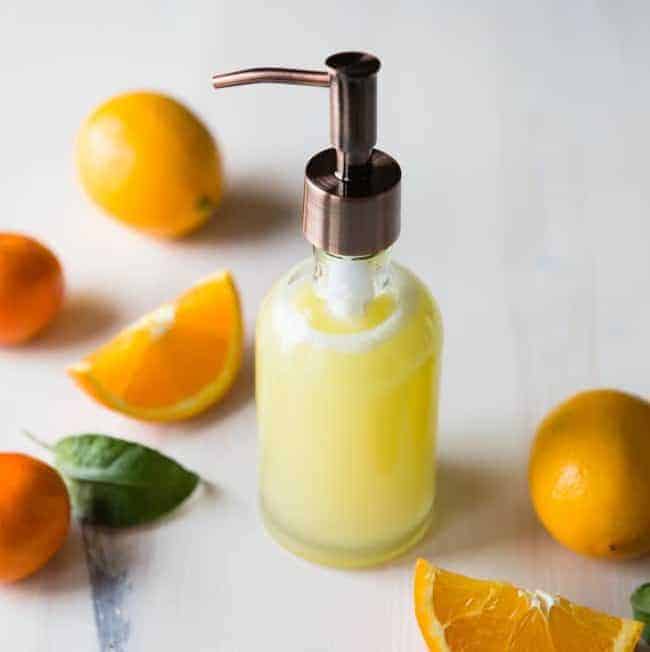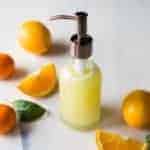 Print
Moisturizing Citrus Homemade Body Wash
Instructions
Combine the ingredients in a glass jar. (I like one with a pump.)

Shake, if needed, before using if the mixture has separated. Makes about 8-9 ounces of body wash.
Notes
-Citrus essential oils can cause skin to be more sensitive to the sun. Use caution (and extra sunscreen) if you'll be heading out into the sun.
-The recycled glass bottle with pump is from www.Rail19.com. Use caution with glass bottles in the bath and shower.
-The vegetable glycerin can be found at most health food stores. I bought mine at Whole Foods.
-Fractionated coconut oil is available at health food stores and online. I bought mine at Amazon.
This post was medically reviewed by Dr. Jennifer Haley, a board-certified dermatologist with extensive experience in medical, cosmetic and surgical dermatology. Learn more about Hello Glow's medical review board here. As always, this is not personal medical advice and we recommend that you talk with your doctor.
410