I stopped using soap on my face about a year ago, and, boy, did my skin love me for it. My verrrry dry skin cleared up (with the help of coconut oil), and everything started looking smoother and, well, glow-ier.
Instead of soap, I started using honey face wash at night and this homemade anti-aging daily cleanser in the morning to exfoliate and plump the skin—the one area where plumping is a good thing!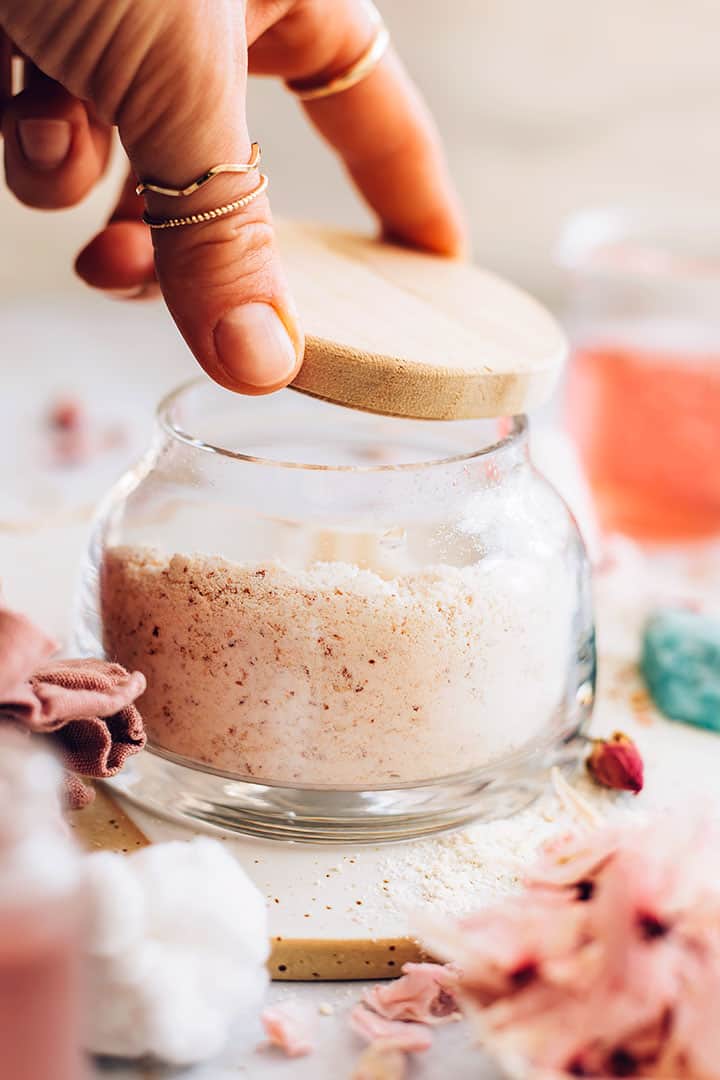 How to Naturally Nourish Dry Skin
This homemade cleanser is chock full of natural ingredients to soothe skin of all types. Almonds and powdered rice polish skin while dry whole milk plumps fine lines. All in all, it will leave your skin feeling nourished, hydrated, and squeaky clean.
Here's how it works:
Ground almond benefits
Finely ground almonds gently exfoliate, which is the key to getting rid of dead skin cells and blocked pores. Almonds are also full of natural oils that provide vitamins A and E to your skin [source].
Vitamin E is one of the most commonly referenced nutrients for skin health, and with good reason. Not only does vitamin E fight free radicals, but it helps to improve the skin barrier and protects against UV photodamage [source]. You'll also combat wrinkles and premature aging with vitamin E, thanks to all those antioxidant scavengers [source].
Milk powder benefits
Lipids, the naturally occurring fats found in milk, replenish lost moisture, keeping skin hydrated. Thanks to its high lipid content, milk is also rich in fat-soluble vitamins (specifically A, D, E, and K) and essential fatty acids that help to nourish and heal the skin [source]. Milk is a natural source of lactic acid, which provides a perfect source of gentle, yet effective exfoliation.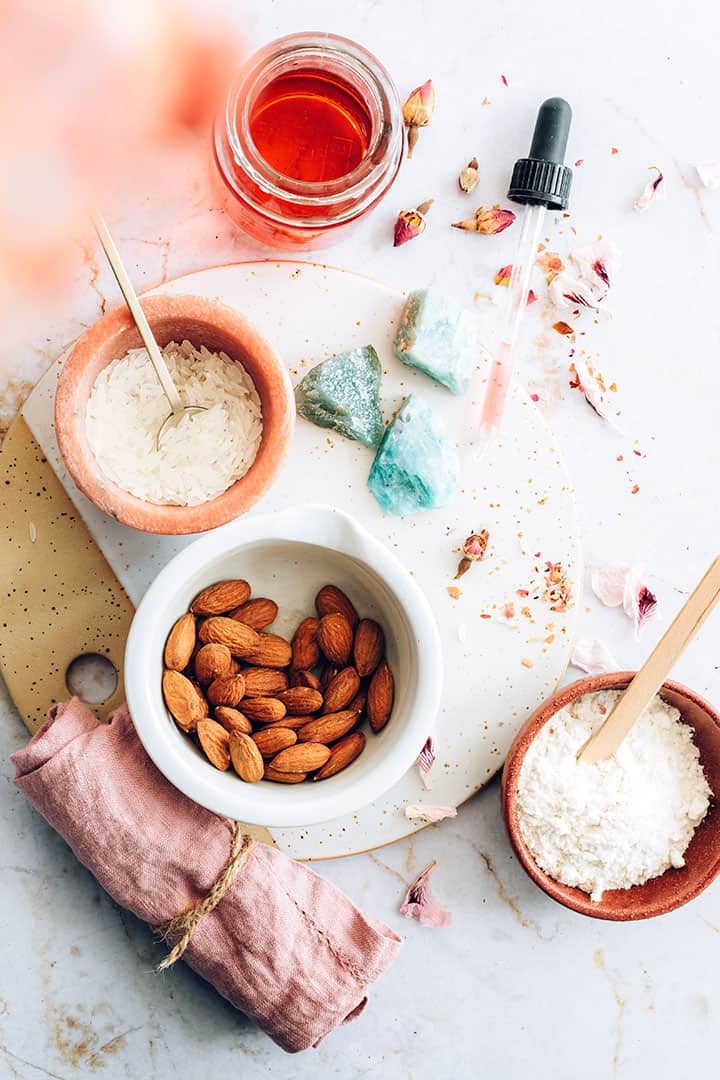 Ground rice benefits
You may have already heard about the benefits of rice water for skin, but I'm personally convinced that brown rice flour is one of the best-kept beauty secrets around. Asian women have used ground rice powder as an anti-aging daily cleanser for ages to smooth complexions, lighten skin discolorations, and reduce wrinkles.
Plus, I read in Giada De Laurentiis's book Feel Good Food that she cleans her face daily with ground rice and olive oil, and that girl's skin looks amazing! Not only does ground pigmented rice contain a ton of vitamins and minerals that soothe skin from the outside in [source], but it is filled with antioxidants and anti-inflammatories [source].
It is known to naturally brighten and whiten skin discoloration (a must if you suffer from occasional breakouts and post-inflammatory hyper-pigmentation), leaving it soft, smooth, and glowing. And as if that weren't enough, it has anti-aging, anti-inflammatory, and oil-absorbing properties to boot.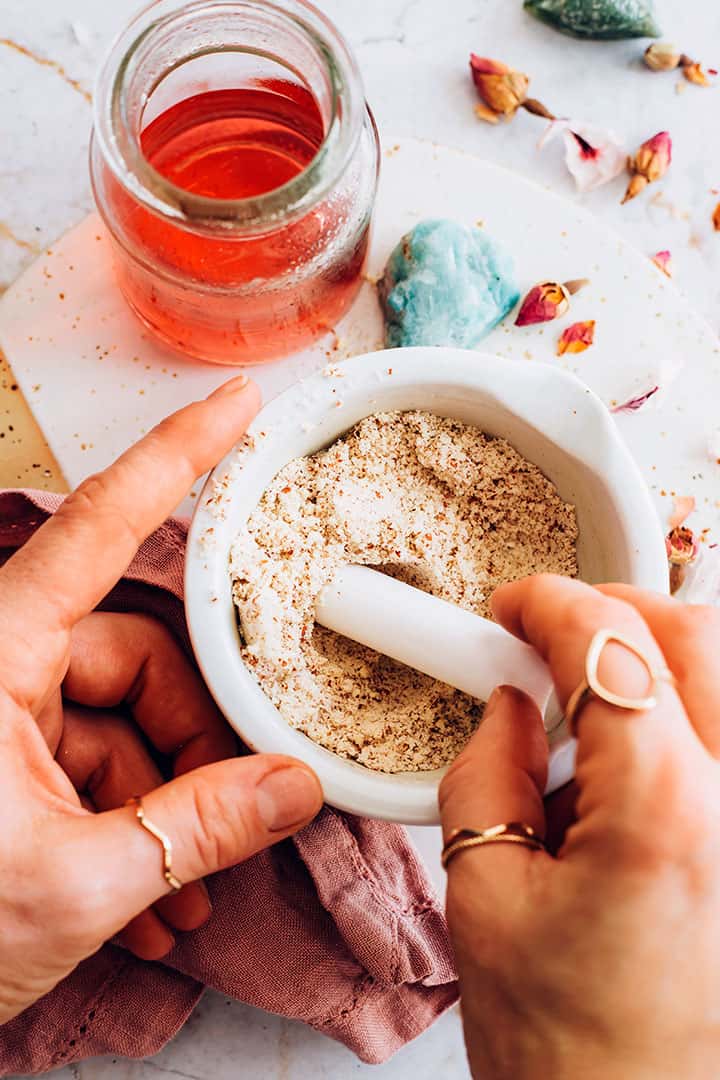 Homemade Anti-aging Daily Cleanser
Ingredients
Instructions
1. Grind almonds and rice grains until really fine. You'll probably need to use a coffee grinder because you want a really fine powder.
2. Combine with 1 teaspoon milk powder. Full-fat milk is best for anti-aging and dry skin. (Yay, plump that face!)
3. Store dry ingredients in a lidded makeup container. When ready to use, place a small scoop of powder in your hand or a small bowl and combine with rose water to make a smooth paste. Massage gently into face, neck, and chest and rinse. Follow with homemade toner and coconut oil moisturizer.
Dry powder should stay good for about 2 weeks, although you will probably use it up sooner if using daily. If so, plan to remake weekly.
Anti-Aging Cleanser FAQs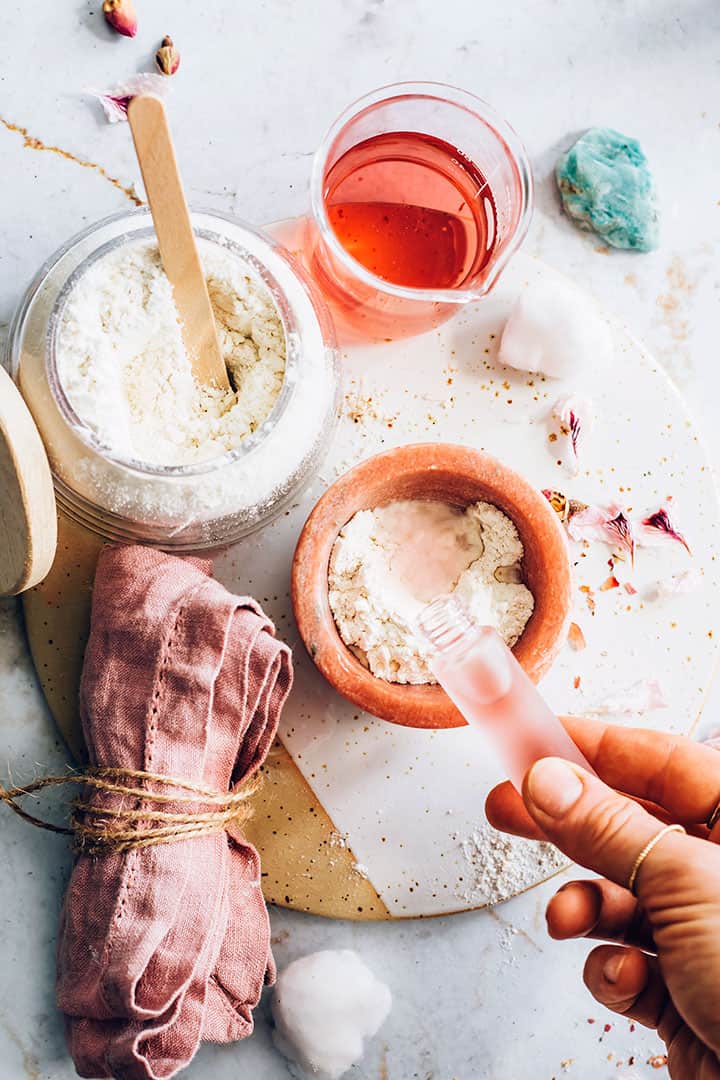 Can I use buttermilk powder instead of regular milk powder?
Yes! Buttermilk is just as nourishing for the skin as regular cow's milk, plus it contains probiotics that may help with acne. You can also use powdered goat's milk or coconut milk if you prefer.
Will this cleanser remove makeup?
This cleanser will help remove makeup from the face, but because it's a powder, I wouldn't recommend using it to remove eye makeup. For that, try a commercial eye makeup remover or plain coconut oil.
Can I mix water with the powder ahead of time?
You can if you like, but adding water introduces bacteria and drastically decreases the shelf life of your cleanser. If you do decide to add water ahead of time, be sure to store your cleanser in the refrigerator and use within 2–3 days.
This cleanser burns slightly when I use it. Is that normal?
I haven't noticed a stinging sensation when using this cleanser. If you have an adverse reaction that involves stinging, redness, or irritation, stop using it immediately. You may be allergic to one of the ingredients.
Can I use this cleanser every day?
For most skin types, this anti-aging cleanser can be used daily without any adverse effects. But again, if you notice stinging, redness, or irritation, stop using it and give your skin a break.
Looking for a way to get squeaky clean skin with just 5 ingredients or less? We've got you covered.
What's your favorite way to cleanse your skin? Share your anti-aging secrets!
This post was medically reviewed by Dr. Jennifer Haley, a board-certified dermatologist with extensive experience in medical, cosmetic, and surgical dermatology. Learn more about Hello Glow's medical reviewers here. As always, this is not personal medical advice, and we recommend that you talk with your doctor.
Photos by Ana-Maria Stanciu
811