I stopped using soap on my face about a year ago, and, boy, did my skin love me for it. My verrrry dry skin cleared up (with the help of coconut oil) and everything started looking smoother and, well, glow-ier. Instead of soap, I started using honey face wash at night and a homemade daily cleanser in the morning to exfoliate and plump the skin (your face is one area where plumping is a good thing!).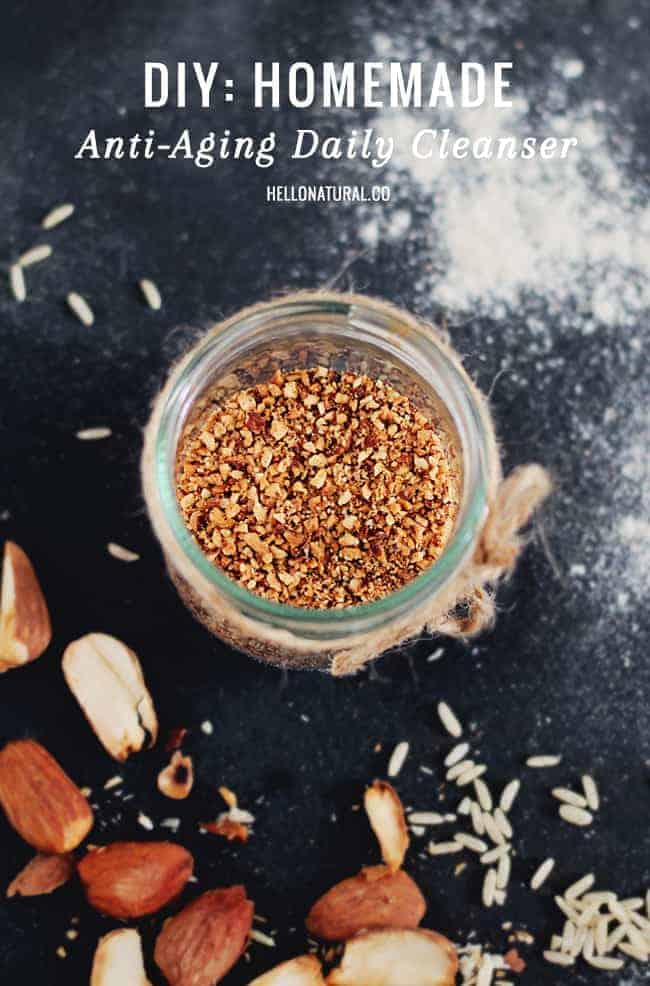 Almond, rice and dry milk powders are all great for mature skin and will leave your skin nourished and hydrated. The fine grains gently exfoliate, and the oil in the almonds provides skin with vitamins A and E. The lactic acid in the milk powder helps with exfoliation while the milk fats moisturize dry skin.
Asian women have used ground rice powder on their skin for ages to smooth complexions, lighten skin discolorations and reduce wrinkles. Plus, I read in Giada De Laurentiis's book Feel Good Food that she cleans her face daily with ground rice and olive oil, and that girl's skin looks amazing!
Homemade Anti-aging Daily Cleanser
Grind 3 almonds and 2 tablespoons uncooked rice grains until really fine. (Finer than what you see in the picture above. You'll probably need to use a coffee grinder because you want a really fine powder.)
Combine with 1 teaspoon dry milk powder. Full-fat milk is best for anti-aging and dry skin. (Yay, plump that face!)
Keep dry ingredients in container with a lid beside the sink. This should stay good for about 2 weeks, although you will probably use it up sooner if using daily. If so, plan to remake weekly.
To use, combine a pinch of powder in your hand with water or rose water and make a paste. Massage gently into face, neck and chest and rinse. Follow with homemade toner and coconut oil moisturizer.
What's your favorite way to cleanse your skin? Share your anti-aging secrets!
520