Once you start using honey on your skin, you'll never go back. Yes, it's gooey and burns like heck if you get it in your eyes, but it does fabulous things for your skin when used safely and properly. You can use honey in homemade body wash, in face masks, and even as a gentle, probiotic-rich face wash.

What Makes Honey So Great for Skin
This sticky golden goodness has been used to promote healing and fight infection for thousands of years. And modern science is beginning to confirm what we have always known—that honey is nature's powerhouse. It's loaded with good-for-you vitamins and minerals, and it has a host of antibacterial, antiviral, and anti-inflammatory properties.
It is interesting to note that honey is acidic, which keeps bacteria from growing, and it releases hydrogen peroxide that kills bacteria on the skin—so those little guys don't stand a chance [source].
Raw, unpasteurized honey has been shown to [source]:
1. Encourage wound healing
2. Draw moisture to the skin (they call that a humectant)
3. Help zap zits—thanks to its antibacterial properties
4. Tame redness and inflammation
5. Reduce the damaging effects of free radicals—due to its plethora of antioxidants
One of my favorite natural living books recommended recycling honey bears to create a simple face wash—genius!
Honey can be a very effective and gentle cleanser for pretty much every skin type. If you have sensitive, normal, combination, dry, or oily skin (which is pretty much every type of skin!), a raw honey face wash just might be your perfect facial cleanser.

Can I wash my face with honey?
The simple answer: yes.
When creating your own honey face wash, make sure only to use raw honey. If it's not raw and unfiltered, then the honey has been pasteurized. And because of the heat involved in that process, some of its antibacterial and probiotic properties will have been lost. We don't want that! We want to make sure we have all of the natural enzymes and bacteria-fighting benefits of honey when using it on our skin.
If you would like to try an even simpler honey cleanser, you'll need just one ingredient. You guessed it—raw honey! Fair warning, this method is a little stickier and can take a bit longer to remove, but you'll still enjoy all of the benefits of a real honey cleanser.
How to wash your face with just honey
1. Apply a thin layer of thick honey all over a damp face, just like you would a regular face mask. Leave it on for 5-10 minutes.
2. With four fingers together, press it onto the skin and then lift it off by lifting from the index to the little finger. Continue to do these quick movements all over the face. Use a stronger lifting technique around the T-zone, and be gentler over the rest of the face where the skin is more fragile.
3. If it gets too sticky and starts to hurt while lifting, wet a finger to add a little bit of water. Work your way around your whole face.
4. When the skin feels alive and stimulated, the mask can be removed by placing a damp, hot washcloth over the face to create a little steam that will remove the honey and also any dead skin cells.
5. The skin should feel squeaky clean, but if you want to go one step further, now is the perfect time for a deep pore cleanse. Massage a bit of cleansing balm onto the skin, and remove it with another damp, hot washcloth.
6. Repeat this treatment weekly if your skin is dry or flaky and once every 2 weeks for normal skin types.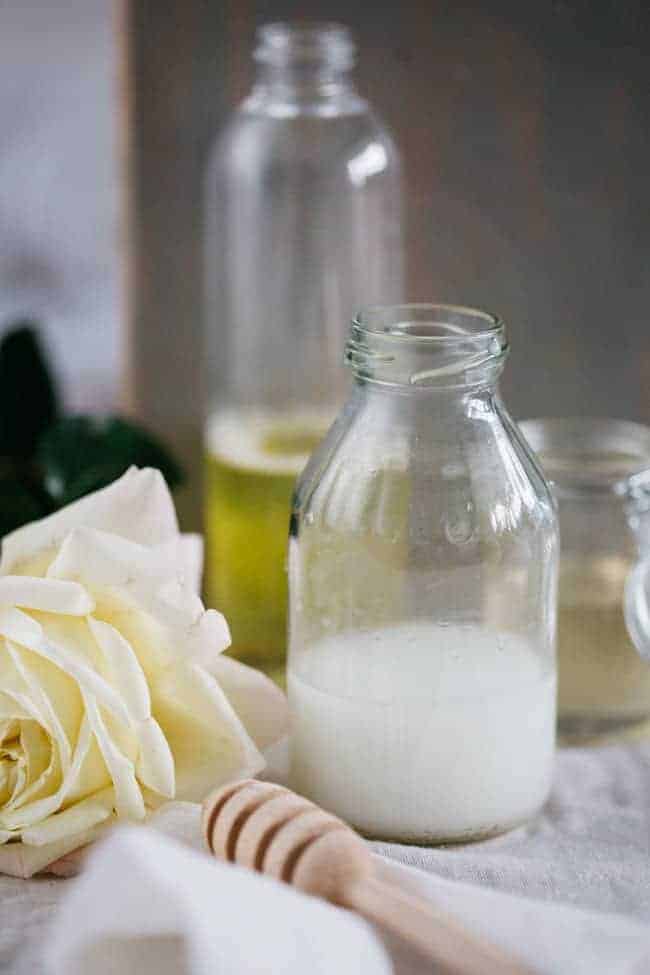 Homemade Honey Face Wash
This honey face wash combines the antibacterial, anti-inflammatory, and natural humectant power of honey with the gentle cleansing action of Castile soap. It's a great follow-up to an oil cleansing balm as part of a 2-step cleansing regimen to reach even deeper into your pores and make sure all of the oil is removed—without chemicals.
Combine all ingredients and pour the mixture into a recycled honey bear container (or an 8-ounce pump bottle). Don't shake the bottle, or you'll start to foam the soap.
To use, pour a small amount of the honey mixture into the palm of your hand, and massage it into your face and neck. (Avoid the eyes—trust me.) Add a pinch of baking soda a couple of times a week to gently exfoliate. Rinse with warm water.
Store you honey face wash in the refrigerator.
Honey Face Wash FAQs
Does it matter what kind of Castile soap you use?
Nope! Any kind will do. If you have sensitive skin, I would look for something on the gentler side, such as Dr. Bronner's lavender or baby unscented Castile soap, because something like peppermint may be too strong for some people. Otherwise, use whatever's easiest to get your hands on.
How long will the face wash last?
If you use distilled water or hydrosol, the recipe should last indefinitely. Coconut water (or any other type of water) will only last about 1–2 weeks before starting to grow mold.
Be watchful when preparing the mixture so that you don't accidentally inoculate it with bacteria from your hands, the bottle, or utensils because that can cause it to spoil.
Can I use manuka honey instead of local honey?
Go right ahead! Just make sure it's raw and unpasteurized.
Can I put honey on my face every day?
Yes, honey is gentle enough to use every day. But like most beauty products, keep a close eye on things to make sure you don't start to see any redness or irritation. If you do, first stop for a week, then cut back to using it 1–2 times a week.
Can honey help remove scars?
While honey has been shown to help speed up wound healing [source], there's no scientific evidence that it fades or removes scars. But you're free to give it a try and see what happens.
Also, take a look at this article on home remedies for acne scars. There are lots of things you can try, and you might be pleasantly surprised.
Will honey clog my pores?
No, applying honey to skin should not clog your pores. In fact, honey is known to reduce bacteria on the skin, which may help clear pores and decrease breakouts [source].
So tell us, how do you use honey in your beauty routine?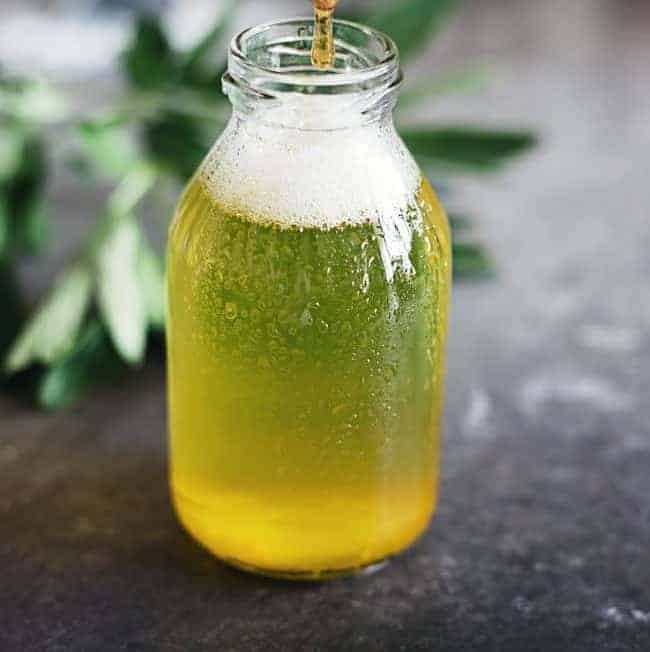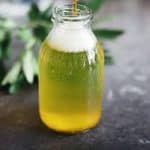 Print
Raw Honey Facial Wash
This honey face wash combines the antibacterial, anti-inflammatory, and natural humectant power of honey with the gentle cleansing action of Castile soap.
Equipment
8-ounce glass jar or bottle
Instructions
In a container add water, soap, honey, then avocado oil, and gently stir to combine.

If you'd like to treat a particular skin issue like abnormal pigmentation or oil control, then add 3–6 drops of the best essential oil for treating that issue. Stir again.
Notes
To use, apply as you would a facial cleanser, with slight pressure and circular motions all over your face and neck.
Rinse with warm water to remove.
The ingredients in this face wash have a tendency to separate, so mix the mixture well before each use.
Store leftover face wash in an airtight container in the refrigerator, and it should keep for a long time if made with distilled water. If mixed with another type of water, use it within 1–2 weeks.
This post was medically reviewed by Dr. Jennifer Haley, a board-certified dermatologist with extensive experience in medical, cosmetic, and surgical dermatology. Learn more about Hello Glow's medical reviewers here. As always, this is not personal medical advice, and we recommend that you talk with your doctor.
Photos by Ana-Maria Stanciu
784