Once you start using honey on your face, you'll never go back. Yes, it's gooey and burns like heck if you get it in your eyes, but it does fabulous things for your skin when used safely and properly. You can use honey in homemade body wash, in face masks and even to wash your face.
A couple of honey's many benefits: it draws moisture to the skin (a humectant, they call that), and if you're using raw, local honey you'll get the benefit of its antibacterial properties to zap zits. One of my favorite natural living books recommended recycling honey bears to create a simple face wash – genius!
Honey can be a very effective and gentle cleanser for pretty much every skin type. If you have sensitive, normal, combination, dry or oily skin, a raw honey face wash just might be your perfect facial cleanser. Raw honey has been used for centuries for medicinal and cosmetic purposes all over the world. Research in modern times has been growing to document just how healing raw honey can be when it comes to wounds, scars and burn treatments.
Can I wash my face with honey?
The simple answer: yes.
When creating your own honey cleanser make sure to only use raw honey. If it's not raw and unfiltered, then the honey has been pasteurized, and because of the heat in this process, some of the antibacterial and probiotic properties from the honey will have been lost.
We don't want that! We want all of the natural enzymes and bacteria-fighting benefits of honey.
If you would like to try an even simpler honey cleanser, you'll need just one ingredient. You guessed it, raw honey! Fair warning, this method is a little stickier and can take a bit longer to remove, but you'll still enjoy all of the benefits of honey cleanser.
Homemade Honey Face Wash
This honey face wash combines the antibacterial, anti-inflammatory and natural humectant power of honey with the gentle cleansing action of Castile soap. It's a great follow up to an oil cleansing balm as part of a 2-step cleansing regime to make sure all of the oil is removed and also reach even deeper into the pores.
Combine all ingredients and pour into a recycled honey bear (or 6-ounce pump bottle). Don't shake the bottle or you'll start to foam the soap.
To use, pour a small amount of the honey mixture into the palm of your hand and massage into face and neck. (Avoid the eyes, trust me.) Add a pinch of baking soda a couple of times a week to gently exfoliate. Rinse with warm water.
How do you use honey in your beauty routine?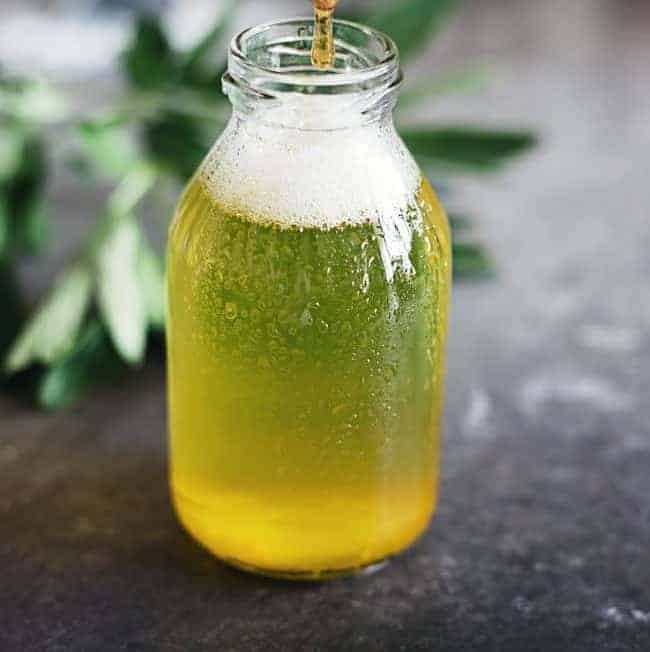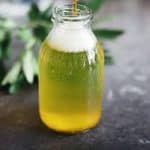 Print
Raw Honey Facial Wash
This honey face wash combines the antibacterial, anti-inflammatory and natural humectant power of honey with the gentle cleansing action of Castile soap.
Materials
1/4

cup

raw honey

1/4

cup

distilled water

or rose water, coconut water or coconut milk

2

tbsp

liquid castile soap

12

drops

essential oil of your choice

1

teaspoon

avocado oil
Instructions
In a container add water, soap, honey and then oil.

If you'd like to treat a particular skin issue like pigmentation or oil control, then add 3-6 drops of the best essential oil to treat that issue.

Shake gently until the honey is dissolved. Also be sure to shake before each use.

Apply and use as you would a facial cleanser, slight pressure and circular motions all over your face and neck.

Rinse with warm water to remove.
This post was medically reviewed by Dr. Jennifer Haley, a board-certified dermatologist with extensive experience in medical, cosmetic and surgical dermatology. Learn more about Hello Glow's medical review board here. As always, this is not personal medical advice and we recommend that you talk with your doctor.
619