Although oatmeal is often recognized as a healthy breakfast option, did you know that it boasts many skincare benefits? Whole oats are rich in antioxidants and can help reduce inflammation [source]. You can use them to gently exfoliate and cleanse the skin by absorbing dirt and oil. Oatmeal is also easy to obtain and usually already in your home. Struggling with eczema? Psoriasis? Rosacea? Good news—oatmeal is suitable for many skin problems [source] and works on all skin types. If you're ready to incorporate oats into your beauty routine, here are a plethora of oatmeal face mask recipes for all skin types and issues.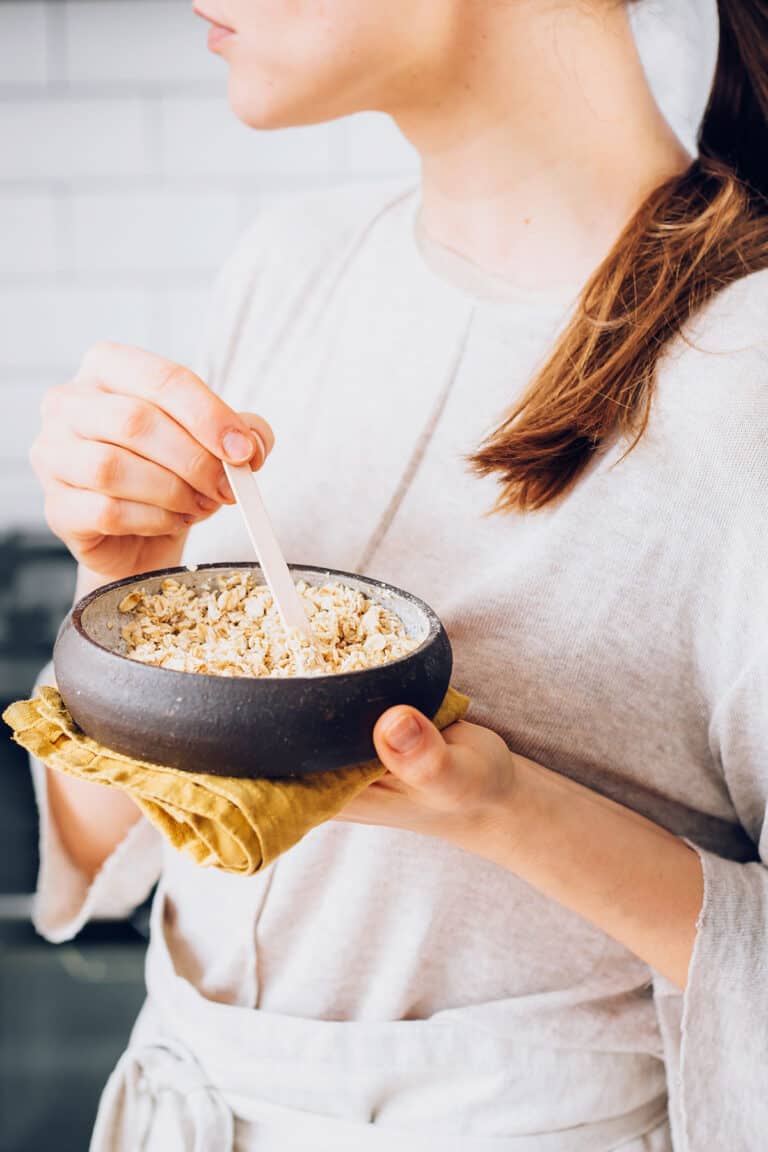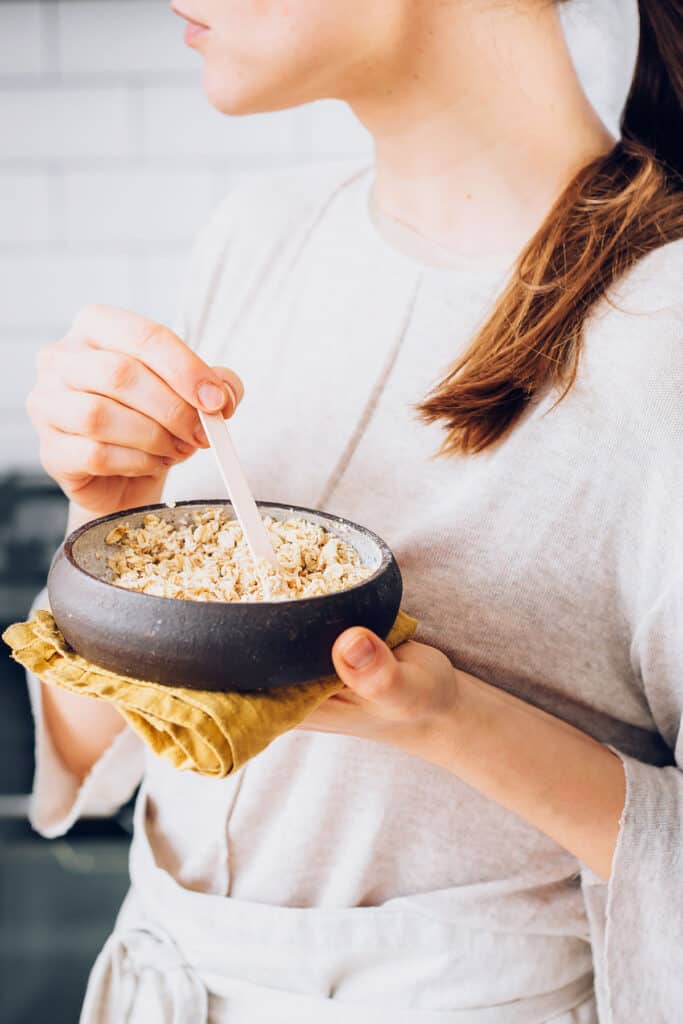 9 Oatmeal Face Mask Recipes
1. Soothing Oatmeal Mask for Sunburned Skin
Oatmeal is often the first ingredient in a mask to treat red, inflamed, or sunburned skin. When combined with the soothing properties of chamomile and honey, this mask is the perfect choice for that post-sun experience.
Once combined, add water, a few drops at a time until a paste is formed. Apply this soothing face mask to sunburned areas of your face for 10 minutes or until the heat starts to dissipate. Remove with cool or room temperature water and a washcloth.
2. Cucumber & Oatmeal Skin Soother
The combination of soothing and exfoliation can be a difficult one to get right. But this blend of cucumber with oatmeal addresses inflammation and sensitivity, while yogurt containing lactic acid is gently exfoliating [source]. Sage helps naturally remove dead skin cells while providing vitamin A.
Combine the yogurt, pureed cucumber, oatmeal, and sage into a small bowl. Apply with a facial brush or fingers, leave on for 10–15 minutes, and then rinse well with warm water.
3. Coconut & Oatmeal Face Mask for Dry Skin
Irritated skin can cause redness and often is accompanied by dry skin patches. This hydrating face mask not only addresses inflammation but also restores hydration. The mask can be prepared warm and will gently cool on the skin while you relax.
Gently mix the ingredients in a facial bowl, forming a paste, and apply to the face and neck. You can thicken or thin the mask by adding or reducing the water. Once applied, let sit on the face for 10–15 minutes and then rinse with warm water.
4. Apple Cider Vinegar & Oatmeal Mask for Exfoliation
Apple cider vinegar provides gentle exfoliation for all skin types. This oatmeal and ACV combination helps draw out excess oil and removes any dead skin cells that may be sitting atop the surface of the skin.
Mix ingredients well in a small bowl and apply to your face and neck. Leave on for 5 minutes, and remove with a warm washcloth.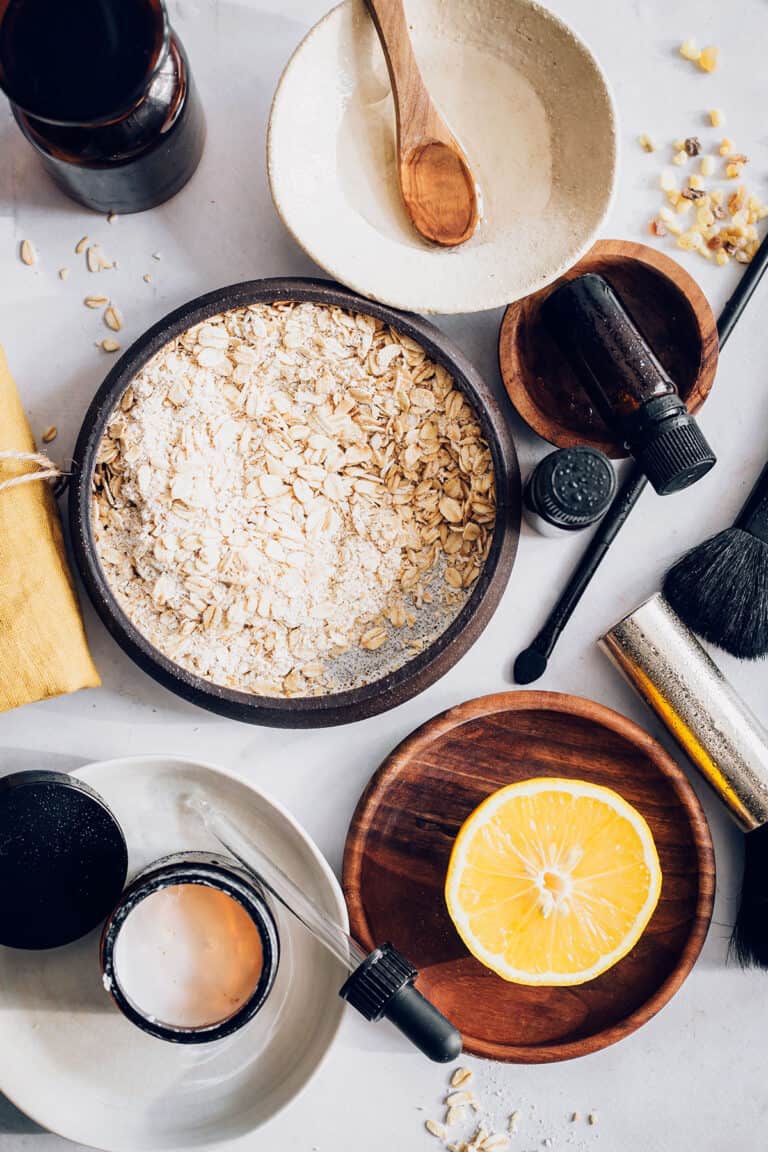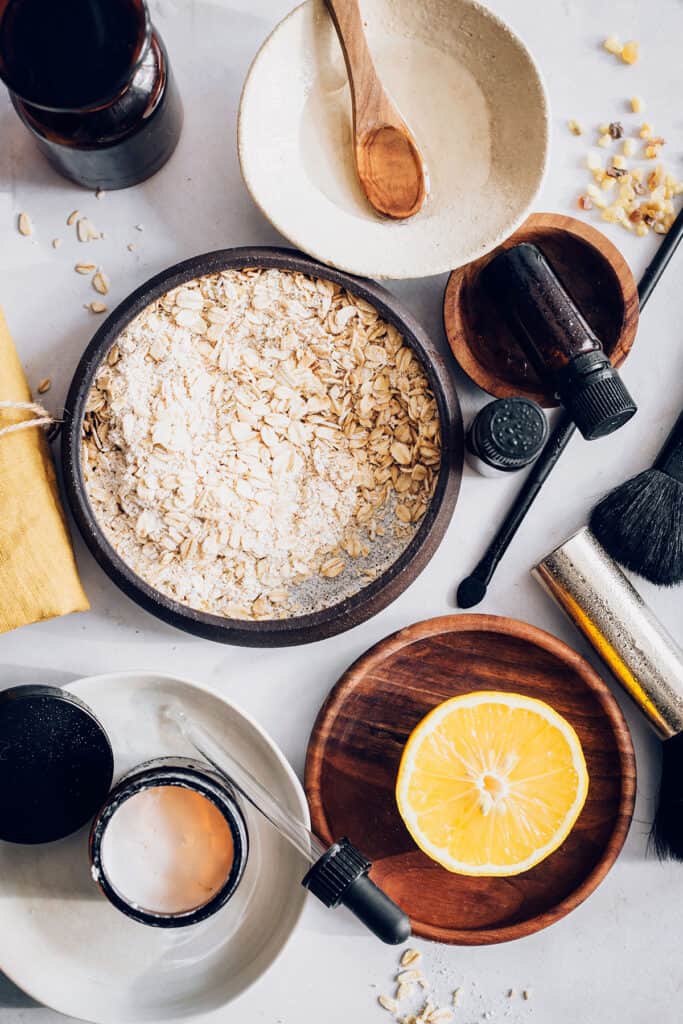 5. Yogurt & Oatmeal Mask for Sensitive Skin
If you're looking for a face mask for sensitive skin, this two-ingredient mask is both calming and anti-inflammatory. You'll want to make sure the oatmeal is not flavored and does not have any additives—instant oatmeal can even be used. Oatmeal has been a staple for sensitive skin recipes, especially when treating issues like eczema.
Mix together ⅓ cup cooked oatmeal with 2 tablespoons of plain yogurt. Apply with fingertips in a thick layer, leave on for 10 minutes, and then rinse with lukewarm water. Follow with a soothing facial moisturizer or serum.
6. Grapefruit & Oatmeal Elixir for Dull Skin
This is the best face mask for dull skin, hands down. The natural acids in grapefruit and milk gently exfoliate and brighten skin and clear out pores, while oatmeal calms inflammation to soothe dry, winter skin.
Mix the ingredients in a small bowl. Apply and leave on skin for 15 minutes, then rinse.
7. Egg White & Oatmeal Mask for Oily Skin
Egg white masks are often used to tighten and tone skin, which essentially means they are helping to dry out the skin. Ground oats absorb oil and exfoliate dead skin that can clog pores. Add a bit of honey for its skin-healing benefits.
Whip together the egg white and honey until well combined and a bit frothy. Add ground oats or flour until you have a paste. Apply to your face (avoid the eyes), and massage gently into the skin. Leave the mask on for 10 minutes, and remove with warm water.
8. Pore Cleansing Cinnamon + Oatmeal Face Mask
This is a great mask for those with oily or acne-prone skin. The natural acids in the apples and yogurt naturally exfoliate skin [source], while the oatmeal soothes inflammation. And cinnamon is an antioxidant as well as a natural antibacterial and anti-fungal [source].
Puree the green apple and yogurt together in a blender until smooth. Add the oatmeal, and give the mixture a couple of pulses. You want to break down the oatmeal but not puree it.
Transfer to a clean bowl and stir in cinnamon. Apply the mask to your face with clean hands or a facial brush. Avoid the eye area. Let it sit for 15 minutes, and remove with warm water. Pat dry and follow with moisturizer.
9. Turmeric + Oatmeal Hydrating Face Mask
High in antioxidants for glowing skin, this mask helps to even skin tone while treating acne scars. Turmeric contains curcumin, which works as an anti-inflammatory, fighting free radicals from pollution, diet, and sun damage [source].
In a blender/coffee grinder, blend the oats until you get a fine consistency. Put into a bowl, add the turmeric powder, and mix. Add oil and water as needed to form the mask paste.
Apply this all over your face and neck. Be careful about what you are wearing because turmeric can leave stains. Allow the mask to sit 10–15 minutes, and rinse with warm water to remove.
Oatmeal Face Mask FAQ
Is oatmeal good for sunburns?
When it comes to sunburn relief, oatmeal is a godsend. Colloidal oats are particularly soothing for burns because they're anti-inflammatory and help control the urge to scratch. You can turn practically any oatmeal face mask into a sunburn soothing mask by grinding the oatmeal in a food processor or coffee grinder before adding the other ingredients.
How often are you supposed to use oatmeal face masks?
Like most face masks, oatmeal masks shouldn't be used more than once or twice a week. If you're using the mask a spot treatment, you can use more often. Just keep an eye out for irritation.
What should I apply before a face mask?
Before using a face mask, always wash your face and apply toner, if desired.
Do I wash my face after a face mask?
There's really no need to wash your face after using a face mask. Most masks contain soothing and moisturizing ingredients that nourish skin as they get absorbed. Washing your face could strip the skin, leaving it drier and more irritated than before. You may, however, want to apply things like serum and moisturizer afterwards to lock in moisture.
What else can you do with oats?
If you're looking to put those leftover oats to use, here are some easy oatmeal recipes and DIYs you may enjoy:
—Make a skin-soothing oatmeal bath
—Quench dry skin with oatmeal + honey soap
—Try this coco-mango overnight oats recipe
—Smooth dry patches with an oatmeal + sage face polish
—Make protein-packed oatmeal pumpkin muffins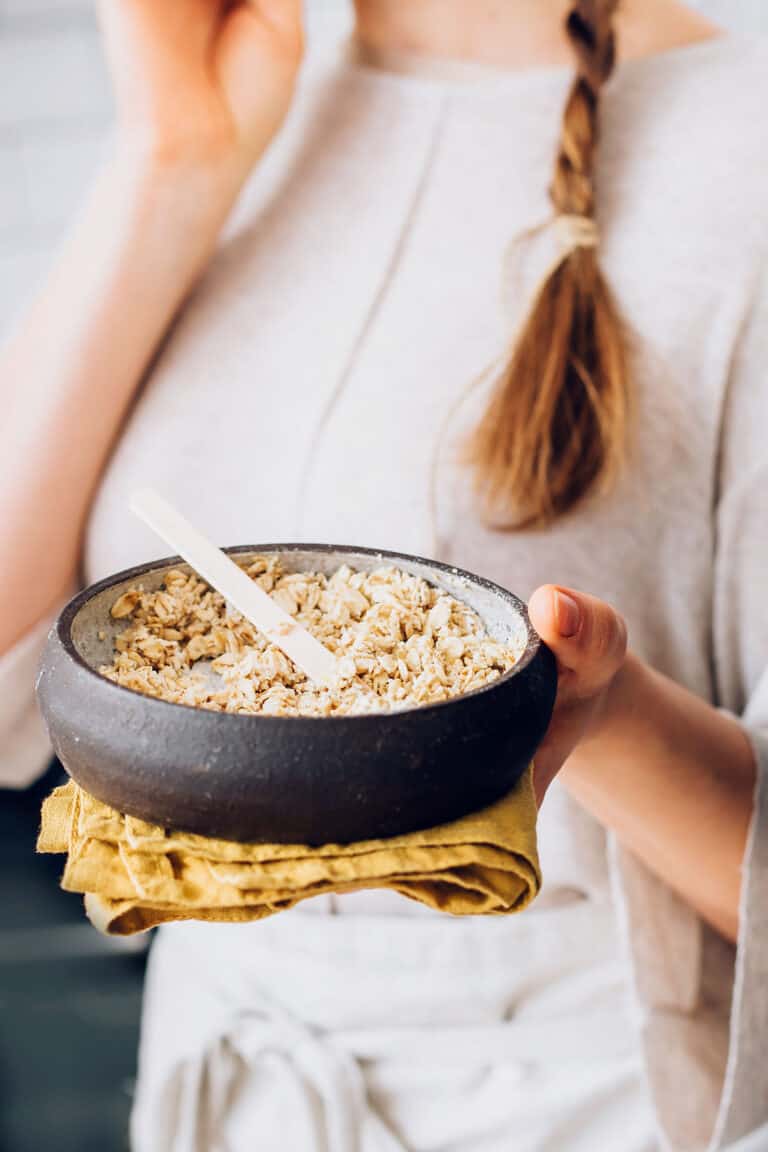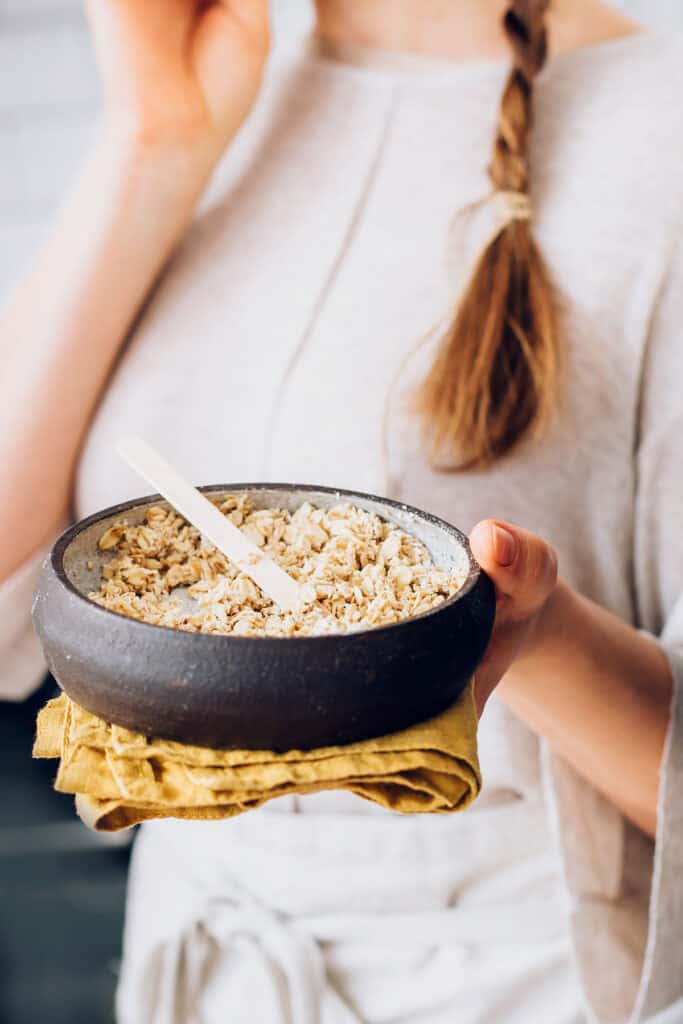 This post was medically reviewed by Dr. Jennifer Haley, a board-certified dermatologist with extensive experience in medical, cosmetic, and surgical dermatology. Learn more about Hello Glow's medical reviewers here. As always, this is not personal medical advice, and we recommend that you talk with your doctor.
732