As far as skin conditions go, eczema has to be one of the worst. I had eczema as a kid, and although I was lucky enough to outgrow the roughest years of it, I still get a flare-up every so often. The inflammation and itch are bad enough, but I'd say it's the pain that makes it unbearable.
And like most skin conditions, doctors are quick to prescribe topical steroids and mystery creams to hopefully make it (and sometimes you) go away. If only I'd known about this natural eczema balm back in the day, I might have saved myself years of misery.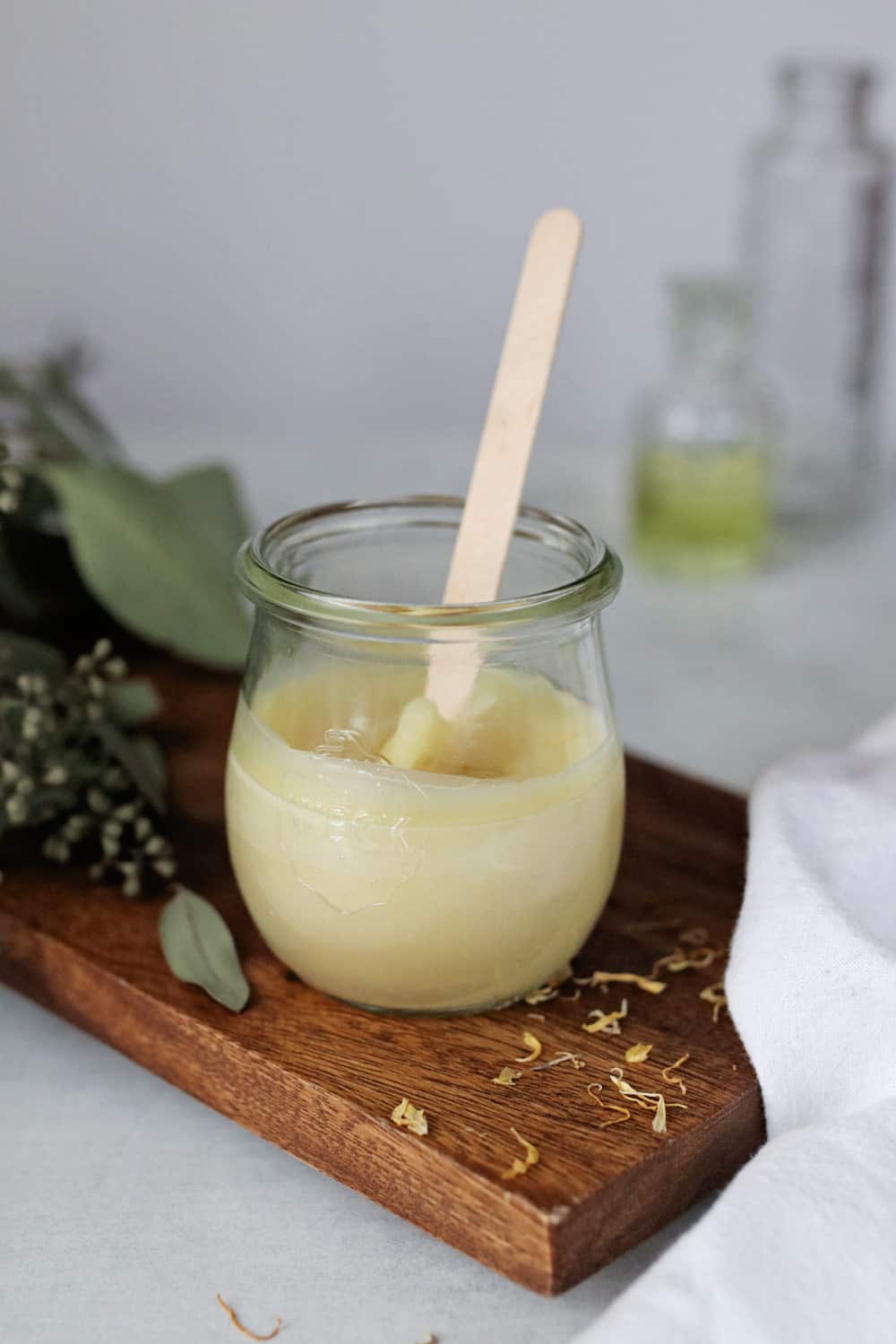 Homemade Eczema Balm
This all-natural oil-based balm is a godsend for irritated skin. I keep a jar on my bedside table to remedy flakiness and inflammation all year long. The main ingredient is coconut oil, an intensely hydrating oil that is perfect for chapped, irritated skin [source]. Plus, beeswax and almond oil give you an emollient-rich balm that locks in moisture and protects your skin from the elements.
But it's the raw honey and essential oils that do most of the heavy lifting. Honey is said to be one of nature's most powerful soothing agents. It helps kill bacteria, reduces inflammation, and calms the itch that comes with eczema [source]. And essential oils like chamomile and cedarwood help put out the fire [source] and repair your skin's moisture barrier.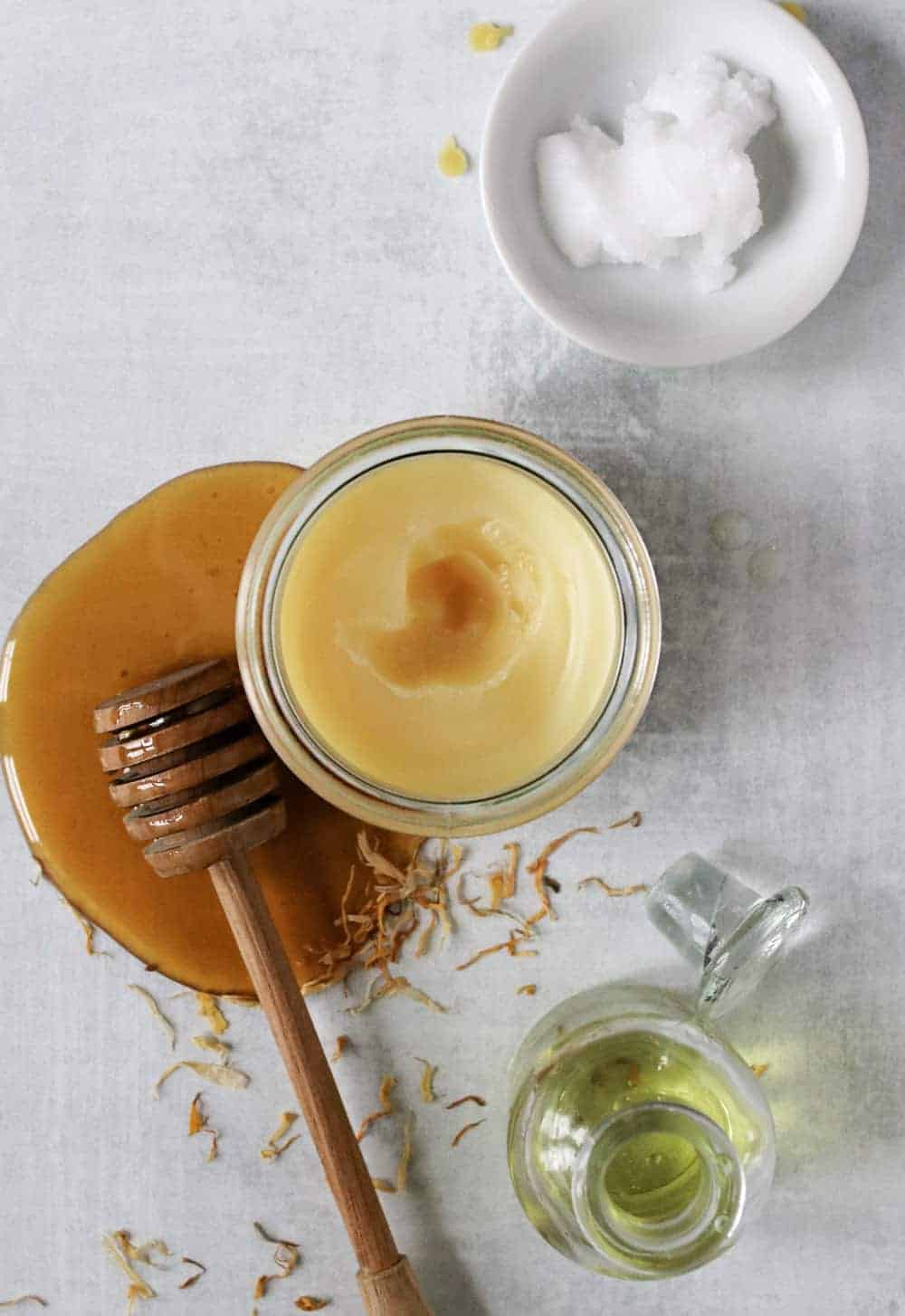 That being said, it's important to remember that the causes of eczema vary from person to person. Allergies and environmental triggers often play a role, and what works for one person might not work for another. It's best to experiment with essential oils and find a blend that's perfectly tailored to you and your skin's needs.
Essential Oils for Eczema
Essential oils aren't a one-size-fits-all remedy, but with a little trial and error, you're sure to find a blend that succeeds in soothing your eczema symptoms. Here are some of the best essential oils for eczema.
(Note that while I use a few of the following oils in my homemade eczema balm, I don't use all of them—oils are expensive! Feel free to mix and match any of these essential oils when making your own balm.)
Lavender
Lavender oil has exceptional anti-inflammatory and anti-itch properties [source]. It's often used to soothe the redness and irritation associated with atopic dermatitis.
German Chamomile
There are different types of chamomile, but German chamomile is great at calming acne, eczema, rashes, dermatitis, and other troubling skin conditions by encouraging cell regeneration so new, healthy skin can take its place [source].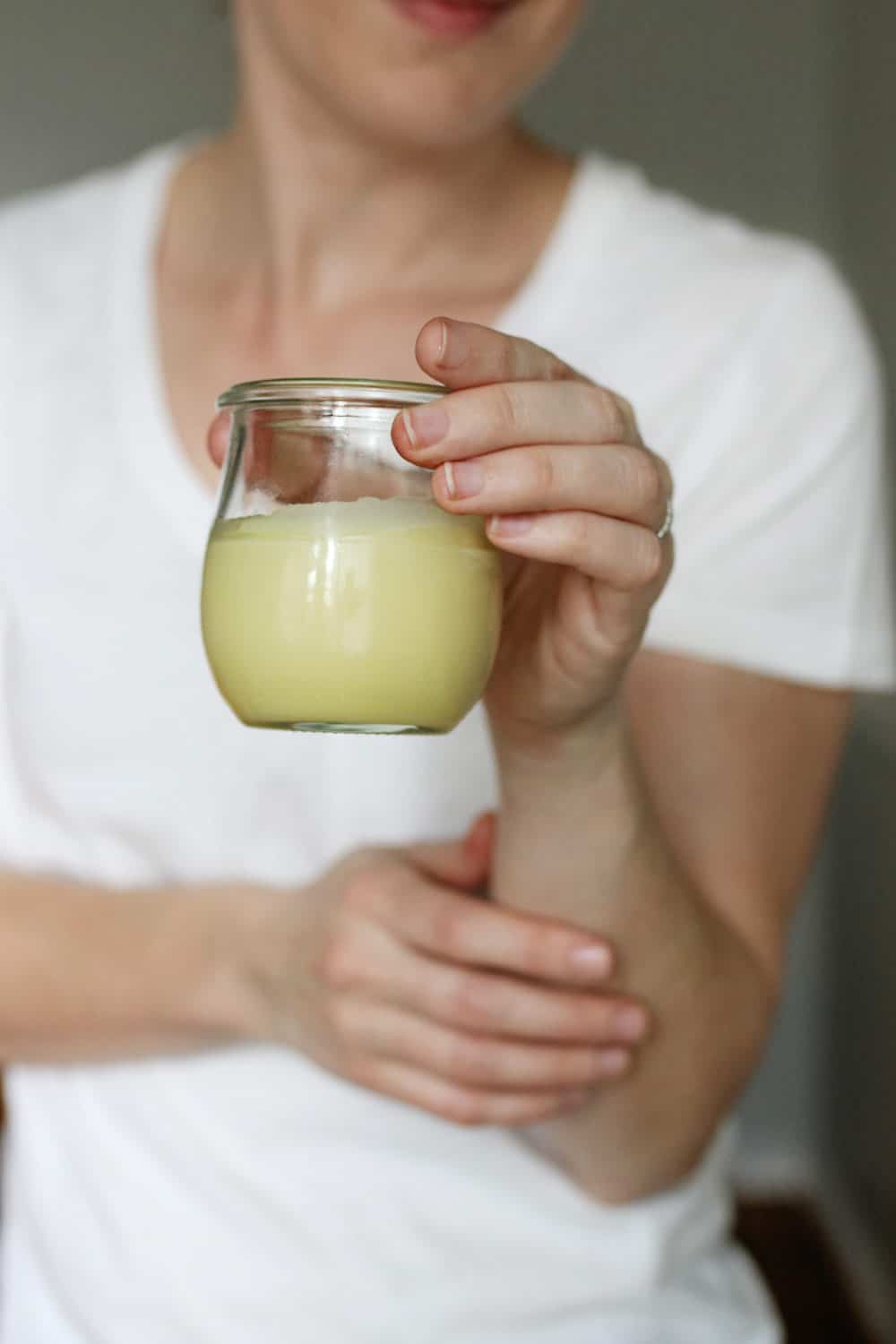 Bergamot
Bergamot oil is often used to reduce inflammation, so skin can heal more quickly [source].
Thyme
A natural antiseptic, thyme oil is a great defense against pain, swelling, infection, and inflammation [source].
Frankincense
Frankincense oil has been used for hundreds of years to heal skin conditions of all kinds. Not only does it reduce swelling and redness [source], it's even been shown to have anti-cancer effects [source].
Cedarwood
Cedarwood oil doesn't just treat the symptoms of eczema; it helps heal the condition as well, thanks to its anti-itch and anti-inflammatory properties [source].
Geranium
Just a dab or two of geranium oil is enough to reduce swelling and pain associated with cracked, irritated skin [source].

As always, do a test run before making a large batch of eczema balm, and give it time to work before trying new oils. Unlike a lot of prescription creams, essential oils work slowly, so you need to apply them regularly to see results. And feel free to mix and match oils or add in new ones to find a combination that works best for you.
Soothing Eczema Balm Recipe
Ingredients
Instructions
1. Place the coconut oil, shea butter, and beeswax in a heat-proof glass jar—I find a Pyrex measuring cup works great for this—and microwave in 30-second intervals until completely melted. Alternatively, you can place the container in a small saucepan filled halfway with water and heat on low until the oils have melted.
2. Set the melted oils aside for 15 minutes to cool slightly. This helps preserve the active compounds in the honey and keeps it from separating as the mixture cools.
3. Add the honey, almond, and essential oils, and stir to combine.
4. Transfer the balm to a small tin or lidded glass jar, and let it cool completely. Mark the date on the jar and use within a year.
Eczema Balm FAQs
The honey settles to the bottom as my balm cools. What gives?
Honey is water-soluble, whereas this balm is mostly oil. That means the honey has a tendency to separate and sink as the mixture cools. One way around this is to let the oils cool considerably before adding your honey.
While I recommend letting the melted oil mixture sit on the counter for at least 15 minutes before adding honey and essential oils, it may still be too hot, in which case you need to let it sit longer. I sometimes try to wait until the balm starts to form a solid layer on top. Then I mix everything together again and add the remaining ingredients, stirring intermittently as it cools.
You can also add 2 tablespoons of emulsifying wax prior to melting your oils. Then follow the above instructions to prevent separation.
This balm has a sticky texture, is there any way to get rid of that?
Just use less honey.
Can you omit the honey entirely?
Yes, although honey is part of what gives this balm it's soothing benefits. If you do choose to leave it out, feel free to add a couple more drops of your chosen essential oils.
Are there any vegan alternatives to honey or beeswax I can use?
Sure. Pure maple syrup is a humectant and has antioxidant properties, much like honey. And carnauba wax is a great vegan alternative for beeswax.
What's the shelf life?
Your eczema balm should last 1–2 months without the need for refrigeration. Or you can store it in the refrigerator for up to 1 year. Like all homemade beauty products, if you notice a change in smell or consistency or if you see mold, toss it out.
Ready to reap more of the healing benefits of honey and botanicals?
Try some of these skin-soothing DIYs:
This article was medically reviewed by Dr. Gina Jansheski, a licensed, board-certified physician who has been practicing for more than 20 years. Learn more about Hello Glow's medical review board here. As always, this is not personal medical advice, and we recommend that you talk with your doctor.
462