Fine lines, scars and age spots are issues we think about more and more as the years go by. But did you know a single oil can help with all three issues?
I'm talking about rosehip seed oil, a favorite of cosmetics brands, home beauty DIYers, and the likes of Gwyneth Paltrow. Rosehip (seed) oil is filled with antioxidants, vitamins, and fatty acids, making it an essential choice for hydrating super dry skin, reducing scaring, or evening out pigmentation.
Add a few drops to your daily moisturizer or try one of these rosehip oil beauty recipes:
10 Rosehip Seed Oil Uses & Recipes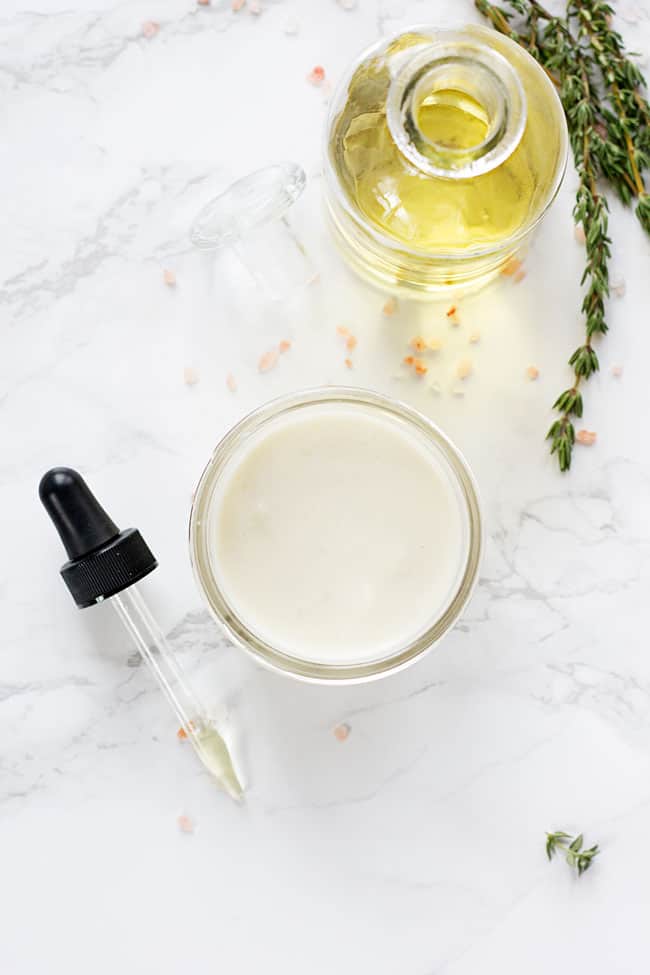 Not only is rosehip oil known to help smooth away imperfections but it also hydrates dry, itchy skin like a dream. The combo in this recipe is an age-defying, ultra hydrating moisturizer we swear by.
Giving your skin regular exfoliation is very important in the long term. You'll love the pumpkin spice scent of this facial scrub, but also the firming effect from the rosehip oil. Perfect for fall!
Although it's loaded with nourishing oils, when mixed together, the ingredients form a light, non-greasy lotion that's perfect for rubbing into scars or healing injured skin.
The fact that this recipe is meant for roll on application may seem like a small thing, but it's not! You won't waste precious ingredients by using too much at once, you don't have to worry about getting dirty fingers in your eye, and you won't pull and tug on the delicate eye skin.
If the bland scent of rosehip oil leaves you like 'meh', you'll love this upgraded face serum that smells absolutely lovely! And it's not just a lovely scent – it works, too!
Clearly, everyone wants youthful skin, so anti-aging facial oils can be super expensive. Why not take that money to buy these ingredients and make your own for years to come?
Whether you're dealing with fine lines, sun damage, or scarring, this healing serum with rosehip, carrot seed, lavender, pumpkin and frankincense essential oils will take care of it all.
Switch out your regular face cleanser this fall for a creamy, hydrating cleansing balm. Ideal for winter skin, you can make this balm with rich rosehip seed oil. It also doubles as a makeup remover.
Combine protein-packed eggs with rosehip oil for a moisturizing hair mask to nourish the scalp, which encourages new hair growth, and strengthen strands, making them less prone to breakage or shedding.
Try an at-home sheet mask recipe using a tissue or Kleenex to give your skin a boost of added hydration. Dip the mask in a mixture of water, honey, and rosehip seed oil and relax while the treatment delivers a dose of vitamins and essential fatty acids to moisturize and treat aging skin.
This post was medically reviewed by Dr. Rina Mary Allawh, M.D., a dermatologist who performs adult and pediatric medical dermatology, skin cancer treatment and cosmetic dermatology. Learn more about Hello Glow's medical review board here. As always, this is not personal medical advice and we recommend that you talk with your doctor.
124