This rosehip face oil recipe is rich. Like, "whoa, do I really need all those different oils?"-rich. But trust me, your skin will love it.
If you haven't already started slathering your face with oil, then now is the time. There are so many amazing oils for the face!

Why Rosehip Seed Oil
?
Rosehip seed oil is high in essential fatty acids [source] that heal dehydrated skin. A "dry" oil, meaning that it soaks into the skin easily, this oil doesn't leave a greasy residue, works wonders on scars, helps to even skin tone [source], and the antioxidant power of rosehips is touted for treating wrinkles and premature aging [source].
Pressed from the bright red 'fruit' left behind by rose flowers, high-quality rosehip oil is super distinctive for its warm, orangey hue. If your rosehip oil looks pale or clear, that's a sign that you've been duped, and it's not the real deal!
Rosehip seed oil makes the perfect base for any anti-aging oil—it's rich in vitamins A and C, two vitamins that intensely nourish skin, as well as polyunsaturated fatty acids.
Vitamin C works as an antioxidant, brightening dull skin and reducing the appearance of hyperpigmentation over time. It also protects the skin from free radical damage and prevents premature signs of aging [source].
Vitamin A slows the natural breakdown process of collagen and elastin, keeping skin looking youthful for longer. What isn't there to love about this oil? On its own, it is definitely amazing, but why not take it to the next level in this facial oil recipe [source]?
Polyunsaturated fatty acids (also known as vitamin F) convert to prostaglandins in the skin. And prostaglandins are essential for cellular membrane and tissue regeneration [source].
DIY Rosehip Face Oil
This recipe is ideal for aging skin. Facial oils, especially anti-aging ones, can be super expensive. Why not use that money to buy these ingredients, and make your own for years to come? Plus, that bottle of oil can be used to make all kinds of rosehip beauty recipes.
But if you don't have or don't want to buy all of these oils, it's fine to leave them out. A simple combination of jojoba and rosehip seed oil would be a wonderful facial oil.
Or try a new oil, like squalane. Dermatologists love it! Add a few drops of an essential oil like lavender and frankincense, and you're good to go.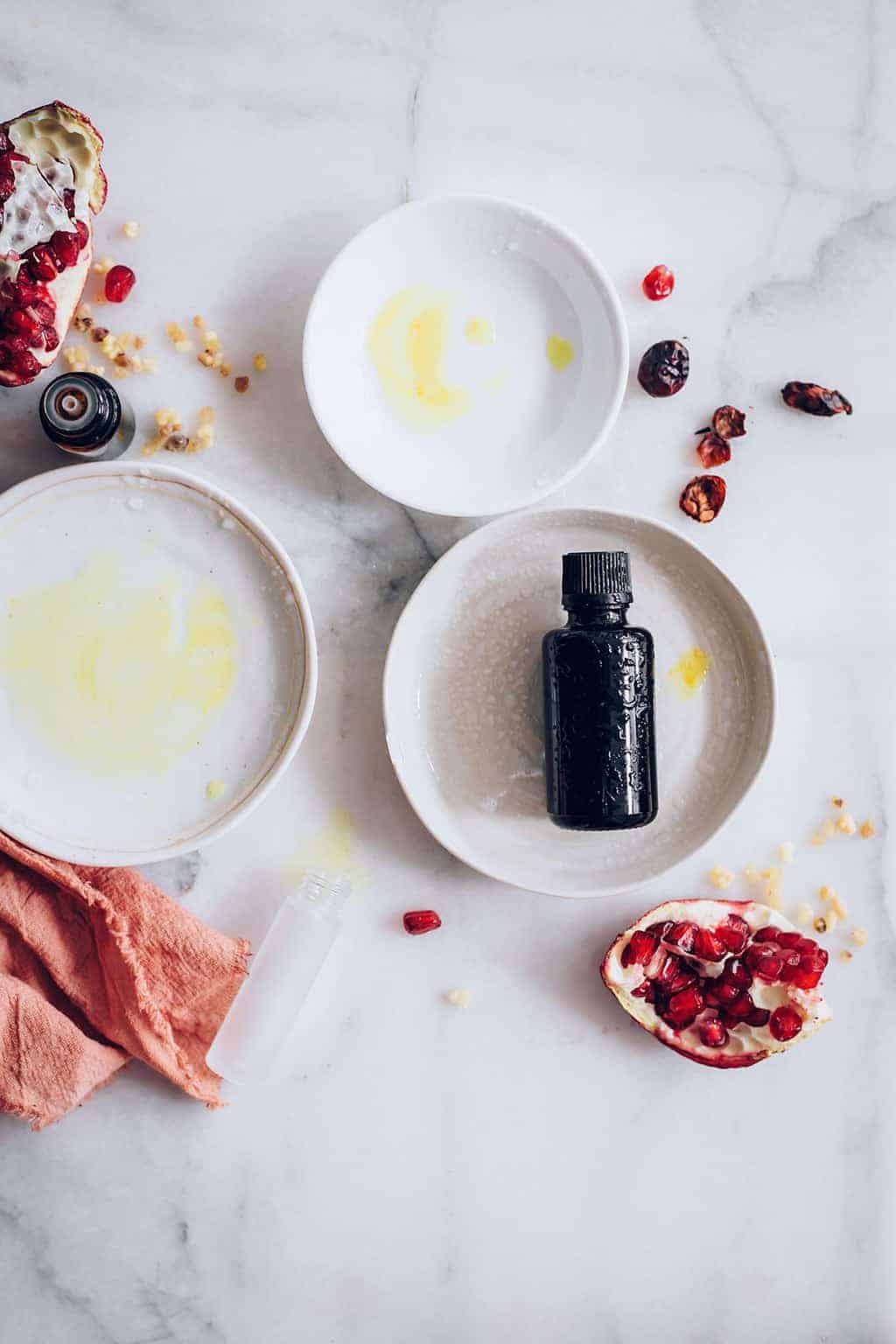 What are all those oils in the recipe? A quick rundown of what's in there and what each one does for your skin:
Jojoba oil is a lightweight, hydrating oil that closely matches the oil your skin produces so it won't clog pores. It is an anti-inflammatory and antioxidant [source] that has also been shown to help other oils and treatments penetrate the skin more readily [source]. It's ideal for use on the face for any skin type.
Pomegranate seed oil and carrot seed oil both provide powerful antioxidants that repair the damage done to your tissues by oxidative compounds (free radicals) and protect skin from wrinkles.
Evening primrose oil, an omega-6 essential fatty acid, has long been used to heal bruises and treat skin conditions like eczema. It protects the skin from free radicals [source] and has skin lightening properties [source].
Frankincense essential oil is another antioxidant [source] used in skincare products that can help treat dry skin, reverse signs of aging, and reduce the appearance of stretch marks and scars.
Vitamin E is an important antioxidant that fights free radicals, helps with hydration, and reduces fine lines [source]. Plus, it's anti-inflammatory and can help skin wounds heal faster, which makes it super helpful for fighting acne scars.
The rosehip face oil recipe makes about an ounce because a little oil goes a long way. Use a dark-colored bottle with a dropper to make it easy to get a couple of drops at a time. Try this rosehip and rosewater serum while you're in the DIY mood.
And for best results, keep your DIY oil and any leftover rosehip oil in the refrigerator or in a cool, dark place. Use within 1 year.
Rosehip Oil FAQs
Is it okay to use so much frankincense essential oil in this recipe
?
As a rule of thumb, we usually recommend no more than 6 drops of essential oil per ounce of carrier oil for facial recipes. But essential oils vary in strength, and frankincense is a "neat" oil, which means it can be applied straight out of the bottle without the need for dilution. So 10 drops per ounce is safe, but you can use more or less depending on how it affects your skin.
Should facial oil be used before or after my moisturizer
?
Personally, I use rosehip face oil in place of moisturizer. But if you would like to use both a facial oil and a moisturizer, apply it as just would any other facial serum, preferably prior to your moisturizer.
I thought this recipe would show me how to make rosehip oil at home. Is that possible
?
In the beauty world, a facial oil is a combination of nourishing oils, not one single oil. While I'm sure you can make your own rosehip oil at home, I don't have any experience with extracting oils. Instead, I would recommend infusing a carrier oil with dried organic rosehips.
Will rosehip oil clog my pores
?
While rosehip oil's comedogenic rating varies slightly depending on who you ask, it's not known for being especially pore-clogging. That means that even those of us with acne or sensitive skin can use it without an adverse reaction. That being said, you should always test new skincare products on a small area of skin before applying them to the entire face.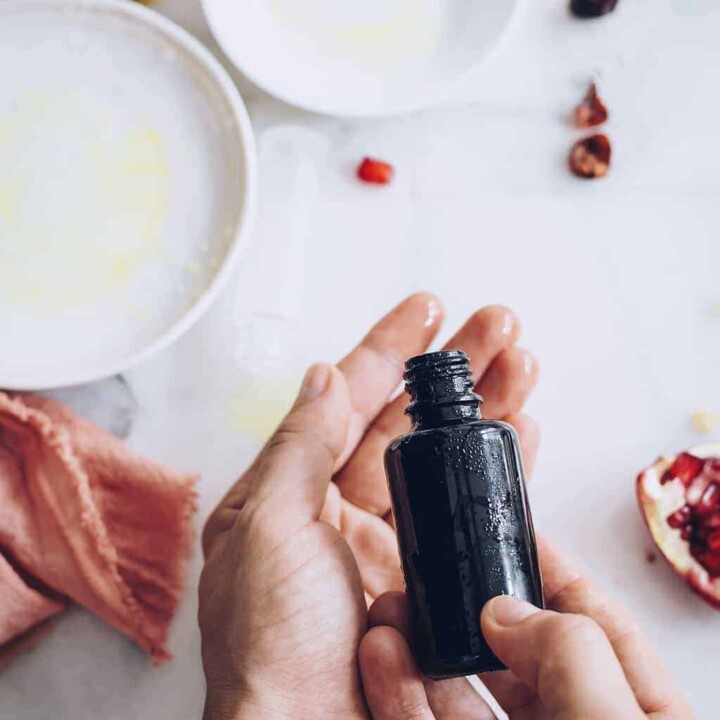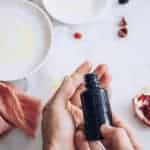 Print
DIY Rosehip Facial Oil
A rich DIY facial oil with rosehip seed and pomegranate oil that works wonders on scars, wrinkles, and premature aging.
Equipment
A 1-ounce bottle with dropper cap
Instructions
Combine ingredients in a small, dark-colored bottle. Shake gently to combine.

Apply 2–4 drops to the pad of your finger and massage into your face, neck, and chest each night.
Notes
Use a dark-colored bottle with a dropper to make it easy to get a couple of drops at a time. And for best results, keep your DIY oil and any leftover rosehip oil in the refrigerator or in a cool, dark place.
If refrigerated, this oil blend should last for about a year.
This post was medically reviewed by Dr. Jennifer Haley, a board-certified dermatologist with extensive experience in medical, cosmetic, and surgical dermatology. Learn more about Hello Glow's medical reviewers here. As always, this is not personal medical advice, and we recommend that you talk with your doctor.
450