Feet take such a beating in the summer. I like to go barefoot as much as possible (I am from the South!) plus lots of sandal wearing take a toll. Crusty, dirty feet is one of my biggest pet peeves so I've been trying various tools and remedies to keep them soft. When you wear cute sandals you want to show off pretty feet!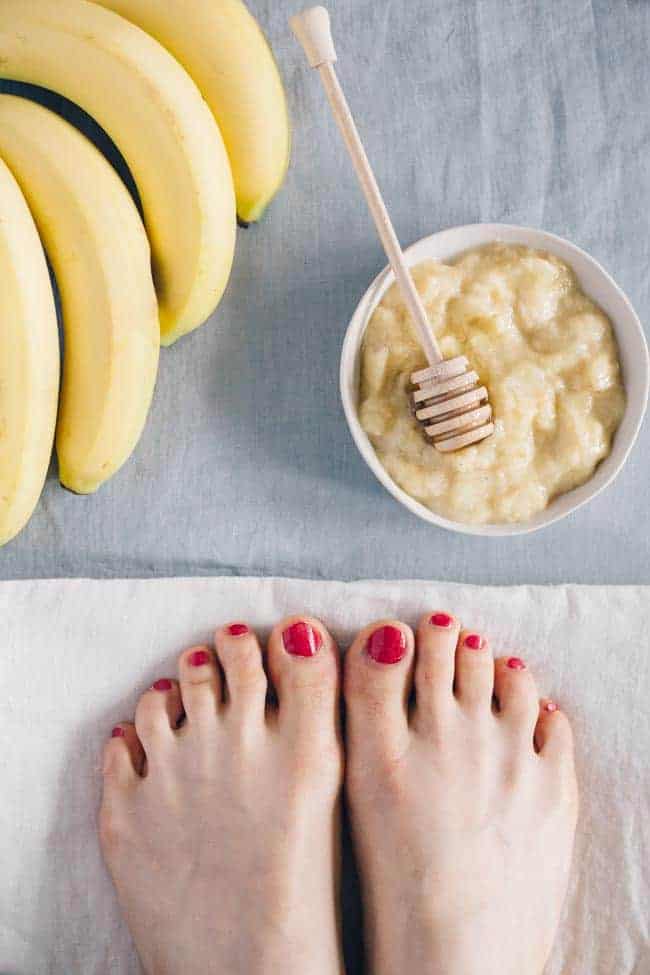 When I read in Real Simple that bananas make an excellent skin softener I was skeptical. Who wants to slather a banana on their feet? Personally, I don't want my feet to smell like banana bread. But it works! My soles were much softer and it made exfoliating so much easier. Don't you love little home remedies like this?
Summer Sandal Foot Mask with Banana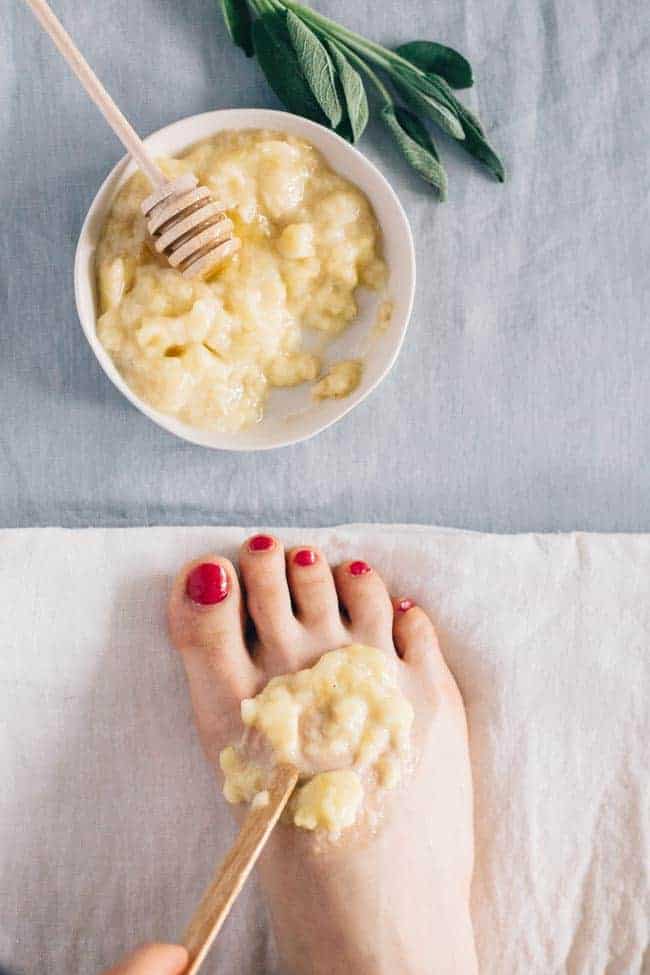 All you need is a banana and some honey. Mash 1/2 of a banana and add a few drops of honey. Slather all over your feet and wrap them in plastic wrap. (If you have extra, it makes a great snack!)
If you're having some issues with the plastic wrap slipping off, put a pair of old socks on over it. The slight pressure of the socks combined with the heat helps make the mask work even better, too. Read a magazine for at least 10 minutes then wipe off the banana and honey mixture.
Your soles will be much softer! Use warm water and be sure to get everything off before moving on to the next step in your self-pedi routine. If you have pesky calluses you can exfoliate with a pumice stone. Then slather on some moisturizer.
If you've done this mask just before bed, one of my favorite ways to really ensure that I wake up with super-soft feet in the morning is heaping on on a thick layer of moisturizer, then popping on some socks. (Preferably not the same ones as before!)
I know, summer is hot and you don't necessarily want to sleep with socks on, but how your feet look afterward will be so worth it! Plus, it's not like you need to do this entire routine every night—every couple of weeks should be fine for your feel to be sandal-ready all summer long. Then, you can give yourself a pedicure with any color that you want or go all natural if you prefer!
While you have the banana on your feet you might as well try these other home remedies for your hair:

All you need to do is add an an egg and half an avocado to the banana and honey mix you already have (that is, if you haven't eaten it already! Can you tell that I'm a big fan of multitasking? Then sit back and relax while both masks do their magic. The added egg and avocado in the hair mask add protein and good fats to your mask, helping to not just add moisture but rebuild hair. Don't you love how versatile DIY recipes are? Then, you're all set for summer with super-smooth feet and lush, silky hair. Win-win!
165