The last time I had a facial (thank you Groupon) my aesthetician told me I had a lot of sun spots on my cheeks and recommended laser treatments to remove them. Yes, I admit sunscreen was not really a priority as a teenager. My cheeks would ALWAYS burn.
And we won't even discuss the burning/peeling on my chest. What was I thinking??

Before signing up for lasers I did a little online research and found a lovely all natural solution to minimize those blotches and freckles. Bonus: With a pineapple face mask you get a facial treatment with a side of snack.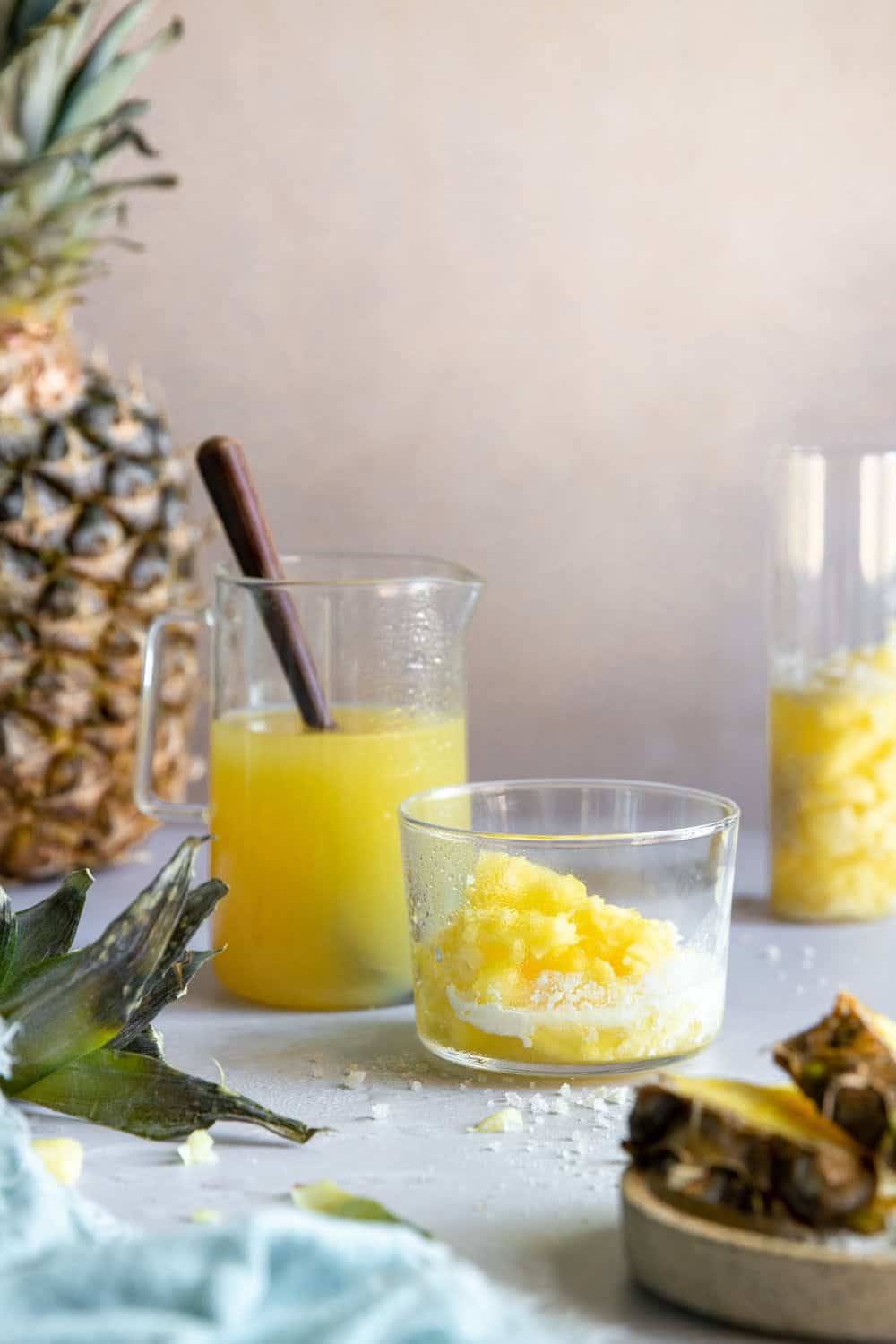 Why Make a Pineapple Mask?
Pineapple contains a natural enzyme called bromelain, which has numerous skin-boosting benefits. A pineapple face mask can help to:
1. Exfoliate the Skin
When used in skincare, bromelain can help to exfoliate the skin by breaking down the proteins that hold dead skin cells together. As the bromelain breaks down these proteins, the dead cells are loosened and can be easily sloughed off. Unlike some harsh physical exfoliants, bromelain is gentle on skin and can help to remove dead skin cells without causing irritation or damage (yay!)
2. Improve Skin Tone and Texture
In addition to exfoliating, the natural acids in pineapple juice can help to lighten dark spots and hyperpigmentation. This is because they can inhibit the production of melanin, the pigment that gives our skin its color. By reducing melanin production, pineapple juice can help fade dark spots and even out skin tone.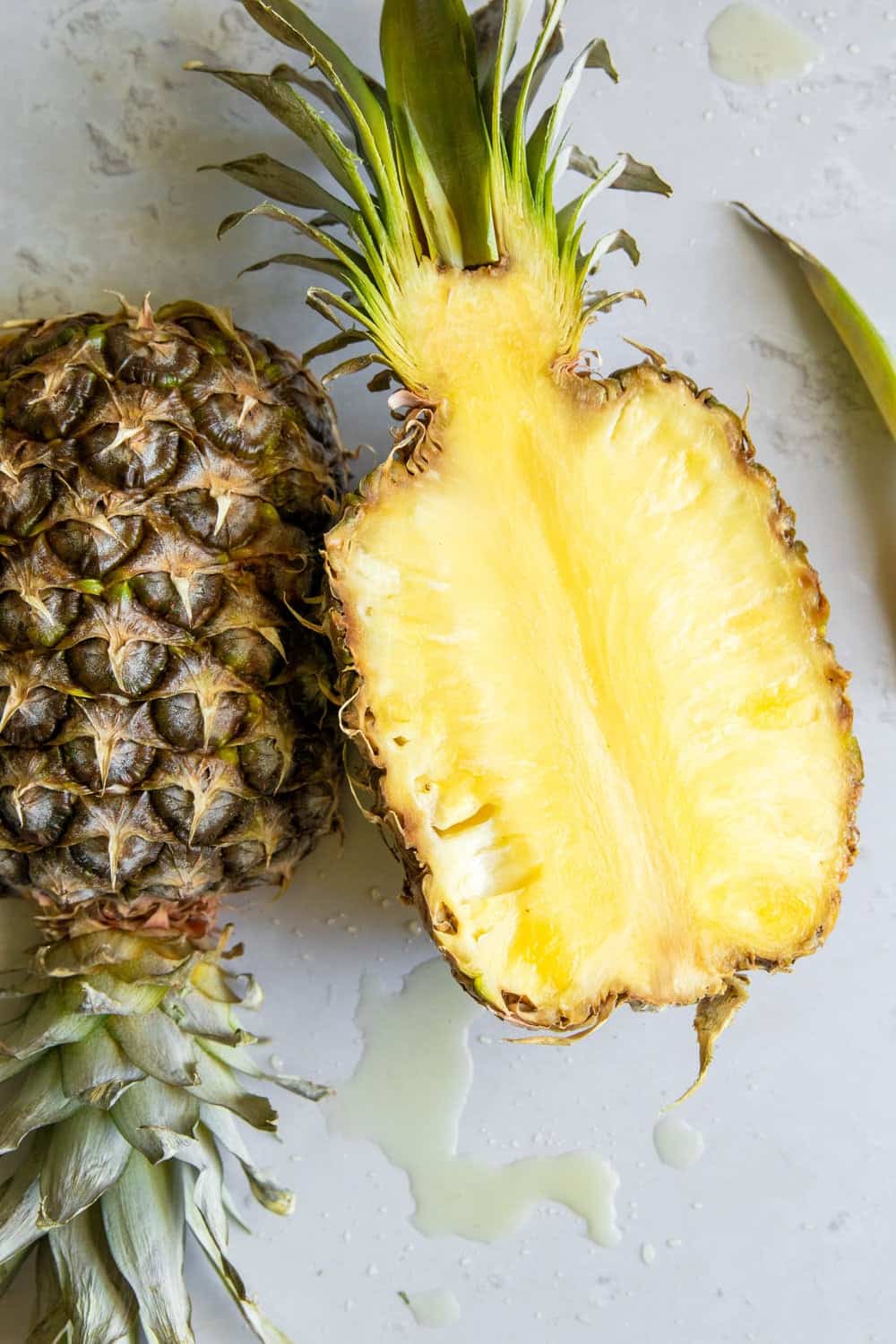 3. Reduce Inflammation
Bromelain has anti-inflammatory properties, which can help reduce skin inflammation and irritation. When applied to skin, bromelain works by inhibiting the production of pro-inflammatory cytokines and chemokines, which are molecules that contribute to inflammation, redness, and itching.
4. Boost Hydration
First, pineapple is rich in water, which helps to replenish skin's moisture content. This, in turn, helps to plump up the skin, making it appear more youthful and radiant.
Second, pineapple contains natural sugars and enzymes that help lock in moisture and prevent water loss from the skin.
5. Fight Acne
Bromelain has been shown to have antibacterial properties, which can help fight the bacteria that causes acne [source]. In addition, bromelain's exfoliating properties help slough away dead skin cells and unclog pores, which may help prevent pimples from forming in the first place.
10 Pineapple Mask Recipes for Radiant Skin + Hair
While some of these pineapple masks aren't technically for the face, they're all gentle enough to use on the face, neck, or anywhere else you may need a little brightening action. Because pineapple masks naturally exfoliate the skin, you don't want to overdo it.
Using them once or twice a week is plenty! And since you are removing a layer of dead skin cells you might be extra sensitive to sun so be sure to apply extra SPF and wear a hat after a treatment.
1. Pineapple Age Spot Mask
If you're a reformed tanning bed user like me, you probably have sun damage on your face. A pineapple face mask is a tasty choice for battling age spots or red blotchiness. It's high in vitamin C and the enzyme bromelain, which acts as an exfoliant.
Combined with a bit of leftover coconut milk, pineapple makes a natural AHA face mask the helps reduce the appearance of lines and spots while giving your skin a nice glow (plus it feels really good and tingly).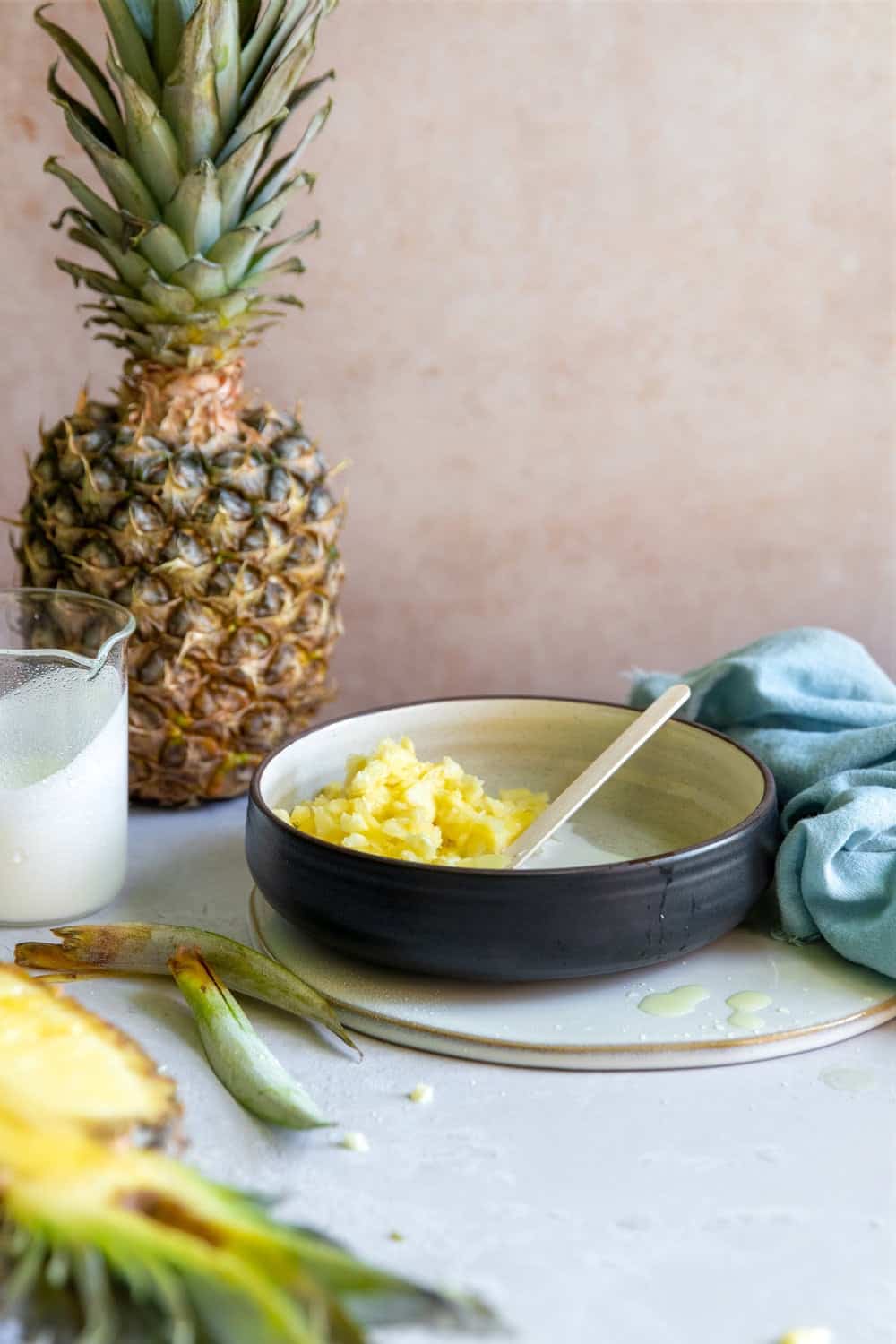 Age Spot Mask Recipe
—¼ cup pineapple, chopped (fresh or canned is fine)
—1 tablespoon canned coconut milk
1. Combine ingredients in a small bowl.
2. Apply evenly over your face, neck and chest and let sit for 10-15 minutes.
3. Rinse, pat dry and slather on moisturizer.
2. Probiotic Yogurt Scrub for Soft, Smooth Skin
If you're looking for a natural and effective way to exfoliate your skin, look no further than this DIY pineapple scrub made with yogurt, pineapple, and white sugar. Yogurt contains lactic acid, which can help to gently exfoliate and brighten the skin, while pineapple contains natural enzymes that can help to remove dead skin cells and unclog pores.
White sugar provides a gentle physical exfoliation, helping to slough away dull, dead skin cells and reveal softer, smoother skin underneath.
—2 tablespoons yogurt
—½ cup pineapple, pureed
—1 tablespoon sugar
1. Stir ingredients together in a small bowl.
2. Apply to freshly cleansed skin and leave on for 15 minutes.
3. When you're done, simply rinse, pat dry and apply moisturizer.
3. Softening Pineapple Soak
Bromelain's exfoliating properties extend to more than just your face. Turns out a simple pineapple foot soak can be an effective and natural way to remove calluses and promote healthy, smooth feet and hands. You can also apply this mixture to your face with a cotton ball and use it as a gentle skin peel.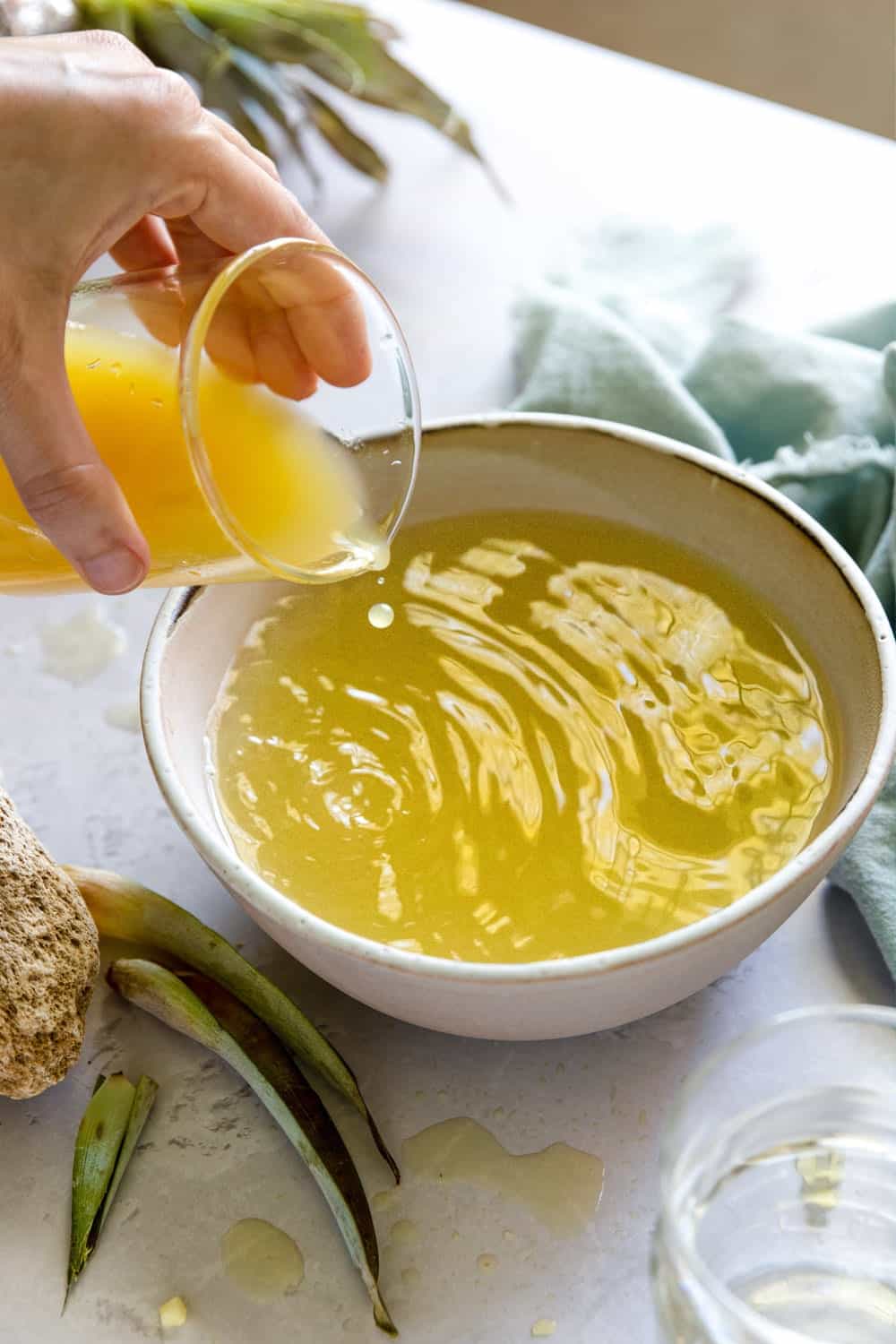 Softening Pineapple Soak Recipe

—1 cup pineapple juice
—4 cups warm water
1. Add juice to large basin filled with warm water. Soak feet 15 minutes then remove and rinse.
2. While feet are still damp, rub the flesh side of a 3-inch strip of pineapple peel onto each callus for 1 minute at a time. Repeat twice a week.
4. Resurfacing Spot Treatment
Whether you're battling sun spots or acne, a simple spot treatment can help tame discoloration and encourage healing in no time. All you need is a chunk of freshly cut pineapple and some essential oils, and you're in business.
—1-inch of piece of sliced pineapple
—2 drops tea tree essential oil (for pimples) or geranium oil (for discoloration)
1. Place a couple drops of essential oil on a slice of pineapple, then rub the pineapple anywhere you see pimples or discoloration. As the juice sits, it works to lighten discolored skin and reduce inflammation.
2. Rinse off after 20 minutes.
5. Shine Boosting Pina Colada Hair Treatment
Coconut milk contains fatty acids that can help moisturize and nourish the hair, which can help to improve its shine and overall appearance. Pineapple juice, on the other hand, contains natural enzymes and acids that help to remove buildup from the hair and scalp. Together, they help hydrate, nourish, and cleanse the hair, leaving it looking soft, smooth and shiny.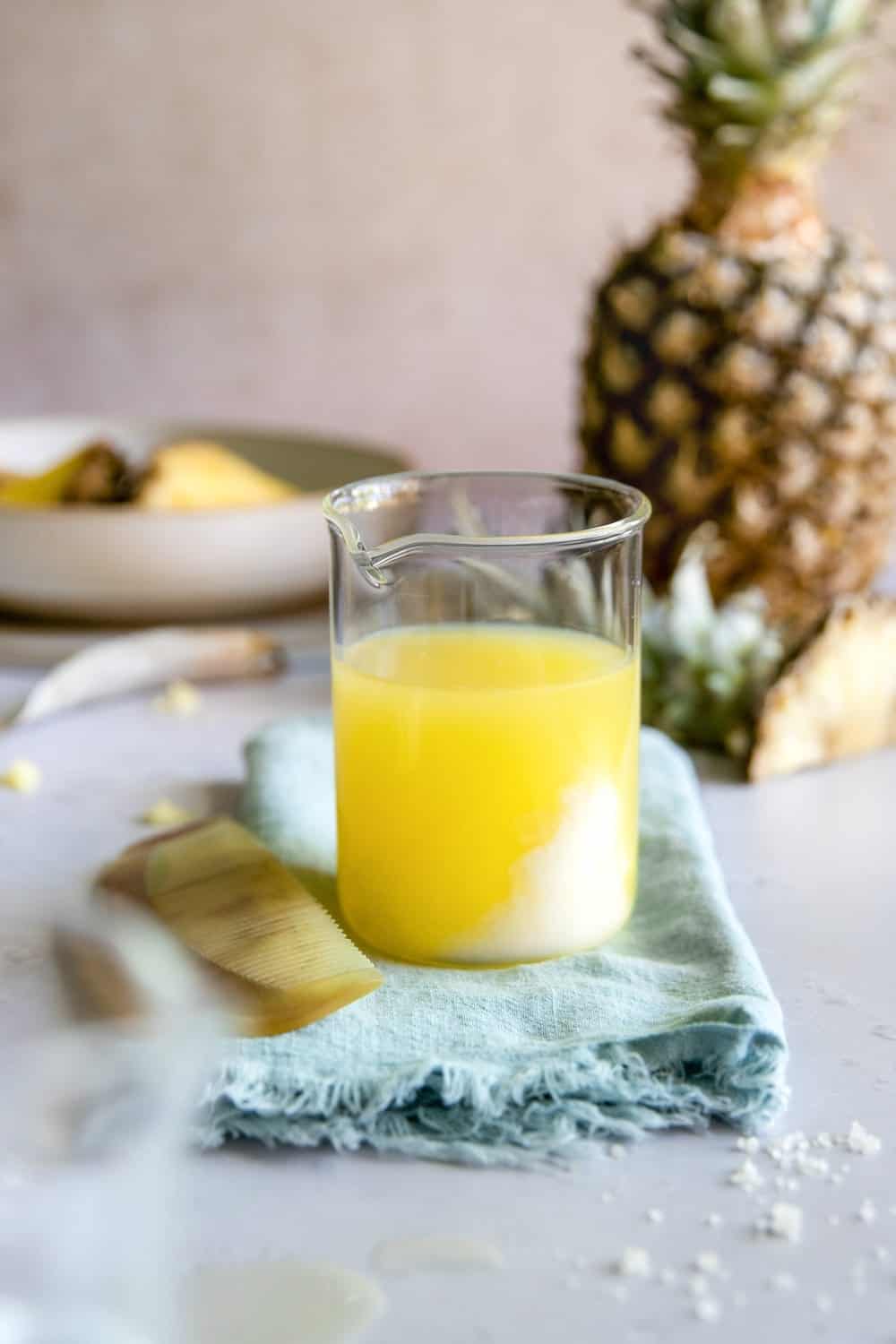 Pina Colada Hair Mask Recipe
—½ cup coconut milk, canned
—½ cup pineapple juice
1. Combine ingredients in a small bowl and pour over damp hair.
2. Let sit for 10 minutes before rinsing out. Then wash and style hair as usual.
6. "Tech Neck" Firming Mask
I call this the "tech neck" mask because, when used on a sagging neck and décolletage area, it helps firm the skin and erase those fine lines that form after staring at your cell phone all day. If you have any mask leftover, feel free to apply it to your face or anywhere else you like.
—1 egg white
—2 teaspoons honey
—¼ ripe avocado, mashed
—2 tablespoons fresh pineapple, pureed
1. Mash the ingredients together in a small bowl. Apply the mixture to your neck and allow it to sit for about 15-20 minutes.
2. Rinse the mask off with warm water and gently pat your neck dry with a clean towel. Use this mask once or twice a week to help reduce wrinkles and improve the overall appearance of your neck.
7. Blackhead Busting Pineapple Face Mask
Is there anything more annoying than pesky blackheads? Well, this mask tackles 'em with a one-two punch. Pineapple sloughs away dead skin cells that can cause blackheads and bentonite clay absorbs the dirt and debris that clog pores.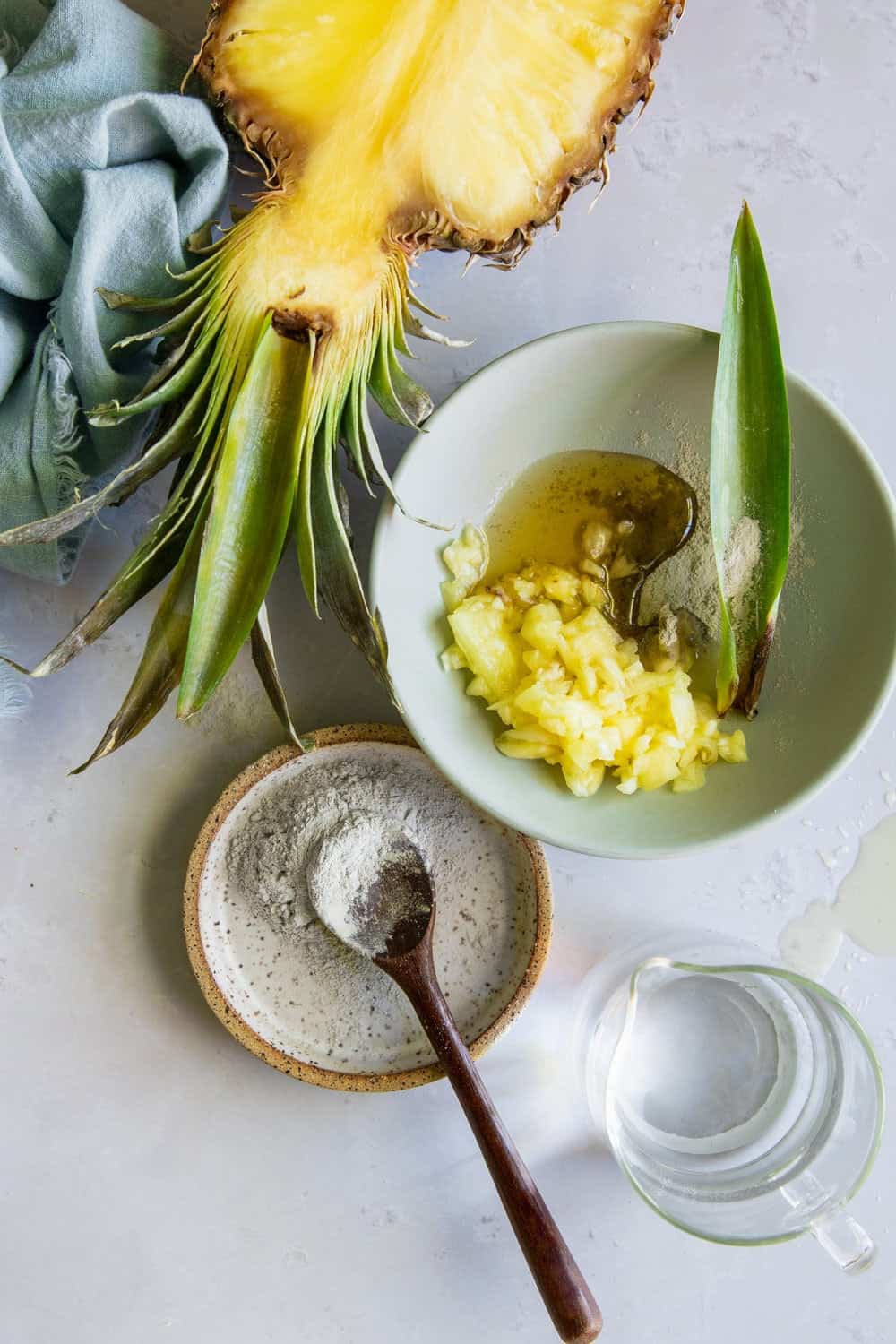 Blackhead Busting Pineapple Face Mask Recipe
—½ cup fresh pineapple chunks
—¼ cup honey
—¼ cup bentonite clay
—1-2 tablespoons water
1. Blend the fresh pineapple chunks in a blender or food processor until smooth (add water if needed to help get it going).
2. In a separate bowl, mix together the honey, bentonite clay, activated charcoal and water until a smooth paste is formed. Add the blended pineapple to the paste and mix well.
3. Apply the mask to your face, focusing on areas with blackheads. Leave on for 15-20 minutes, or until the mask has dried. Rinse with warm water and pat your face dry with a towel before applying moisturizer.
8. Skin Butter Moisture Mask
If you're looking to transform parched skin, look no further than this super hydrating face mask. Shea butter is a rich source of fatty acids and vitamins that can help to hydrate and soothe dry, rough skin, while almond oil is a lightweight, non-greasy oil that can help lock in moisture and protect against environmental damage.
Aloe vera is a natural humectant that draws moisture into the skin and pineapple provides natural enzymes that help lighten and brighten dull skin.
—1 tablespoon shea butter, melted
—1 tablespoon almond oil
—1 tablespoon aloe vera gel
—¼ cup fresh pineapple, pureed
1. Start by combining the shea butter and almond oil in a small bowl. Then add the aloe vera and pineapple puree, mixing well.
2. Apply all over the face and leave for 10 to 15 minutes. Rinse well.
9. Pineapple Face and Body Polish
If you're looking to get that post-spa glow without leaving the comfort of your own home, this microdermabrasion scrub is perfect for you. Baking soda acts as a gentle exfoliant, polishing away dead skin cells and leaving your skin feeling soft and smooth without the raw feeling of most sugar scrubs. Combine it with pineapple juice and almond oil for extra oomph.
If using this as a body polish, go ahead and add some all-natural sea salt for extra scrubbing power.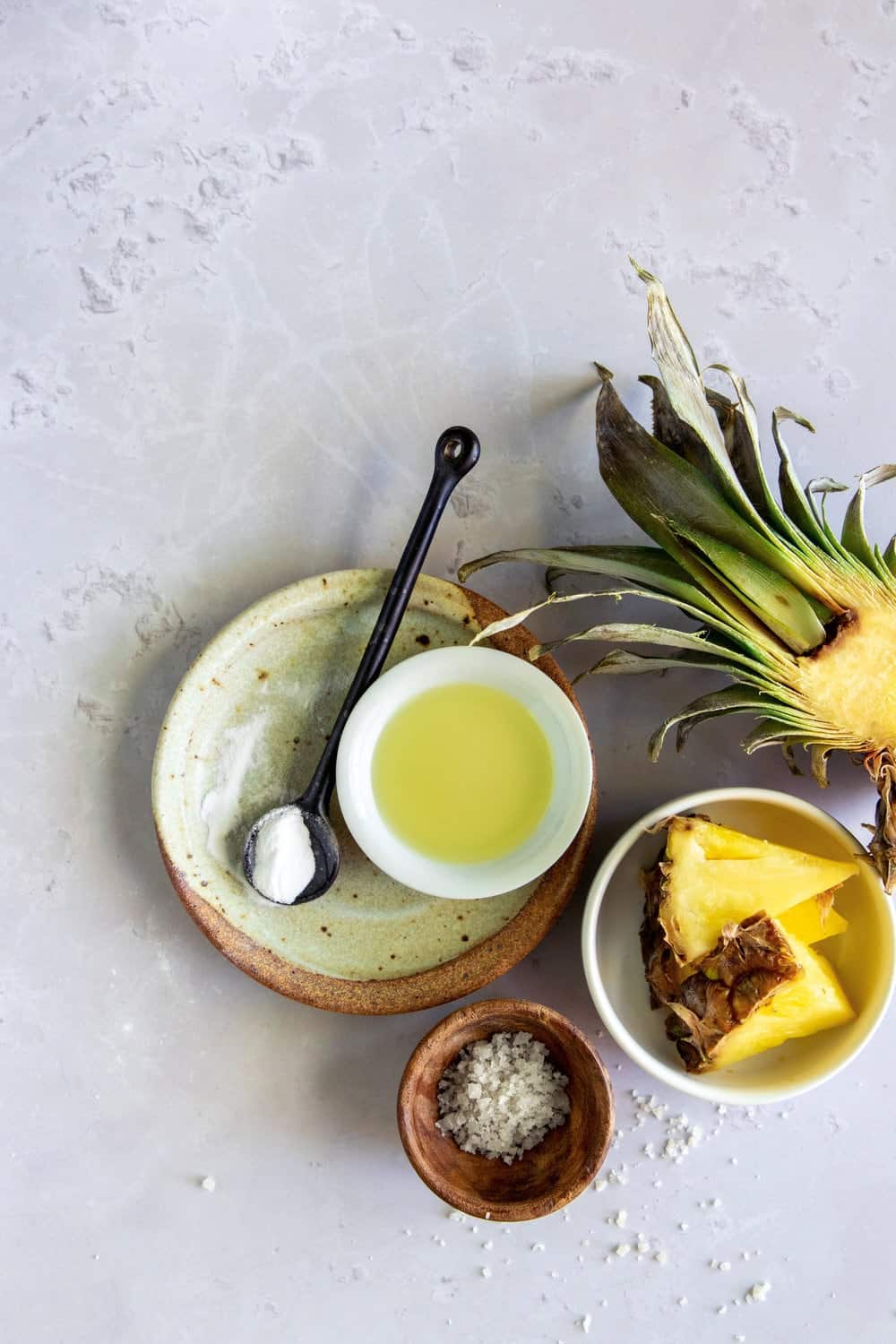 Face & Body Polish Recipe
—¼ cup pineapple juice
—¼ cup baking soda
—2 tablespoons sweet almond oil
—1 tablespoon sea salt (for body polish only)
1. Mix everything in a small bowl and apply to freshly cleansed skin. Using gentle pressure, massage the mask into for 1-2 minutes.
2. Rinse well, pat skin dry and apply a gentle moisturizer.
10. Glowing Pineapple Skin Toner
The pineapple juice in this homemade face toner helps to brighten and exfoliate the skin, while witch hazel helps to tighten pores and reduce inflammation. Apple cider vinegar helps to balance the skin's pH levels and a little tea tree oil provides antibacterial properties to prevent breakouts.
—2 tablespoons fresh pineapple juice
—¼ cup witch hazel
—¼ cup distilled water
—1 tablespoon apple cider vinegar
—5 drops of tea tree oil
1. Add all the ingredients to a small bowl and stir well.
2. To use, shake the bottle well and apply it to freshly cleansed skin using a cotton round. Transfer any leftover toner to a clean, airtight container and store it in the refrigerator for up to a week.
102