What the heck is that stuff you ask? This is the goop you get when you combine coffee grounds, banana and oil for an exfoliating and softening homemade foot scrub – and your feet will love it! I know, it kind of sounds like some bizzaro-world recipe for banana bread, but it's not. Instead, it's the perfect recipe for super-smooth feet!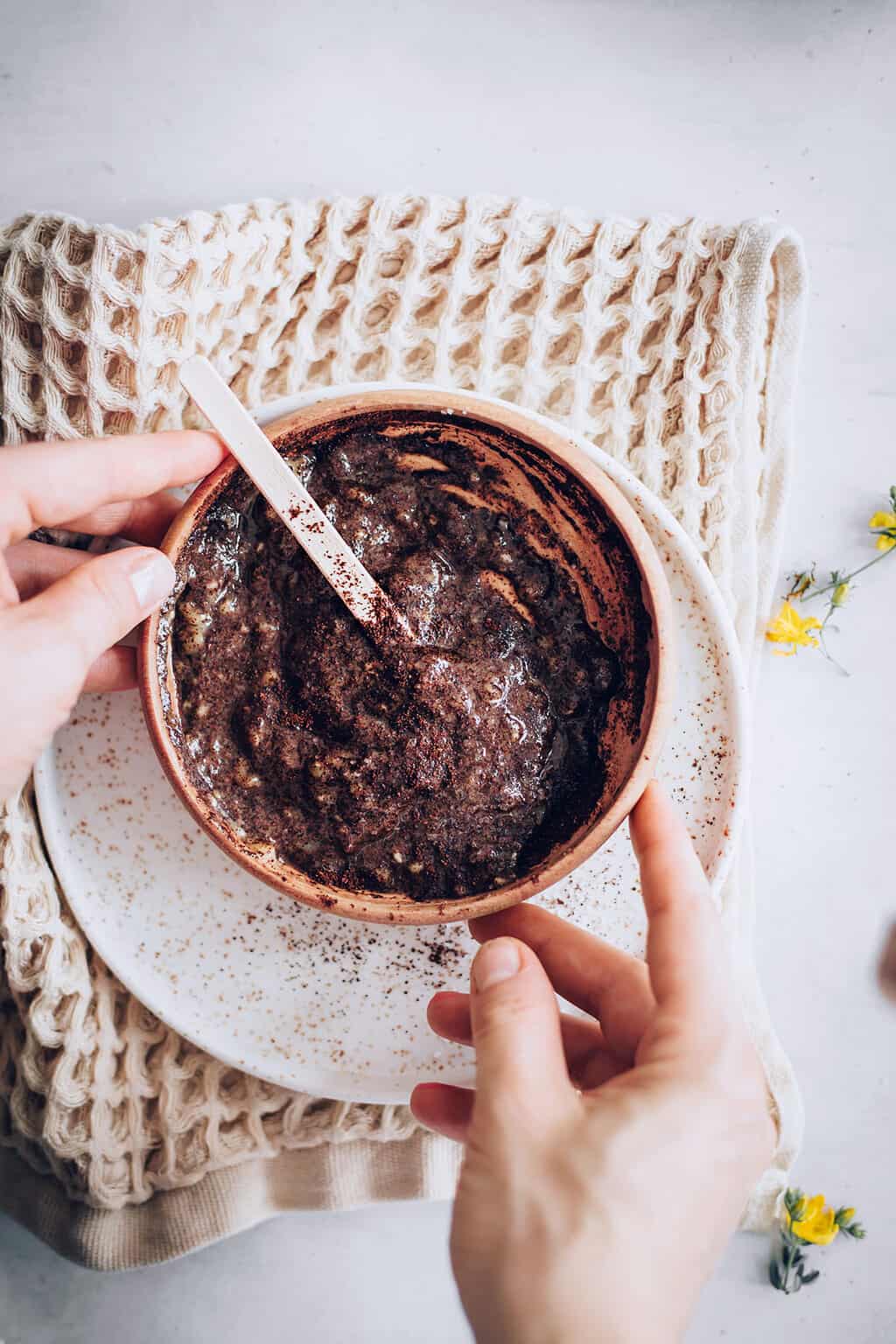 Are you a barefoot kind of person? I love to shed my shoes as often as possible, but some folks can't stand it (my son Henry freaks out if he doesn't have socks on at all times).
But the time of year is here when your feet are on display in cute sandals, and soft soles and non-cracked heels are a must. Here's a quick and easy way to give them some TLC.
Softening Foot Soak
A foot soak is an underrated indulgence. All you need is 1 cup of white vinegar and 1/4 cup sea salt or Epsom salt to a bowl of warm water. (I do this in the tub and sit on the side with People magazine.) Add a few drops of essential oil if you want. Sit for 10 minutes and let the acidic water soften your soles.
Make the water as hot as you can tolerate if you like—there's nothing better than a hot foot soak at the end of the day to relax feet, as well as prep them for the next step you need to take for super soft soles.
Homemade Foot Scrub
Awhile back I experimented with a banana foot mask and loved it—my rough feet were so smooth!—but wrapping yourself in banana is a tiny bit messy. This time I've combined the mask with a scrub so you can apply it, finish reading People and then let the salt and coffee do their scrubbing magic.
I love using coffee grounds because a) it's cheap and eco-friendly and 2) the caffeine can help tone your legs. You can use already brewed grounds, or buy some cheap grounds to set aside just for this.

I highly recommend doing this scrub/mask in the tub to keep the mess contained. To seal the moisture in, apply a generous layer of your favorite foot cream (or even Vaseline in a pinch) and pop some socks on before you go to bed. This really locks in all the extra hydration from the bananas and ensures that your feet aren't left looking crusty or ashy!
If you have toe painting skillz (I do not) you can prettify further with a DIY pedicure and polish. Then it's time for a new pair of sandals to show things off, right?
How do you keep your feet pretty in the summer?
Photos by Ana-Maria Stanciu
284