With cooler temps comes the arrival of dry skin. When the heat turns on and begins pumping out that warm, dry air, you might start to develop those uncomfortable, itchy patches on your legs and arms. The first defense is often internal, so make sure to drink plenty of water to keep your body hydrated.
You can then make changes externally by replacing any harsh soaps and cleansers with more gentle versions to avoid stripping away your body's natural oils. This homemade moisture-rich body wash includes both sunflower oil and shea butter to create a super soothing treat for your skin.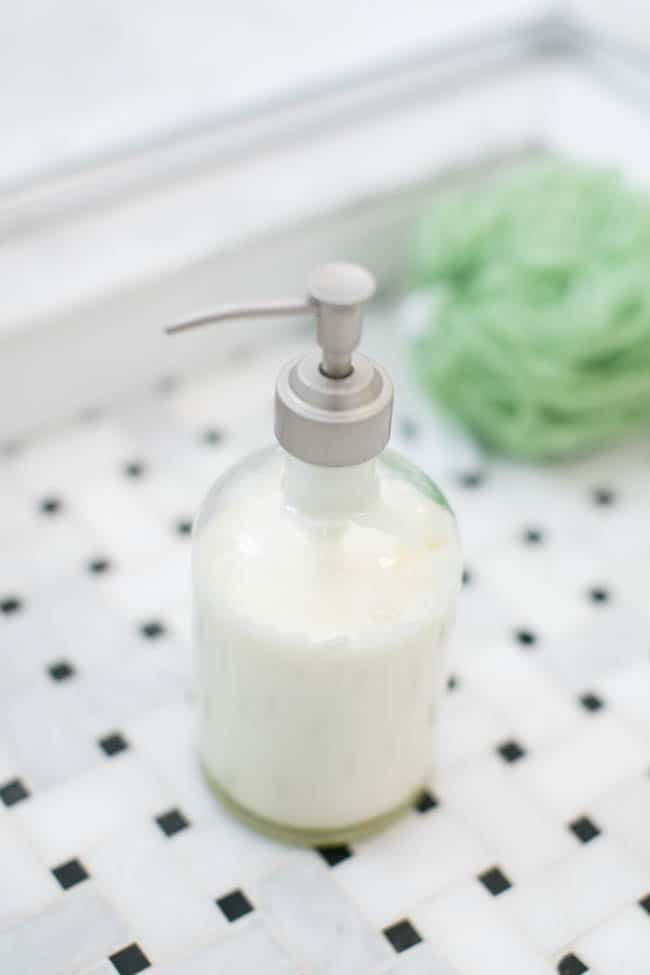 Moisturizing Shea Butter Body Wash
I'll admit that it's been a while since making my last batch of body wash. The honey coconut oil version was amazing, but I found myself too distracted to make more. With so many new things to try, it's sometimes hard to force yourself to go back and make a recipe again, you know?
But making your own body wash is totally worth it. You only need 3 ingredients, and it literally takes less than 5 minutes. Then you'll ask yourself, why was I so lazy about this for so long?
Here's what makes this body wash so soothing:
Castile soap
Unlike other soaps that are made with harsh cleansers, Castile soap is made from saponified oils. That means it won't strip skin of moisture or leave it feeling parched and flaky.
Sunflower oil
Considered a "dry" oil, sunflower oil is quickly absorbed into the skin, so you get much-needed moisture without feeling greasy. It contains natural vitamin E, which acts as a healing antioxidant [source].
Shea butter
Shea butter softens the skin and helps replenish your body's moisture barrier, thanks to a high concentration of essential fatty acids, vitamins A and E, and carotene [source].
How to Make Your Own Body Wash
Supplies needed
Just like with the honey coconut oil body wash, you're basically using 1 cup of soap to 1 cup of moisturizing ingredients—in this case, shea butter and sunflower oil—so there's room to substitute or mix and match. And if your soap dispenser is smaller, just cut the total amount in half but maintain the same ratio of ingredients.
The body wash is creamy but lathers nicely (very important to me), and you can feel the oils staying on your skin, creating a protective layer against the elements—a perfect skin soother for colder temps!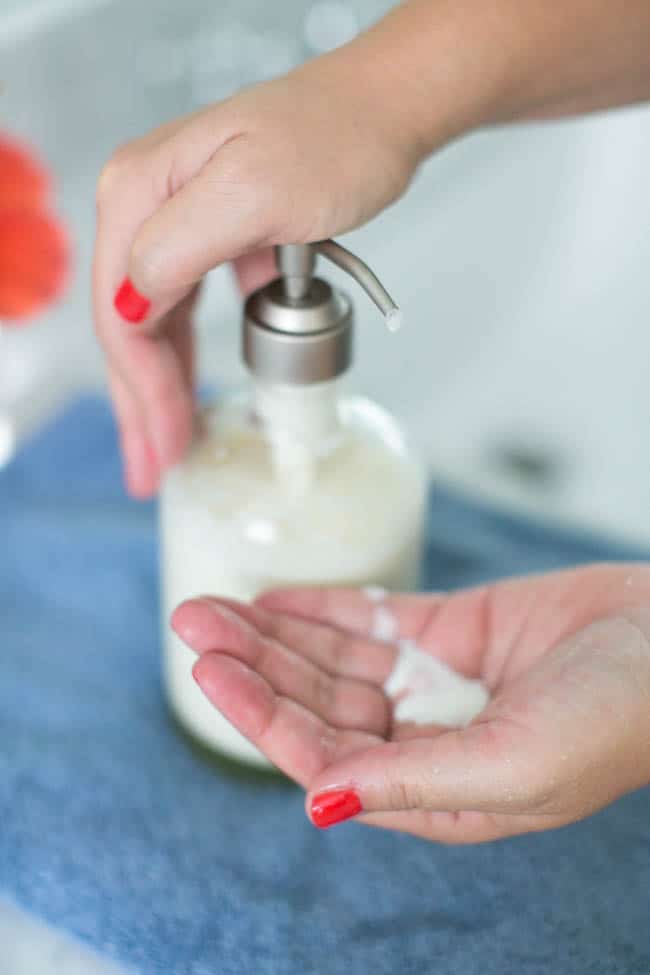 Your skin may not see much light during the winter when you're all bundled up, so it can be easy to forget to moisturize, especially if you're like me and go straight from the shower to the quickest warm clothes you can find. But it's still important to exfoliate, so I usually dry brush or use a body scrub in the shower because I'm too cold to stand outside and do it beforehand. Then, don't forget to slather on a rich moisturizer as soon as you get out.
FAQ
Why does my body wash solidify after a while?
Colder temperatures can cause the shea butter to solidify and separate from the other ingredients. To fix this, just place the bottle under warm running water for a few minutes (a convenient spot is on the floor of the shower where you won't kick it), and let the heat from the water melt the oil. Then give it a good shake before using.
Alternatively, you can use shea oil in place of the shea butter.
Will this body wash make me break out?
I haven't experienced any skin issues from using homemade body wash, but your skin may be different. If you have sensitive skin or are prone to breakouts, make a smaller batch and do a skin patch test on an inconspicuous area before applying it to your entire body.
Can I add honey to this recipe?
Sure! Just be forewarned, honey has a tendency to separate from oil-based body products. So you'll probably need to give everything a good shake before each use.
Can I use other oils in place of the sunflower oil?
Of course. Feel free to choose any oil you like that is liquid at room temperature. My favorites are jojoba, sweet almond, and sesame oil, which have excellent moisturizing and anti-inflammatory effects that protect and nourish the skin barrier [source].
What can I do to give my body wash more lather?
Try adding more Castile soap or even a different brand.
How long will this product last?
Since water has a tendency to get inside the bottle over time, it's best to use your body wash within 6–8 weeks.
How can I make body wash without Castile soap?
We recommend Castile soap because it's all-natural and made from oils, making it ideal for dry, irritated skin. If you can't get your hands on Castile soap or you don't like the way it lathers, you can always purchase a non-toxic body wash product and add your own oils to it.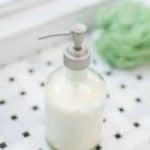 Print
Soothing Shea Butter Body Wash
This homemade body wash includes both sunflower oil and shea butter for a super soothing treat for your skin.
Instructions
Melt shea butter over low heat. I usually heat a few inches of water in a saucepan on low heat and put the butter in a heat-resistant measuring cup. Place the cup in the warm water until melted, then remove carefully.

Add Castile soap, sunflower oil, and melted shea butter to the soap dispenser.

Replace the cap and gently swirl the contents around to combine. Don't shake, or you'll activate the soap and get a bunch of bubbles!
Notes
Even though you're using a moisturizing body wash, it's still important to exfoliate, so I usually dry brush or use a body scrub in the shower. Then slather on a rich moisturizer as soon as you get out.
Use within 6–8 weeks.
References (in order of appearance):
1. Arianto A, et al. Preparation and evaluation of sunflower oil nanoemulsion as a sunscreen. Open Access Maced J Med Sci. 2019.
2. Megnanou RM, et al. Improving the optimized shea butter quality: a great potential of utilization for common consumers and industrials. Springerplus. 2015.
3. Link TK, et al. Anti-inflammatory and skin barrier effects of topical application of some plant oils. Int J Mol Sci. 2018.
This article was medically reviewed by Dr. Gina Jansheski, a licensed, board-certified physician with more than 20 years of practice experience. Learn more about Hello Glow's medical reviewers here. As always, this is not personal medical advice, and we recommend that you talk with your doctor.
557