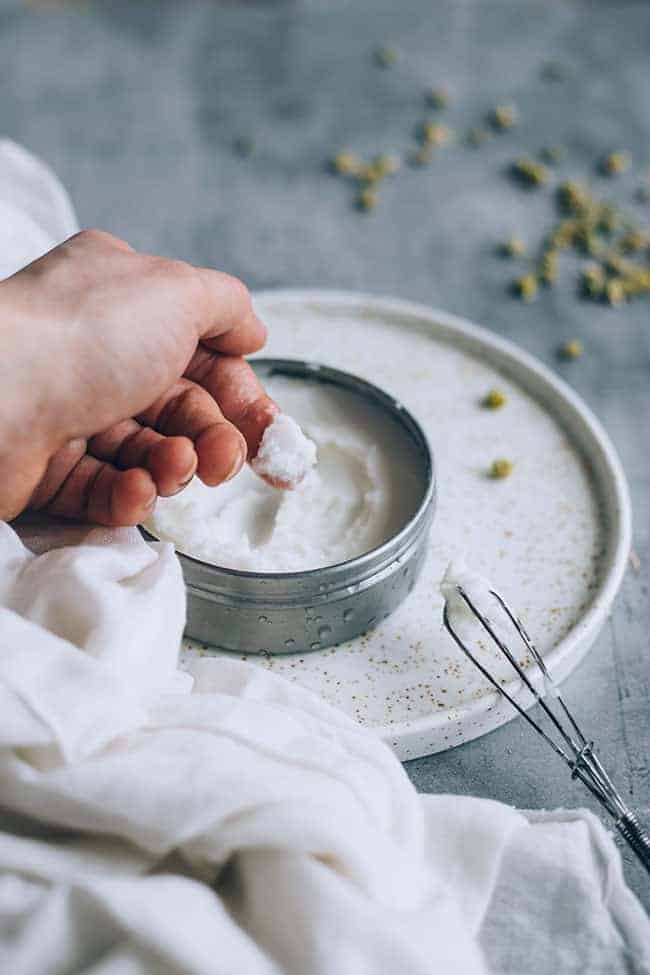 I tried cloth diapers. I really, really did. The entire family gave me the side eye and refused to participate in mommy's crazy 'experiment.' Of course, my timing was perfect – exactly when Henry started eating solid food, therefore assuring that his poop would be as gross as possible. But I stubbornly soldiered on. It would get easier, right?
Nope. Fast forward a few weeks and 'easier' was as elusive as ever. During a particularly low moment (that followed a rather large blowout) I threw in the poop stick. Life is too short to spend hunched over the toilet. I went back to the beloved diapers that have reliably covered 3 kids, and, while I added it to the list of things to feel guilty about, I was also really, really relieved.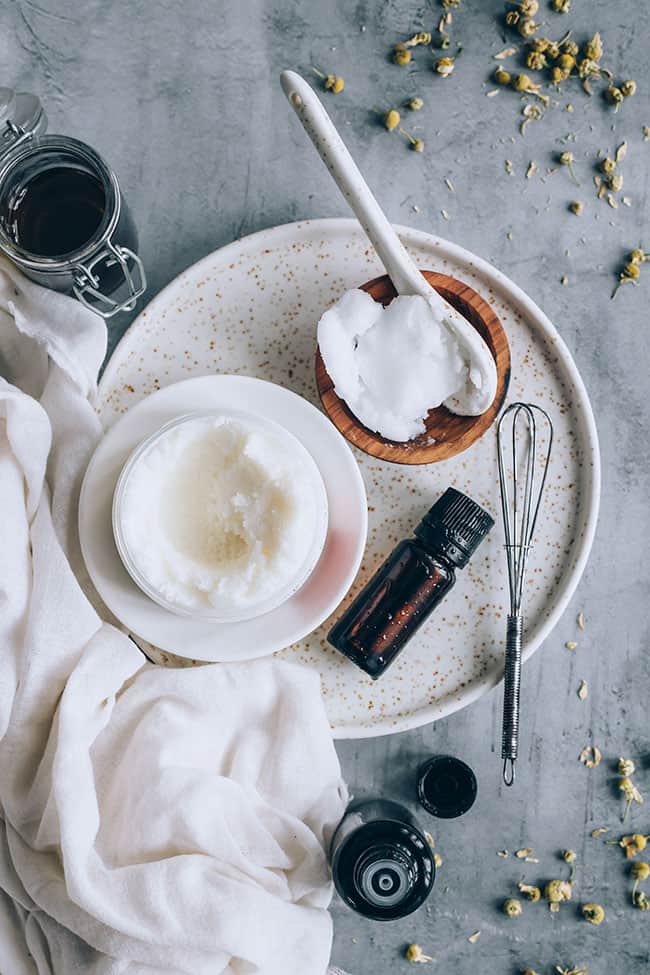 If no one is going to pry the disposables from your overstuffed diaper bag either, then here's one small change you can make. Recently I switched out my diaper cream for a whipped shea butter balm. It's one of those easy things that make you think, what took so long? No more needing to wash hands to get rid of white cream residue. Oh, and if you're battling stubborn diaper rash, your little ones (and their buns) will thank you.
What causes diaper rash?
Diaper rash begins when trapped moisture and friction irritate the skin. The irritation continues over time, and the harsh urine and stool inside a soiled diaper can make the irritation worse.
Natural treatments for diaper rash
1. Change often (without irritating)
Changing diapers is torture when baby's bum is red, but frequent changes are necessary to reduce irritation. Wipe gently with wipes that have no fragrance, alcohol or other ingredients that might cause reactions in sensitive skin. Try switching diaper brands, if you think that could be a factor.
2. Protect with a zinc oxide cream
A zinc oxide cream creates a layer of physical protection on baby's skin (much like how zinc oxide sunscreen works). You can make your own or try a store-bought version.
2. Baking soda + Oatmeal baths
A soothing oatmeal and baking soda bath can soothe irritated tushes by reducing inflammation and help dry out rashes. Also works wonders on sunburns and bug bites.
3. Give it some 'air time'
After the bath, slather on healing coconut oil or aloe vera and give baby some diaper-free time. I know the last thing you want is to be cleaning up peepee accidents but letting the things 'air out' can speed healing.
4. Apple Cider Vinegar
Yes, apple cider vinegar can do just about anything! And it's one of the best skin treatments for rashes and skin irritation. Dilute apple cider vinegar with water (you want a 1:1 ratio) and apply to diaper area. ACV helps reduce inflammation and can curb excess yeast growth in the diaper area.
I've been experimenting with herb-infused oils, and for this recipe I used olive oil infused with calendula, an herb known for its healing properties. I'll share more on my infusion experiments soon!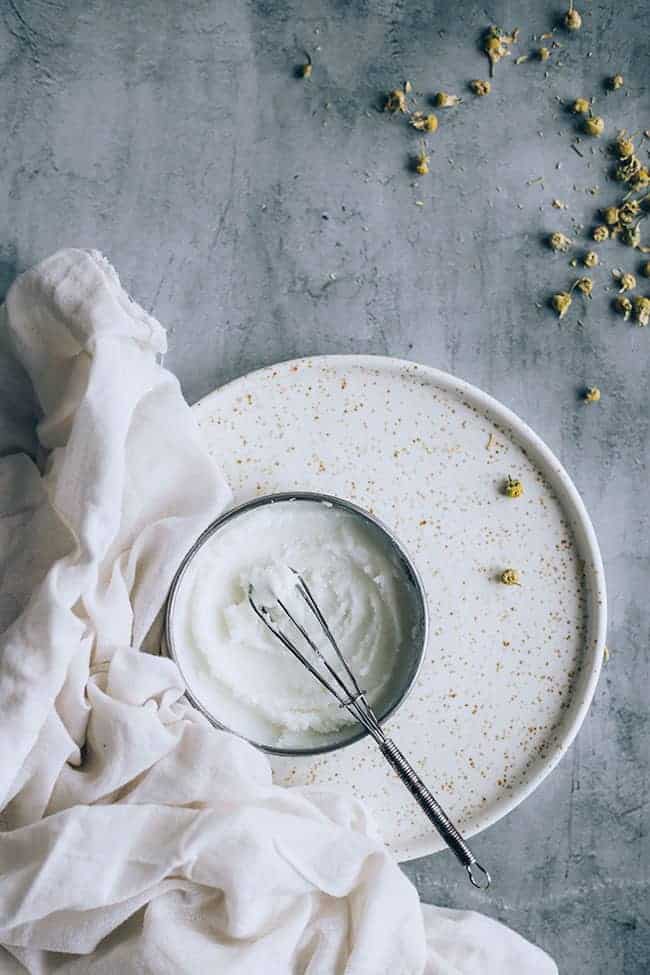 I'm not sure if diapering is ever easy (and I've had 6 years of practice) but a diaper cream that nicely doubles as a hand moisturizer definitely helps!
Photos by Ana Stanciu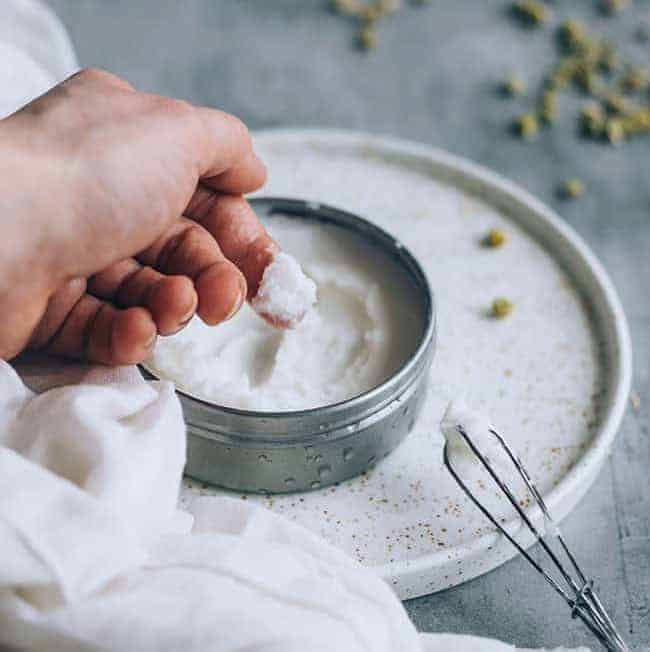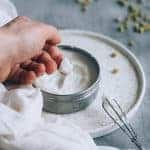 Print
Whipped Shea Baby Balm
Equipment
Medium bowl

Double boiler

Hand mixer

8 ounce jar with lid
Instructions
Combine the oils and butters together in a medium glass bowl.

Melt oils and butters together using a double boiler. You can also do short bursts in the microwave, stirring in between.

When the oils have melted, stir together and add essential oils

Let the mixture cool until solidified. Place in the fridge to speed this up.

Then beat with a mixer until the butter turns creamy and frothy. This could take 5-10 minutes.

Place in clean, lidded container.
Notes
Apply several times a day to soothe chapped skin.
Use within 6 months.
162