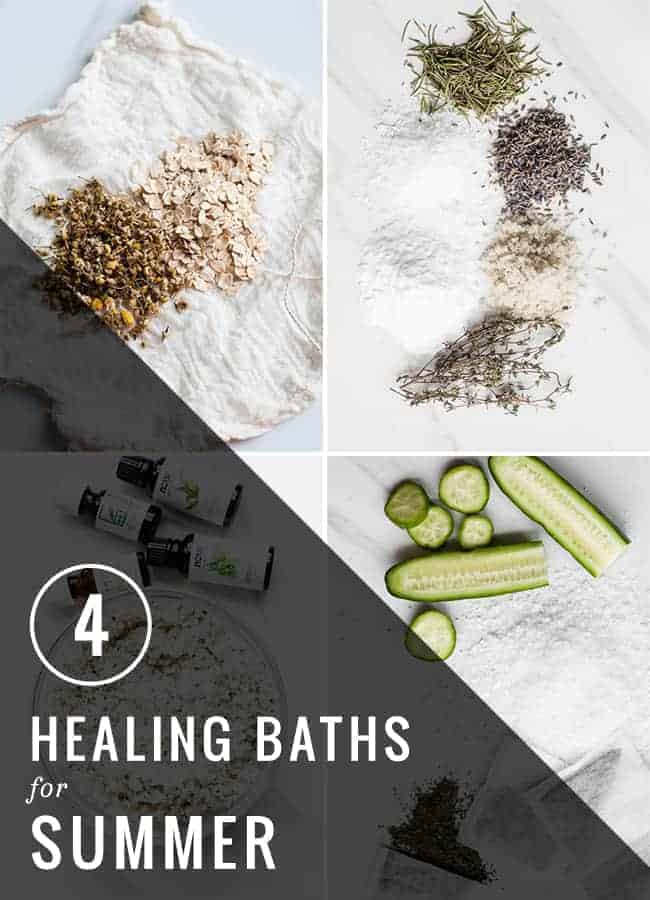 Throughout history, baths have been a source of healing or rejuvenation. From the bath houses of the Ancient Romans to the mineral hot springs where people travel to enjoy the restorative benefits, people love to soak their weary bodies.
Though there are so many fun places to go and things to do in the summer, our bodies sure start to feel it. I'm a firm believer in healing baths for all sorts of maladies, including the summer's sunburns, bug bites, rashes, and other things that make you itch just thinking about them. They can be good for other things too, like achy muscles from spending too much time crouched over in the garden or hiking up that too-steep mountain. And we haven't even got to thinking about the sniffling and sneezing from seasonal allergies!
Healing baths can really help soothe those summertime skin woes, muscle aches and pains, and cold and allergy symptoms. Turn your bathroom into a rejuvenating home spa with these four healing baths perfect for summer.
Bug Bite Soother – Oatmeal + Chamomile Bath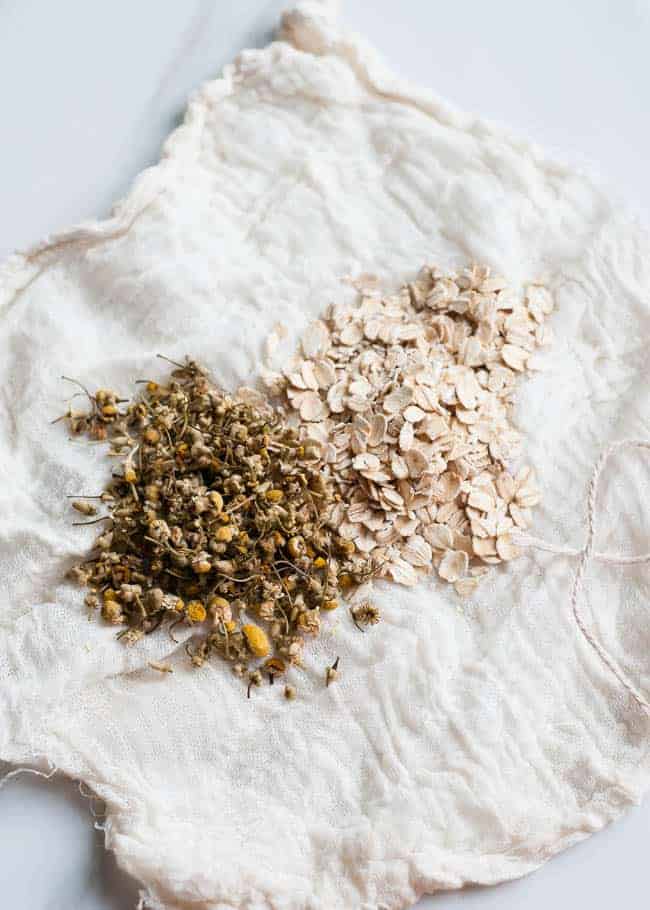 Oatmeal is very soothing for itchy skin. If you have eczema or another kind of rash, this bath can really help soothe the itchiness, redness, and pain. Chamomile adds another soothing element, but be careful – if you have a ragweed allergy or sensitivity, leave the chamomile out.
Place equal parts oats and dried chamomile onto a sock, nylon stocking, or cheesecloth, and tie it closed. Put it into a tub of warm water (not too hot!) and get in. Squeeze the sock to release the oatmeal into the bath. (Note: It's important to use the sock so the ground oats don't clog the drain.) For extra healing benefits, gently squeeze the bag and rub it over your skin.
Achy Muscle Soother – Sea Salt Mineral Bath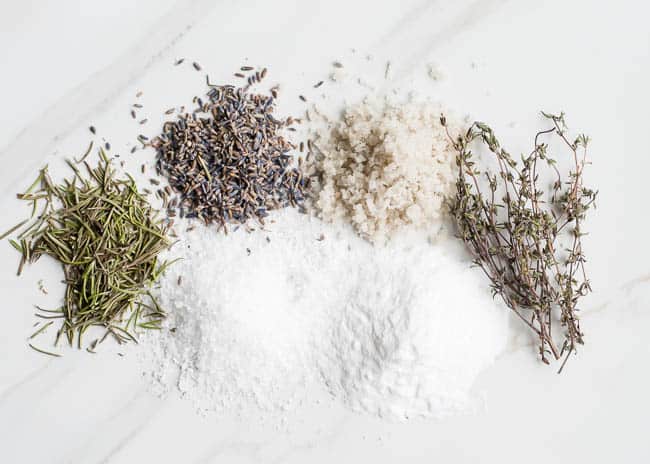 Your skin has the amazing ability to absorb sodium and magnesium – even more sometimes than getting it from your diet. If your body is aching from too much water skiing, hiking, or playing too hard, this bath is the way to go. This bath uses several kinds of minerals to bring healing to those achy muscles and bones, plus lavender for relaxation.
Add 1/4 cup sea salt, 1/4 cup Epsom salt (magnesium sulfate), 1/4 cup baking soda, 1 tablespoon each: dried lavender buds, rosemary, and thyme leaves to a hot bath. This will help reduce swelling and bruising and prevent painful muscle cramping.
Stress Soother – Peppermint + Cucumber Bath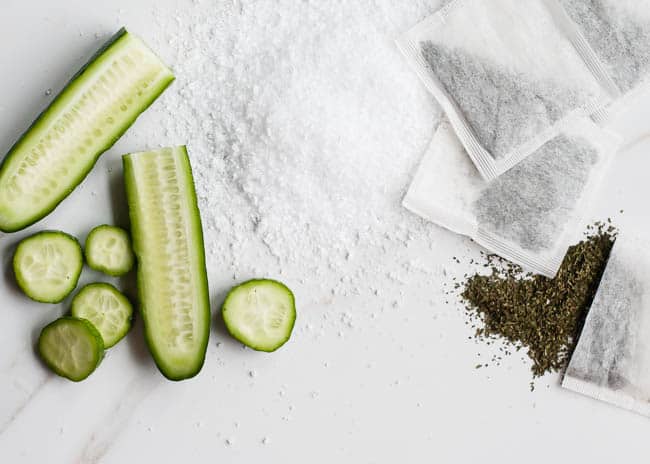 Cucumber is very soothing for tired eyes, but did you know you can puree it and add it to the bath? Combining it with peppermint tea will provide a rejuvenating, cooling bath that is good for the skin and inflammation. Do this at bedtime after a long day.
Puree 1 large cucumber in a blender (or finely chop) and strain through cheesecloth into a tub of cool or warm water, depending on your preference. Add 2 cups Epsom salt and 3 – 4 peppermint tea bags. You can also add a few drops of peppermint essential oil or another rejuvenating oil, if desired.
Allergy Soother – Essential Oil Bath Salts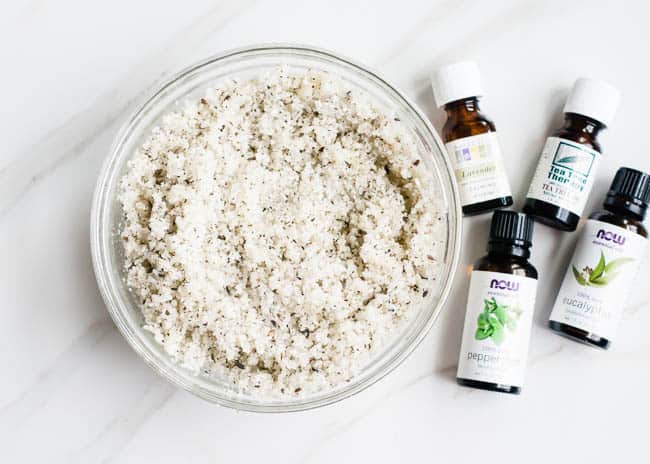 While there's no cure for the common cold and allergy pills can only do so much, taking a warm bath might be just the trick to make you feel better. Make a bunch of this and keep it in a bowl or jar to add to the warm bath and relax your way out of a stuffy nose. The eucalyptus and peppermint also help clear out the sinuses, and tea tree oil can help with colds and coughs by helping clear bronchial congestion. (Note – don't take tea tree oil internally. It can cause severe reactions and be poisonous. External use only!)
Allergy Relief Bath Salts
2 cups Epsom salt
1 cup sea salt
1/2 cup baking soda
1-2 tablespoons dried lavender buds
1 peppermint tea bag contents
5 drops eucalyptus
5 drops lavender essential oil
5 drops peppermint essential oil
5 drops tea tree essential oil
2 tablespoons olive or another oil (acts as a carrier to dilute the essential oils)
Combine and store in a jar or bowl. Add 1 heaping cup of the bath salts to a warm bath.
What types of healing baths have you tried?
89