We've officially reached that point in the season when dry, itchy skin is just a fact of life. No matter how much lotion I slather on, I still feel itchy 10 minutes later (and boy, do I burn through a lot of lotion!). So rather than relying on lotions and potions to tame my dry skin, I have started taking extra steps to replenish moisture and polish away flakes.
Besides eating tons of healthy fats, one of my favorite ways to heal my skin is with nourishing bath melts. Next time your skin needs a little TLC, just drop one of these matcha melts into the tub as it fills with water (just make sure the water isn't too hot or you might make dry skin worse). The water melts the oils while you wait, so you can just climb in and let the nourishing oils and soothing green tea go to work. And for a little extra oomph, pour in a cup of sea salt and kiss flaky skin goodbye.
How to Make Matcha Bath Melts
Unlike bath bombs, which have a high failure rate (a big, crumbly mess, anyone?) and can take hours to dry, bath melts come together in less than an hour from start to finish. That's why they're my go-to when I need a quick soak and don't have the patience to make bath bombs. I always start with this basic cocoa butter recipe, but feel free to customize it with your own colors, scents and herbs.
To make these extra luxurious, I add a tablespoon of matcha powder to the mix. The beauty benefits of matcha are endless, but I love that it packs a one-two punch by exfoliating dry skin and repairing cell damage. Known for its high antioxidant content, matcha is also loaded with vitamins and minerals so it's perfect for parched skin. And as if that weren't enough, matcha contains caffeine so it even gives your skin a little lift while you soak.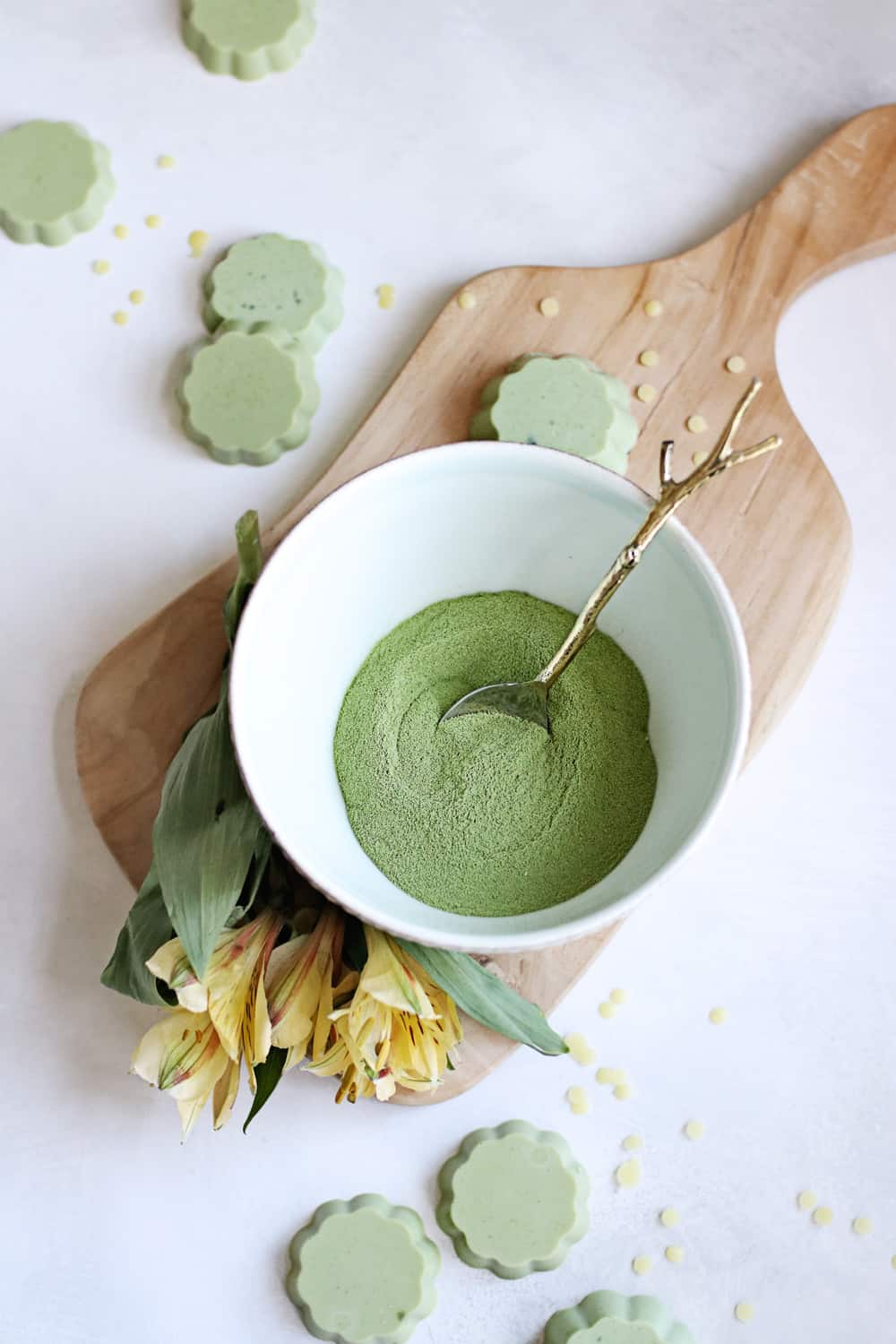 If your skin is extra dry and painful, feel free to add some essential oils to boost the healing benefits. My favorites this time of year are carrot seed, lavender and cedarwood. Just a few drops, either straight into your bathwater or in the melts themselves, will have your skin feeling better in no time.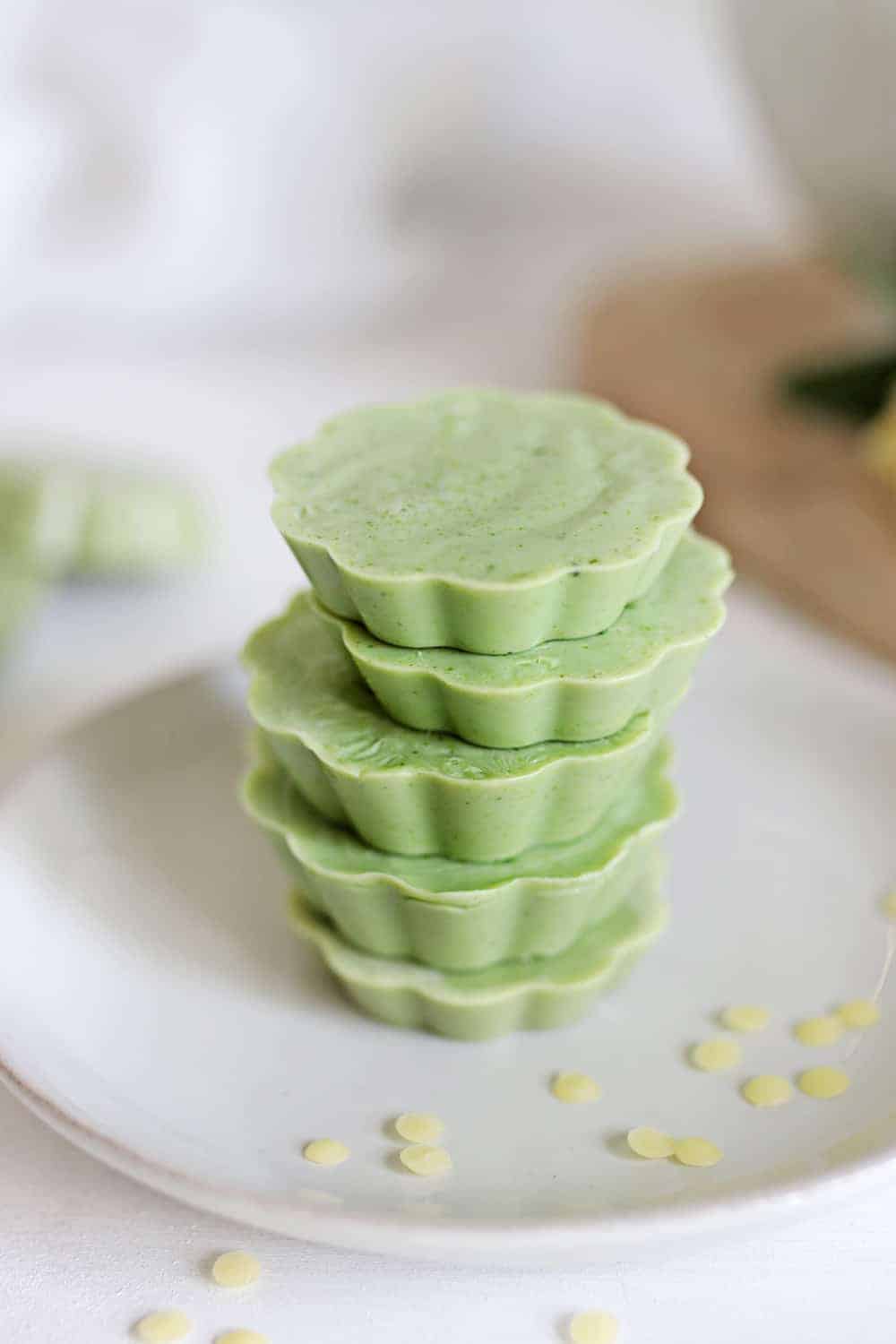 Then sit back with a cup of tea and enjoy.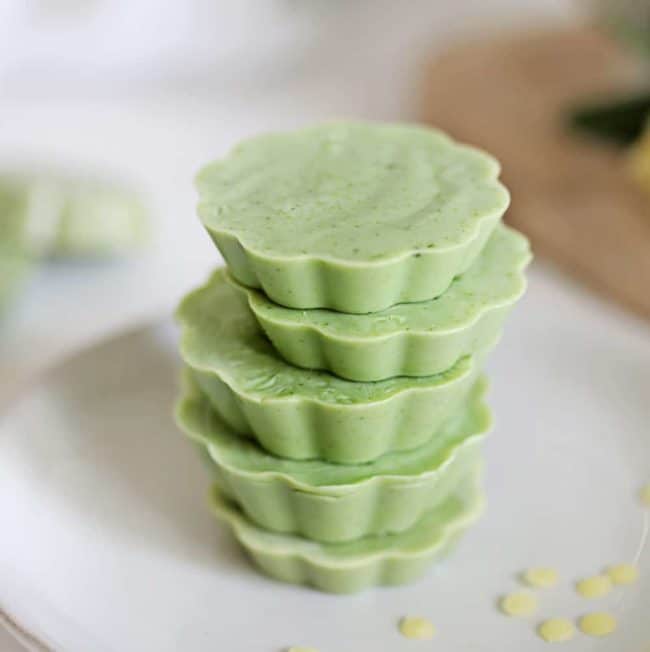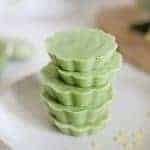 Print
Matcha Bath Melts
Instructions
Combine all ingredients in a small bowl.

Microwave in 30-second intervals, stirring in between each interval, until melted.

Pour into silicone molds or muffin tins and let cool completely. Once the mixture has solidified, remove them from the mold and store in an airtight container.

To use, simply pop one (or break in half if one is too much) in the tub while it fills with water. The oils will melt and float on top of the water, nourishing your skin while you soak.
25