I'm going to let you in on a secret: homemade beauty gifts are beyond easy. Take this rose milk bath, for example.
I feel guilty (well, almost) calling it "homemade" when all it requires is putting a few ingredients together in a bowl. Finding a cute bottle for packaging is the hardest part! It's perfect stored in a single-serving glass vial or in bulk in a large, airtight container like a cute mason jar.
But that's why beauty gifts are my absolute fave. Totally easy and always appreciated = gift-giving home run. Not only is this gift super easy, but it's also amazing for skin. And in case you didn't know, the combination of milk and rose is incredibly nourishing and therapeutic.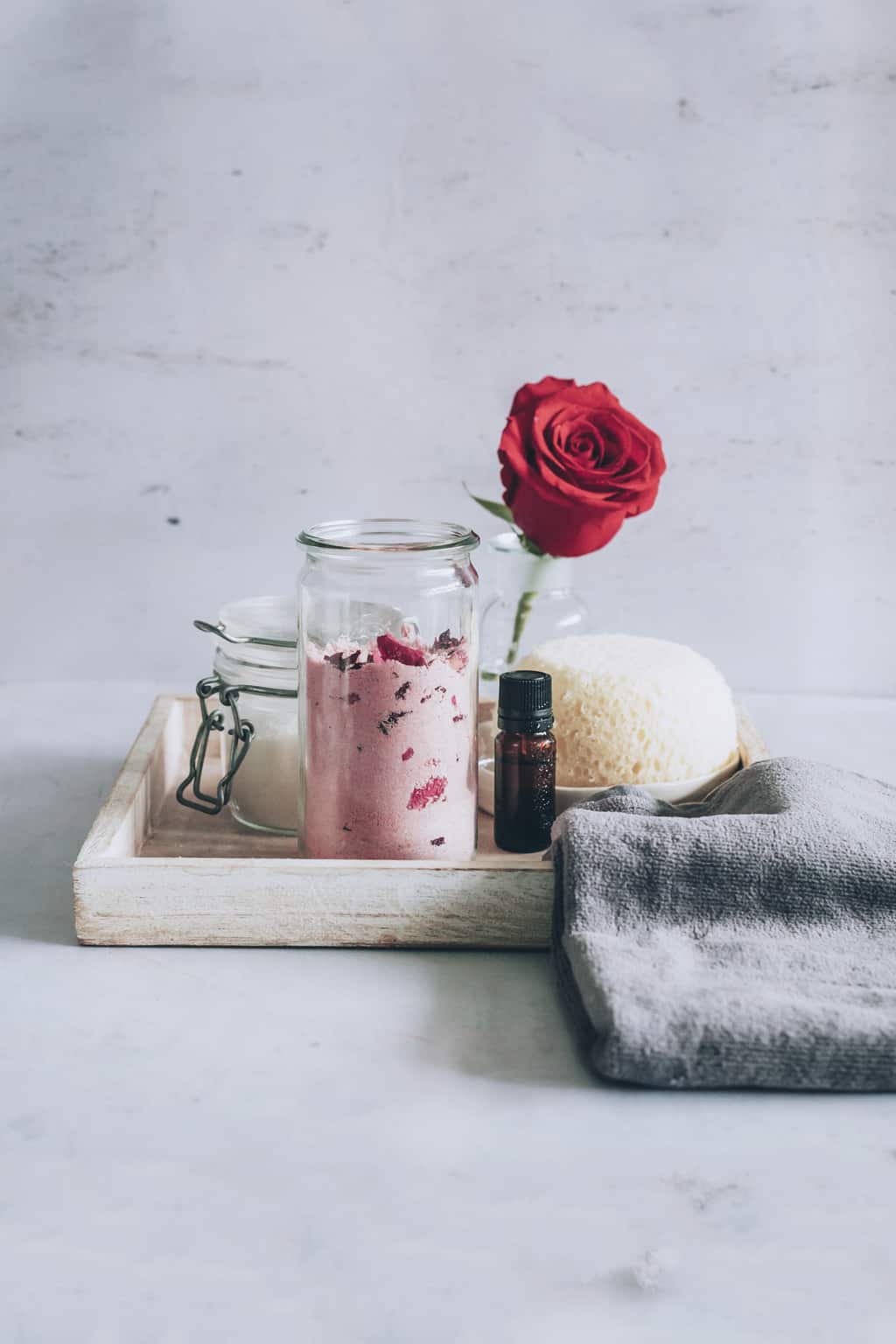 What Does Milk Do For Skin?
We all know that milk does a body good—from the inside. But it's just as amazing for the outside of our bodies, aka our skin and hair. Milk nurtures skin because it's an incredibly unique combination of water-based hydration, natural lipids, proteins, and gently exfoliating acids. Queen Cleopatra famously bathed in milk as part of her beauty routine for radiant, glowing skin.
But why is milk such an incredible nurturing ingredient for the skin?
Rich in skin-nourishing lipids
Lipids are the naturally occurring fats found in milk. They're useful for replenishing any lost moisture back to the skin, keeping it hydrated, healthy, and glowing.
These lipids also help to soothe irritated skin. Thanks to its high lipid content, whole milk is also rich in fat-soluble vitamins (specifically A, D, E, and K) and essential fatty acids that help to nourish and heal the skin.
Gently exfoliates with lactic acid
Milk is a natural source of lactic acid (the word 'lactic' actually derives from 'lactose'), and the levels found in milk provide a perfect source of gentle yet effective exfoliation [source]. Exfoliation is key for healthy skin—gently removing dead skin cells to reveal glowing new skin underneath! It promises baby-smooth skin and unplugs blocked pores totally naturally.
High levels of proteins and amino acids
Alongside the many amino acids, enzymes, and proteins in milk, the main protein found in it is called casein. Casein is another wonder-ingredient of milk, thanks to its ability to provide a complete source of amino acids to the skin.
Milk proteins are effective at repairing, restructuring, and healing the skin by providing moisture and protecting skin from dryness. Perfect for soothing skin if you have a sunburn.

The Skincare Benefits of Rose Petals + Rose Essential Oil
Adding rose petals to your bath creates a relaxing, soothing environment—but roses do more than just smell beautiful! The petals themselves are rich in antioxidants, and the concentrated essential oil nurtures and soothes skin. Almost all parts of the rose bloom—petals, bud, and oils—are rich in skincare benefits, some of which are:
Soothes irritated, red skin
Rose petals and rose essential oil are skin calming and contain hero skincare ingredients that nurture overworked and irritated skin. This is what makes rosewater such a soothing toner. And these same comforting abilities can be harnessed when you add dried rose petals to a hot, steaming bath.
Hydrates and refreshes dry skin
Along with milk, Queen Cleopatra of Egypt also used rose petals in her bath and in her beauty rituals for glowing, moisturized skin. Moisturized skin is healthy skin—totally revitalized and ready for the day. Rose petals leave your skin super soft to the touch.
High levels of antioxidants
Rose petals are packed with antioxidants like vitamin C that protect and nourish the skin [source]. Vitamin C helps to kick-start collagen production for healthy, youthful-looking skin. Antioxidants also help to brighten skin and fade any uneven skin tone, whether that's a farmer's tan or marks left behind by acne and irritation.
Purifies and tones the skin
Rose petals and rosewater have mildly astringent properties—meaning, rose petals help to cleanse the skin and remove any lingering impurities. They help to ensure that pores are free of any skin-clogging sebum for clear, blemish-free skin.
Rose petals have been shown to have antimicrobial effects [source], protecting your skin from harmful bacteria.
While this isn't strictly skin care, we can't overlook just how good roses smell! They provide an amazing aromatherapeutic benefit—rose scent, especially from the essential oil, helps to relieve anxiety and relax the mind [source] and helps alleviate stress, tension, and even pain [source] in the body.
It's perfect for complete relaxation and creating a moment to unwind completely—which is why I think it's the perfect gift for our favorite teachers! Anything that helps them to relax and take a moment for themselves is good in my book as a gift.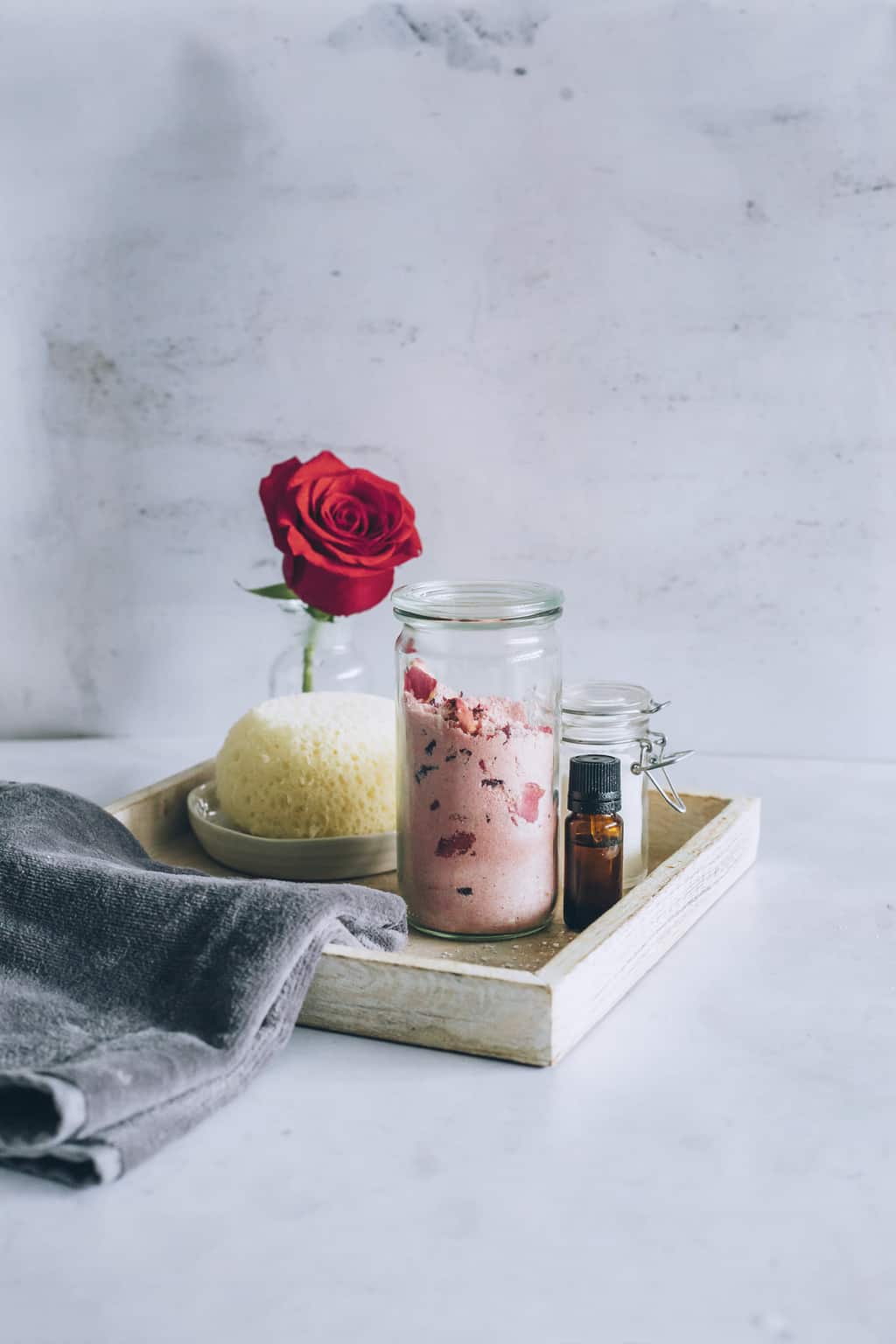 I hope you'll enjoy making this homemade Rose Milk Bath for your friends and family, and perhaps even keep a little for yourself! *wink wink*
If you're making this for yourself (or are willing to add extra instructions to your gifted vials), it's also a fantastic and super gentle body exfoliator. Use a handful at a time and rub anywhere that it's needed, using gentle circular motions to increase blood flow.
It's perfect for dealing with ashy elbows, dry heels, or even as a hand scrub. And it's gentle enough to be used anywhere, just scrub gently and rinse thoroughly afterward for smooth, soft skin.
What else should you add to your bath?

How about a chocolate milk bath? Or try Epsom salt, baking soda or apple cider vinegar!
References:
Smith WP. Epidermal and dermal effects of topical lactic acid. J Am Acad. Dermatol. 1996.
Mahboubi M. Rosa damascena as holy ancient herb with novel applications. J Tradit Complement Med. 2016.
Nowak R, et al. Cytotoxic, antioxidant, antimicrobial properties and chemical composition of rose petals. J Sci Food Agric. 2014.
Mohebitabar S, et al. Therapeutic efficacy of rose oil: a comprehensive review of clinical evidence. Avicenna J Phytomed. 2017.
Marofi M, et al. Evaluation of the effect of aromatherapy with Rosa damascena Mill. on postoperative pain intensity in hospitalized children in selected hospitals affiliated to Isfahan University of Medical Sciences in 2013: a randomized clinical trial. Iran J Nurs Midwifery Res. 2015.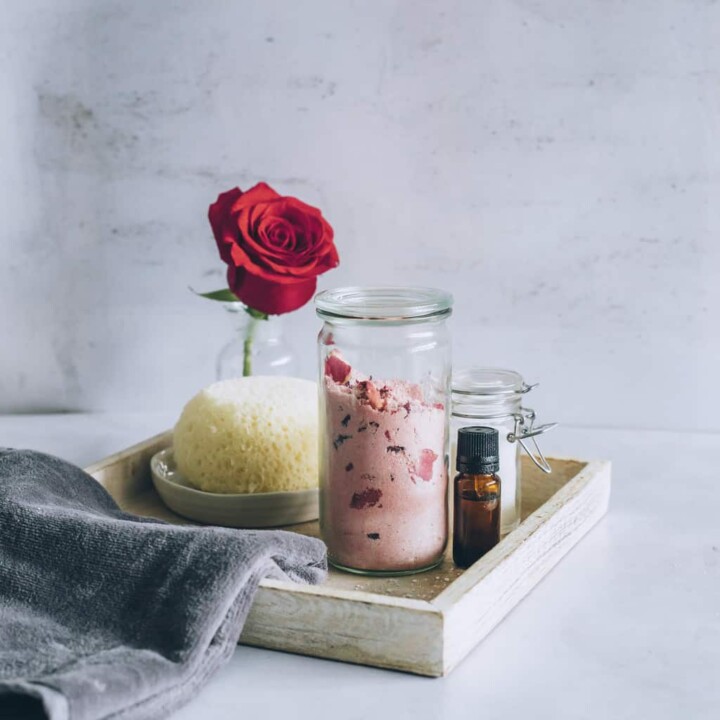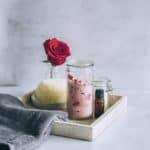 Print
Homemade Milk Bath with Roses
An easy Rose Milk Bath recipe made with powdered milk, Epsom salt, and rose essential oil, making a simple homemade gift that's always appreciated.
Instructions
Mix the powdered milk and Epsom salts together, and add 2–3 drops of red food coloring. Mix until you have a uniform pink color. If you don't care if it's pink or just don't want to use food coloring, it's totally fine to skip this.

Then add the rose petals and 5–7 drops of essential oil. If you don't have rose essential oil, you can skip it or use any other soothing essential oil you might have, like lavender or chamomile.

Then pour the milk bath into a bottle or sachet, and make a pretty gift tag for the lucky recipient.
Notes
If you're making this for yourself (or are willing to add extra instructions to your gifted vials), it's also a fantastic and super gentle body exfoliator. Use a handful at a time and rub anywhere that it's needed, using gentle circular motions to increase blood flow.
This post was medically reviewed by Dr. Jennifer Haley, a board-certified dermatologist with extensive experience in medical, cosmetic, and surgical dermatology. Learn more about Hello Glow's medical review board here. As always, this is not personal medical advice, and we recommend that you talk with your doctor.
361