Around our house, we're not big fans of scented candles. Not only is the paraffin wax bad for your lungs, but the wick often contains lead which, when burned, goes into the air and eventually makes its way into your body. And while they do make non-toxic candles, they're pretty expensive for the amount of burn-time you get. So instead, I like to diffuse essential oils when I want my house to smell nice or when I'm looking for a bit of an energy boost.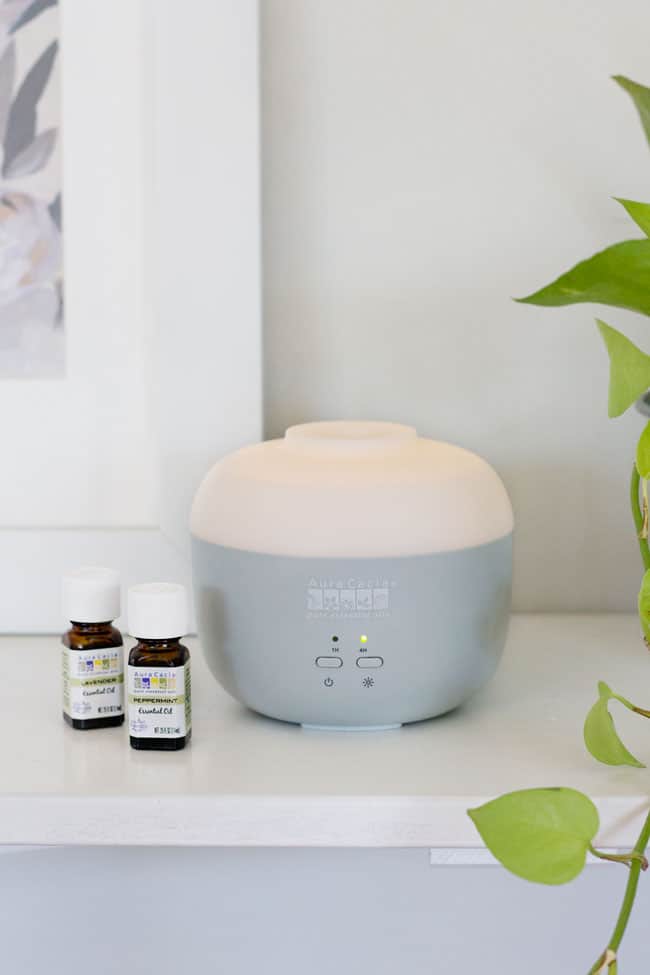 With all the possible oil combinations to choose from, it seems like we have our diffuser running from sun up to sun down most days. We simply vary the oil blend depending on our mood and let the essential oils take care of the rest. We've partnered with Aura Cacia to share some of our favorite diffusions–from energy boosting to improving digestion. Aura Cacia's new ultrasonic diffuser uses vibrations to disperse a fine, cool mist of essential oils and water. By not using heat, the aroma profile of the essential oils is protected.
5 essential oil blends to diffuse throughout the day
8 am – Wake Up Blend
Rather than pouring yourself a second cup of coffee (or even a first if you're feeling adventurous!) why not diffuse some essential oils to get your blood moving, make you feel more alert and help you tackle the day? Scents like citrus and mint are great for increasing energy and boosting your mood first thing in the morning.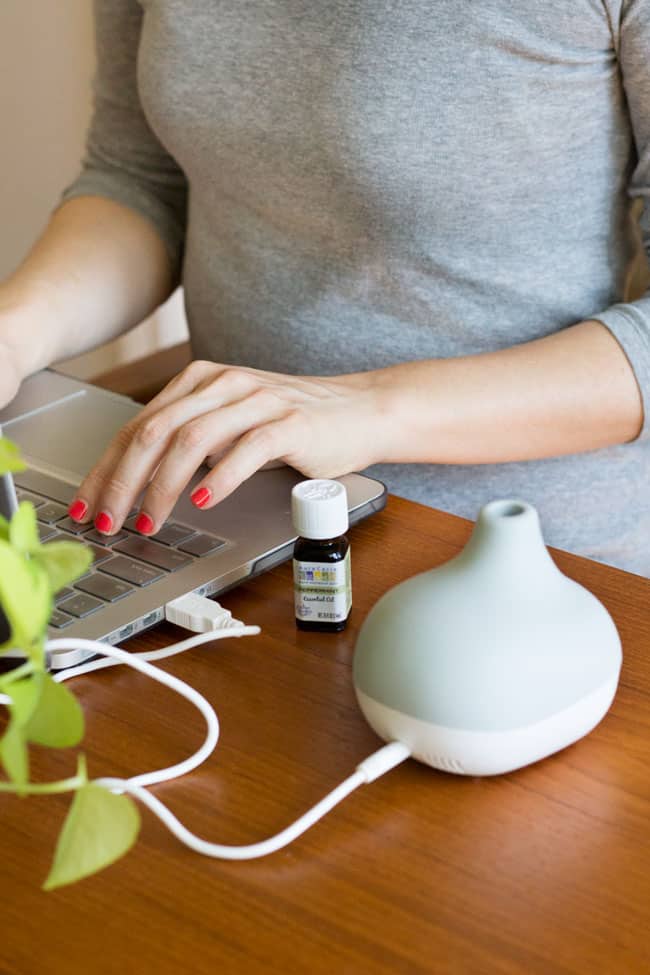 10 am – Focus Blend
Around mid-morning most of us are just starting to dive into work or home related projects. This is a good time to diffuse oils that help increase concentration and focus so we can get our best work done. If you work from home or if you have your own office, try using a portable diffuser that plugs into your computer's USB port (like this one from AuraCacia). That way you can diffuse essential oils wherever your work takes you.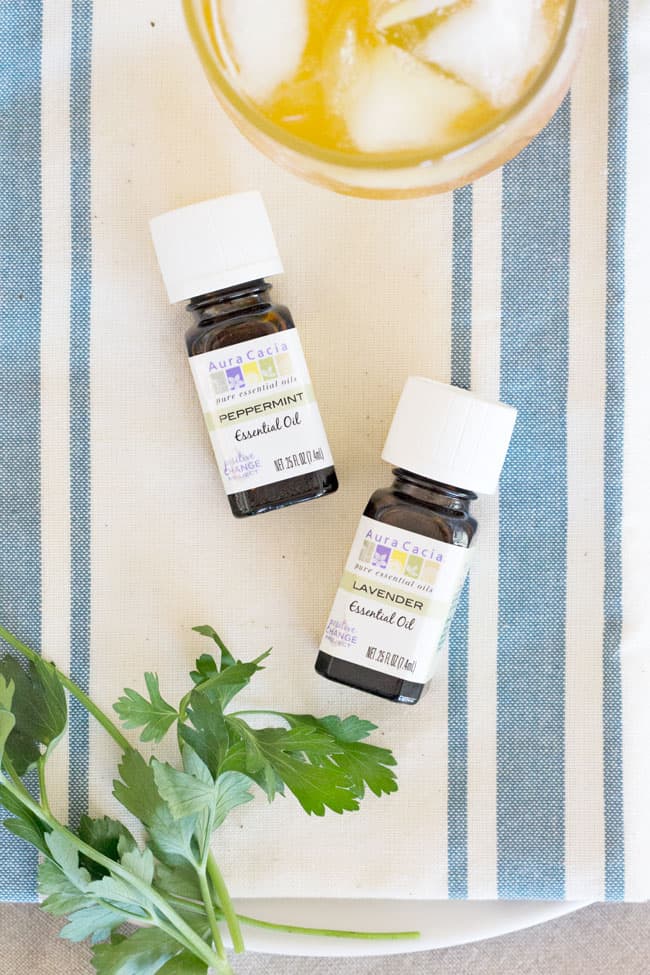 12 pm – Smooth Lunchtime Blend
As most of us know all too well, eating lunch slowly and without distraction is often easier said than done. If you're prone to eating lunch a little too quickly, this diffusion blend will help soothe your stomach and keep you focused on your meal.
2 pm – Energy Blend
Rather than turn to sugar to help get you through that post-lunch energy slump, try using some energizing essential oils instead. Scents like orange or eucalyptus will help you feel re-invigorated during the mid-afternoon stretch and carry you well into evening.
8 pm – Bedtime blend
As part of your bedtime routine, incorporating oils can help you relax and unwind from a long day. Rather than wait until bedtime, it's best to start diffusing oils a couple of hours before you're ready to turn in for the night–that way you're nice and relaxed long before your head hits the pillow. Try a mixture of soothing oils like lavender and clary sage to help you unwind from the stress of the day and fall asleep fast.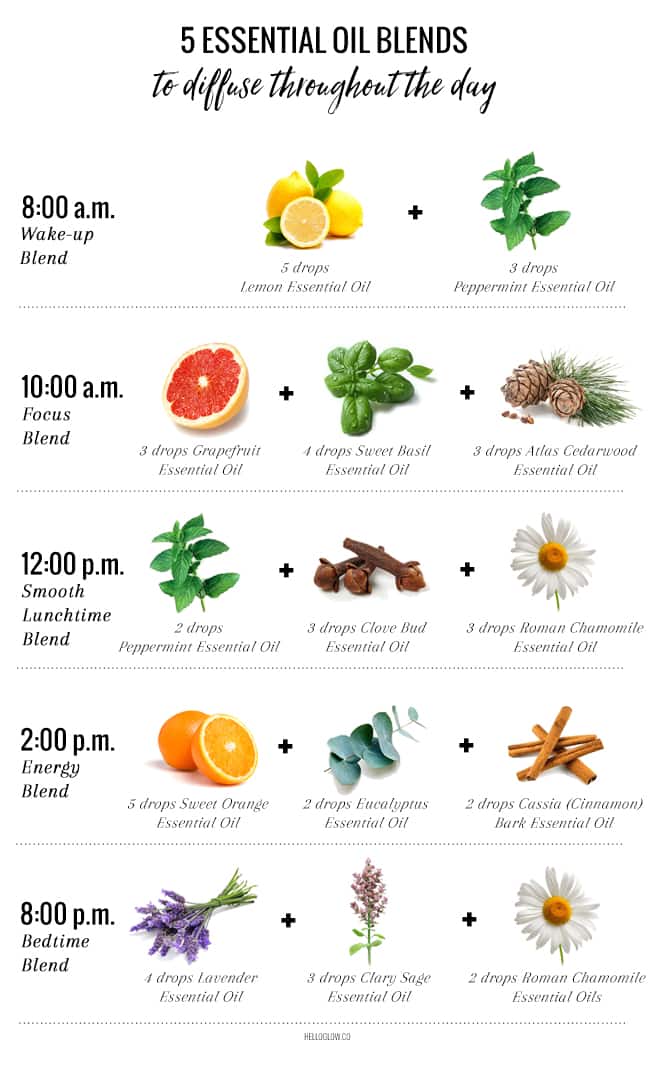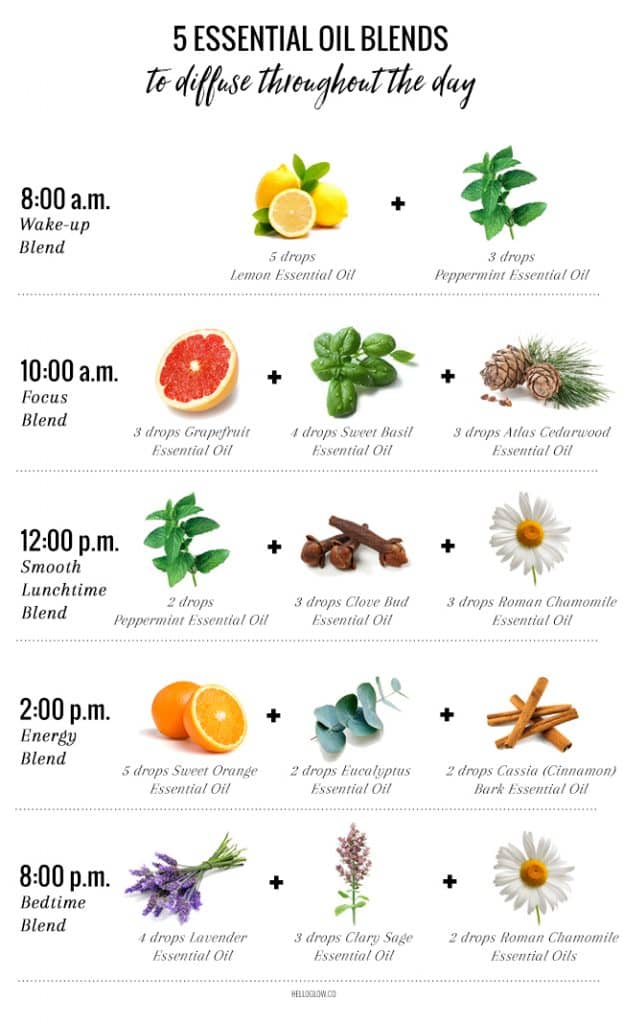 70