While we love mixing up cocktails with cucumber, it's good to keep in mind that this member of the gourd family is also one of nature's best-known anti-inflammatory botanicals for topical use. Cucumbers contain amino acids and minerals, which help to firm and regenerate your cells. Plus, they are naturally cooling, antibacterial [source], relieve swelling [source], and have a soothing effect on the skin.
Harness the healing power of this fruit—yes, it is classified as a fruit—in your beauty routine with these homemade cucumber face mask recipes. From acne to sunburn, you can use cucumbers for just about every skin type or ailment.
1. Soothe sunburn with cooling cucumber mask
Your skin will drink up this cooling mask, thanks to water-rich, anti-inflammatory cucumbers [source], which contain high levels of caffeic acid to reduce swelling and irritation. Plus cucumber is loaded with youth-boosting minerals, such as silica, that stimulate the production of collagen.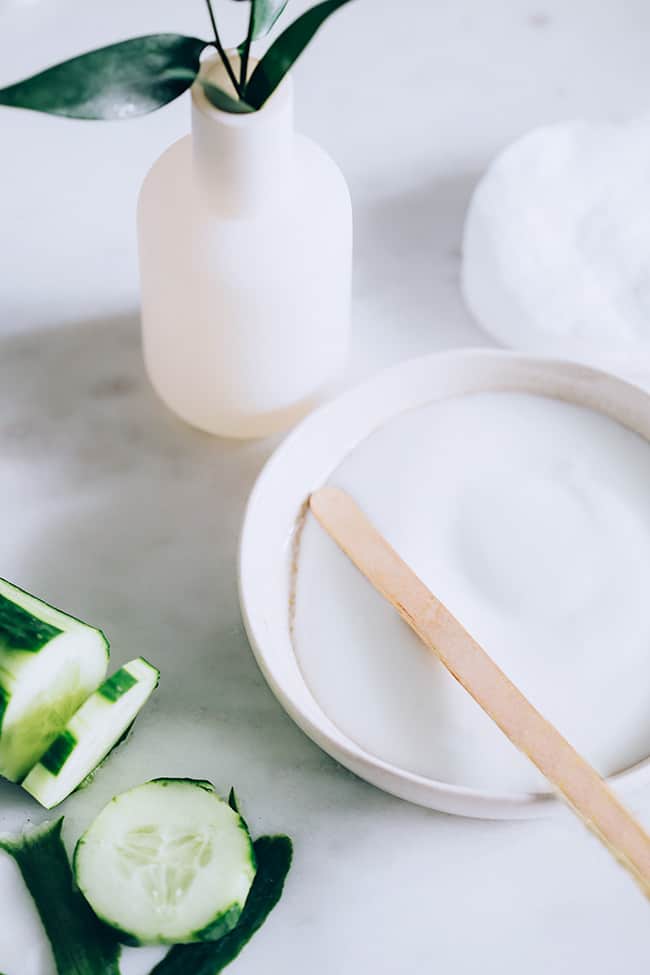 Yogurt + cucumber mask recipe
—½ cucumber, pureed
—2 tablespoons plain yogurt
Puree the cucumber (seeds and skin included!) and then mix in the yogurt. Apply to face and leave on for 10 minutes before rinsing thoroughly.
Using ingredients that are cold out of the fridge will be super soothing to sensitive and irritated skin too.
2. Get radiant skin with a tomato cucumber mask
Take advantage of summer produce for this skin-brightening mask, which helps with acne as well as blotchy or uneven complexions.
—½ tomato
—¼ unpeeled cucumber
—2 tablespoons fresh parsley
Puree all of the ingredients together until you get a smooth consistency.
Apply the mixture to your face and neck and let sit for 10 minutes.
Rinse with warm water, and follow with moisturizer. Keep any leftovers in the fridge and use within 7 days.
3. Cucumber facial for a puffy face + neck
A cucumber ice massage is the perfect way to reduce puffy skin. The ice constricts blood vessels, the cucumber reduces swelling, and the massage pushes fluids out of the tissues.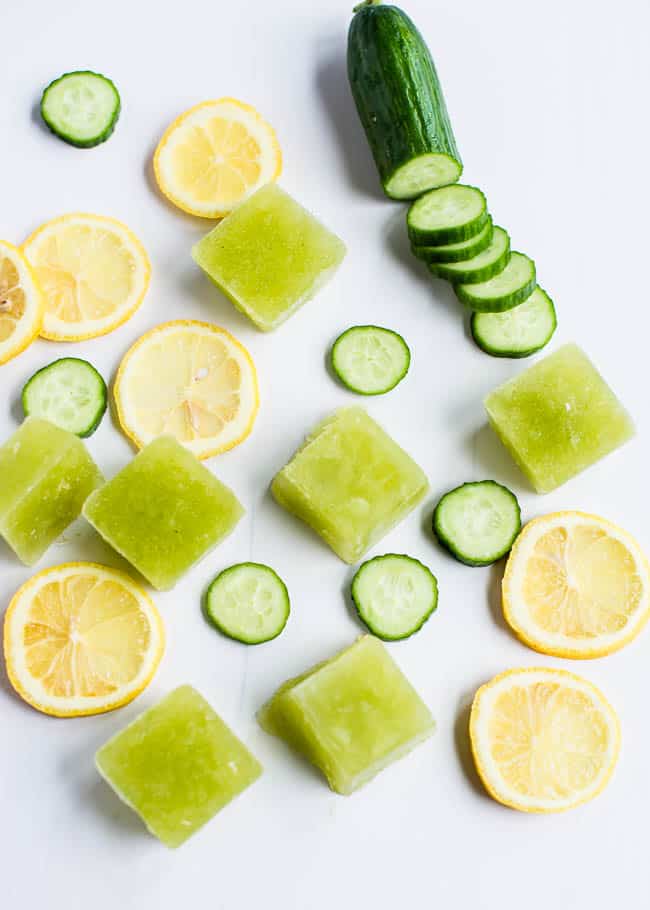 Cucumber ice mask recipe
—1 cucumber
—Ice cube tray
—2 tablespoons of lemon juice
Puree 1 cucumber with lemon juice. Pour into an ice cube tray and freeze.
When needed, rub the cube on your skin in circular motions, starting at the forehead and moving down to the neck.
4. Zap zits with an aloe cucumber mask
Tea tree oil is an amazing (and highly potent) skincare ingredient that does more than just banish acne. It's antibacterial [source]—zapping zits by killing the acne-promoting bacteria [source].
Tea tree is also an anti-inflammatory, calming down skin that's red and inflamed from breakouts [source]. Combined with cucumber, another soothing and hydrating ingredient, this mask is made extra potent to calm down angry skin in a jiffy.
The aloe and cucumber will soothe inflamed skin, while the cucumber seeds are rich in potassium and vitamin E.
—2 tablespoons aloe vera gel
—2 drops tea tree oil (more may be irritating, so don't overdo it)
—1 tablespoon grated cucumber
Blend all of the ingredients well and apply to the face with your fingertips or a facial brush. Leave on for 10–15 minutes.
5. Smooth fine lines with cucumber juice pads
Drying UV rays sap moisture from our skin, making wrinkles even more prominent. The ultra-high water content of cucumbers rehydrates and smoothes skin. Cucumber's silica content improves elasticity [source] to keep skin looking young and supple.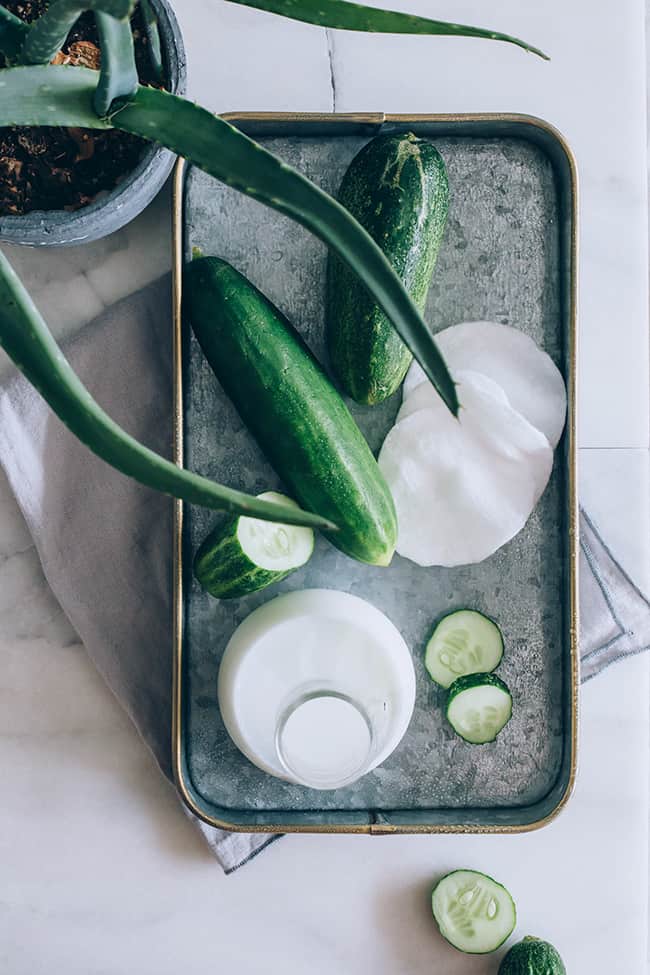 Cucumber water mask recipe
—½ cucumber, unpeeled
—2 tablespoons distilled water or rose water
—Cotton pads
Puree the cucumber with water, and pour the mixture through a fine mesh strainer into a clean spray bottle.
Chill the liquid, mist generously over cotton pads, and place over your eyes. Any leftovers will keep for 2 weeks in the fridge.
6. Moisturize dry skin with a cucumber egg mask
Cucumber's soothing coolness refreshes as it cleans, making this mild cleansing mask gentle enough for sensitive skin. Honey and egg yolk, two emollients that provide a hydrating boost to the skin's protective barrier.
—⅓ cucumber
—1 egg yolk
—2 tablespoons ground almonds
—2 tablespoons honey
—2 tablespoons rolled oats, ground
Slice cucumber lengthwise and puree in a blender. Add the additional ingredients and blend for 30 seconds.
Spread onto dry skin and leave on for 15 minutes. Rinse with warm water and pat dry.
7. Hydrating carrot + cucumber mask
Carrot seed oil has powerful antibacterial and antifungal properties [source] as well as potent antioxidants that improve skin health and stimulate collagen for increased elasticity and firmness [source]. Combine this super hydrating coconut oil face mask with cucumber to refresh and moisturize stressed out skin.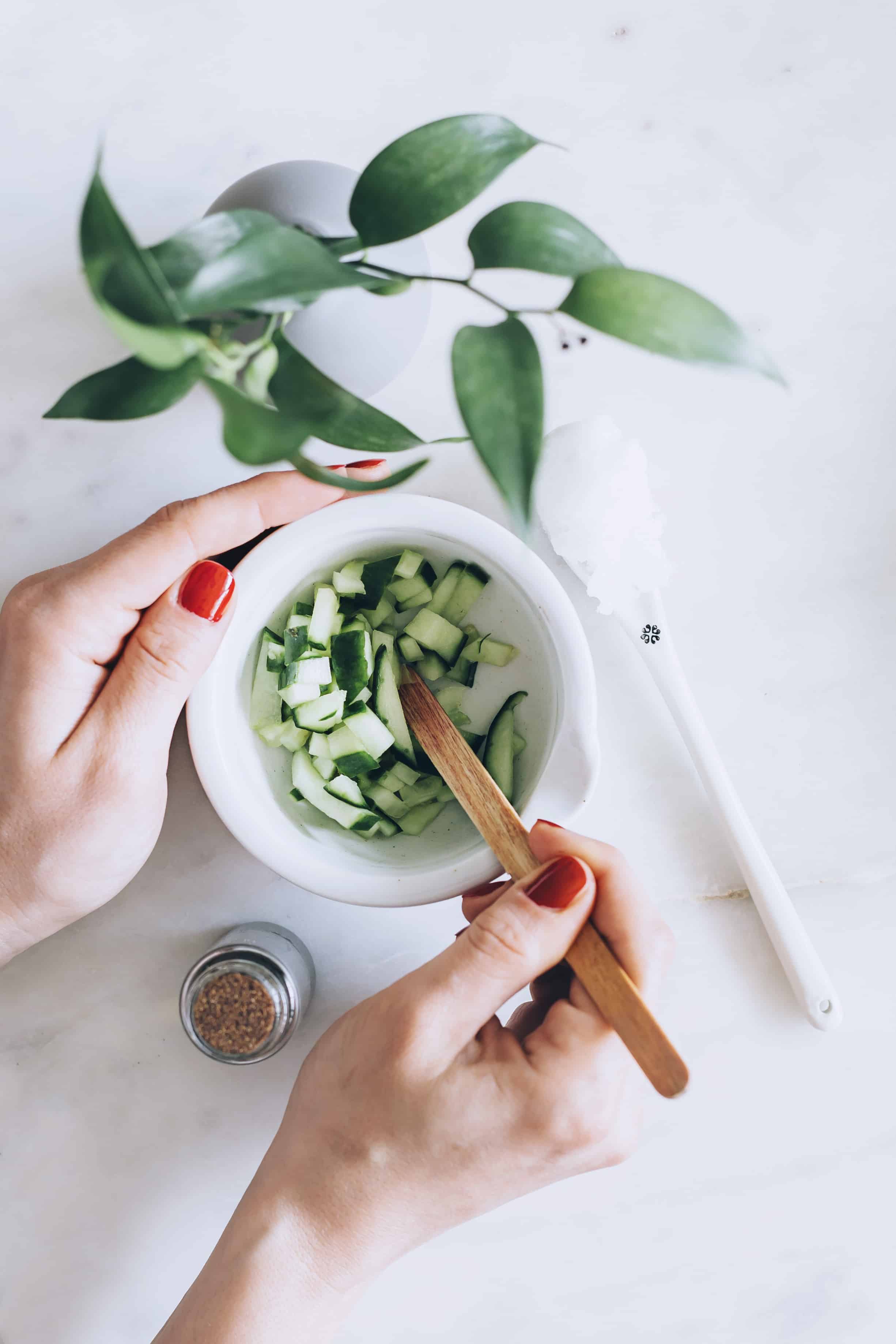 Coconut + cucumber mask recipe
—1 cucumber
—2 tablespoons organic coconut oil
—½ teaspoon carrot seed oil
Blend all ingredients until creamy. Apply with facial brush or fingertips all over the face, neck, and eye area.
Leave mask on for 10-15 minutes before washing off with warm water. Follow with moisturizer or serum.
8. Hydrate with cucumber eye gel
This hydrating gel soothes and calms tired eyes. Cucumber juice and aloe vera act like an instant drink of water for your skin, hydrating thirsty cells.
—1 tablespoon aloe vera gel
—1 teaspoon cucumber juice
—¼ teaspoon cornstarch
—1 tablespoon witch hazel
Combine aloe, cucumber, and cornstarch and mix. Warm gently over a double boiler, but make sure not to overheat or bring to a boil. Remove from the heat and mix in the witch hazel.
Cool completely, then transfer to a sterile container. Apply under the eyes in an upward dotting motion, but be careful not to pull on the skin. Store leftovers in the fridge for 1 week.
9. Skin-Calming Cucumber Face Mask
Winter air can leave skin dry and parched. This calming and hydrating face mask will take the red out of those windburned cheeks.
Cucumber and oatmeal are both soothing and anti-inflammatory, and yogurt is one of the easiest and most effective face masks because it soothes and gently exfoliates. Sage contains ursolic acid that naturally removes dead skin cells while providing vitamin A and calcium.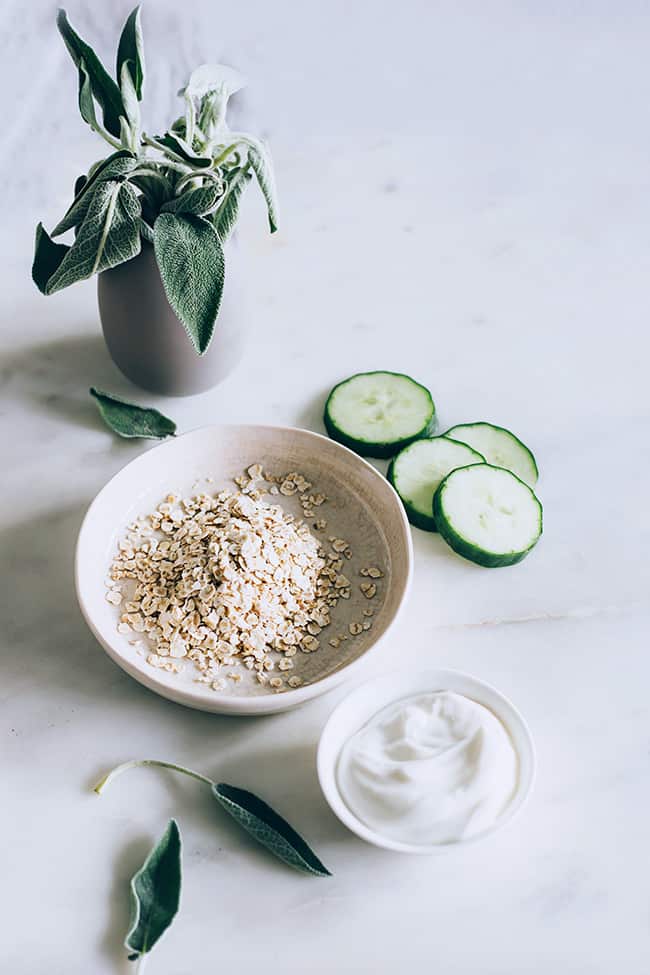 —2 tablespoons plain, sugar-free yogurt
—2 tablespoons pureed cucumber
—2 tablespoons oatmeal
—1 teaspoon chopped sage
Combine ingredients and massage into clean, damp skin. Relax with this mask on for 15 minutes then rinse. Perfect for calming dry, irritated skin.
10. Hydrate skin with cucumber water mist
The combo face mist and body spray is the perfect cooling treat for dry, irritated or sunburned skin. Use the other half of the cucumber to blend up this cucumber lotion.
—¼ cup hydrosol—rose water for dry skin or this version for oily skin
—½ unpeeled cucumber
Puree ½ unpeeled cucumber with 2 tablespoons of water. Pour through a strainer into a spray bottle. Add hydrosol.
Spritz onto your face or anywhere you have sunburned or irritated skin. Do not rinse.
This article was medically reviewed by Dr. Gina Jansheski, a licensed, board-certified physician who has been practicing for more than 20 years. Learn more about Hello Glow's medical reviewers here. As always, this is not personal medical advice and we recommend that you talk with your doctor.
60