This simple 4-ingredient homemade blush is one of the best I've ever used. It beats out the pricey competition. And you can customize it in a thousand different ways so it easily adapts to the weather, season, and your skin's changing needs.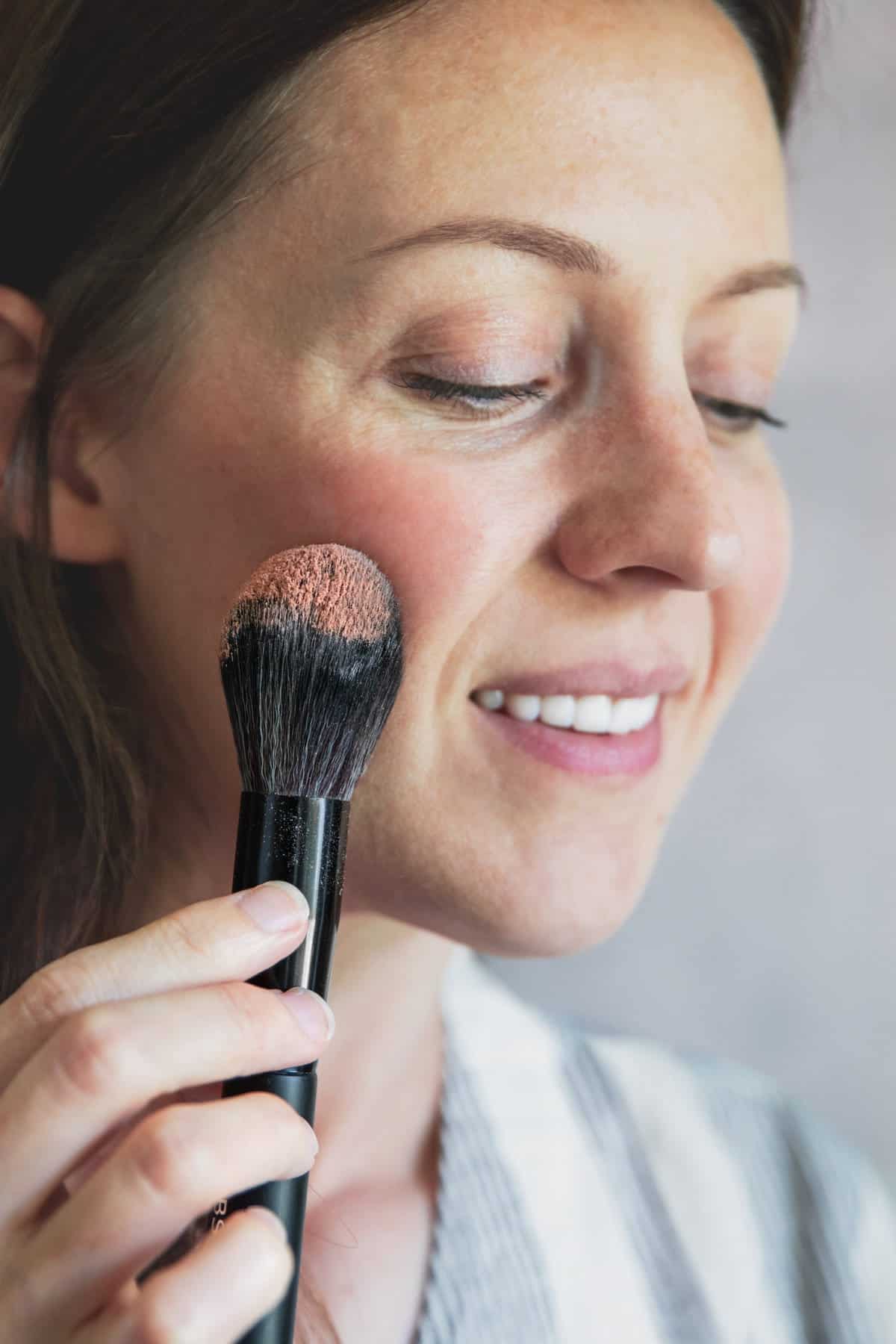 Skipping blush is a nonstarter for me. I love the way it instantly perks up my pale complexion and makes me look more awake. And depending on the time of year, I rely on different blends and ingredients to enhance my natural glow (or lack thereof) and nourish my skin. That means I'm always cycling through colors and formulas, trying to find the perfect right now blush.
If you're new to making your own makeup, I recommend starting with this base recipe and tweaking it until you land on a formula that's ideal for you. Or, if you've got dry skin and would prefer something with moisturizing properties, give this homemade cheek stain recipe a go.
Jump to:
Ingredients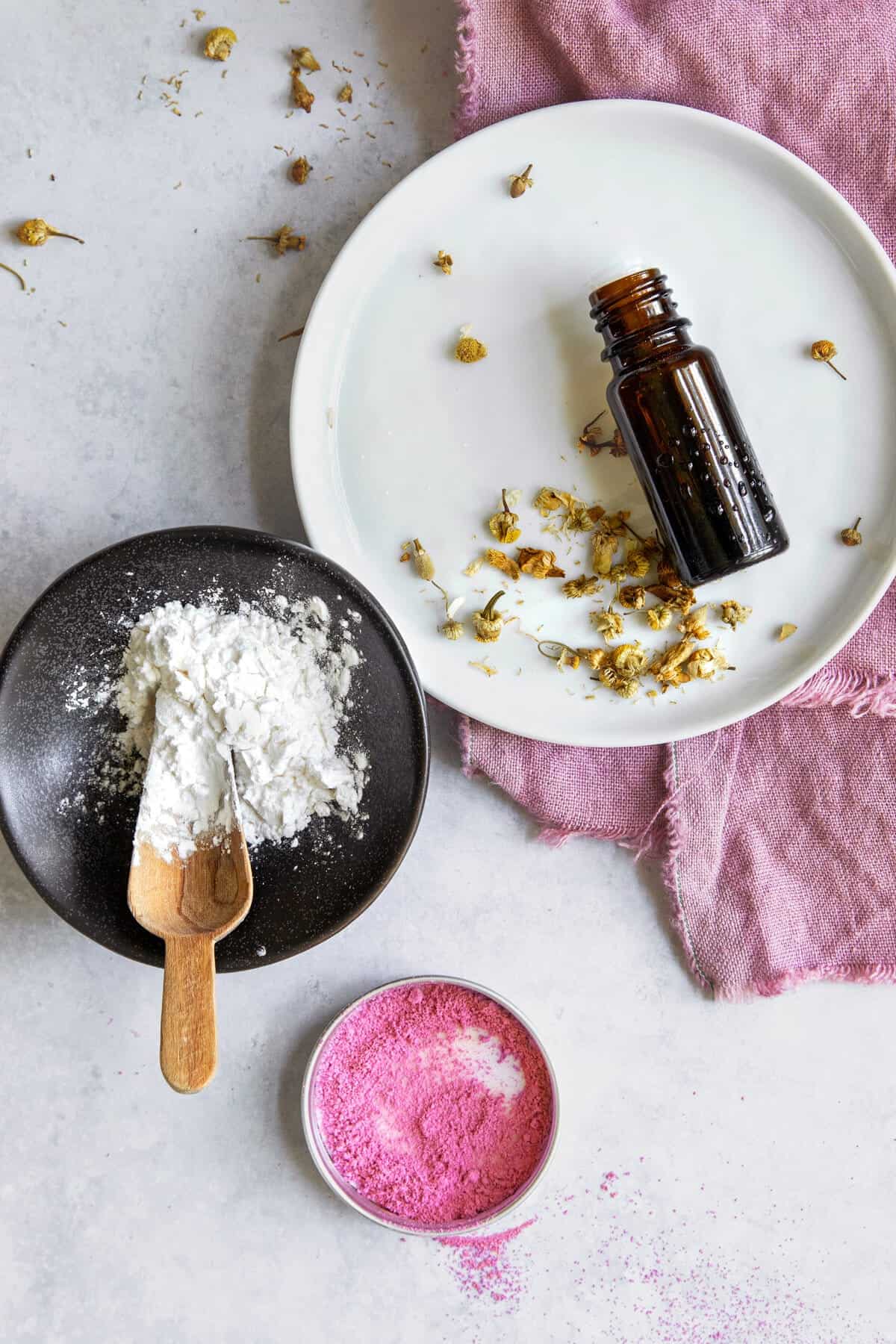 Arrowroot powder: Arrowroot is the main ingredient in this DIY blush. Known for its absorbent properties, arrowroot powder helps to control excess oil and moisture on the skin, giving your blush a smooth and silky texture. Its fine consistency also ensures easy blending, allowing the blush to melt into your skin effortlessly and leave you with a seamless, natural-looking finish.
Powdered pigments: The pigments you choose will depend on your tastes and preferences. I recommend starting with a pink pigment, such as beet root or pomegranate powder, as the base color. Then mixing in other colors to suit your skin tone.
Ground flower petals: Ground flowers are an optional ingredient that can be used for both color and skin-enhancing purposes. Rose, hibiscus, chamomile, and lavender blossoms are popular choices because they provide beautiful colors and skin-soothing properties.
See the recipe card below for quantities.
Instructions
Hint: When first learning to make your own blush, you may need to experiment with a variety of different pigments to reach your ideal shade. I recommend starting with ½ to 1 teaspoon of your chosen pigment and adding more a little at a time, until you end up with a shade you love.
4 Color Blends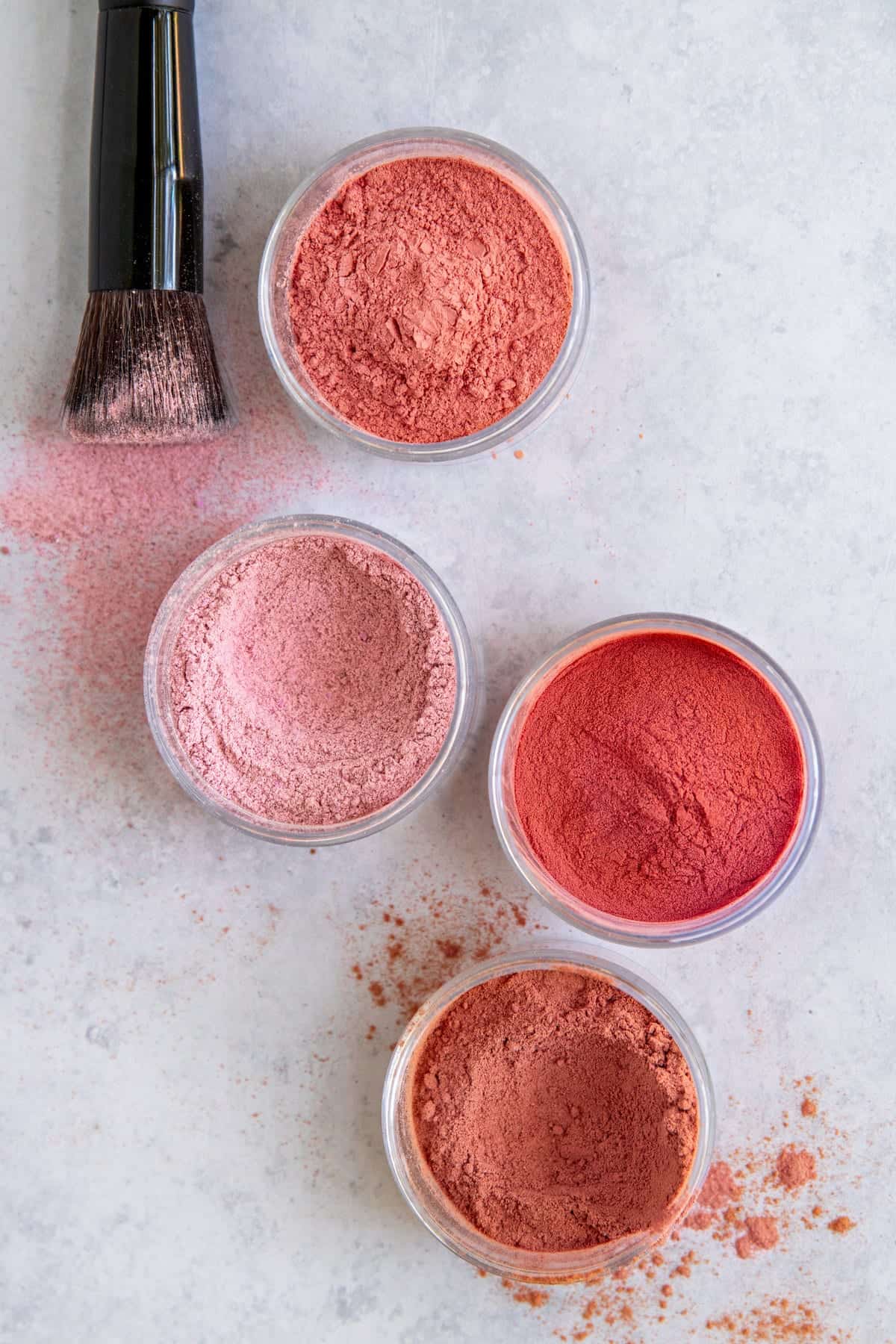 I experimented with several different pigments to make the following colors. Use these recipes as a starting place when creating your own ideal shade.
Shown from top to bottom:
Customizing Your Blush Shade
With all the colors of the rainbow at your fingertips, making the perfect blush shade may seem daunting. However, with a few helpful tips and a bit of experimentation, you can easily find a blush shade that complements your skin tone and enhances your natural beauty.
Here are a couple of tips to get you started:
1. Natural pigment options
Just like when making your own eye shadow, you have a wide range of natural pigments to choose from for blush recipes. While some recipes recommend just one pigment (beet root is a popular option!), I prefer to mix several different pigments together to get the perfect shade.
Pink / Red Tones:
Orange / Yellow Tones:
Turmeric: offers a warm, golden-yellow color, perfect for adding a subtle glow to your cheeks and creating warm-toned blushes
Saffron: imparts a sunny yellow color, perfect for creating bright and glowing blushes, especially for deeper skin tones
Annatto: adds a warm, orange-red shade, suitable for creating coral and peach blush tones, ideal for a sun-kissed look
Iron oxide: Available in a wide variety of colors, iron oxides can give your homemade blush a bold, professional-looking shade.
Cocoa: A popular ingredient for homemade contour powder, it gives a warm, earthy tone, perfect for creating subtle and natural-looking blush colors, especially for medium to dark skin tones.
2. Consider your skin tone
If your skin has golden or peachy undertones, you likely have a warm skin tone. If you notice pink or bluish undertones, you probably have a cool skin tone. A mix of both warm and cool undertones indicates a neutral skin tone.
Warm tones
If you have a warm skin tone, opt for peach, coral, or warm pink undertones. These hues will complement your skin's natural warmth and give you a healthy, sun-kissed glow. Avoid cool or blue undertones, as they may appear unnatural on warm-toned skin.
Cool tones
Blush shades with rosy pinks, mauves, and berry hues work best. These cooler shades harmonize with your skin's undertones and add a lovely flush of color to your cheeks. Steer clear of too much yellow or orange, as those colors may clash with cool-toned skin.
Neutral tones
Neutral skin tones have the advantage of being versatile, as they can pull off a wide range of blush shades. For a natural look, try a soft rose or neutral peach shade. Alternatively, feel free to experiment with bolder shades like a medium pink or coral for a more striking appearance.
3. Consider your makeup look
The intensity of your makeup look can also influence your blush shade choice. If you prefer a more natural, no-makeup makeup look, go for a blush shade that closely resembles the natural flush of your cheeks. For evening or more dramatic looks with eye shadow and DIY mascara, you can opt for brighter or deeper shades to make a statement.
Storage
Transfer the finished blush into a clean, airtight container. A small glass jar or recycled makeup container works perfectly. Store it in a cool, dry place away from direct sunlight, and it should last 3 to 6 months.
Your homemade blush may harden if stored in a damp environment, such as the bathroom. If that happens, grind it in a clean coffee grinder every so often to revive it.
Application
Apply homemade blush using a blush brush or your fingertips. Start with a small amount and build up the color gradually. Smile to find the apples of your cheeks, and lightly blend the blush in an upward motion for a natural-looking flush.
Remember that homemade blush may not have the same consistency or staying power as commercial products, so you may need to apply more often.
FAQ
8