The sheer red wine hue of this DIY lip gloss is perfect for daily wear. It moisturizes and leaves lips with plenty of shine! Learn how to easily make your own with jojoba and castor oils.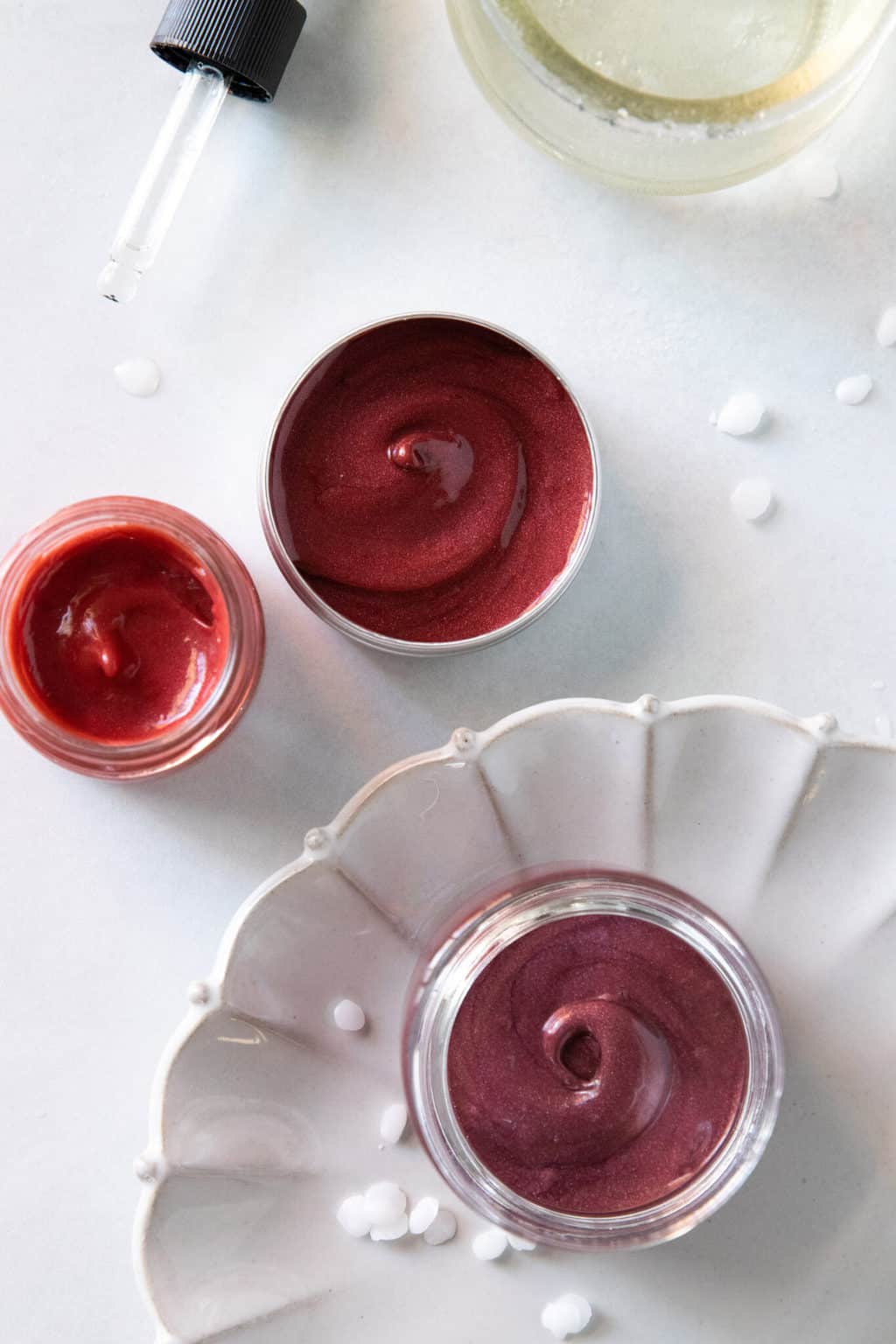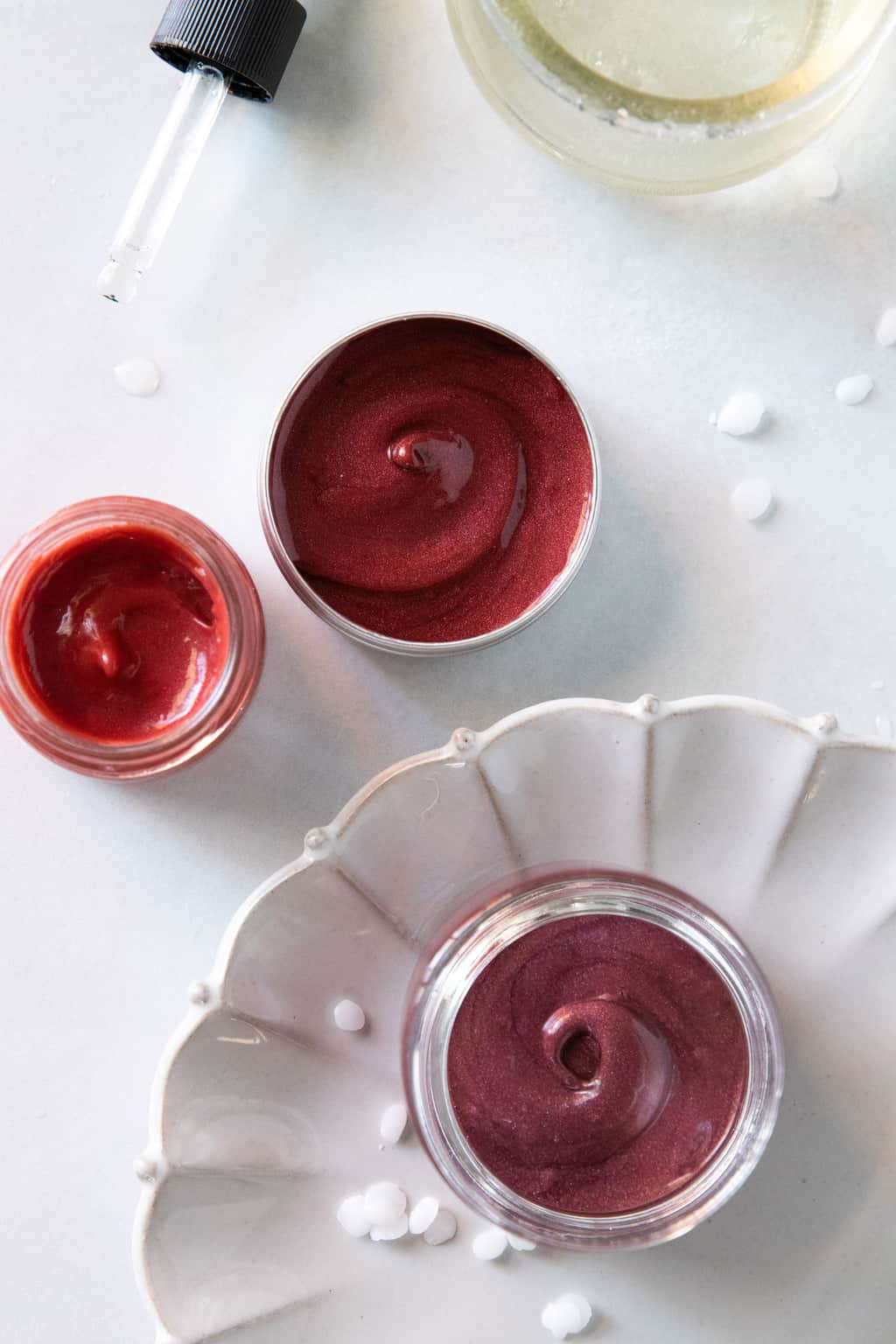 Lip gloss is a makeup must-have. It's pretty much the only makeup I can muster most days because it glides on in a jiff, and it can even double as blush in a pinch.
The first time I made lip gloss, I used old lipstick and petroleum jelly, a product I've since stopped using around the house. I think the word petroleum tipped me off that this might not be a natural ingredient I want to be putting on my lips and ingesting all day. Turns out there are homemade lip gloss ingredients that work even better!
Jump to:
Ingredients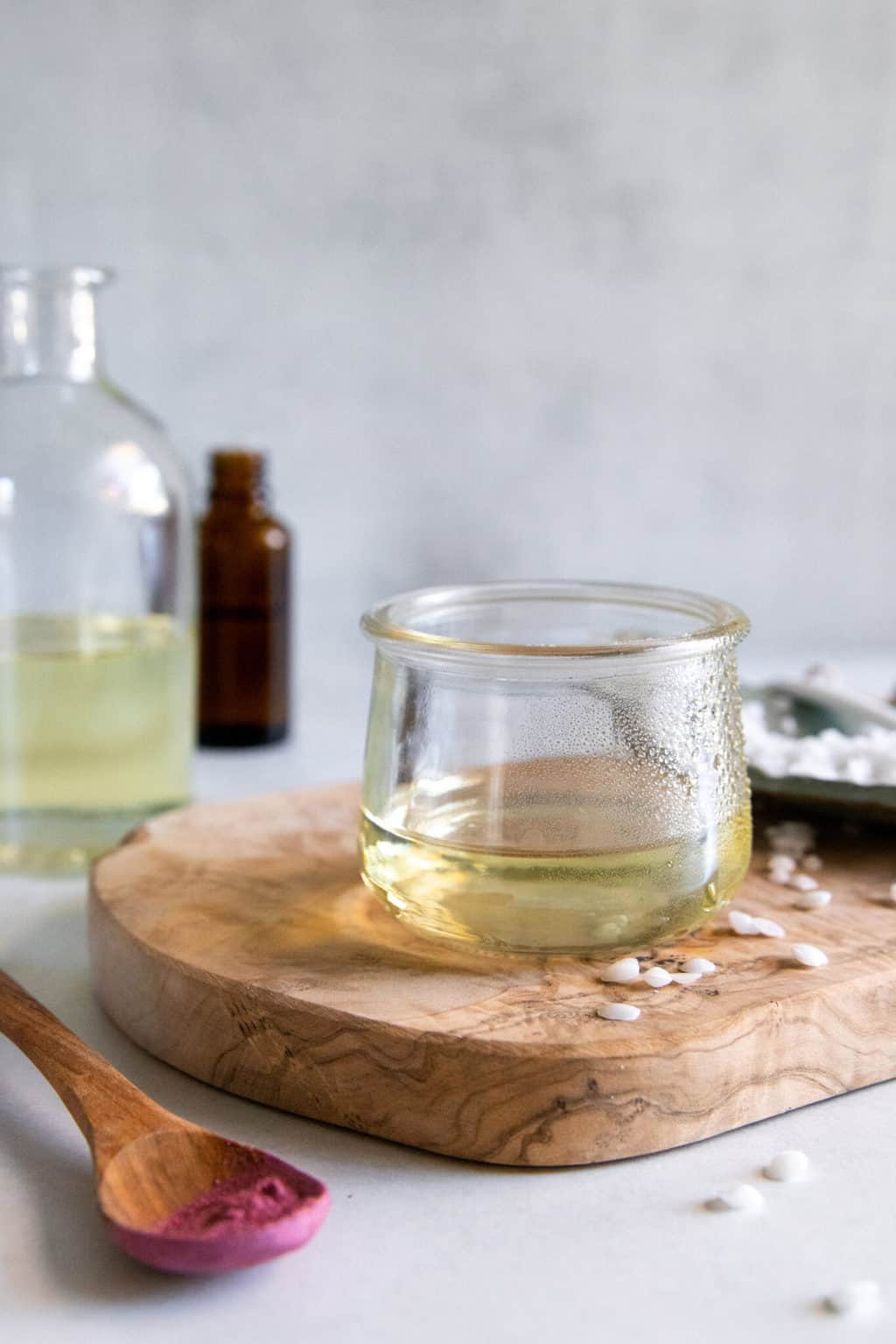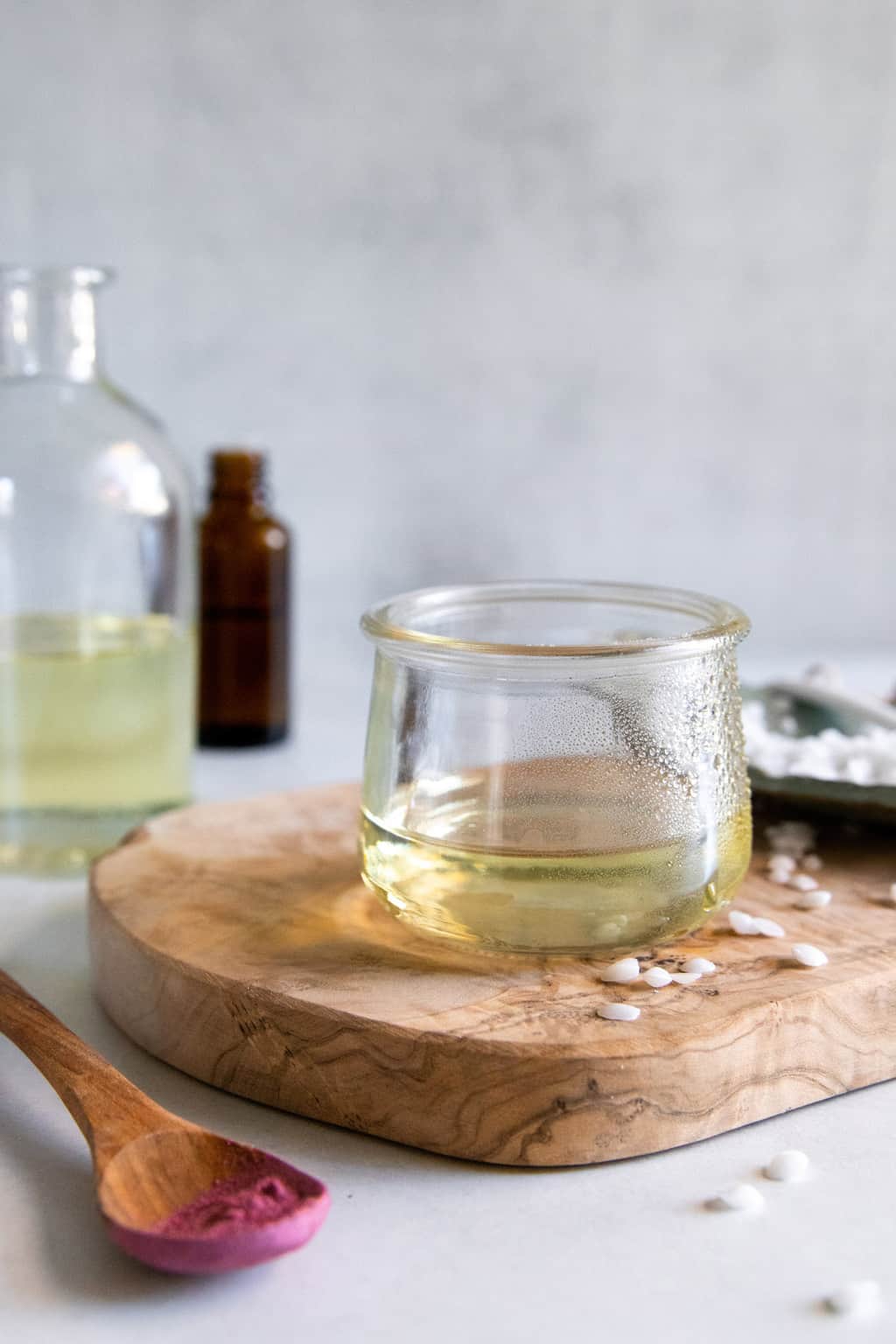 I used clean, cosmetic-grade ingredients snagged from Bramble Berry, a company that specializes in high-quality homemade bath and body ingredients.
Merlot color — The deep red color comes from Merlot Sparkle mica, a clean ingredient for making lipstick and eye shadows.
Cera Bellina wax — The lip gloss itself is a combination of natural oils and Cera Bellina wax, a derivative of beeswax. I love this wax!!
Regular beeswax is great for making lip balm, where you want a more solid product, but it's too thick for making gloss. But Cera Bellina wax keeps the gloss semi-solid in the lip pot and then instantly melts into a gloss when you apply it.
Castor oil — Adding castor oil adds extra gloss and shine to your homemade lip products.
See the recipe card below for quantities.
Instructions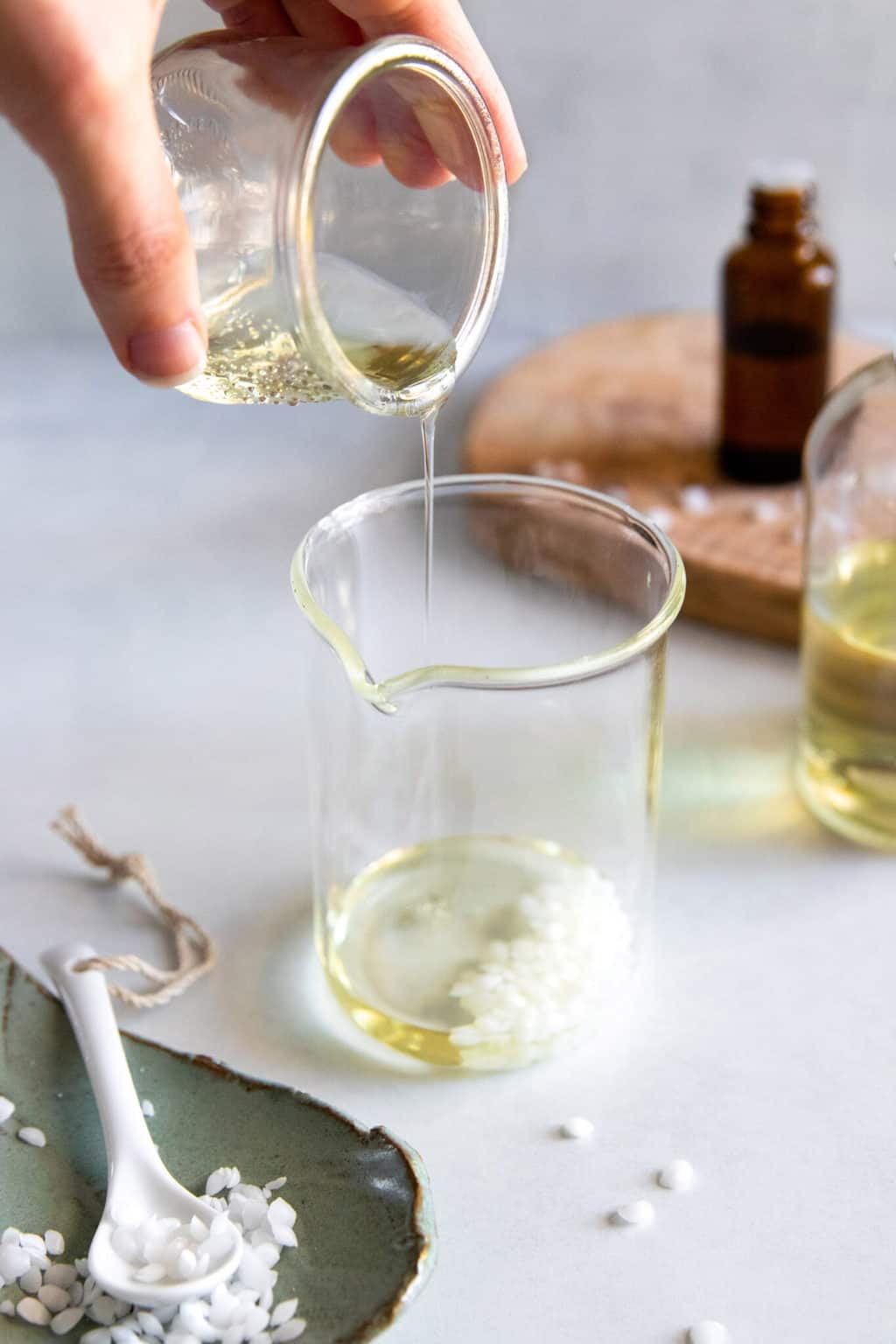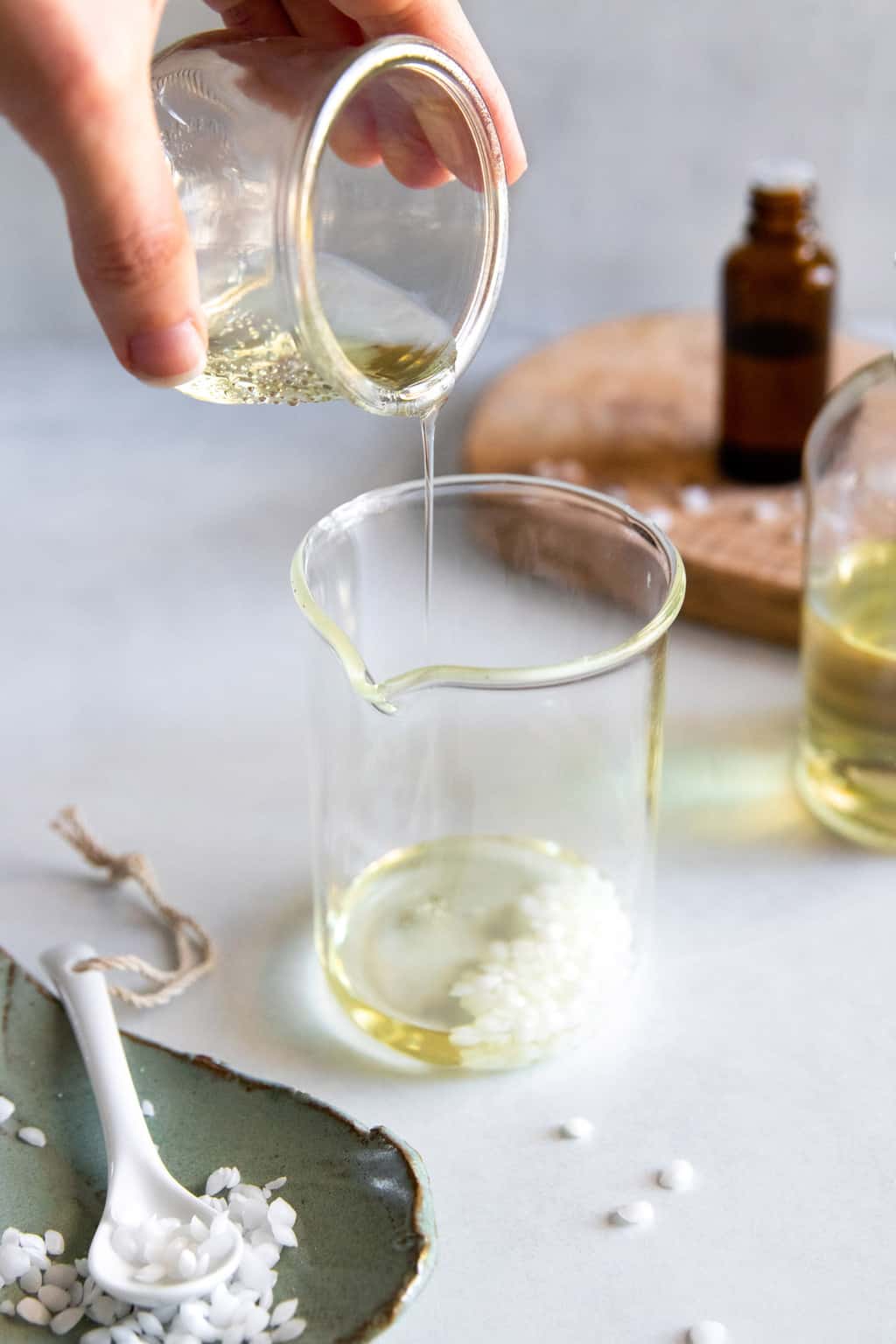 Combine your oils and wax in a microwave-safe bowl (a measuring cup works great, too), and pop it in the microwave for 15 seconds, then stir. Keep heating the mixture in short bursts until the wax is melted.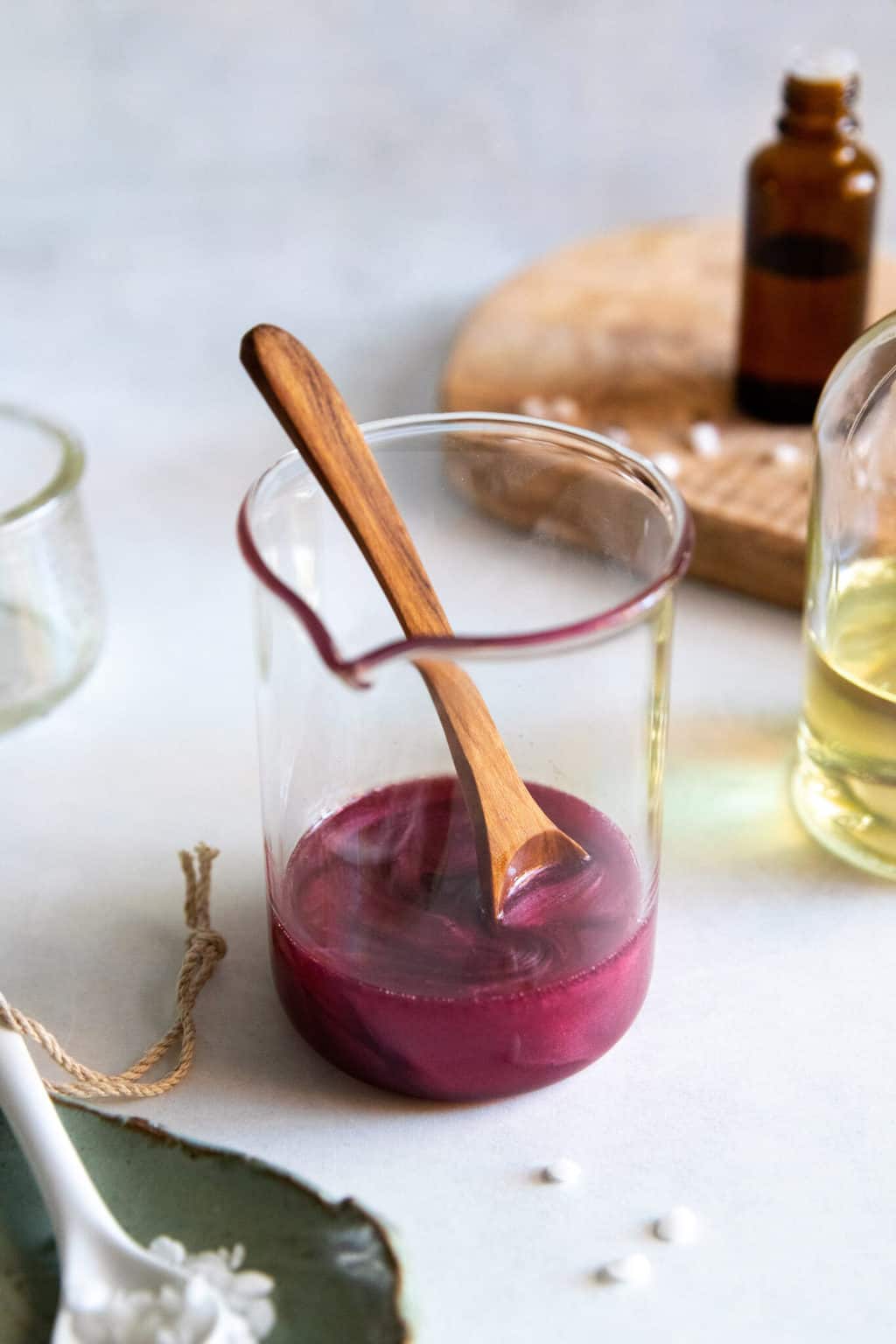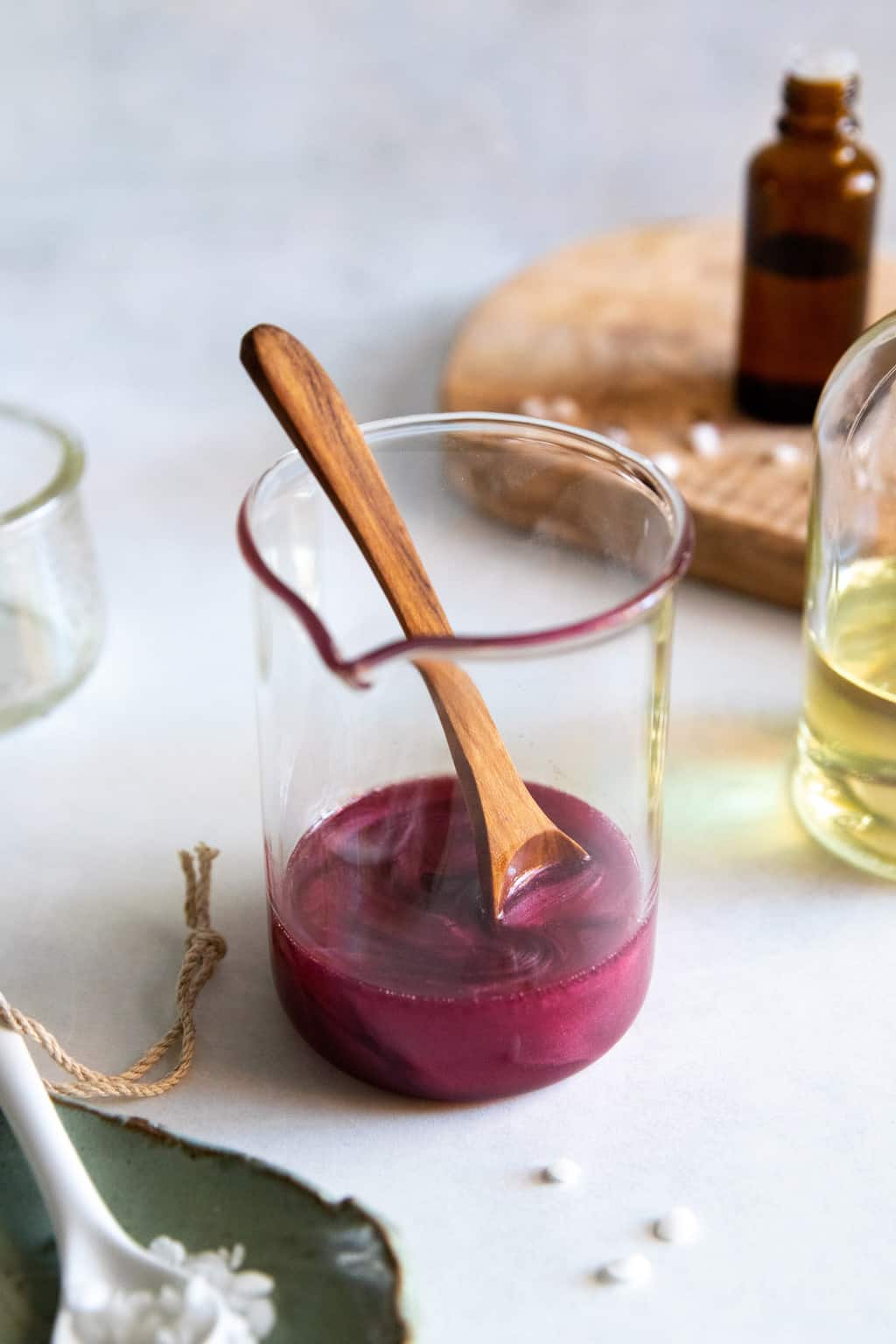 Once melted, add your mica and flavoring and give it a good stir. For a deeper color, add more mica. Add less for a more sheer color.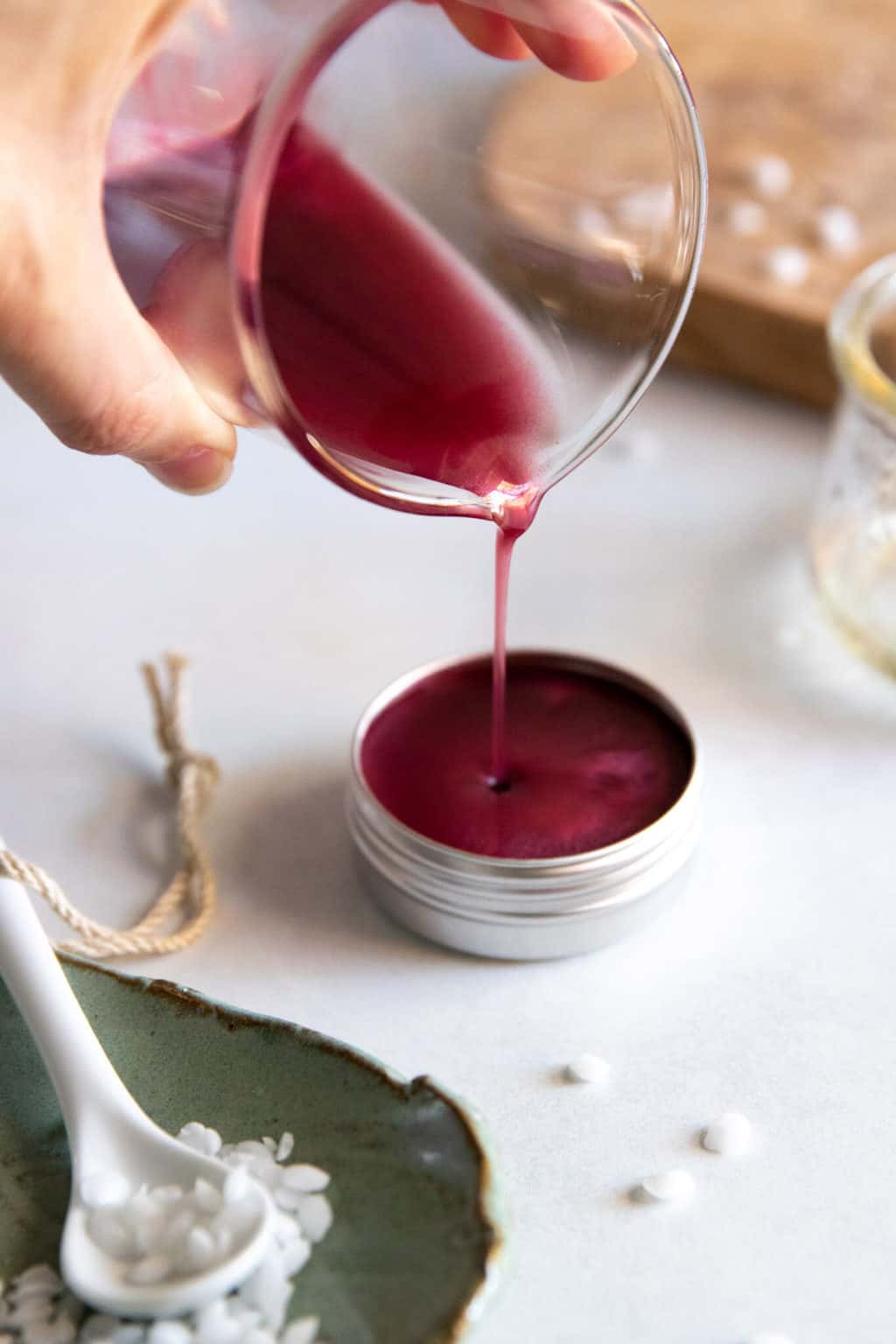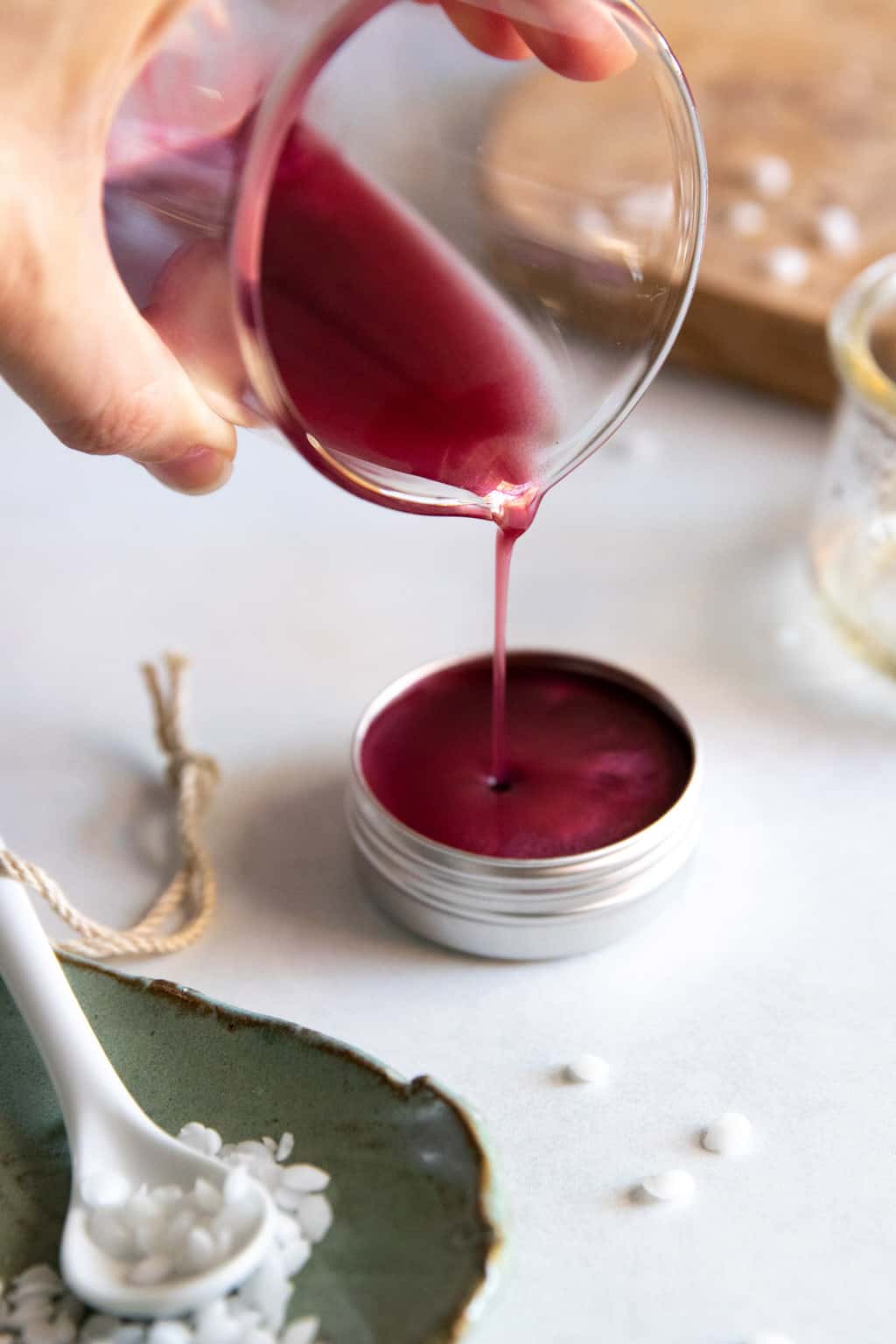 Before the gloss gets too thick, pour it into your containers.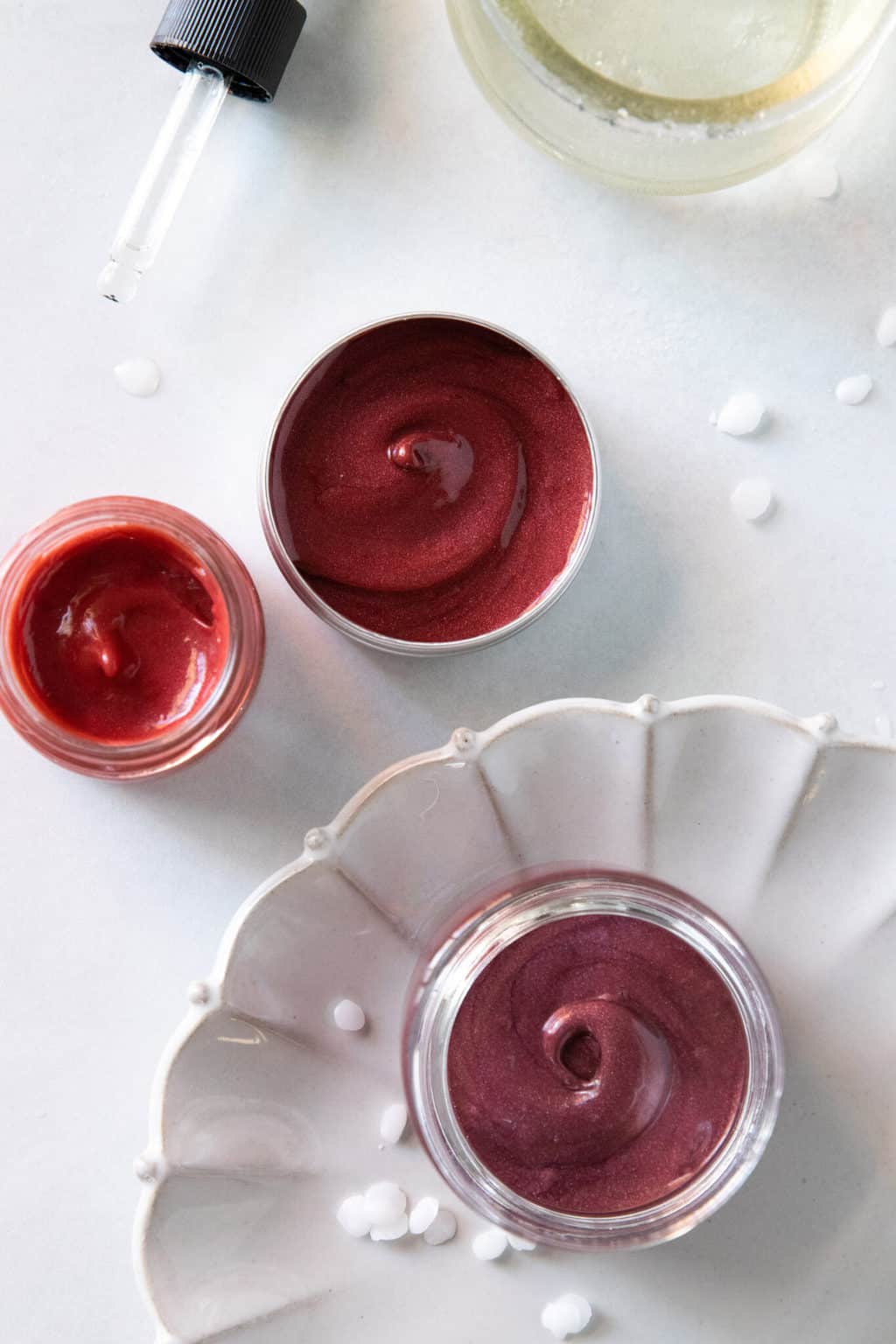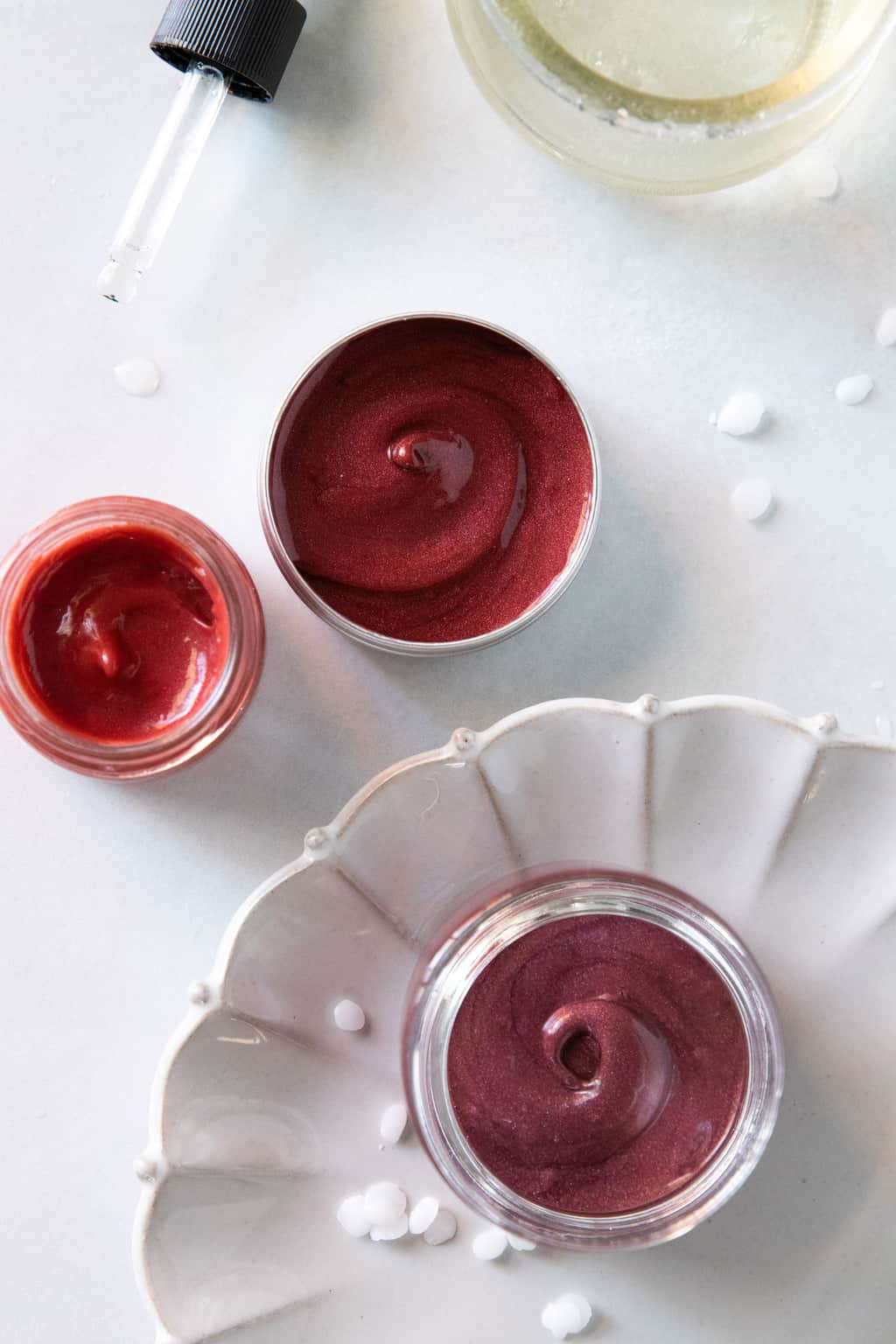 Let the gloss cool for another 1 to 2 hours, and then replace the lids.
Hint: Since the mica may separate from the oils as the mixture cools, continue stirring the lip gloss until it starts to come together. This ensures that the color stays suspended in the oils as they solidify.
Substitutions
Cera Bellina - If you can't find Cera Bellina wax, a pinch of beeswax or emulsifying wax will work. The gloss just might not have the same soft, spreadable consistency.
Castor oil - If you're not a fan of castor oil (and don't mind having less shine), you can substitute sweet almond, olive, or grapeseed oils.
Marsala mica — You can create your own marsala color with a mix of red and blue micas. Keep adjusting the ratio of red to blue mica until you get the perfect color.
Variations
You can make your own shade of lip gloss color by mixing mica powders. Just make sure they are cosmetic grade and lip-safe since you may end up ingesting them throughout the day.
You can use any combination of red, pink, orange, and blue shades you prefer. A little mica goes a long way, so start by blending different colors together in very small quantities and add them to your melted oils to see how they look.
You can also experiment with natural pigments like beetroot powder for a lip stain or cranberry powder for lightly tinted lip gloss.
Storage
The recipe below fills about 6 to 7 small lip pots or 3 small jars and should keep for at least 3 months.
FAQ
Can I put this lip gloss in tubes instead of tins?
Sure! But you may need to adjust the recipe slightly to suit different containers. For a softer lip gloss that works in a squeeze tube, add more oil to the recipe. For a firmer gloss, just add a bit more wax. Let it cool and test the consistency, then tweak if necessary.
How long does DIY lip gloss last?
Since there isn't any water in this recipe, it should last for 3 to 4 months without the need for refrigeration. To make it last a bit longer, add ½ teaspoon of vitamin E oil.
How do you make lip gloss less sticky?
Adding more Cera Bellina wax to the recipe will give it a creamier, less sticky consistency. But it can also make it more like a lip balm than a gloss if you overdo it.
Where can I find cosmetic-grade mica powder?
Slice of the Moon is a great source of cosmetic-grade mica powders. You can also find lip-safe colorants at Bramble Berry.
How can I make homemade lip gloss darker or more opaque?
I recommend using a pinch of zinc oxide powder to make your lip gloss more opaque. As a bonus, zinc oxide has SPF properties that can protect lips from the sun.
Lip care
Looking for more lip care recipes like this? Try these: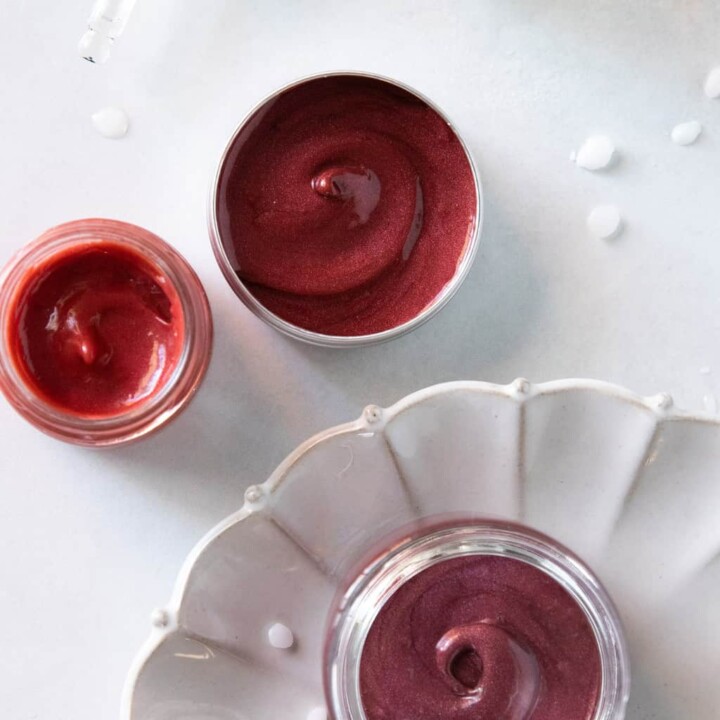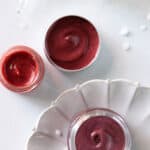 Print
DIY Marsala Lip Gloss
This gives your lips a sheer red wine hue, inspired by the Marsala color of the year. Made with jojoba and castor oils, this lip gloss will moisturize and create plenty of shine.
Equipment
small microwave-safe bowl

Lip gloss pots or clean empty jars
Instructions
Combine castor and jojoba oils and Cera Bellina wax in a small microwave-safe container. Heat for 15 seconds and stir. Keep heating in short bursts until the wax is melted.

Add honey flavor oil (if using) and stir.

Add the Merlot Sparkle mica and stir until thoroughly mixed in.

Pour the lip gloss mixture into the lip gloss pots.

Allow to fully cool and then place the caps on.
Notes
Lip gloss should keep unrefrigerated for up to 3–4 months. Feel free to scale the recipe down to fill fewer containers.
This article was medically reviewed by Dr. Gina Jansheski, a licensed, board-certified physician with more than 20 years of practice experience. Learn more about Hello Glow's medical reviewers here. As always, this is not personal medical advice, and we recommend that you talk with your doctor.
63