Who wants hydrated, lush lips all year long? We've got you covered with the most nourishing, moisturizing lip mask you can whip up using all-natural ingredients and essential oils for chapped lips. This quick and easy DIY will keep chapped lips at bay!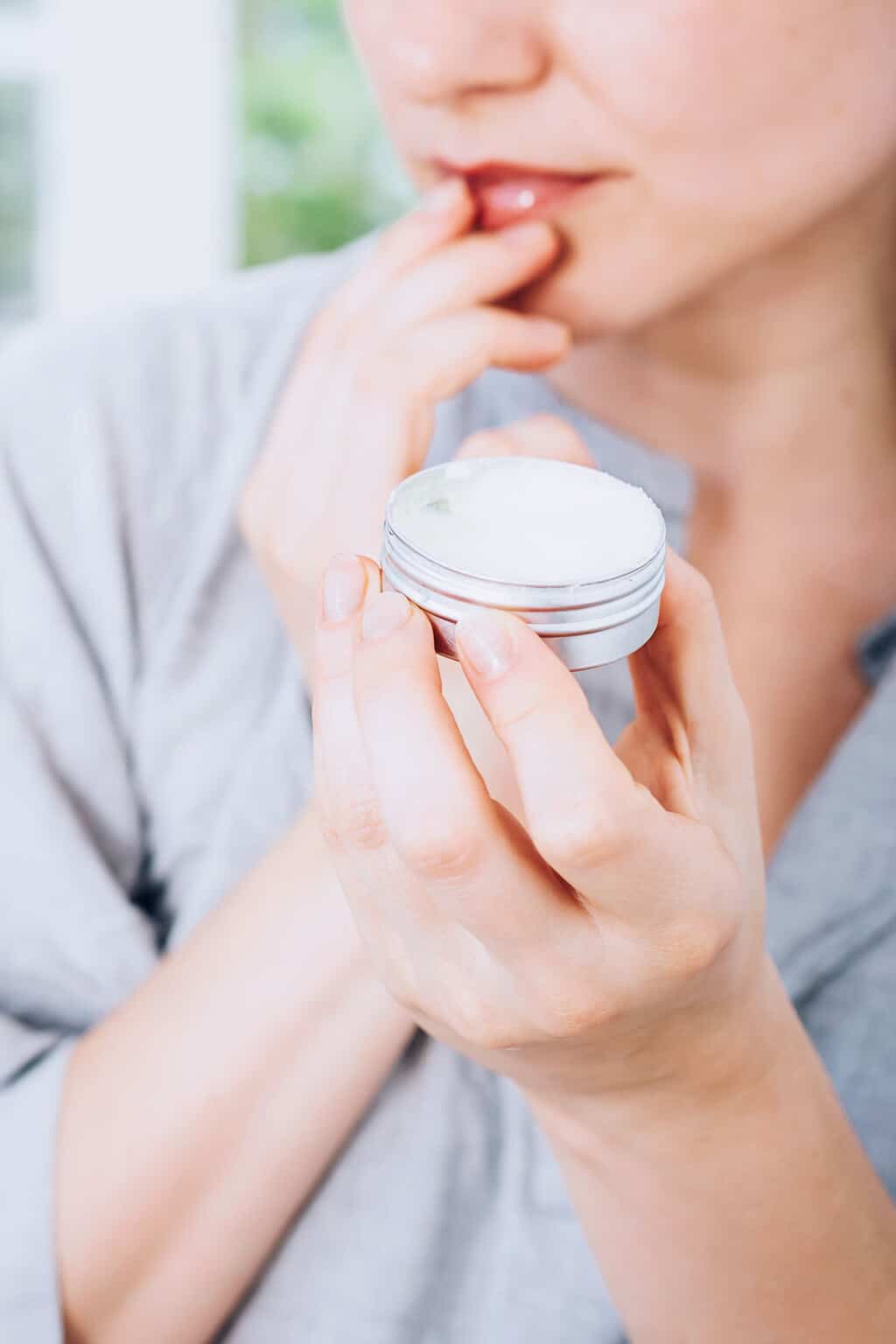 Are Essential Oils Safe for Lips?
Yes! The essential oils we suggest in the following paragraphs are safe for your lips. When used correctly and diluted in the right carrier oil, they can be hydrating and can help you deal with various problems like dryness.
Our DIY overnight lip mask recipe has precise quantities, and its all-natural ingredients help nourish and hydrate safely and effectively. We've listed our five essential oils that are supremely beneficial for treating dry and chapped lips. 
It's also important to remember that there are some oils you should avoid putting on your lips. Some oils are phototoxic and are not recommended for your lips. The fact that they're phototoxic means that they can make your skin more sensitive to UV rays.
Similarly, sensitizing essential oils are not the best as they may lead to skin itching, irritation, and redness.
Benefits Of Essential Oils For Dry And Chapped Lips
There are endless benefits to working with essential oils for your skincare regimen and some fantastic options for treating dry, chapped lips.
—Certain essential oils can hydrate the skin. They can prevent transepidermal water loss and help the epidermal barrier work better.
—Essential oils have been known to be an effective treatment against inflammation, being able to treat chapped lips.
—Some essential oils can have a soothing effect on the lips, reducing the pain and discomfort caused by dryness.
—Using essential oils on your lips can prevent infection as they possess antibacterial, anti-parasitic, antiseptic, antifungal, and antioxidant properties.
Best Essential Oils for Dry Lips 
1. Chamomile Essential Oil

Chamomile reigns supreme as an option for soothing dry, chapped skin [source]. While there are several different types of chamomile, and any of them will work, if you can find German chamomile (Matricaria recutta), it's the best choice if you want your lips to regain their softness. We'll only be using a few drops to create the DIY lip mask (same for the other recipes, if you choose to make those too!) 
Chamomile is a gentle essential oil used to treat damaged and sensitive skin. Harking back to ancient times, it has been used for medicinal purposes for thousands of years. It's also known for treating inflammation and contains antifungal and antibacterial properties to soothe irritated skin.
If you're looking for a vegan lip balm option, our DIY Vegan Lip Balm also incorporates chamomile oil. 
2. Lavender Essential Oil

Lavender (Lavandula angustifolia) is one of the most essential of the essential oils in the plant kingdom. It's abundantly available, has wide-ranging benefits for our mind, body, and spirit, and is well received by almost anyone. Lavender also contains powerful soothing and skin-healing properties within its chemical makeup, making it an excellent choice for soothing dry, chapped lips, cold sores, and irritated skin. 
Lavender oil's regenerative, restorative, antibacterial, and antioxidant properties make it a popular choice for remedying dry skin and helping to protect it from aging by neutralizing harmful free radicals [source]. 
3. Tea Tree Essential Oil

Tea tree (Melaleuca alternifolia) essential oil is very popular in the cosmetic and beauty industry. It's another excellent option for a wide array of topical ailments [source]. Although it has a medicinal camphoraceous scent, its cooling properties soothe minor irritations, allowing the body to heal them. Using this in low quantities can usually get around any aversion you might have to the aroma—well worth it; the benefits are that good!
Tea tree oil's antifungal, antiseptic, and anti-inflammatory properties not only help to clear the skin of blemishes, but it can also stimulate the immune system, helping to resolve skin inflammation and revitalizing the skin [source]. For these reasons, we like to put tree tea oil into action for repairing and moisturizing dry and chapped lips. 
4. Geranium Essential Oil

Geranium (Pelargonium graveolens) is a sweet, floral, refreshing, and uplifting essential oil that, like lavender, also has soothing anti-inflammatory and regenerative properties for the skin. This is an excellent option for creating a lip balm.
Geranium has been found to improve blood circulation and is both moisturizing and regenerative for dry skin [source]. It has significant antimicrobial, antioxidant, and anti-inflammatory properties [source]. We reach for these essential oils to reduce inflammation because they're invaluable for treating dry, chapped lips, often caused by our immune system's response to a threat, aka inflammation. 
5. Rose Essential Oil

There are several varieties of rose essential oil, and one of the most readily available, Rosa damascena, is a highly coveted and prized ingredient in any blend. 
Yes, rose oil is rare and expensive and may not be in your beauty kit or your medicine cabinet, but it is one to consider adding when the time is right. Pure and all-natural rose essential oil takes thousands of pounds of rose petals to produce a single 5 mL bottle—hence the high price. If you find a cheap bottle of rose, even if the label claims it to be an essential oil, it's possible it's a fragrance oil without any healing benefits [source]. So make sure to read your labels carefully.
We include this essential oil option knowing you may not already have rose in your collection. But whether you have rose or are planning to add it to your essential oil set, it's worth adding here because of its ease of use for all skin types, benefits for glowing skin, antiaging potential, and its gorgeous aroma [source]. Even 1 or 2 drops will be highly beneficial for rejuvenating and helping to return that youthful glow to your skin and lips.
If you love rose as much as we do, we've got some other ideas for using rose oil on your lips in a homemade lip scrub.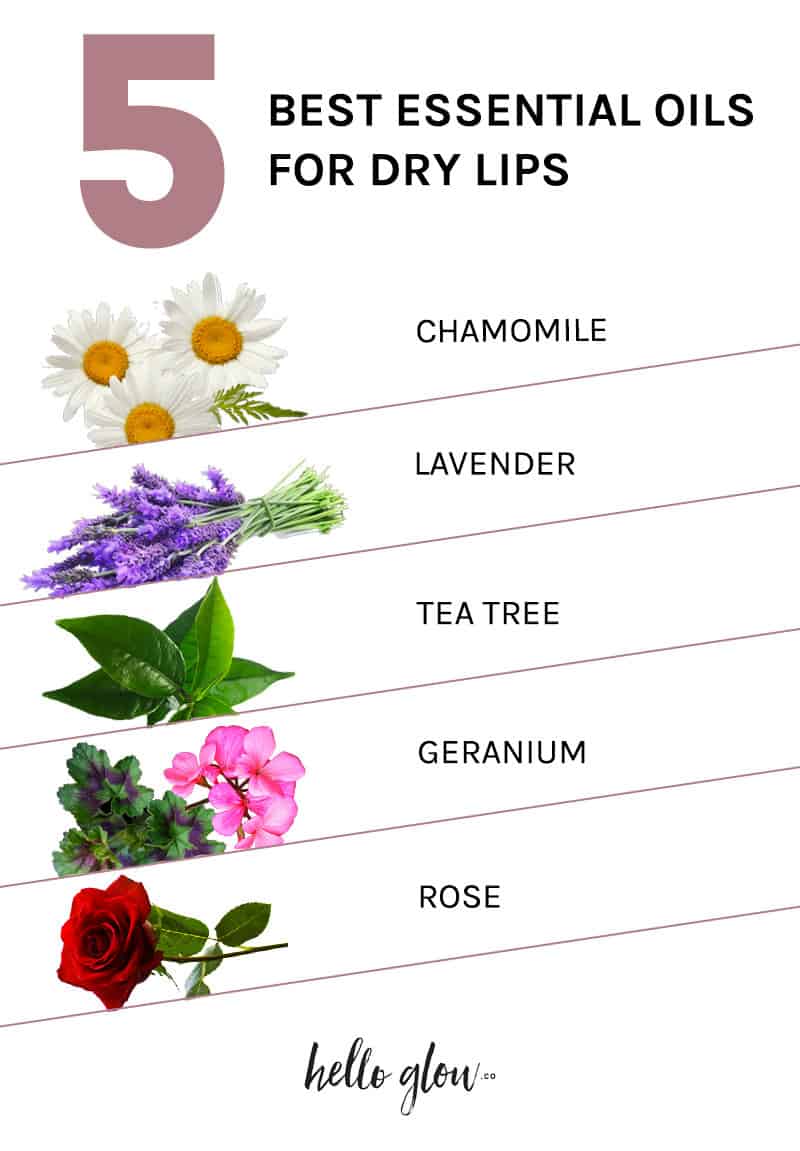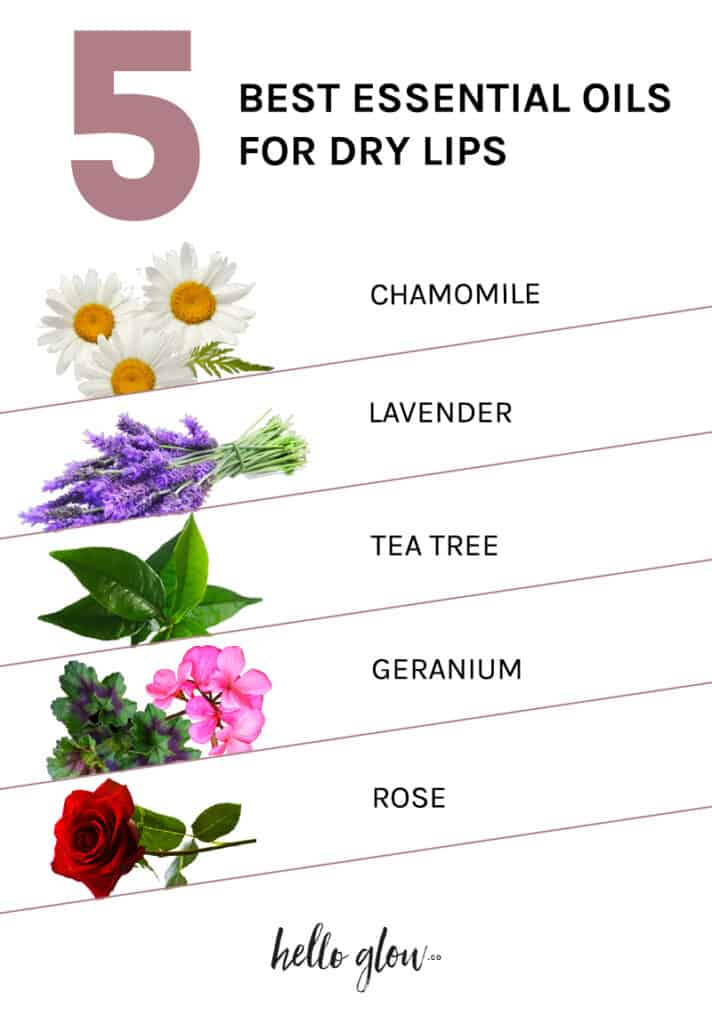 Essential Oils to Avoid in Your Lip Balm

Yes, there are some essential oils that you want to avoid applying to your lips. For instance, you should stay away from sensitizing essential oils such as lemongrass, cinnamon, nutmeg, clove, sage, oregano, allspice, or cassia as they can cause skin irritation.
And although they smell absolutely gorgeous and have very uplifting energy, citrus oils (think lemon, orange, lime) are photosensitizing [source]. That means they can cause a sunburn on your skin and lips if applied before direct exposure to the sun. When using these oils on your body, it's best to avoid applying citrus oils directly before sun exposure, so using them at night is best. 
The oils we'll suggest in this article do not have photosensitizing components in their makeup, so stick to this recipe, and you'll safely be on your way to healthy, happy lips.
Essential Oil Lip Recipes
These lip repair recipes are an excellent alternative to store-bought products that might include ingredients you'd rather avoid and that might also increase drying and exacerbate the problem. We are looking to avoid this endless cycle of hydrating to drying out, and the recipes here will help you do just that!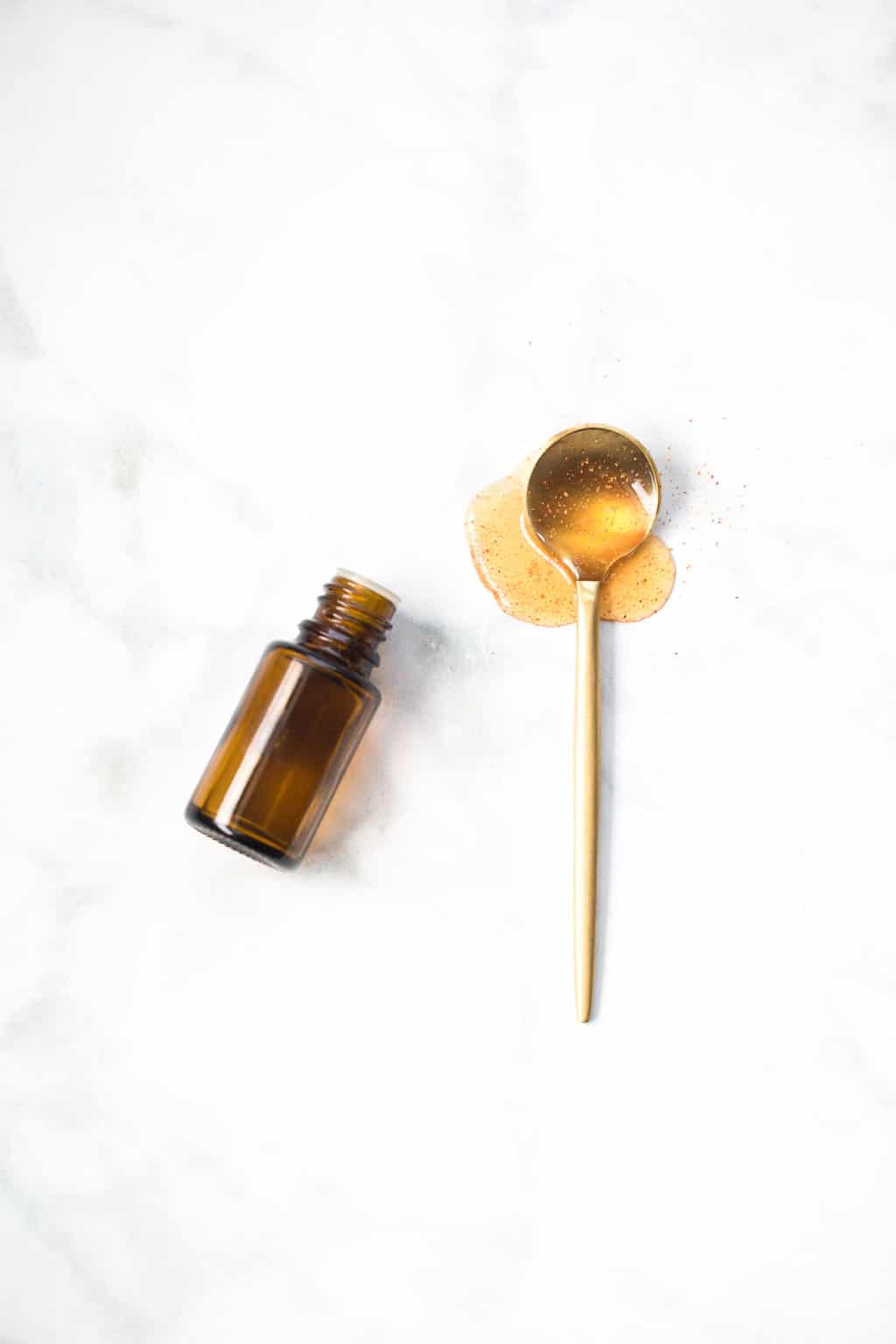 1. Almond oil & honey overnight lip mask
Almond oil softens and soothes the skin, and honey locks in moisture, bringing a healthy glow. Using this lip mask overnight allows the ingredients to be absorbed by your lips without being easily wiped off by eating, drinking, or talking, producing the best results.
—1 teaspoon almond oil
—1 teaspoon honey
—Chamomile, lavender, and tea tree essential oils
Instructions
1. Gather your supplies, including a clean bowl and a small clean jar with a cover and a spoon or spatula.
2. Clear a clean space to work. You may want to lay out your supplies on a clean dish towel or paper towel to absorb any spills quickly and clean up more easily. 
3. Add the almond oil to the bowl, followed by the honey, and stir until it's evenly mixed.
4. Next, add the essential oils. If you have all three of the essential oils listed in the recipe, start with 1 drop of each for a total of three drops of oil. If you are only using two of the suggested oils, then you can go with 2 drops each for a total of 4 drops. 
5. Gently use a lip scrub and follow with a generous application of lip mask and wear overnight.
Why it works
A little goes a long way with essential oils, as they are the highly concentrated essences of plants. This is why you don't need a lot when creating a DIY! In addition, essential oils diluted in a carrier oil can be even more potent together.
Blending and applying the essential oils topically in a carrier oil (like the almond oil and honey combination we recommend here) is the best way to avoid any skin irritating reaction. Plus, combining these all-natural ingredients creates a skin-nourishing whole solution. 
2. Soothe Dry Lips with Milk and Honey
—1 tablespoon honey 
—½ tablespoon milk
—Chamomile, lavender, and geranium essential oils
Instructions
1. Gather your supplies, including a small clean jar with a cover and a spoon or spatula. 
2. Clear a clean space to work. You may want to lay out your supplies on a clean dish towel or paper towel to absorb any spills quickly and clean up more easily. 
3. Add the milk to the jar, followed by the honey, and stir until they're evenly mixed. 
4. Then add the essential oils for a total of 5 drops. Depending on your aroma preferences, if you prefer lavender, you may want to do a combination of 3 drops of lavender, 1 drop of chamomile, and 1 drop of geranium. 
5. Apply to lips with a clean finger and leave on at least 5 minutes then gently blot lips.

Why It Works
Milk has moisturizing properties that can make lips softer, whereas honey has antimicrobial, anti-inflammatory, and antiseptic properties.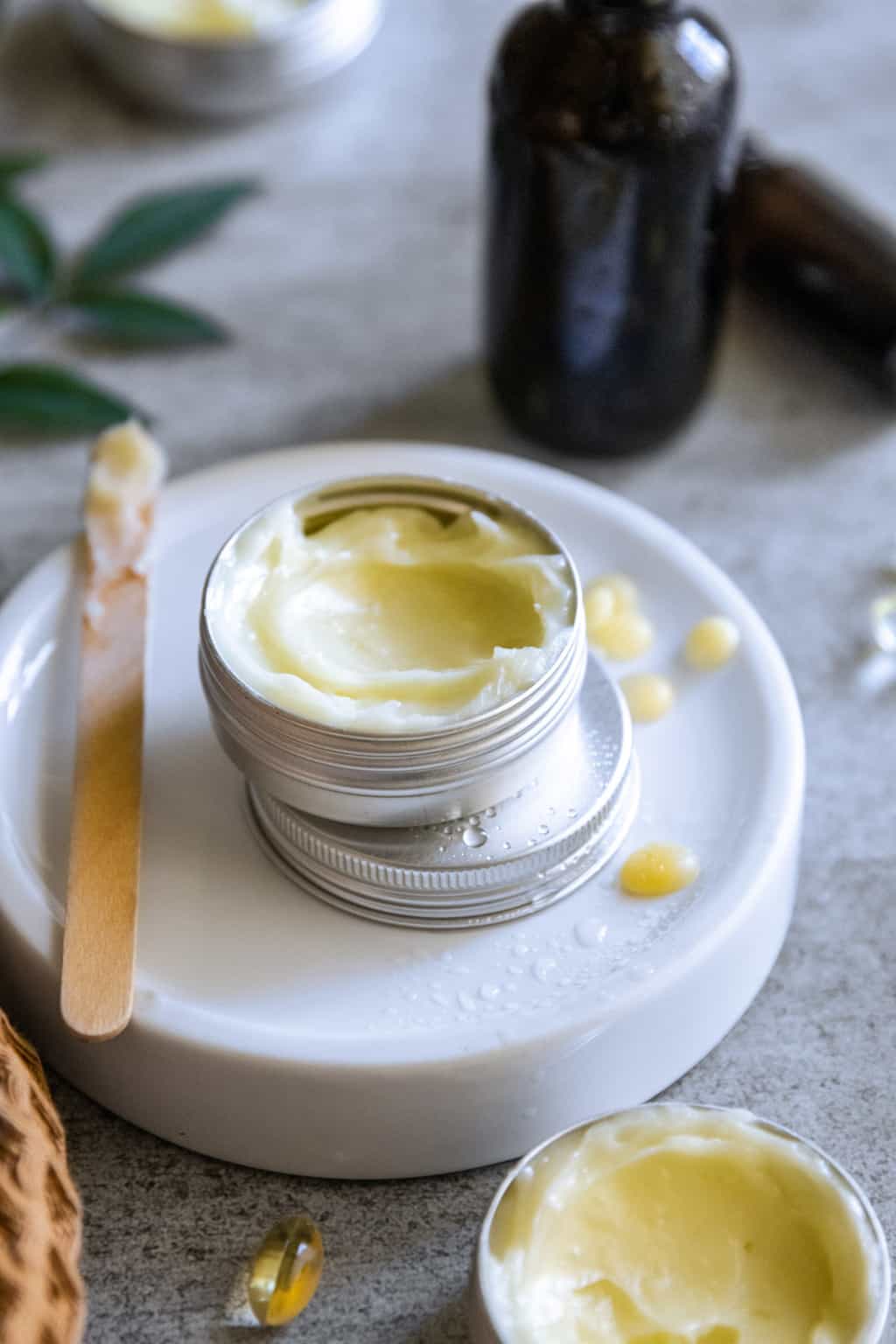 3. Healing Honey Lip Balm
You'll love adding honey to your homemade lip balm. It gives it a nice soft texture that feels soothing and hydrating.
—1 teaspoon beeswax 
—½ teaspoon honey 
—2 teaspoons almond oil 
—Chamomile, lavender, rose, and geranium essential oils
Instructions
1. Gather your supplies, including a clean bowl and a small clean jar with a cover and a spoon or spatula. 
2. Clear a clean space to work. You may want to lay out your supplies on a clean dish towel or paper towel to absorb any spills and clean up more easily. 
3. Prep your ingredients to have everything within reach and ready to combine once you have melted the beeswax. 
4. Because the beeswax is solid, you'll need to melt it before mixing it with the base ingredients. Add it to the small jar and microwave in short 10-15 second bursts.

5. Once the beeswax is liquid, quickly pour in the honey, almond oil, and vitamin E oil.

6. Next, add the essential oils for a total of 5–6 drops. Depending on your aroma preferences, the recipe calls for four different essential oils, so this is an opportunity for you to create a unique blend just by choosing the essential oil you like most and adding an additional drop or two of that oil to meet the total number of drops needed for this lip balm.
All of these oils have powerful healing benefits for chapped lips, so you can't go wrong by customizing it just a little. Or you can follow this combination directly: 2 drops of chamomile, 2 drops of lavender, 1 drop of geranium, and 1 drop of rose essential oils.
7. Keep stirring as the mixture cools to incorporate the honey. Apply to lips as needed.
Why It Works
The essential oils have anti-inflammatory properties while beeswax, honey and almond oil provide hydration. Vitamin E can also help relieve chapped, dry lips.
If you don't have the time to make your own lip masks, you skip the DIYs and head straight to our guide to natural overnight lip masks! 
FAQ: Essential Oils for Dry Lips
What are the most hydrating oils for chapped lips?
Sweet almond or jojoba are two excellent carrier oil options. For essential oils, carrot seed oil, rose essential oil, geranium essential oil, and lavender essential oil are at the top of the list.
Does peppermint oil dry out your lips?
Peppermint is a potent oil, and some people react to it, which is why it's not included in the recipes here. Although it's an ingredient in some natural lip balms, it can be irritating and cause allergic reactions and increased dryness [source]. Not realizing the cause, some people keep using that lip balm and perpetuating a cycle of lip dryness.
Is it safe to put essential oils on your lips?
Yes, it is safe so long as you apply the proper quantities of essential oils diluted in a carrier oil or base oil, like the ones we suggest in this article's recipes. Avoid sensitizing and phototoxic essential oils.
Which carrier oils make the best combinations?
Above, we've highlighted some of the best combinations in our lip balm recipes, but if you don't have or aren't able to source those ingredients, you can replace them with olive oil, hemp seed oil, coconut oil, or sunflower oil.
Is it safe to apply tea tree oil directly to your lips?
There are definitely times when applying tea tree can be helpful — think of stings, bites, or acne as a few examples. Still, it won't produce better results if you lather your lips with tea tree essential oil—honestly, it won't taste very good either. However, using a drop or two in the overnight lip mask recipe or in place of another oil in one of the other recipes is safe to try.
Is patchouli essential oil safe to put in a homemade lip balm?
Patchouli can be safely added to a homemade lip balm as long as it's not used in exaggerated amounts. One or two drops are enough.
How do you heal super chapped lips fast?
You can heal chapped lips faster by applying lip balm (including a homemade one) several times a day, and also before bed.
References:
1. Srivastava J, et al. Chamomile: a herbal medicine of the past with bright future. Mol Med Report. 2011.
2. Prusinowska R, et al. Composition, biological properties and therapeutic effects of lavender (Lavandula angustifolia L.): a review. Herba Polonica. 2014.
3. Pazyar N, et al. A review of applications of tea tree oil in dermatology. Int J Dermatol. 2013.
4. Lahkar S, et al. An overview on tea tree (Melaleuca alternifolia) oil. Int J Pharm Phytopharmacological Res. 2013.
5. Saraswathi J, et al. Phytopharmacological importance of Pelargonium species. J Med Plant Res. 2011.
6. Narnoliya LK, et al. The phytochemical composition, biological effects and biotechnological approaches to the production of high-value essential oil from geranium. Essential Oil Research. 2019.
7. Boskabady MH, et al. Pharmacological effects of Rosa Damascena. Iran J Basic Med Sci. 2011.
8. Ahmed Y, et al. Rosa Damascene Mill. (Rose): a versatile herb in cosmetology. CellMed. 2019.
9. Kim K, et al. Phototoxicity: its mechanism and animal alternative test methods. Toxicol Res. 2015.
10. Peppermint oil. NIH National Center for Complementary and Integrative Health website. Updated October 2020.
12